The Ultimate Rome Travel Guide
Pizza, gelato and well-dressed Italian men… what more do you need? Well, how about 2800 years of history, masterpieces of art, magnificent architecture, and countless cobblestone roads filled with romance, wine, and vespas??? Let's go to Rome.
It won't take you long to get your grounds in Rome. By the second time I visited the city, I knew it backwards and forwards. With so many iconic landmarks, it's hard to get lost, so have fun exploring the city and walking everywhere. There are so many hotels in Rome, and most popular places to stay if you're in a hotel or hostel are close to the center of the city, so it's easy to get around. Personally, I recommend being by the Spanish Steps, as it's a great area of the city, close to everything, and right next to one of the main train stations to get you anywhere you want to go. The St. Regis Rome comes highly recommended by my best friend who stayed there for her honeymoon recently and had a blast. Check into the Hotel Eden from Dorchester Collection for lavish luxury and an absolute luxurious oasis in the city. And The Hotel Splendide Royale is another one of my favorites, for its old world charm and drop-dead-gorgeous rooftop terraces overlooking the city.
for the tourist
Vatican City
Located entirely within Rome, the headquarters of the Catholic Church is actually also the smallest country in the world, at only .2 square miles. Don't miss this masterpiece-packed sight during your trip.
St. Peter's Basilica. The most famous sight in the Vatican. This dazzling church is sure to be a highlight of your trip. Stunning doesn't even begin to describe the 500 year-old largest church in the world. Around 20,000 visitors go through what many consider to be the "Center of Christianity" on a busy day. If you're planning on being one of them, don't forget to dress appropriately! No bare knees or shoulders.
Sistine Chapel. You also won't want to miss Michelangelo's famous masterpiece on the ceiling of Sistine Chapel. It is one of the most treasured works of art in the world and will leave you in absolute awe.
Vatican Tours & Express Vatican Tour
There are a number of Vatican Tours you can take that get you into the Vatican Museums and Sistine Chapel a whole hour before they open to the general public. This way you won't get lost in the thousands of tourists who visit the Vatican each day. If you're looking for a highlights tour, try an Express Vatican Tour – you get early access and finish with a full day ahead of you.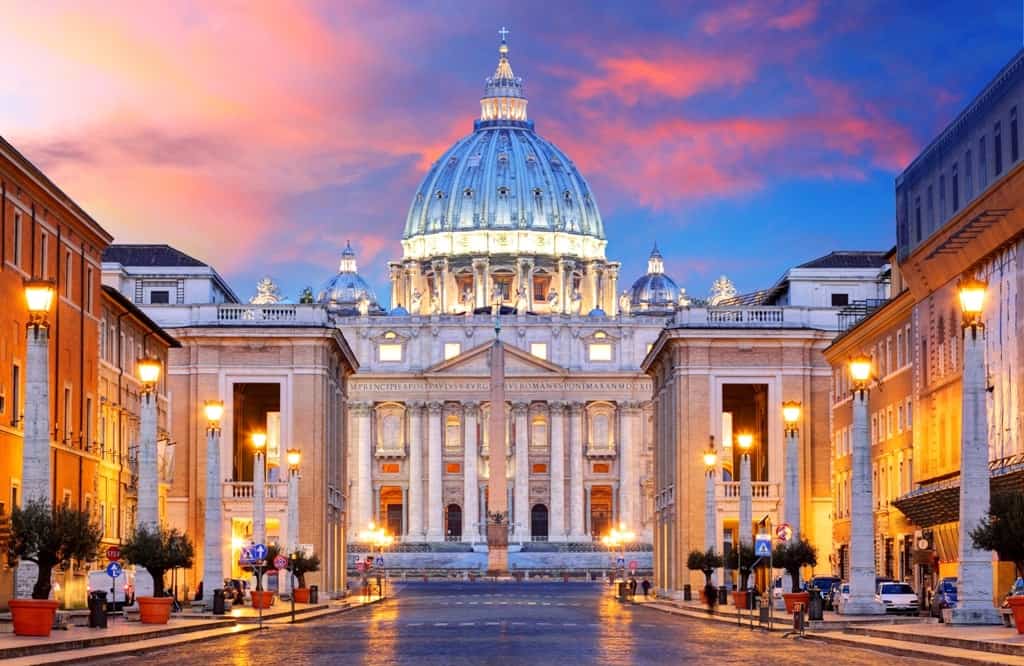 The Colosseum
Of course, how can you go to Rome without visiting the icon of the ancient city. The amphitheater, once used for gladiator contests, was constructed in… wait for it… drumroll please…. 70 AD. You read that right. The history in this city is absolutely incredible, and you won't want to miss the tour of the Colosseum. Take either a self-guided audio tour or one accompanied by a tour guide, so you can hear the rich stories that the Roman Colosseum has to offer.
Colosseum Underground Tour & Colosseum Arena Floor Tour
I recommend The Roman Guy's Colosseum Underground Tour. Their guides take you behind the scenes, down into the dungeons, out onto the arena floor and up to the third tier. Instagram overload! They also offer a slightly cheaper and more express version of this tour that focuses on visiting the best of the behind the scenes areas (the arena floor) on their Colosseum Arena Floor Tour.
The Pantheon
Along with the Colosseum, the Pantheon is another one of Rome's iconic sights to see. Currently a catholic church, it's located in the center of a cute square lined with outdoor dining restaurants. Lots of romantic spots and gorgeous city settings.
The Trevi Fountain
No trip to Rome is complete without tossing a coin in the Trevi Fountain. Legend has it that, if you toss one in, you will be back to visit the city again. Toss your coin, make a wish, and witness the magic of the city.
Roman Forum
Full of history, the Roman Forum was the ancient center of the Roman Empire, and parts of it still stand today. If you're a history buff, you'll love seeing the remains of the heart of the fallen Roman Empire.
Piazza di Spagna
Less of a sight and more of a destination, the Spanish Steps serve as a central meeting place in Rome. Every day and especially at sunset, people gather to meet up or just sit and watch the crowds go by. It's been a magnet for visitors and locals alike in Rome since the 1700's. Definitely a great spot, with lots of shopping, dining, and hotels all around.
Out with friends this Summer in Roma!
for the girls
Okay, so I have to admit that I've shopped my way around the world. And Rome, mis amicis, is some of the best shopping I have ever experienced. First of all, it's so easily walkable. There are streets and streets of all your favorite department stores, boutiques, and italian designers you've never even heard of. The most famous is Via Del Corso, as well as the streets that radiate from it. Take an afternoon, burn off that gelato and shop until you drop into that glass of italian wine at dinner. On Via Del Corso, you'll find so much variety. With the well-known top designers, the huge amazing H&M's and Zaras, and the hole in the wall Italian leather shops, you can't go wrong. Also check out the street Via del Boschetto, full of less chain stores and more boutiques and artisan stores. For men, no matter where you shop in Rome, you're going to want to splurge on an Italian suit. It'll be half the price of what you would pay for one of that quality in the states, so go for it. For the women, been dreaming of that perfect leather jacket? An awesome colored leather wallet? Italy has some of the finest leather in the world. Take advantage, and come home with some killer gifts for your loved ones.. or yourself. After all, why get a magnet for your refrigerator of the Colosseum when you can get some new Prada shoes and call them your Italian souvenir.
Where to have a drink
The Hassler
The famous luxury 5-Star Hassler Hotel rests on the top of the Spanish Steps and boasts one of the most romantic settings in Rome. Go there for a drink on the upper patio and enjoy the panoramic view of the city that will leave you breathless. The Hassler. Piazza della Trinita dei Monti 00187 Rome, Italy.

Go to a Wine Bar
Wine bars abound the streets of Rome. Glasses of impeccable Italian wine with dinner are not a luxury in Rome, it's the standard. Check out Trimani, in the city center near Termini train station, as it's one of the best known wine bars in town, with all the labels you winos will be looking for.
Roscioli, also near the center of the city, is also famous for its food and is super trendy. Definitely worth checking out for a great night out!
The Albert
Check out the Albert pub for a beer by the Trevi Fountain. This traditional British Pub is a great place to stop and grab a drink. Via del Traforo 132
Campo de Fiori
Check out this picturesque piazza, lined with bars & pubs. Gets pretty crazy on summer nights. Need somewhere to start? Check out The Drunken Ship, or La Vineria!
Via della Pace
More upscale than Campo de Fiori.. This street is just a couple blocks West from Piazza Navona and is a great spot to grab a drink or go out at night.

Go on a tourist bar crawl!
This is what we did this summer! A group of 10 girls and I were hanging out by the Spanish steps and got approached by a rep from one of the tour companies that run nightly bar crawls in the city. It was awesome because they took us to so many bars that we would have never have known about- we even went to a party on a yacht as part of the night!!! At only about $20 a person, this is definitely a great idea for a night out with friends, and a great way to meet people while traveling!
The best Gelato in Rome
Della Palma Gelato – this is by far the best in Rome, yall!! You have to go here!
Where to eat in Rome
For an authentic Roman meal in Rome, look no further than this great pasta spot, at a reasonable price!
Gabriele Bonci's Pizzarium
With the chef being dubbed the "Michelangelo of pizza", you're not going to want to miss this place. Prices are reasonable and I know you're already craving some Roman pizza, so you better put this gem on your itinerary!
Pizzarium. Via della Meloria 43, The famous chef also gives pizza making lessons, what a fun idea for your trip!


Fortunato al Pantheon
frequented by diplomats and celebrities alike, this classic Italian eatery is a perfect place to have your typical Italian meal, complete with menu items such as the tagliolini, fresh fish, ravioli, artichoke meatballs, and a fantastic wine list. Fortunato. Via del Pantheon 55
Il Passetto
This cute restaurant is located right on Piazza Navona. A gorgeous setting. Try the white truffle fettucine, and, of course, limoncello for dessert. It's been around for awhile and was actually where my dad asked my mom to marry him so many years ago!! A perfect romantic Italian meal, and, in the summer, beautiful outdoor seating.
Pantha Rei – best pizza near the Coliseum and also has gluten free pizza!
Do a food tour!
Check out this awesome food tour where a local guide will take you around Rome's famous foodie neighborhoods, tasting the best of Italian cuisine all evening (with lots of wine, like any great Roman meal).
What a city.
If you're planning a trip to Europe or Italy, do not miss out on this iconic paradise that manages to combine it's magnificent history with it's bustling city life. Get out there and roam Rome! And if you need more help planning your trip, check out my friends at the Roman Guy's Italy Trip Planning, where they can help customize the perfect Roman getaway for you.
Don't forget to take time to relax, sip on a glass of Italian wine, watch the city crowds go by, and enjoy la dolce vita like only the Italians can.
And, if you're interested in other Italian getaways, check out my guides on Lake Como and the beautiful Venice!
Ciao, Christina
Check out these related posts
The Ultimate Amalfi Coast Travel Guide – JetsetChristina's Guide to the Amalfi Coast
The Best Honeymoon Hotels in the Amalfi Coast
The Ultimate Santorini Travel Guide – JetsetChristina 's Santorini Travel Guide