Where To Stay In Anguilla
Anguilla is a tiny beautiful Caribbean island located just 12 miles north of St. Maarten that seems to fly under the radar. It is home to some of the most luxury resorts and arguably some of the best upscale dining in all of the Caribbean! While you can definitely find lavish luxury here, the island still feels authentic and is known to have some of the friendliest locals! The cruise ship embargo keeps this island from becoming overrun by tourists, enabling it to keep its private and exclusive vibe going. This destination is perfect for foodies wanting a castaway-esque Caribbean escape, or beach loving honeymooners looking for a luxury experience. Now that I've reeled you in, let's talk about the real selling point, the accommodation!
The Best Luxury Hotels in Anguilla
For honeymooner's who don't want to think about a thing, it's best to go with a hotel, preferable one that offers all-inclusive packages so you don't even have to touch that wallet! Just sit back, relax, and ring your personal butler with your cocktail order.
White-washed Spanish style architecture set against bright blue water will immediately give you all the Mediterranean vibes. Every room comes with two plush beach lounge chairs with an intercom system attached to the seats to allow you to communicate your every want and need without interrupting your daily ocean views. Talk about luxury. With four on-site dining options, this hotel focuses on quality local ingredients, most of which they source from their own greenhouses. For the ultimate luxury experience, go with the signature Jonquil Suite, which has its own infinity pool, an ocean-front Jacuzzi and two bathrooms each with a hot tub (honeymoon goals).
Originally built in the 1980's, this newly renovated hotel blends modern luxury with classic Caribbean architecture. Sprawled out on the rocky cliffs overlooking the shores of Turtle and Meads Bay, you'll have private access to their two pools, spa, three on site restaurants and long stretches of white sand beach. With complimentary bicycles and plenty of all-inclusive packages, this is a great home base for exploring all Anguilla has to offer.
Equal parts tropical mansion and luxurious beachfront resort, this hotel has only 9 suits all of which have full-time butler service. Nestled amongst lush green gardens and overlooking Anguilla's Long Bay Beach, this hotel embodies timeless sophistication. With tennis courts and a site spa, you'll have plenty to keep you busy in between beach cocktails.
Just read some of the reviews of this dreamy Anguilla hotel and it'll be hard not to book a room. Located in Mead's Bay, one of the prettiest beaches in Anguilla, this is one of the most sought-after destinations on the island. The hotel feels super intimate, and is ideal for honeymooners, but don't think for a second you'll get bored here! They offer free water-sports equipment, and have an excellent and buzzy restaurant, and a stunning pool overlooking the stunning white sands of the dreamy beach.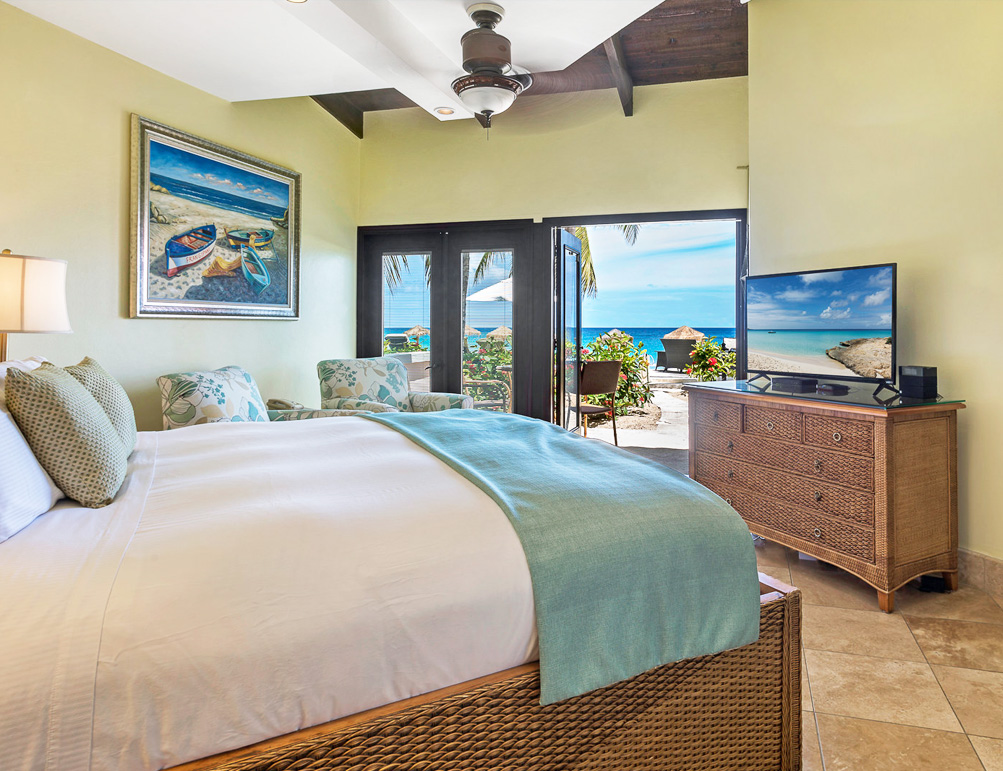 A 65-room hotel that sits upon the famous Shoal Bay, known for its white sand beaches and protected coral reefs. Complete with a premiere spa offering traditional Hammams (luxurious bath and body scrub), a designated Rum bar and an on-site "sea-to-table" restaurant called Stone. Complimentary kayaks, paddle-boards and snorkel gear are available for guests to explore the waters as well!
Not only one of the best hotels in Anguilla, but one of the best in the Caribbean. From yoga on the beach to sipping mojitos at their Sunset Lounge, this is an excellent resort to relax and indulge. There are also several on-site dining options as well as a world-class spa (we expected nothing less).
With the only golf course on the island, it's the perfect spot for couples that like to hit the links in between beach days. This resort puts a huge emphasis on well being, offering daily fitness classes, meditation classes and innovative spa treatments.
The Best Airbnbs in Anguilla
For more independent travelers or if you're traveling with a bigger group or with a big family, there are plenty of gorgeous and accommodating Airbnb options that will allow you the best of both worlds (AKA you can cook when you feel like it, and hire an in-home private chef when you don't!!).
3 Bedrooms, Sleeps 6
Price: $786/night
On a quiet road with ocean views. This is the perfect spot for a family getaway, with close proximity to town and Shoals Bay.
Price: $595/night
Right on Meads Beach with a balcony jacuzzi, what else could you ask for??
Price: $2,250/night
This amazing luxury rental property in Anguilla is right on the beach and comes with its own complimentary Jeep wrangler for transportation, private pool, jacuzzi, chefs kitchen and kayaks/paddle boards. This is a great option for families or groups. Ask your host about getting private chefs on on-site massages.
Price: $2,000/night
The perfect group airbnb, with a private infinity pool overlooking the ocean, Large open concept kitchen and living space, and in-home gym!