The 5 Best Places to Shop for Wedding Dresses in the San Francisco Bay Area
If you're shopping for a designer wedding dress in San Francisco and wondering where to shop for bridal gowns in the bay area, this list is for you! I grew up in the San Francisco Bay Area and it's still where I spend a lot of my time, so I knew when it came time to finding the perfect wedding dress – the City was going to be my spot.
When should you go wedding dress shopping?
The wedding planning process is complicated and there are so many things and timelines to think about! It's important to keep in mind you'll need to find (and order) your wedding dress about 8 months before the wedding. This gives the store time to order your dress (since most wedding dresses are made-to-order custom by the designer), and then have you fitted and have any alterations necessary made before your wedding!
Shopping for a wedding dress was hands-down my favorite part of wedding planning!! Trying on the most beautiful dresses you've ever seen for a full day? I mean, seriously, I wish I could do it every day of my life. I can't tell you how much fun my maids of honor, my mom and I had wedding dress shopping in the San Francisco bay area (where I grew up!)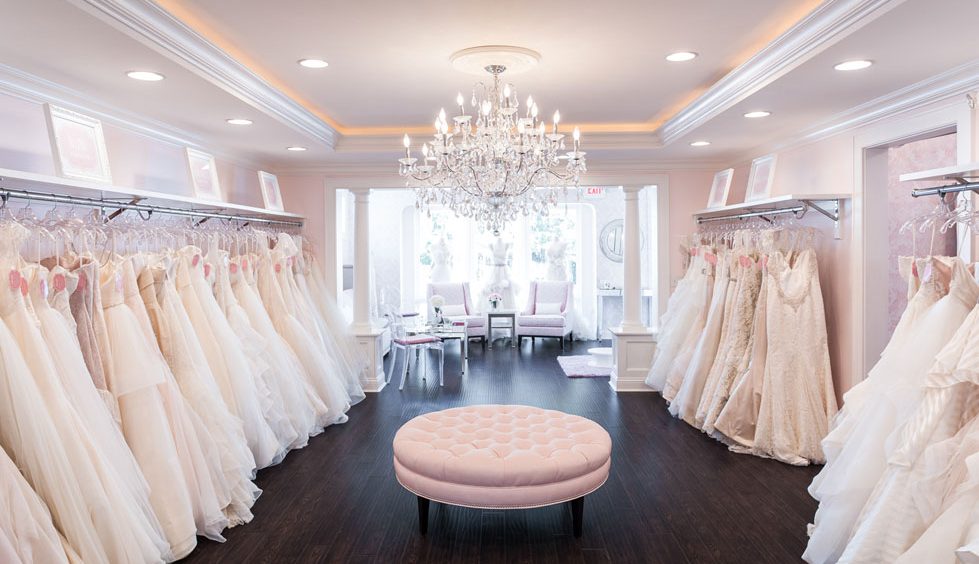 Make sure to book your bridal gown shopping appointments early, and schedule your shopping day (or days) around where and when your appointments are! I recommend going on a weekday if you can – it will be so much less hectic and you'll get better service since you'll often be the only bride! I also recommend going to at least 3-4 places to make sure you're seeing a good variety of dresses – each boutique has such a unique style and carry different designers! It's also helpful to create a Pinterest board ahead of your appointments with dresses you like – even if you don't have an exact wedding gown style nailed down yet for your wedding – this will help the girls who are fitting you search for things that match your taste.
The best places to shop for bridal gowns in San Francisco
2 Embarcadero Center, San Francisco, California
I ended up finding my dream dress at Bridal Galleria in San Francisco. Actually, each of my top 3 dresses of the entire wedding dress shopping process were from this store! What brought me here was a friend who said they had the most incredible designer dress selection in the city and she was right – Bridal Galleria has the BEST dresses! Bridal Galleria has been in the business since 1985 and their boutique features the most coveted designers like Monique Lhuillier, Berta, Ines Di Santo, Lazaro, Marchesa, Inbal Dror, Hayley Paige, Romona Keveza, and many more. (They also often have trunk shows of new designers and collections, so keep an eye out on their calendar here.) They're a full service salon with in-house alterations, which makes for a seamless (no pun intended) bridal gown ordering experience.
The Bridal Galleria selection was outstanding but it was their people who made the experience! Grace, the buyer, and Hailey, the consultant, are the sweetest, most helpful people, and everyone on their team seemed to have a contagious passion for the bridal business. I found that they had the most exceptional gowns in so many different styles, from classically elegant, to princess glam, to modern showstoppers. I felt like they could truly dress any bride in the gown of her dreams – wherever her wedding was! Which was important for me in a bridal salon because so many in San Francisco lacked the beachy feel that I needed for my Maui destination wedding.
Bridal Galleria guides you through the whole process and find dresses that completely blow your expectations out of the water. My girls and I had the BEST time here, and I'm so glad I ended up buying my dress, and matching veil, from Bridal Galleria.
Started by two adorable sisters with a passion for all things bridal, Unveiled is a must-stop in SF when bridal gown shopping! They carry a carefully curated selection of fashion-forward wedding gowns for the modern bride. Their collection includes gowns from leading designers in Australia, New Zealand & the US. Tell them Jetset Christina sent you – I actually used to be roommates with Sarah in SF! She's the best!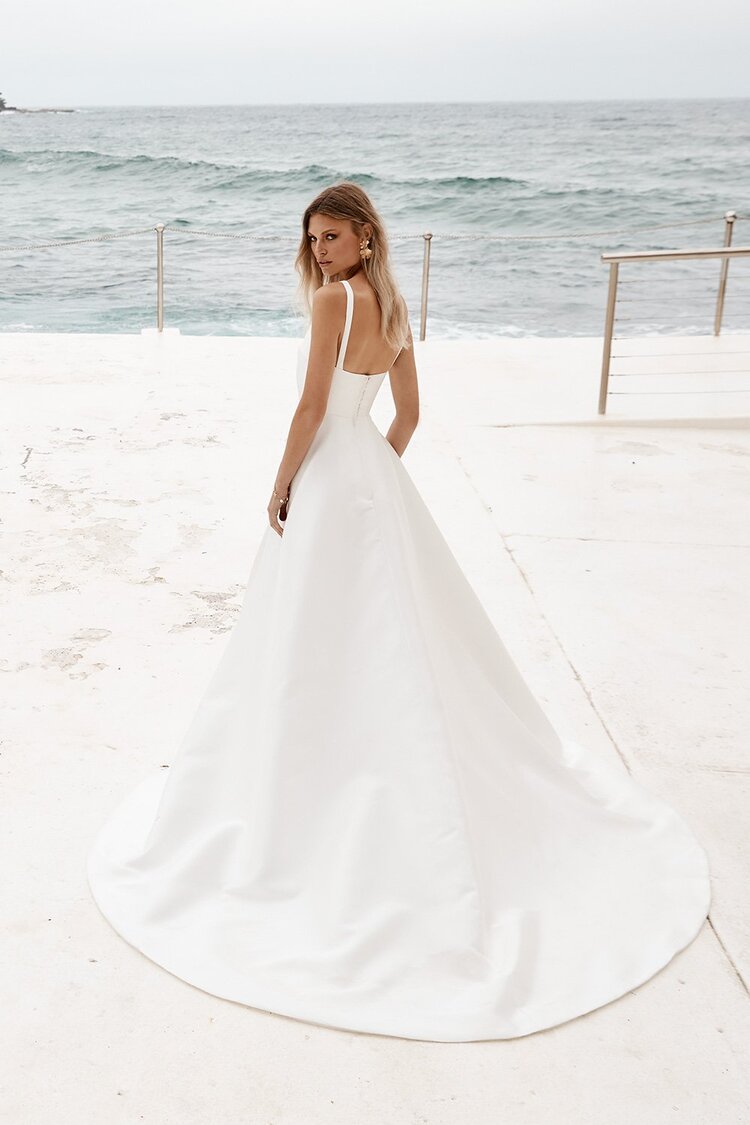 1623 Mount Diablo Boulevard, Walnut Creek, California
With really unique and talented top designers like Galia Lahav, Gala, Neta Benshabu, Angel Rivera, and J Andreatta, I am so happy we started our day at Kinsley James. Their selection is gorgeous, and being in Walnut Creek, I felt like the store offered some more unique, sexy, glam and beachy options compared to the wedding dress stores in the city. I mean just one look at their instagram and you'll see why it's worth a trip out to the suburbs to check out this place.
Aside from their dress selections, I also just loved the whole vibe and experience of this store! They poured us champagne and the girl who helped us was SO good. She was excited and helpful and the perfect personality for her job. I was so impressed by Kinsley James!
127 Graystone Terrace, San Francisco, CA
Jin Wang is a small bridal boutique with high-end couture designers like Oscar De La Renta, Naeem Kaan, Carolina Herrara and more. It was SO much fun to try on these dresses. I thought the experience was great – they're located in an amazing house in Cole Valley right now as their store gets remodeled. They didn't have as large of a selection, but the dresses they do carry were gorgeous. I will also say the vibe was more subdued, and the lady wasn't as helpful or as friendly as some of the other stores. In the end, for me, these dresses were too "city" and not as ideal for a destination wedding. But had I been getting married in a city, or a country club, I might have found my dress here!! I still highly recommend it for anyone shopping for couture wedding dresses in SF.
Vera Wang
180 Geary Street, San Francisco
If you've been dreaming about your Vera Wang ever since you started planning your wedding, your wedding gown shopping should 100% include a visit to San Francisco's Vera Wang store in Union Square.. Book your appointment well in advance, as this is one of the hardest to get into (especially on a weekend).
If you're looking for a designer wedding dress at an affordable price in San Francisco, or need to find a dress fast, head straight to Off the Rack Bride, located right by Bridal Galleria in Embracadero Center. All gowns are 30% to 75% OFF and ready to take home with you that day. The best part? No appointment necessary. It's first come, first serve.
Where NOT to shop for wedding dresses in San Francisco:
Honestly, I hate to give such a bad review but you guys know I have to be honest here on JSC! I read about Novella Bridal, located right near Union Square, and was excited to try on their dresses! But this was by far the worst experience we had. The selection felt cheap, and you could just tell the quality was levels below the other places on this list. Not only was the selection bad, the lady was rude, unhelpful, and incredibly stressed out. You could tell she was upset that I wasn't finding anything I liked (but I had liked almost every single dress I tried on at every other place we had been!!!) and she started feeling frustrated and instead of not letting it show, was taking it out on me, my maids of honor and my mom. It was crazy! We seriously couldn't get out of there fast enough.
The Best Etsy Finds For a Wedding
15 Things to Do as Soon as You Get Engaged
What to wear to your rehearsal dinner – rehearsal dinner dresses and shoes for the bride to be
The best bridesmaid getting ready robes
The best luxury honeymoon resorts to book for your honeymoon
The best overwater bungalows in Bora Bora
The ultimate bali travel guide
The Best Etsy Products for Your Wedding