The 10 Best Airbnbs in Positano – the best villas for couples, groups, and luxury views
Whether you're heading to the Amalfi Coast for a honeymoon, a trip with friends, a romantic getaway, or a special celebration like a destination wedding, chances are you're going to want to go to Positano. The gem of the Amalfi Coast is an adorable seaside town is carved into Italian cliffs, with bright orange and blue umbrellas covering the beach and winding cobblestone alleys full of family-run pasta restaurants & enotecas (wine bars). Positano is paradise, perfected, and the epitome of 'la dolce vita'. Here's where to stay in Positano when you go!
The best luxury houses to rent in Positano
5 bedrooms, sleeps 12. This gorgeous villa with a sea view, private pool, and stunning panoramic views, is tough to beat. Check rates here.
For seven-star luxury in Positano, look no further than the luxurious Merope villa in the hills. Your views will be second-to-none in this private villa that feels more like a personal resort. With a swimming pool, two hot tubs, and the most gorgeous terrace you've ever seen, it's hard not to claim this is one of Italy's most decadent villas.
La Scalinatella is a charming Italian villa located perfectly along the very famous staircase that connects directly to Positano Spiaggia Grande (the main beach in Positano). The villa sleeps 6 people features a spacious terrace overlooking the Mediterranean sea, one large living room, 3 double bedrooms, 2 bathrooms and a fully furnished kitchen.
Villa Mimosa is a splendid sea-view three-story villa in the heart of Positano. It sleeps 12 people. From Villa Mimosa you will enjoy a breath taking view of the sea, of Positano and of the Amalfi Coast. Villa Mimosa is 350 square meters. It features a private swimming pool, private terraces with a view of the sea, a garden, air conditioning, and much more.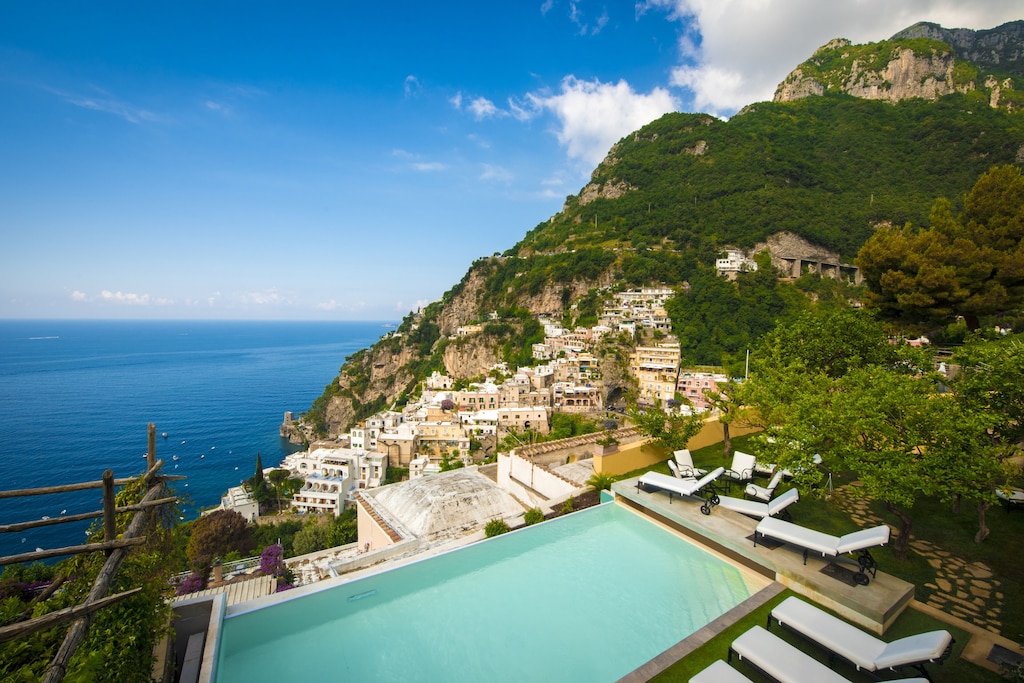 The perfect Italian villa complete with a pizza oven, professional barbecue, and gorgeous terrace dinner table under a beautiful open lattice with wisteria flowing around you. This place is pure Italian romance and beautiful elegance.
This gorgeous 3-bedroom property is the perfect holiday retreat for a family or small group. Villa Gaia is one of the few properties in Positano with the gorgeous position overlooking the sea and the town with minimal steps leading to its entrance from the street level. It's perfect for discerning groups and those seeking a luxury airbnb in Positano.
Looking out towards the sea and the picturesque town of Positano, Villa Oliviero is one of the most charming and most luxe Amalfi Coast villas. Surrounded by tiered stone terraces, the villa grounds are ideal for entertaining, whether for a holiday with family and friends, or for a special celebration like a destination wedding.
The property's entrance leads to a small garden, or wine garden, the perfect place to share a bottle of your favorite Italian vintage. From here, an outdoor staircase brings you down to the swimming pool on the lowest terrace, with its sun loungers and panoramic sea views. Chef service is included at Villa Oliviero, and the complimentary daily breakfasts are served on the main terrace.
Hello, heaven
!!!
The best airbnbs & VRBO's in Positano for couples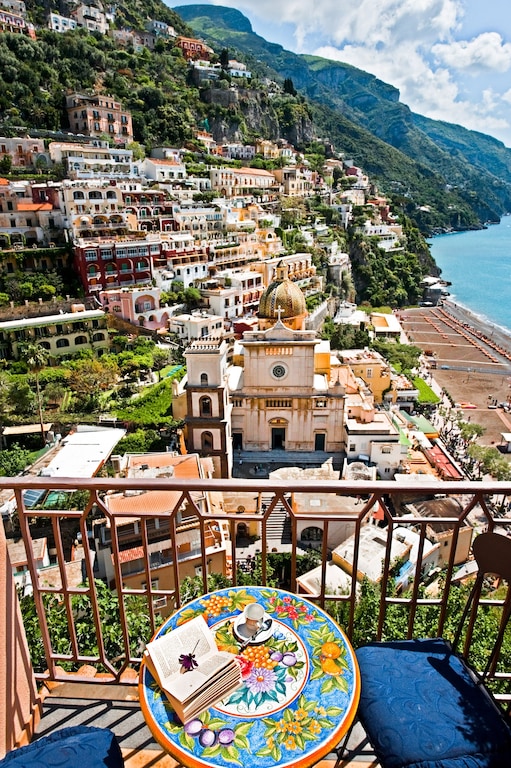 If epic Positano views are what you're after and are traveling Italy on a budget, look no further than this steal. Casa Vacanze Villa Le Sirene is a XVII century palace recentely restored in the heart of Positano, with a view of the famous Spiaggia Grande. The villa is located in a very central location in Positano.
See these other blog posts:
Honeymooning in the Amalfi Coast: The Ultimate Amalfi Coast Travel Guide
The best luxury honeymoon resorts to book for your honeymoon
The best matching couple swimwear
My travel photography prints for sale for home decor – the perfect way to remember your Italy honeymoon forever!
The Ultimate Bali Honeymoon Guide
The Best Mini-moon destinations in the USA
The best getting ready pajama sets for bridesmaids and bridal pj's
What camera I use as a travel blogger