The Best Mother's Day Gifts For Every Type of Mom
Mother's Day is just around the corner, and as a soon-to-be mama myself, I am extra excited to celebrate this year!! No matter if they have kids that are 1 year old or 30 years old, moms work (and worry!) around the clock working to keep their kids happy and healthy, so it always feels great to spoil them (even when her kids are all grown up). Whether you are looking for something to send your mom for mother's day, or your step-mom, mother-in-law, grandma, sister who is expecting, or your bestie who just had her baby, I've got you covered. I have scoured the internet for all of the best Mother's Day gifts for 2022, and I have curated the perfect Mother's Day gift guide just for you!
Mother's Day Gifts For Your Mom, Step-Mom, or Mother-in-Law
Here are the best ways to spoil your mom on mother's day – she deserves it!

An easy and classic gift for your mom on Mother's Day is a gorgeous bouquet of flowers! Check out all of the Mother's Day options from Urban Stems, here.
Wine.com makes it super easy to find your mom's favorite wine to be sent right to her doorstep! Not sure which wine to choose? Check out this list of my all-time favorite wines!
Choose your favorite recipe from your childhood, or even a recipe from your mom's mom (in her original handwriting!). Such a sweet and sentimental gift.
Is your mom always going on walks with her girlfriends around the neighborhood? Get here these 1 lb chic weighted bangles – I use them and they're so cute and a great way to add just a little extra weight to your at-home workouts or walks.
Treat your mom to these super cozy UGG slippers that will make her feel like she is walking on a cloud! You can choose from five different colors on the Nordstrom website.
Couple those UGG slippers with this best-selling robe from Amazon, and you'll have yourself a winning combo!
Influencer Lindsay Silberman and her husband own a luxury candle company called Hotel Lobby Candle, with high-end candles inspired by luxury resorts. They're 100% soy (healthier for you!) and they last FOREVER!!! They just came out with a new scent called Spa, with notes of eucalyptus, water mint, sage, jasmine, and amber – doesn't that just sound soooo relaxing?!
How chic are these? They come in multiple colors, and are on every mom's wish list.
I'm pretty sure I have put this Insta-famous pan on just about every gift guide since it came out, but that's because it is literally THAT GOOD!!! Your mom is going to love it.
If your mom likes to cook with fresh herbs (or if she just likes to have some plants to tend to), this is a great gift for her!
Ok this product is GENIUS. We all know a mom who is so busy that she is never able to finish her cup of coffee while it is still warm. But here's some good news – this temperature-controlled cup from Ember solves that! I think I need one for myself for working from home!
Save your mom time (and energy!) by gifting her this iRobot Roomba vacuum from Amazon. You can even control it from your phone when you aren't home! Sooo convenient!
Mother's Day Gifts For Your Grandma
We can't forget about the grandmas! Whether you are looking for your grandma or for your kids' grandma, these are all of my best recs.
How cute is this custom handprint cutting board from Etsy?! Grandma is going to cherish this forever. You can also get a recipe engraved on a cutting board if you have a family recipe that is special to you!
Storyworth is like a personalized conversation with your loved ones and their memories! Once per week, Storyworth will send the recipient a writing prompt via email that will also be shared with you. Then, at the end of a year, Storyworth will put together a custom scrapbook with all of your grandma's memories! This would be great to pass down to your kids one day, too.
These slippers are super cute and comfortable, but they will also keep grandma safe so that she doesn't slip and fall.
If Grandma lives a few states away, this is the perfect gift to remind her that she is always close at heart!
Does anyone else's grandma keep all of their best recipes in an old notebook that is, shall we say, not in the best shape? Gift her this new recipe box that will keep all of her recipes safe!

Another great customizable gift is this Etsy "Grandma's Garden" print!
Mother's Day Gifts For the Expecting Mom
It's always nice to spoil the mamas-to-be, too! Here is what I would want as an expecting mom. PS – if you haven't already, check out my best baby registry picks and pregnancy must-haves for more gift ideas!
She can finally wear a mama sweatshirt! Yay! This crewneck is super lightweight and is an Amazon best-seller.
If jewelry is more her style, get her this chic mama necklace that will go with everything! Or this one!
In case you haven't heard, this is THE pregnancy uniform! I have been completely obsessed with this brand – I can't stop wearing their dresses and jumpsuits!! I wear a M.
The World's Best Blanket
I got one of these for Christmas, after hearing ALL of they hype about it for so long, and I can attest that it 100000% lives up to the hype.
The one thing every pregnant lady can't get enough of – glazing herself like a donut with belly oils! I have been putting this belly oil on every night to try to avoid stretch marks, and I love it! Since that one is on pre-order, this oil from Bio-Oil is also highly rated on Amazon!
Our new Aruba swimsuit from Kenny Flowers is the ultimate pregnancy suit! It has luxe fabric that is super stretchy, perfect for that bump! You don't even have to size up – it's super stretchy!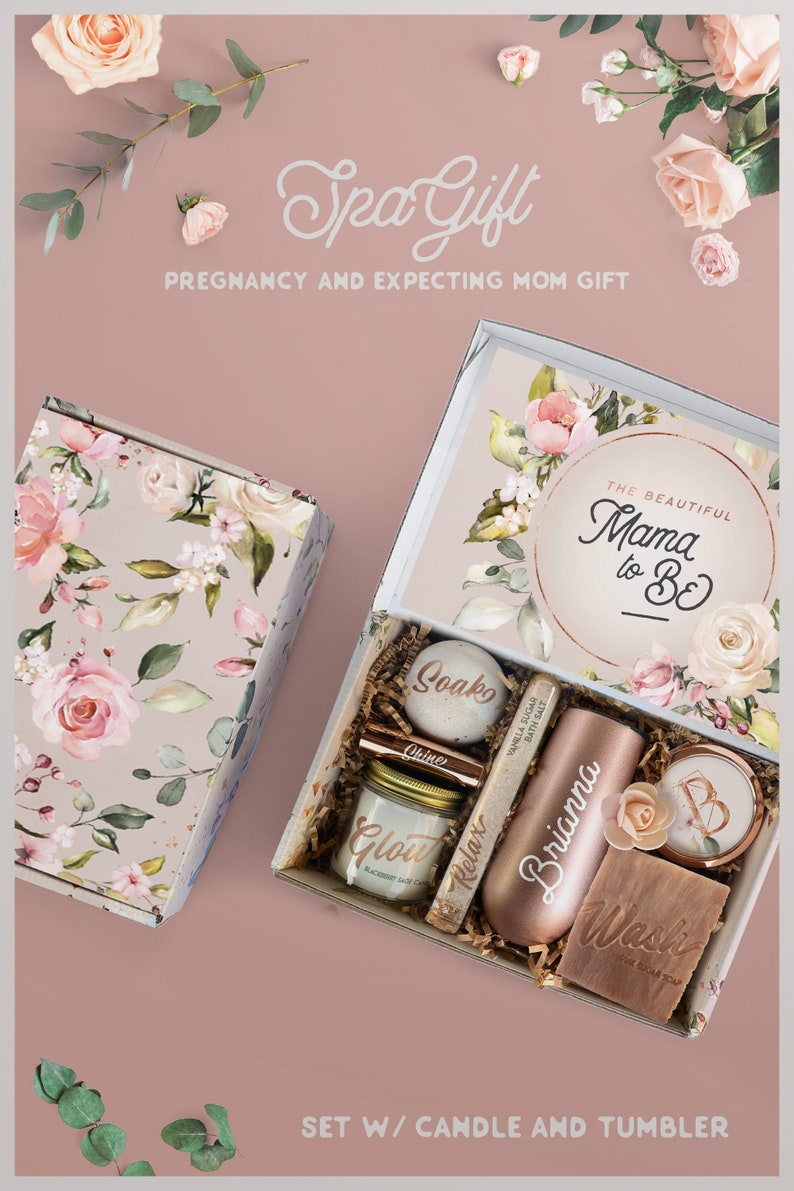 Treat her to a pregnancy-specific self-care box!
Massage guns are soooo nice for those sore muscles, especially if the mama-to-be is in her third trimester!
Mother's Day Gifts For the New Mom
New moms definitely need a little extra loving this year, so here is what you should get the new mamas in your life!
UberEats Gift Card
The last thing a new mom wants to worry about is what to cook for dinner. Treat her (and dad, too!) to a nice meal, delivered to them!
This 14K Yellow Gold necklace from Baby Gold is absolutely stunning, and such a cute gift for a new mom! Chances are, she's been getting a ton of gifts for the baby lately, but getting her something like this is a nice way to remind her that you're thinking about HER, too.
Getting a new mom a Spa Finder gift card is basically like giving her heaven for a day! Spa Finder works with thousands of locations, so no matter where she lives, she will be able to book herself a "me-day." Or if you know her go-to spa, get her a gift card there!
This self-care box is specifically for new moms and has all of the relaxing essentials!
She has probably been waiting a year (or more) for that glass of wine, so get her a wine glass that will make her smile!
Chances are, the new mom in your life doesn't have a whole lot of time to go grocery shopping for the perfect steak, so a gift package from Omaha Steaks is ideal!
The Instant Pot is a great gift for a new mom because it cuts down cooking time significantly. Plus, many moms use the Instant Pot to make baby food (check out the Instant Pot baby food cookbook, here!).
Check out these other blog posts: