The Best Matching Swimsuits for Your Next Family Vacation
Looking for the best high-quality matching family swimwear for your next vacation? You came to the right place. There's no question that I love a good matching moment when it comes to going on vacation. From honeymoons and bachelorette parties, to family vacations, matching in the same print adds the extra flare to any special getaway, and of course, looks great in photos!! With the resurgence of the classic "mommy and me" twinning trend, I can't wait for the day that I can roll up to the infinity pool matching with the whole family! But until that day comes, I want to make sure all of you guys get to have those perfect family vacay moments. These are the very best brands for matching family swimwear to bring on your next vacation with you! These gorgeous matching kids and adults swimsuits will have you snapping Christmas-card-worthy photos in no time!
*Click the links below to shop. I may make a small commission on any purchases (at no cost to you. of course!)
THE BEST MATCHING SWIMWEAR FOR THE WHOLE FAMILY
Shop these suits:

The Positano Print
If high-quality matching family swimsuits and family vacation outfits are what you're after, look no further than Kenny Flowers – which started as a men and women's matching brand, but has since expanded into adorable looks for your little ones, in the same quality and unmatched prints you expect from the KF brand.
how cute is this 'vacation mode' baby bucket hat?!
Also how cute are these lion swim trunks for a matching daddy-and-me swimwear set?
Lilly Pulitzer is an absolute classic brand known for their colorful and fun prints, and their matching swimwear for the whole family is no exception! I'm loving this turquoise and pink set with one piece for mom, tankinis for the girls, and even the little boys! No one can go missing in these prints!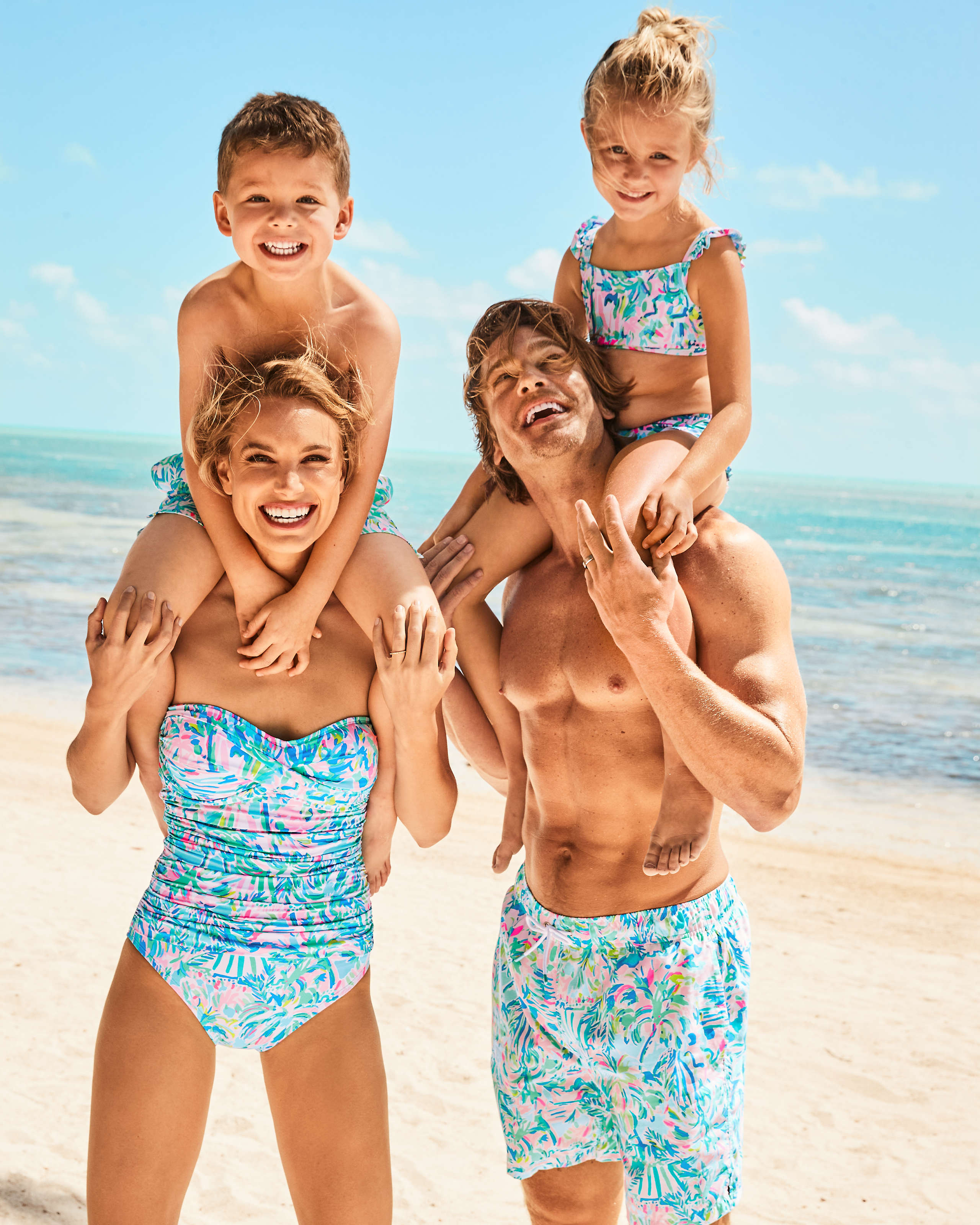 Another print I'm dying over is the Layne one-piece/ Eliana Ruffled suit for a memorable mother-daughter matching on vacation moment!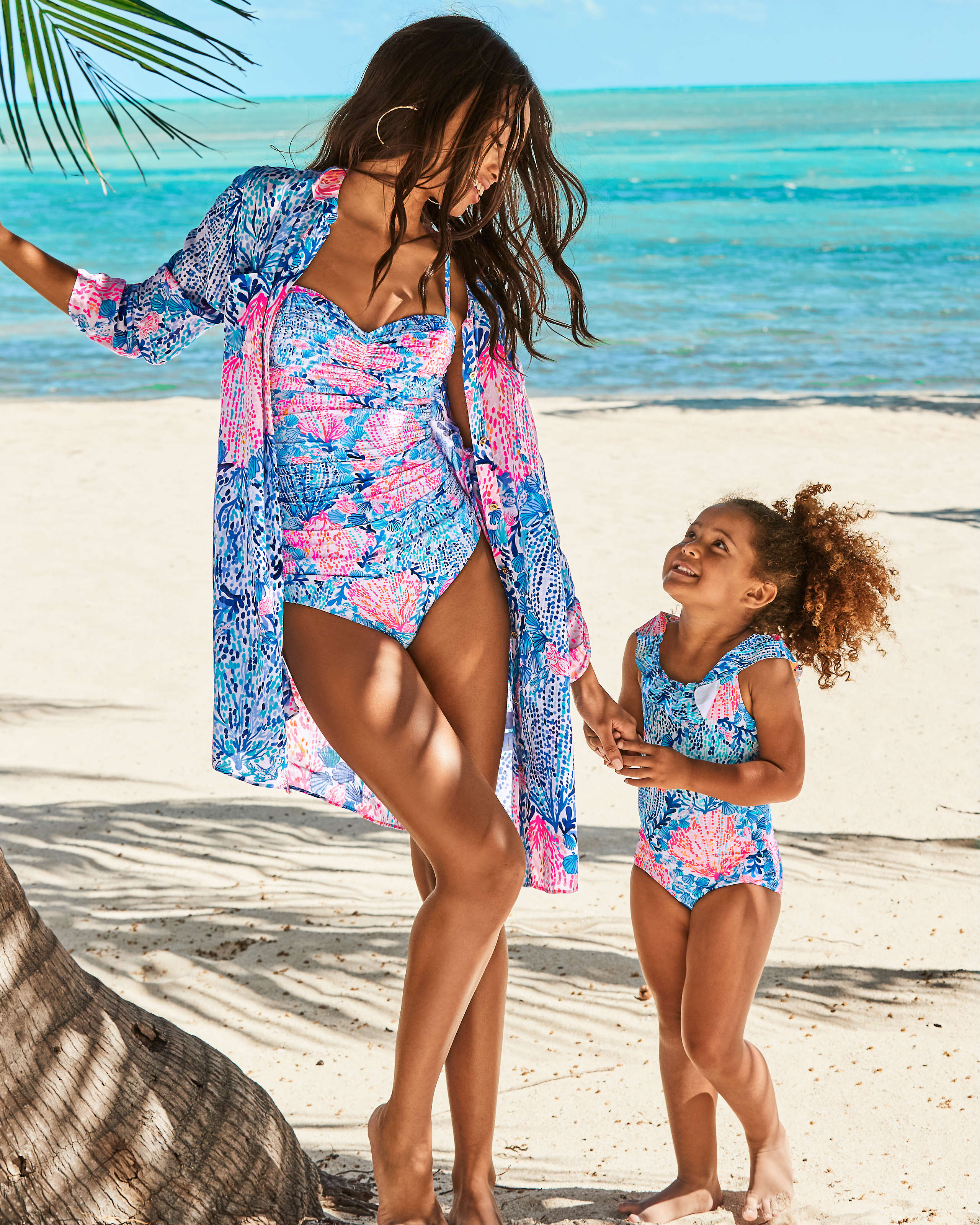 As well as the travel-inspired UPF 50 Jaspen one-piece for mom and me. Perfect for resorting in style in Hawaii or the Caribbean!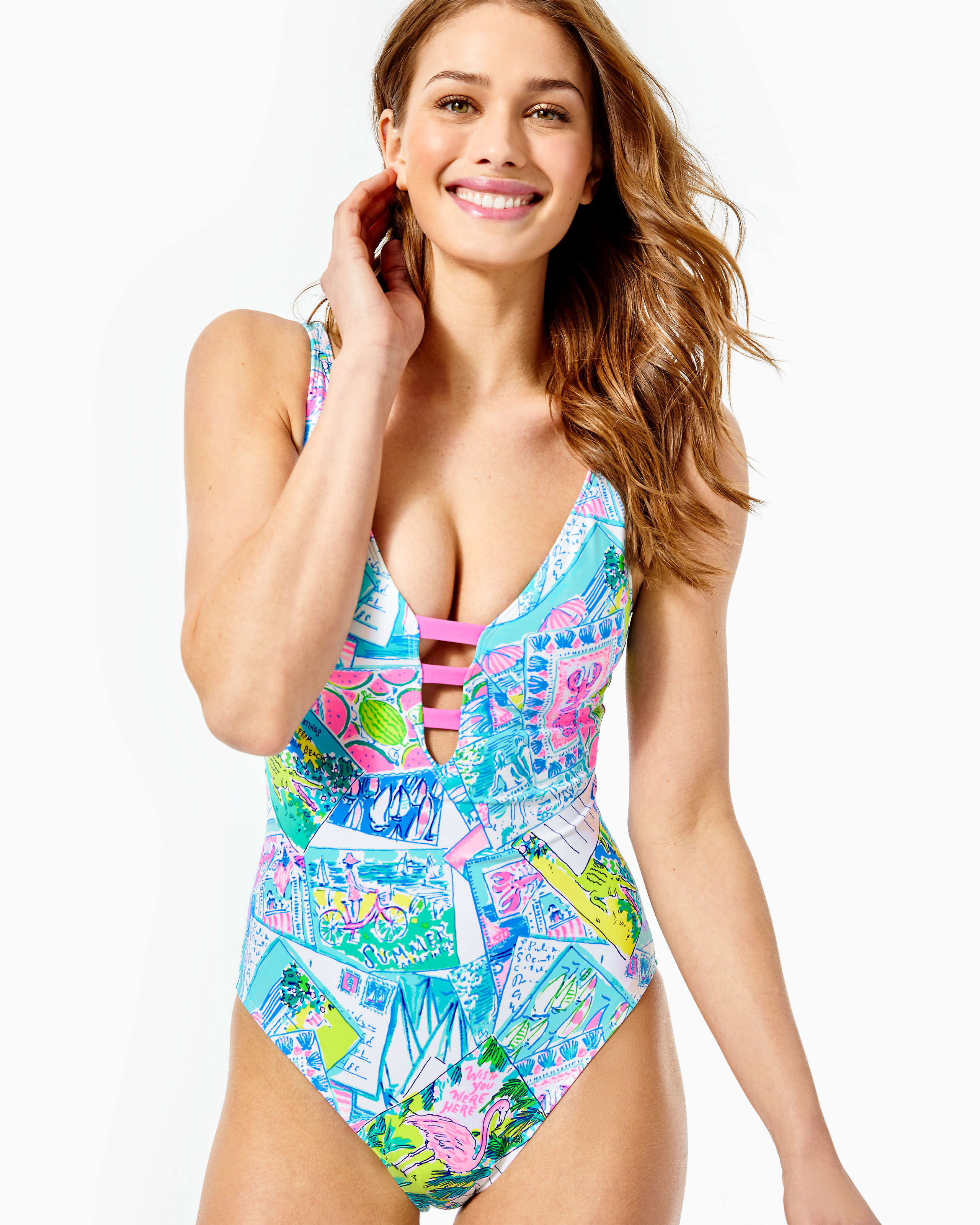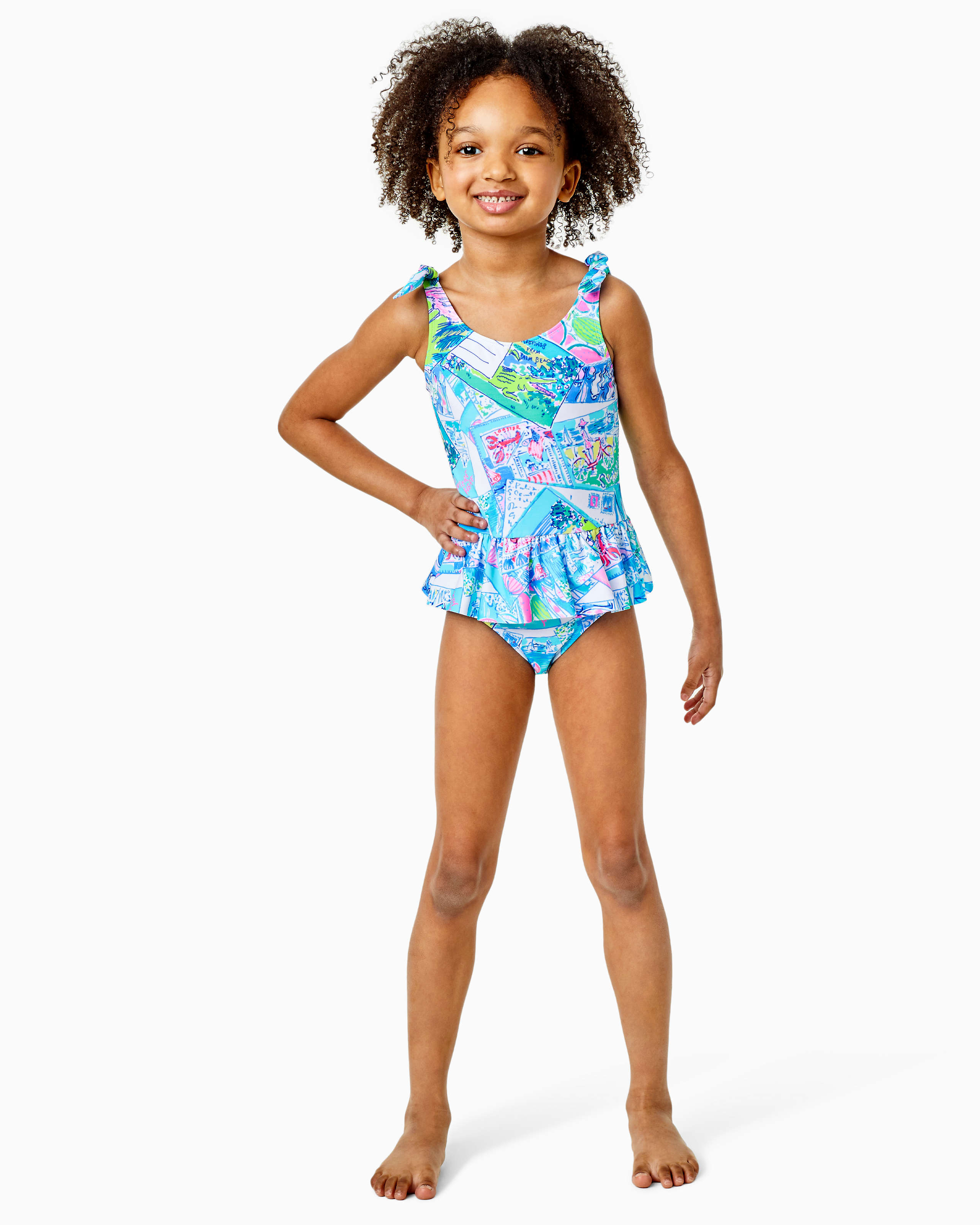 These cotton candy colored suits just scream summer! Snag the one piece or bikini for mom, the ruffled one-piece for the little lady, and matching trunks for dad.
This pink confetti sidestroke matching set is also heart-meltingly cute! I picture this so perfect for a toddler's birthday party by the pool!! The corresponding trunks for the boys don't disappoint either!
This company does high-quality collections with some adorable family options! This classic black-with-white-polka-dots look is absolutely a must! The off-the-shoulder one piece for mom is screaming European summer getaway, while this cute ruffled two piece for the gals and trunks for the guys are tres chic!
This Australian brand has matching swim for the family! Ruffles for the ladies, pin strip trunks for the pops and little man and a classy one piece for mom (we love to see it!).
I also love the matching trunk pockets like these!!
Infamous Swim
This Australian swim and loungewear company puts an emphasis on woman's empowerment and these "mommy-and-me" swimsuits sets couldn't be more on brand. The ruffled mini bikini sets will make your heart melt! The matching bikini for mom isn't bad either! And the sexy plunging V-neck cheetah one piece will give you all the confidence as you step onto the beach matching your little one. They even have matching stripes and cheetah trunks for the boys!
For the "Daddy and Me" equivalent of the Mommy and Me moment, look no further than Tom & Teddy. Producing high quality adorable designs for the beach ready dynamic duos. You can't go wrong with the lobster print to kick off the summer fun, or a good ole classic stripes never hurt.
Mott 50 focuses on using quality fabrics that are SPF 50 (hence the name) to keep you and your family protected during those long summer days in the sun. Their fun and spunky matching family vacation prints make perfect matching family swimwear sets! I can't get over this Banana print, I mean how cute are these mini trunks?? I love that the bikini for mom is high-waisted too!
Another print of theirs I'm falling for is the Eden Rose. Chic for mom, not to mention they have youth sizes as well!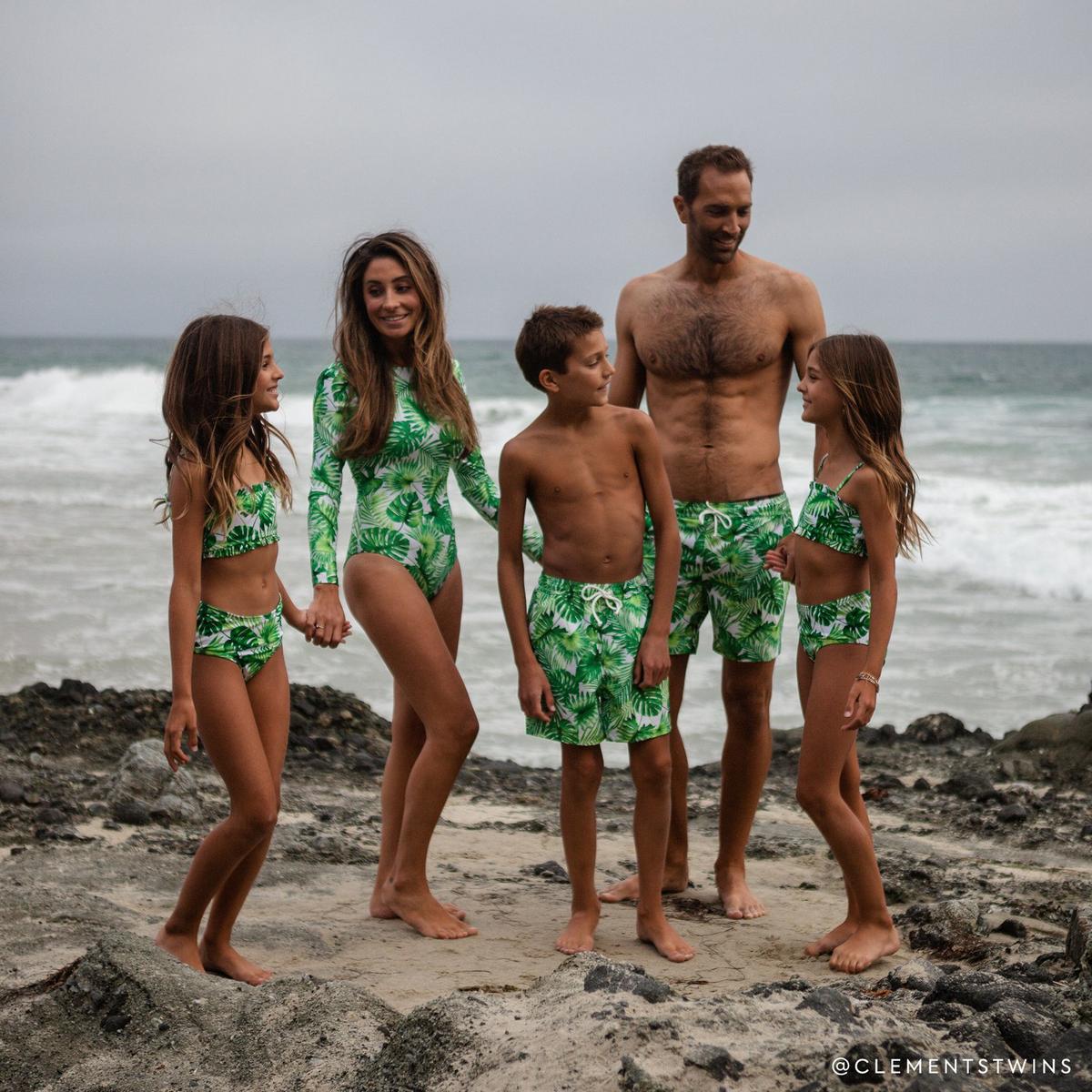 Not only are these matching family swimsuits adorable, but they are HIGH quality!! I'm sure you guys already know that I'm a big fan of palm fronds. This sweet two piece girls set paired with the one piece for mom is to die for!! Janie and Jack also do "tween" sizes, perfect for family vacays and reunions! Their matching family sets don't stop at swimwear either! They have holiday collections for the perfect family photo outfits that will create your best Christmas card yet.
Check out these related posts
The best matching couples swimwear