What to Gift Your Husband or Wife for Your First Wedding Anniversary
If you're looking for creative one year anniversary gift ideas, you came to the right place. Just one year after receiving everything you've ever wanted (and more) from your wedding registry, what in the world do you get your spouse for your first wedding anniversary?! Traditionally, your first-anniversary gift should be made out of paper. The easy answer would be to get your husband or wife a card or a love letter (which is always sweet!). But if you want to do more or want a few more creative one year anniversary gift ideas, here's what the experts (AKA you guys on Instagram/all of the wedding professionals I could find online) had to say!
If you haven't already printed out a wedding album, you have to do this for your first wedding anniversary!!! Having photos digitally is great, but there's nothing like looking through a beautiful, luxuriously bound leather wedding album (I have heard great things about the albums from Shutterfly!). Plus, it makes for a great coffee table book!
Now that you are husband and wife, it's time to upgrade your personal stationery to couples stationery!
Invest in a nice piece of artwork or framed photography that you can hang in your home for years to come! This could be the start of your art collection as a couple. If you'd like, you can continue to add one piece each year on your anniversary to keep it going!
I looove this artist Lauren B. Marttila. We have a print of hers in our bedroom!
Custom Painted Wedding Portrait
Have a favorite photo of you and your honey from your wedding day? Have an artist paint a custom portrait of it! I love that this seller on Etsy paints it on an actual canvas that is ready to hang versus on a flimsy paper that is rolled up in a tube.
If you and your spouse shared vows that you wrote yourselves, a great way to make these into a keepsake is by having an artist print them out as a piece of artwork! You could place your vows over one of your favorite wedding portraits like this, or you could have them printed on two separate canvases to hang over your bed, in your living room, or in your master bath!
Paper Rose Co. is known for what they call their "paperversary" bouquets. If you send in a photo of your wedding bouquet, they will create an exact replica out of paper! So cool.
Uncommon Goods sells "The Anniversary Journal," which I think is such a cool idea! Not only will this be special for your first wedding anniversary, but it is the gift that keeps on giving – you will be able to use it all the way through your 60th anniversary!!
I know soooo many of you love to travel with your significant other, so this push pin travel map from Amazon is a great gift that you can enjoy together! Hang this up in your home and continue to add a pin for each new city or country that you explore as a married couple.
To make this map extra special, don't pin any locations that either of you has been to without the other person! Mark the places that you have been to together, and make a bucket list of everywhere else that you want to go (search through my travel archives if you need some inspiration!!).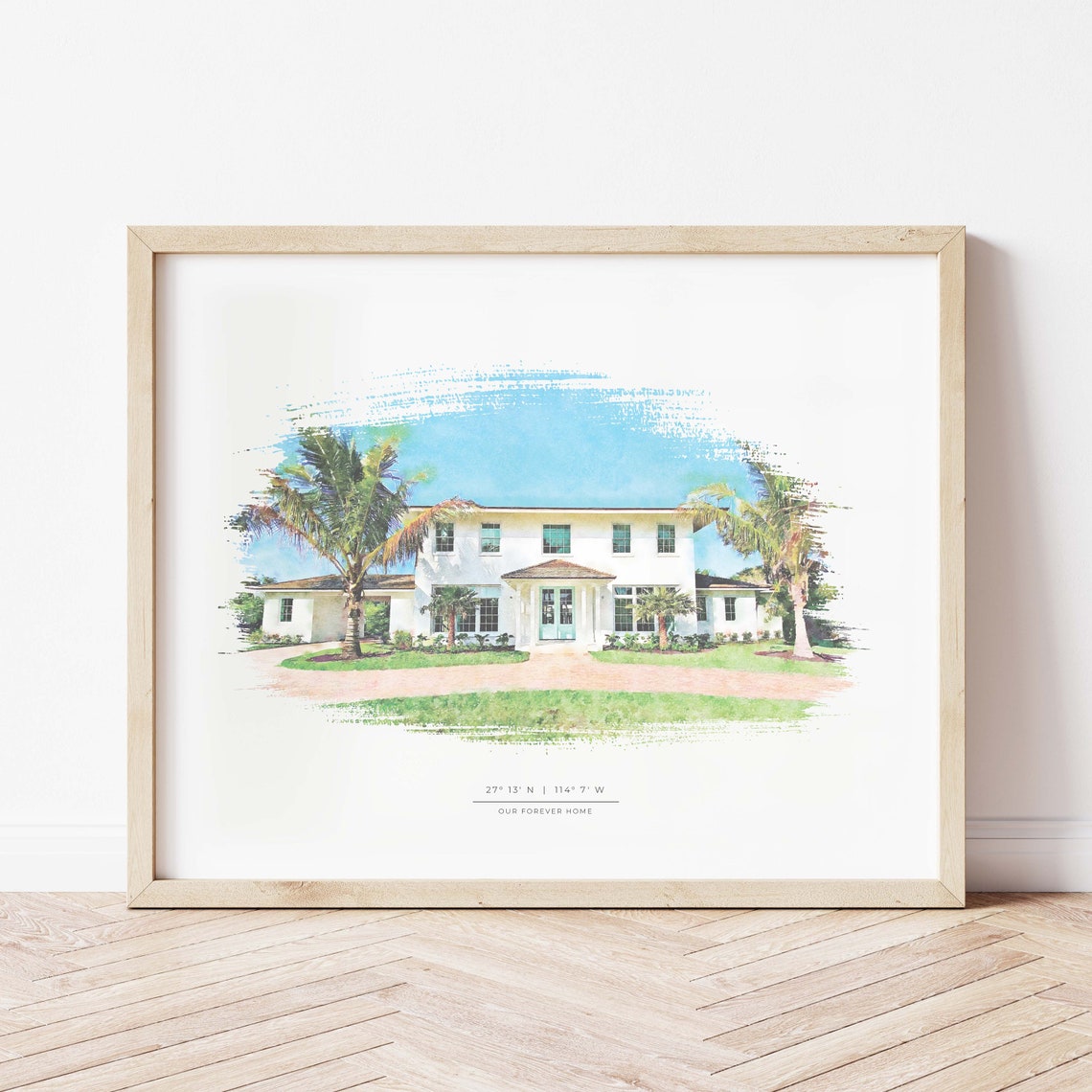 If you purchased your first home together, commemorate this huge milestone by getting a watercolor portrait of it! This is something that you can hang up in every house you ever live in. Such a sweet keepsake!!
The Adventure Challenge books have been going viral on social media, and I can see why!! These books help you break out of your day-to-day routines and try new things together that you may not think of on your own. And if you want to get a little spicy, there is an "…In Bed" version as well!
Plane Tickets
You know I'm on team vacation-as-a-present for any occasion in life, especially an anniversary! Head to a beautiful island like Anguilla or the Maldives for your one-year anniversary, or stay in the States and explore a fun city like New York or Charleston.
Your wedding was a moment in time that can never be repeated. Likewise, the night sky on the night of your wedding will never be replicated ever again! Capture the constellations by creating a custom, framed map of the night sky on the evening that you became husband and wife.
Check out these other blog posts