I travel for a living – here's why I chose NOT to buy the Doona for traveling with my baby
If you're pregnant and you're planning your baby registry, chances are you've been thinking about – and researching- the best travel stroller to buy. While some people can get by with just using their regular stroller, if you travel often, you're going to want something more portable and lightweight rather than a big clunky stroller to take with you on your travels. Something that you can easily get in and out on a plane, train, and taxi. Here are the things to consider when choosing a travel stroller: 1) Portability 2) Storage 3) Weight 4) Ease of use.
When I first started researching and talking to friends who had babies, one stroller kept coming up as a game-changing option – the Doona. It seemed almost too good to be true – a car seat and a stroller in one? GENIUS! It fits on a plane, and the wheels just meld up into the stroller to make it a carseat – pretty cool. But, upon further research and trying one out myself, here are the reasons I chose AGAINST the Doona for traveling with my baby.
Now, I really don't want to hate on Doona because like I said, it's a pretty genius product, and it might be right for you!!! The benefits of having a travel-friendly infant car seat system where the car seat and the stroller are one may outweigh these points (especially if you live in an urban area such as New York City and frequently use taxis or ride shares and are just using the Doona to get baby from point A to point B, and not using it too often as a stroller).
But, I get asked a lot about why we chose the travel stroller we went with, and why NOT the Doona, so I thought I'd be honest about my Doona review and why I honestly don't love them for myself.
The look : I honestly didn't love the way the Doona looks compared to other strollers. The Doona, with it's bright yellow and black aesthetic, has an almost plastic-lego-toy look to it and it sits so low to the ground, which feels weird to me, and always looks weird when I see someone strolling one. Plus, I'm on the taller side and so is my husband, and it felt like we were hunched over the Doona versus other strollers that were better for taller people.
The safety ratings : The Doona isn't approved in Canada because of its safety ratings. Consumer Reports has tested the Doona infant car seat and given it a Crash Protection ranking of "Better" on a scale of Basic, Better, and Best. Given how much we travel and planned to use our travel stroller, better just wasn't good enough for me. I wanted the best!
The ease of use: Since the Doona functions as both an infant car seat and a stroller, rather than an infant car seat alone, it's a little less easy to use. There are a few additional steps you'll need to take when transitioning the Doona from stroller mode to car seat mode, and it's slightly heavier than other infant car seats because the stroller wheels are attached to the car seat itself. Now, the fact that it's all-in-one definitely IS cool, but I love the ability to plop our infant car seat from the car onto the stroller (often while he's still asleep!), which I find super easy. I don't mind the two parts!
You can only use it in the first year (and if you have a bigger baby, maybe even less than that)
The way it handles tougher terrain : the Doona is not built for tough terrain, and I knew we'd need a strong, sturdy stroller for all of the places we were going to take ours! However, if you live in an area where most of your walking will be done on paved surfaces, sidewalks around town, or metro systems, the Doona could be perfect for you.
The lack of storage : I always have a million things in my hands while traveling (here's everything we travel with when traveling with a baby!) and I use the undercarriage storage of our travel stroller SO MUCH. It is always full of extra carry on items, food, baby gear, etc. I need that space! The Doona doesn't have any storage space!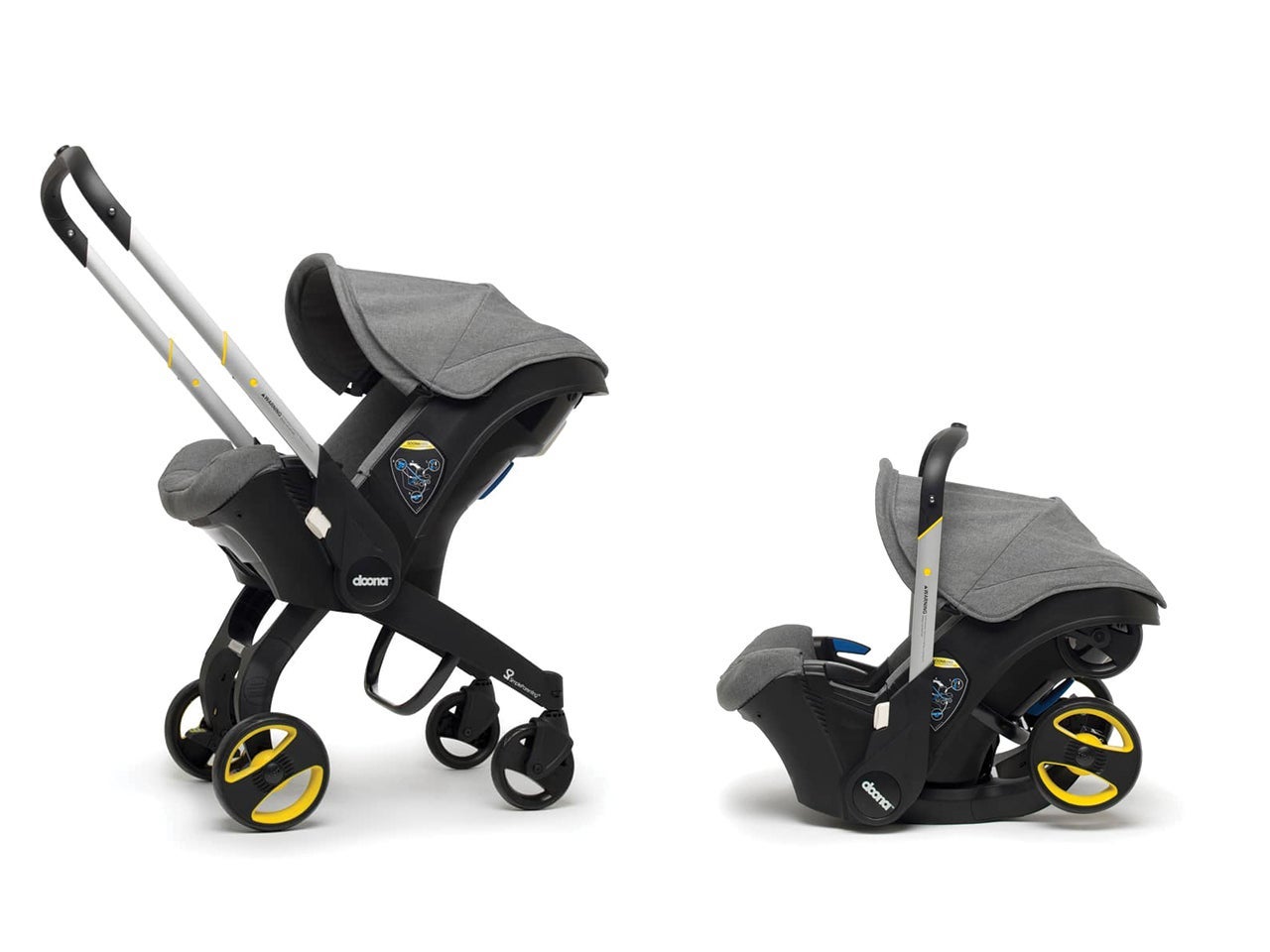 Product photo via Nordstrom
Doona vs. MINU
The Uppababy MINU is my top travel stroller pick thanks to its ease of opening and one-handed fold-down, compact design, storage, and all-around simplicity of operation. I also love the way it handles tougher terrain (read: from cobblestones in Europe, to dirt-paved paths in Hawaii). The storage is unbeatable – and I always have it full of baby stuff, and the UPF 50-plus sunshade lends sun protection on a walk or if you want your baby to take a nap in the stroller at the beach. It's LIGHTWEIGHT, and the infant car seat plops right on there – so while it's not one piece, it's 2 very easy pieces.
Here's what I love about the MINU vs. the Doona
One hand, one-step fold
All-wheel suspension
Roomy seat with adjustable recline and leg rest
Large, easy-to-access storage basket
Extendable, zip-out UPF 50+ canopy for protecting your babe from the sun!
16.9 lbs – lightweight!
From-birth option using the UPPAbaby Bassinet!
We use the MINU with our uppababy MESA car seat, which has high safety ratings and can fly on the airplane with us!
Features of Uppababy MESA
Airplane-safe
SMARTSecure System
Built-in lock-off system
No-rethread and 5-point harness
Stroller release button
Fire-resistant material
Adjustable canopy
Storage pockets
Side-impact protection
Tightness indicator
Level indicator
Machine-washable fabric
Pros
Adapts easily with different strollers – like our MINU travel stroller
Made of fire-resistant material
Comes with a reliable safety system
What do you guys think? Let me know in the comments!
Check out these other blog posts:
Everything you need to know about traveling with a baby
Can you travel with a baby! Yes – here's how