Where to Stay in Mayakoba, Mexico: Rosewood vs. Fairmont vs. Andaz vs. Banyan Tree
We just got back from an incredible trip to Mayakoba, Mexico and it's definitely one of my new favorite destinations in Mexico. Mayakoba is a gated, exotic, lush, 620-acre area along the coast of Playa Del Carmen comprised of jungley lagoons and four high-end resorts to choose from: Banyan Tree, Rosewood, Fairmont and the Andaz. Whereas nearby Tulum caters to the boho-chic, adventure traveler, Mayakoba is all about the luxury traveler.
While you can't go wrong with any of them, different types of travelers will flock to each. The best part? Each of the resorts is connected via lagoon and by foot, so guests at any resort are welcome to eat at the restaurants at all the others, so you can feel like you're exploring around without ever stepping foot outside of the premises (if that's what you want!).
How to get to Mayakoba
To get to Mayakoba, you fly into Cancun and take an airport transfer about 40 minutes south to the Mayakoba area.
The Rosewood Mayakoba
Ultra-luxe-yet-playful, refined and perfect, with service that goes above and beyond
If you're looking for a luxury resort in Mexico that will blow your expectations out of the water, it's the Rosewood Mayakoba. Rosewood Mayakoba is a gorgeous, exotic paradise of crystal clear lagoons and mangrove forests stretching over 620 acres, with a large stretch of beach across the coast. This resort constantly wins awards for its service (that truly, is some of the best hotel service we've ever had anywhere in the world!!) and its modern design. It feels pretty dang perfect here, and I felt like our stay completely rejuvenated me in all the ways you hope a vacation will. We will DEFINITELY be coming back.
Make sure you make time to go to the Sense spa, which sits on its own private island overlooking beautiful, lush, limestone lagoons. Try out one of its unique Mayan-influenced treatments, which will put you into a total vacation zen.
How do I get Jetset perks when booking the Rosewood Mayakoba?
For free breakfast for two at the Rosewood, a $125 resort credit, and a room upgrade (if available), fill out this contact form and be sure to use the referral code "JETSETCHRISTINA" if you use my referral, my agency partner will reach out with more information and can help book you with all kinds of fun perks (at no extra cost to you, and they don't charge a fee to book!)
Shop our outfits:


What are the differences in rooms at the Rosewood Mayakoba?
Each of the Riviera Maya hotel's 130 stand-alone suites comes with a private pool, butler service, spacious rooms, a rooftop terrace and boat deck, plus beautiful views of either the sweeping lagoon the resort is built over or the ocean. Here are the room categories: Lagoon studio suite, wellness suite, deluxe overwater lagoon suite, deluxe lagoon suite, beachside lagoon view suite, rooftop oceanview suite, Mayakoba oceanview suite (2 bedrooms), beachfront studio suite (where we stayed), and then you have more specialized suites (like the presidential suite) that you can read more about here.
We were deciding between a lagoon-view and an ocean-view (or beachfront) room at the Rosewood Mayakoba, and you really can't go wrong between the room accommodation options at the Rosewood Mayakoba. Some people love the overwater feel of the lagoon suites (they're beautiful and feel somewhere between overwater bungalow and Amazon river cruise), but we personally chose the ocean views. We toured the rooftop ocean view suite (absolutely stunning, and SO spacious), but we were upgraded to the beachfront studio suite, which I could not recommend more, especially if you have little ones and want easy beach access.
We booked the rooftop oceanview room but received a complimentary upgrade (which you can get too if you contact here and use the referral 'JETSETCHRISTINA"). If you're hoping for an upgrade, I'd travel on off-times (we traveled after labor day which is their off season, and while it was hot-hot-hot, we got gorgeous weather all week! It can be hit or miss with the rain that time of year, but we got lucky and loved it! It was quiet at the resort compared to say, summertime, or spring break time, and felt like our own oasis.
Which resort in Mayakoba is best for families?
The Rosewood Mayakoba is especially amazing for families, with a renowned kids club (4+) and in-house babysitters and nannies who can take care of your babies and children right in your room. We used the nanny service for our three month old and it was wonderful. We used Giselle and she was so wonderful with our baby – he relaxed right into her arms and would just nap for the time she watched him! We were never too far away (and had the baby monitor set up just in case!) so we felt able to really take a break and enjoy some 'us' time on vacation (we headed straight to the adults-only beach club one day, and the spa the next!) While we LOVED having our baby boy with us, this was such a huge perk to be able to use. All nannies are background checked and they use only the best! We felt beyond comfortable leaving him with her. And they're also really good about booking you with the same nanny throughout your stay – which makes it feel even more comfortable. I've heard nothing but AMAZING things about the kids club, too, once your kids are 4+. This resort does everything above and beyond to make kids feel special – even for our little baby there were surprises each day, from the staff writing 'HARRISON'S BEACH HOUSE' in the sand outside our beachfront suite, to leaving him an embroidered pillowcase with a jellyfish and his name on it, to milk and cookies when we arrived – just for him. It's really above and beyond what they do for kids and for families, and I have no doubt the kids that stay here are begging their parents to come back every year.
Luxurious, upscale design
The Fairmont is Mayakoba's largest property, with 401 luxurious guest rooms available, including beachfront casitas, suites with private terraces and plunge pools overlooking the tranquil lagoon and water canals, a presidential suite on an island of its own and even full 3 or 4-bedroom residences. The overall feel is secluded and peaceful, with an emphasis on fine design.
Photo via Fairmont Mayakoba
The rooms have some private infinity and plunge pools with ocean or lagoon views, but Fairmont Mayakoba also offers a large family-friendly pool, with comfortable loungers and even a water slide! There is also a beachfront pool and a relaxing adults-only infinity pool overlooking the gorgeous lagoon and into the jungle. Rooms are bright and airy to reflect modern Mexican design, and have deep marble soaking tubs. Book a private suite, and you'll have a the beach right at your doorstep.
One of the best parts about this hotel is its all-inclusive package, where you can wine and dine to your heart's content with unlimited dining and premium beverage service at the available restaurants, for an extra $351 per room per night.
Keep in mind that everything is pretty spread out from each other so you will either take a covered boat, electric golf cart, bicycle or your own two feet will transport you around the resort. (but hey, walking or biking is a great way to burn off the vacation margaritas!)
Stylish, hip, luxe
Keeping with the Andaz brand, this hotel features a hip, young atmosphere full of chic rooms have Nespresso machines, outdoor spaces, and rainfall showers. Rooms also feature modern amenities you'd expect from an Andaz like bluetooth speakers, furnished terraces, and some rooms add tubs and private pools. One of the biggest benefits to this resort is the all-inclusive package available covering food and house drinks (but not premium liquor). Complimentary bikes and golf carts take you around the large property, which I think is one of the most fun ways to stay active on vacation!
They've also recently put more of a focus on wellness at this resort, introducing expanded wellness programming and a dedicated weekly Wellness Calendar including fitness classes, yoga, Mayan meditation, spa workshops and more
Is the Andaz Mayakoba family friendly?
While the Andaz vibe is admittedly more contemporary and young-adult focused, and the vibe is hip and happening, families shouldn't be turned off! There is a popular kids' club so parents can ditch the kids with confidence (and zero guilt) for the day.
Photos courtesy of Andaz Mayakoba
How to book the Andaz Mayakoba and get perks for being a Jetset reader!
For free breakfast for two, a $100 resort credit, and a room upgrade (if available), fill out this contact form and be sure to use the referral code "JETSETCHRISTINA" if you use my referral, my agency partner will reach out with more information and can help book you with all kinds of fun perks (at no extra cost to you, and they don't charge a fee to book!)
The Banyan Tree Mayakoba
Each of Banyan Tree's 123 villas comes with a heated private pool, outdoor tub/shower, landscaped garden, and lagoon, jungle, or ocean views. The resort is pretty spread out (which makes it feel like your own private oasis) and individual bikes are provided to help guests get around. If you feel like socializing, stop in at any of their nine gourmet restaurants and lounges. You'll also have access to all of the Mayakoba offerings, including the 18-hole Greg Norman-designed championship golf course (first PGA TOUR golf course in Latin America).
The resort has a minimalist, Southeast Asian aesthetic, with a focus on natural, sleek, airy spaces that blend seamlessly with nature. The vibe is very relaxing and romantic, drawing honeymooners on their Mexico honeymoon and minimoons, though families will love it here too.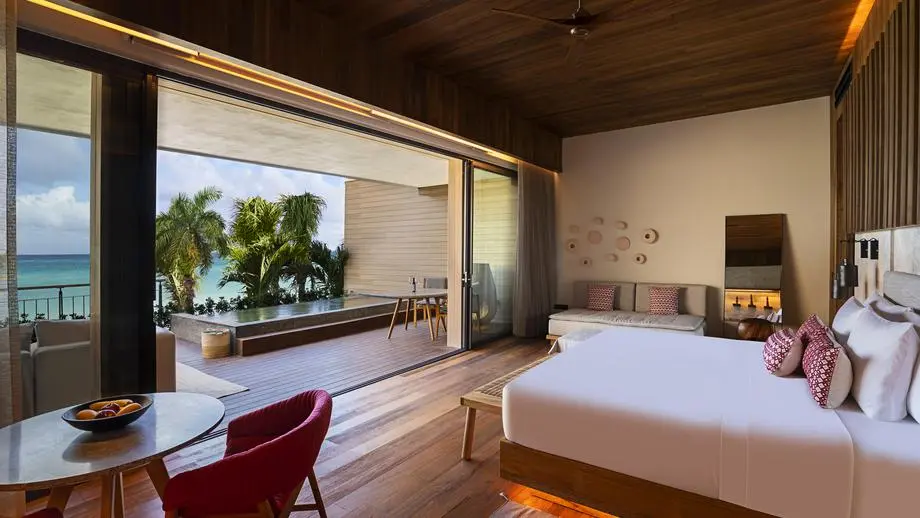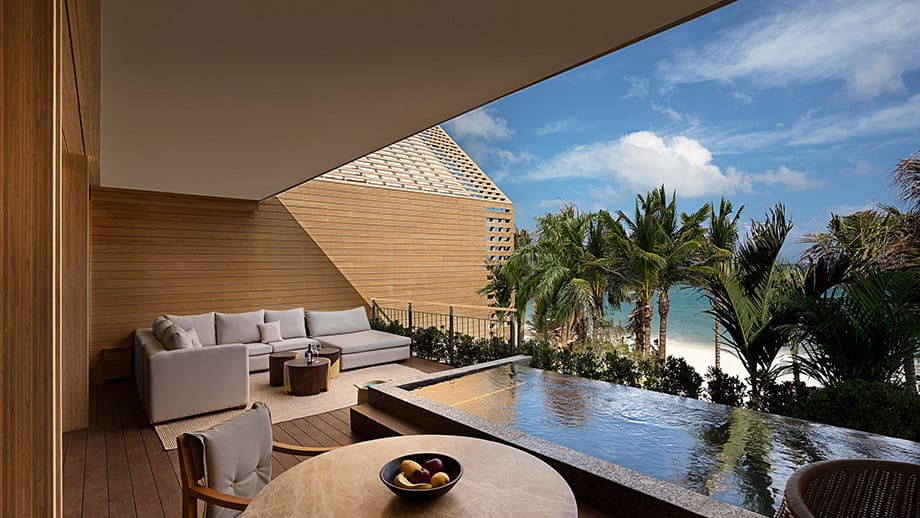 Photos via Banyan Tree Mayakoba
How to book the Banyan Tree Mayakoba and get perks for being a Jetset reader!
For free breakfast for two, a $100 resort credit, and a room upgrade (if available), fill out this contact form and be sure to use the referral code "JETSETCHRISTINA" if you use my referral, my agency partner will reach out with more information and can help book you with all kinds of fun perks (at no extra cost to you, and they don't charge a fee to book!)
Should I go to Tulum or Mayakoba?
I'll come right out and say it – Mayakoba's luxury resorts make Tulum's look like hostels. And whereas in Tulum you have to worry about the seaweed (and the smell it brings with it), Mayakoba has blockers set up that stop the seaweed from coming into their beaches. They're groomed each day so you don't have to worry about that on your trip.
What is there to do around Mayakoba?
The larger Mayakoba development features a gorgeous Greg Norman-designed golf course if golfing is your thing. Since Mayakoba is in an area all on its own, you come here to relax in paradise, not necessarily get super active or do a bunch of activities. However, if you want to do day trips to cenotes or drive further south to Tulum, you definitely can, I just don't think you'll want to leave any of these resorts once you get there.
What should I wear in Mayakoba?
The vibe throughout Mayakoba is very resort-chic, with people dressing in their best vacation-wear for the beach during the day and at dinners at night.

Shop these swim trunks, the fun baby swim trunks, and this crinkle women's bikini here
and the matching dress too!
Check out these other blog posts: