Where to Wine Taste in Napa Valley & Sonoma – the Best 'Classic Napa' Wineries, Small Producer Boutique Wineries, Wine Tasting for Groups & More
Where to wine taste in Napa Valley + Sonoma County
There are hundreds of wineries to choose from when it comes to wine tasting in Napa, Yountville, Saint Helena, Calistoga, Sonoma, and Healdsburg. I grew up an hour from Napa, and go up there more times per year than I can count, so I totally get that it can be overwhelming to choose where to go if it's your first trip, or fifth trip to Napa – and the truth is there are VERY different wine tasting experiences to choose from, that cater to different types of groups and experiences. So here are ALL of my favorites, broken out by type of tasting experience to help you find the perfect wineries for your trip to wine country!
*JETSET TIP* Be sure to map out your wine tasting locations ahead of time. As far as how many wineries you can go to in a day in Napa, I would recommend no more than three in a day for most people (You can poteeeentially do four, but it is definitely pushing it. I have much better experiences in Napa when I do just a couple per day, and take our time there). Be sure the map of the wineries you choose make sense and are near each other!!
The best 'classic Napa' wineries
Best for: First-timers to Napa, those wanting to learn more about the region, how to wine taste, etc. These are my favorite 'Welcome to Napa' tastings.
Beringer (St. Helena)– This beautiful, family-owned winery since the 1800s is a great first tour for first time Napa-goers. They will teach you how to taste wine, pair it with cheese, and the nuances behind each sip. I love the barrel tasting tour because you get to taste directly from cabernet in an aging oak barrel! Also a great winery for groups.
Inglenook (Napa) – A splurge of a tasting that, in my opinion, is completely worth it if you're only in Napa once. this is Francis Ford Coppola's winery and is a beautiful property with fantastic wines. My favorite? The Rubicon. Incredible bottle.
Chateau Montelena (Calistoga) – This gorgeous ivy-covered chateau was made famous for beating out the French in the Paris Tasting. Their wine is delicious, and the estate is gorgeous. Tastings starting at $25. Vineyard tours are $40 and require reservations. You can stop in the tasting room without a reservation, or make a more intimate limited release tasting reservation in their library for $50.
Stag's Leap Wine Cellars (Napa) – Easily one of Napa's most famous wineries – Stag's Leap was the Cabernet Sauvignon that took place in the famous Paris Tasting in the 1970's. Their Fire & Water tour is incredible – and their cabernet's are some of the best in the Valley.
Grgich Hills (Rutherford – near Yountville) – Fantastic wines in a great atmosphere. Mike Grgich was the winemaker at Chateau Montelena in the 1970's and soon after his famed win of the Paris Tasting, he went off to create his own label. He and his croatian family are fantastic and it is immediately evident that this winery is run with the love and care of a family-run venture.
Hall Winery (St. Helena) – Hall Winery makes some seriously good (more high-end) cabernets, and has one of the prettiest tasting areas, too! All tasting are private and conducted outdoors. Reservations are required for all experiences and limited to 6 guests. HALL Winery is located a few minutes drive south from St. Helena – along the busy "wine strip" section of Highway 29 that features some of the larger, historic and more well-known wineries in the valley, so it's easily accessible during a busy day of tastings! Though it's easy to get to, the winery is set back from the highway, so it never feels overly busy here. I love it!
Far Niente Winery (Oakville – near Yountville) – Far Niente is well regarded throughout Napa and everywhere as one of the very best wines, and their property is as beautiful and elegant as you would expect. Sister winery to Nickel & Nickel, Far Niente has an amazing tour and tasting for first-timers to Napa who know good wine!
Jordan Winery (Healdsburg/Sonoma) – I have always loved Jordan Winery, and all of their wines (champagne, cab sauv, and chardonnay!) It's one of the most beautiful wineries in Sonoma and they put on a great tasting and tour. Go for a lunch pairing if you can! It's a must-do in Alexander Valley. They do these picnic events too that would be just perfect with a small group of friends.
Sterling Vineyards (Calistoga) – This one is super touristy but if that's your vibe, Sterling is famous for its over-the-top gondola ride to their tasting room! A great spot for out-of-towners to get a view of the vineyards. Tastings start at $29.
Del Dotto St. Helena Venetian Estate – If you want to feel like you're wine tasting in the hillsides of Tuscany, this is your spot. The winery pays homage to the family's Venetian heritage dating back to 1150. The cathedral-like estate sits on the original Rutherford vineyard, and the winery and caves is unlike any other property in Napa Valley and a must-see. I love it here!!
The best group-friendly wine tastings in Napa / Sonoma
Where to wine taste with a group in Napa + Sonoma
Domaine Carneros (Sonoma) – always a go to for bubbly in Sonoma! This castle is such a beautiful setting, and often my favorite place to start the day wine tasting since it's famous for champagne!
Artesa Winery (Napa) – Architecturally stunning contemporary winery with a fun Spanish flare (their owners have been making wine in Spain since the 1500's!) I absolutely loved their pintxo's food pairing tasting. This place would also be amazing for a group – and is one of the first wineries driving up from San Francisco to the Valley, making it an easy day trip for San Francisco travelers.
V. Sattui Winery (Napa) – This lovely winery is perfect for a picnic. They have a big deli full of awesome lunch options and picnic tables outside – their tastings are affordable and the fact that you can bring your own food in makes this a fantastic lunch & wine spot.
Castello di Amorosa (Calistoga)– it's a castle, literally. Beautiful spot. One of my favorite places to bring newcomers to Napa because of it's gargantuan appeal. Tastings starting at $20.
Flowers Winery (Sonoma) – Always a go-to of mine in Sonoma. Tell them Jetset Christina sent you! This beautiful tasting room with insta-worthy outdoor cabanas and indoor spaces – brand new!! And one of my favorite wines ever. Love their chardonnay and Pinot. They also have an amazing chef and do great farm-to-table food and wine pairings.
The best small producer wine tastings in Napa / Sonoma
These unique wine tasting experiences are best for: Napa honeymooners, couples, and anyone visiting who LOVES good wine and are looking for the best of the best in the valley, and are looking to discover the best of the best when it comes to small production boutique, family run wineries.
AXR is one of my absolute favorite wineries right now. Surrounded by redwoods, it's a beautiful tribute to the way wine tasting in Napa used to be, but with a fun, edgy modern touch that I just can't get enough of. In the summer, AXR's outdoor patio is the place to be, and, in the winter, their beautiful main house or indoor/outdoor farmhouse cabanas are all amazing. Every time you taste here you'll have a different experience – and the wines are SO good. I think I bought an entire case last time I went (I LOVE their chardonnay and their single vineyard Cabs!)
Handwritten wines (Yountville) – this is a new tasting room but a well known wine in Napa Valley – they don't distribute their wines so everything is only available for members and tasting room visitors! It's a gorgeous spot right in downtown Yountville – and their chard and cabernet sauvignons are TO DIE FOR. Their winemaker came from Cakebread, Rombauer, La Crema and more before going into Handwritten – so it's no wonder their chardonnay is so good. But their single vineyard, single varietal cabernets will blow your mind as well.
If you're looking for a winery that will blow your mind (with its wines, its views, and its technology), Palmaz is it. Their tagline is 'the fusion of tradition and technology' and that's exactly what tasting there is about. It is a beautiful winery is tucked away all by itself in Napa and is owned by an Argentinean family, who have a love for food, and, of course, meat!! Their legendary Argentinean cookout parties are what club members rave about, and when you join their wine club you even get a beautiful traditional steak knife. Visit in the Summer and you'll get to taste their small production rose, which I think is one of the best roses in the Valley.
I highly recommend Palmaz to anyone looking for a really unique tasting, with delicious wines.
Cornell Vineyards (Sonoma / WAY up in the mountains)
Another exclusive, intimate, small-producer tasting I love is Cornell Vineyards. You'll wind your way up Spring Mountain to this beautiful property, with no other winery in sight. It feels straight out of a movie of Napa / Sonoma in the 70's. Tractors ride around checking the grapes while you get poured a glass of Dom Perignon to kick off the tasting by one of the members of Cornell's intimate team of 4 people. The views are so gorgeous and you'll taste their DELICIOUS cabernet sauvignons, and feel like you've been invited into someone's home. Cornell is a small production cult-following wine, that collectors rave about and celebrities flock to. Highly recommend checking it out.
I love this boutique winery's wines so much! It's a newer winery in the valley and the property is just GORGEOUS. They have beautiful outdoor seating with dreamy vineyard views, and some of the best wines! They're also super nice and when you're tasting there, you feel like family. This place feels the polar opposite of some of the more commercialized wineries right nearby.
Mira produces a variety of both red and white wines – focusing on 100% single varietal wines (if a wine is not 100% varietal, the blend percentages will be listed on the back label). My favorites are their pinot (It really tastes a little more like a Burgundy so if you're into French wines this is your spot!), their cab franc (so good we took many home with us!), and their Yountville Cab (soooo good).
Tastings are offered by appointment only and are $100 per person, and one tasting fee will be waived for every three bottles purchased (which trust me, you'll want to do). Let them know Jetset Christina sent you!! I don't receive anything for referring you but I always like the wineries I love to know i'm sending jetsetters their way!
Kelly Fleming Winery (Calistoga)
Kelly Fleming is a small production, cult-following wine that you will want to take CASES home of. The caves are absolutely breathtaking and Kelly's eye for design is felt throughout the stunning property. They only take 8 visitors a day so it's a super exclusive tasting – we loved this spot.
Highly recommend their 'big pour' cabernet sauvignon.
Nickel & Nickel (Rutherford)– As members of this winery, we go to all of their parties and have had the opportunity to taste here and take the tour many, many times, but every time is better than the last!! I cannot imagine Napa without this little country winery, and I hope you'll love it. The tour is $65/person, and requires reservations. If you happen to have Shane or Andrea as your host, tell them Jetset Christina says hi!!! They're the best (but then again, everyone there is!!!)
Hall Rutherford – Hall Rutherford is one of the most stunning places to taste wine indoors in Napa Valley – with its goooorgeous cave and chandelier room – so perfect if you're planning a trip to Napa in the wintertime.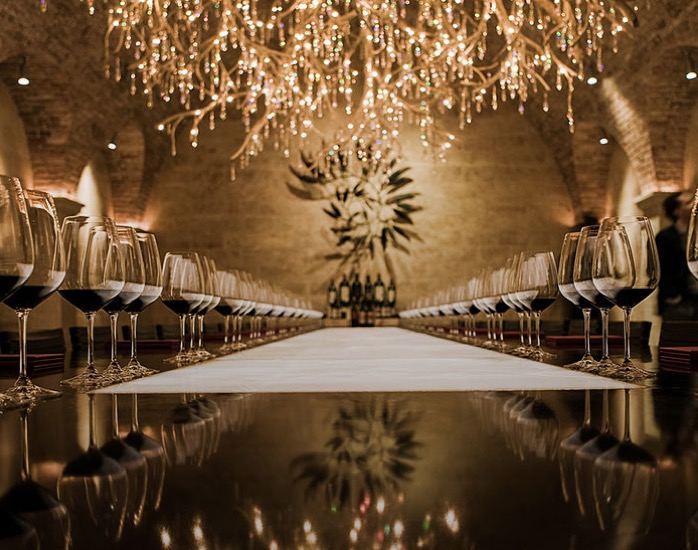 The best ultra-high-end, most exclusive wineries to taste in Napa Valley
Promontory (Napa) – One of the most expensive and exclusive tastings in the Valley, but Promontory is worth every cent. This absolutely gorgeous, breathtaking property sits on just one tiny part of owner a Bill Harlan's more that 900 untamed, rugged acres of land. The family only began growing grapes here (on less than 10% of the land) in 2008, and immediately knew they had something special. Promontory wine makes less than 2000 cases of their to-die-for Cabernet Sauvignon, most of which are only available at the winery itself, that just opened last summer for private tours only.
If you're looking for a Napa valley wine and tasting experience to truly blow you away, this is it.
Opus One Winery – This is one of the most globally recognized names in luxury wine. Tasting is pricey, at $45-$60 a glass, but it's a bucket list winery! So gorgeous… and incredible wine. Make sure you head straight to the terrace once you get your glass! Some of the best views in Napa.
The best wineries that you love to drink at home to go taste at while you're in town
Caymus Vineyards (Napa) – Great wines! Some of my favorite in Napa. And a absolute picturesque outdoor tasting area. I love their pinot noir and their chardonnay.
Cakebread Wines (Napa)
I love Cakebread's chardonnay and cabernets, so wine tasting here is always great. It's a quick tasting, and located right off of Highway 29, making it an easy stop in a busy wine tasting day. It's a little commercial feeling compared to some of the smaller, more family-run wineries, but I LOVE their wine and patio – so beautiful in the summertime!
Rombauer– My go-to chardonnay. I always come home with at least a few bottles from here. It's a great spot for a casual, pop in tasting. But keep in mind this is more of a commercial feeling winery – since they have gotten SO popular in recent years, so if you're expecting that mom-and-pop winery feeling, you should choose elsewhere. But if you love their wine like me and want to check it out, I highly recommend!
Joseph Phelps Winery (Napa) – You've probably heard of Joseph Phelps' famed Insignia label – an insanely good cabernet sauvignon that is worth the trip to this winery alone. Add in a cozy lodge-like tasting room and a terrace like this?! This one is a must do.
Twomey– located in Healdsburg and also in Calistoga, this is one of my go-to's for a casual drop-in tasting in the valley. Twomey is by the same label as Silver Oak, and their pinot's are so good and I always end up walking out with a few bottles.
Silver Oak (Oakville)- Speaking of Silver Oak, they make some of the best, world-renowned cabernets in the Valley – so of course a stop there is a must on any Napa Valley trip itinerary.
Where to have a glass of wine with a view in Napa Valley
These aren't wineries or wine tastings, but places in Napa Valley I love to grab a glass of wine
Auberge Du Soleil – Ah, the Auberge. If I had all the money in the world, I would stay here every time I went to Napa. But with room rates a little out of my price range, I'll settle for taking in a sunset glass of wine on their elegant patio overlooking the valley. Can't beat this view.
Bottega – This italian restaurant in Yountville has one of the best wine lists in Napa Valley – it's actually how I first discovered my love for Nickel & Nickel!
Brasswood – Another restaurant I love to drink cocktails, wine, and eat an amazing meal at. It's located basically nextdoor to AXR!
Check out these other related blog posts:

Things to do in Napa and Sonoma that aren't wine tasting
Napa vs. Sonoma : Which region of California wine country is better?
The Ultimate Calistoga Travel Guide to Calistoga, California