One&Only Mandarina vs. One&Only Palmilla – Which resort is best for your trip to Mexico?
I just got back from staying four nights at the beautiful brand new One & Only Mandarina, one of the most anticipated new hotels of the year, and definitely one of the most architecturally stunning hotel properties in the world. While I was there, so many of you guys were sliding in my DM's asking about how it compared to the One & Only Palmilla in Los Cabos (where I spent my 30th birthday, and is one of the best hotels in Cabo!), so I figured this would be the perfect post to break down the differences in these two special One & Only properties so you can decide which is the best one for YOU for the vacation you're looking for – because they are really quite different, and different types of travelers will flock to each.
THE LOCATION
One&Only Mandarina is located 1 hour North of the Puerto Vallarta airport, in a secluded, gated new development called Mandarina. One&Only Palmilla is located about 20 minutes from the San Jose Del Cabo airport in a gated golf community called Palmilla in Los Cabos. Los Cabos is well known for being the desert, and is dry and hot most of the year. Puerto Vallarta / Mandarina feels more tropical, it sits on the edge of a rainforest and it is very lush and jungley. Puerto Vallarta / Mandarina has a distinct dry season and wet season. Dry season is November through May and rainy season is June through mid-October.
One&Only Mandarina:
One&Only Palmilla:
THE ROOM
Which room is better between the One&Only Mandarina and the One&Only Palmilla? This one is completely a tie between both resorts, and totally depends on what type of hotel suite appeals to you most.
One&Only Mandarina Room:
One&Only's rooms are ideal for the nature lover. They are modern jungle treehouses stilted up 40 feet in the air!!! One of my favorite things about this resort is the way each modern treehouse villa was constructed to blend in seamlessly with nature. The O&O hashtag is #NatureUnspoiled and it's easy to see why – the natural beauty and connection to nature here at Mandarina is so special, and the feeling waking up surrounded by birds chirping and crashing waves, sipping your coffee poolside, at your ocean-view jungle treehouse? Unbeatable.
View this post on Instagram
One&Only Palmilla Room:
One&Only Palmilla's rooms are ideal for the glam, old-world-Mexico hacienda lover. They each have gorgeous sea-views, an oversized terrace, and a dedicated butler available 24/7.
Some of the rooms even have plunge pools available, too, but it's not a MUST have, but definitely a nice splurge if you want to.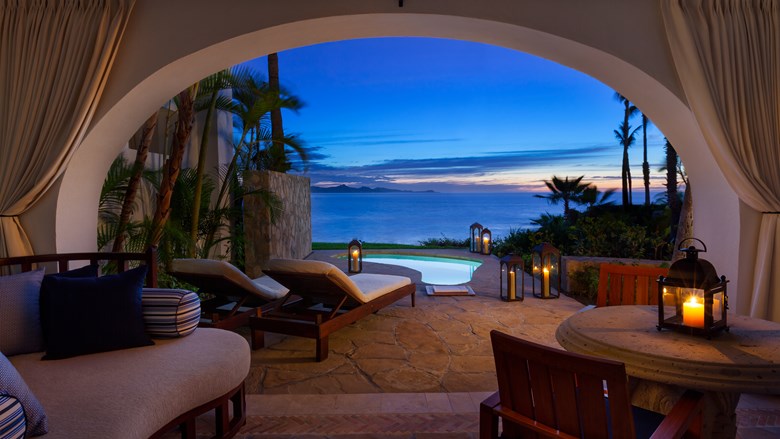 One & Only Mandarina vs. One & Only Palmilla :
THE VIBE
One&Only Mandarina in three words: Secluded, Isolated, Connecting with nature
The vibe at One&Only Mandarina is very romantic for Mexico honeymooners, or anyone looking to disconnect and hide away amidst the trees in one of their striking villas and ocean-view treehouses. You can spend days watching the sun rise, enjoying a treatment in the hidden rainforest spa, or hiking to La Abuela. While there is a ton to do right there on property, it is less a vacation where you are out exploring the nearby area, and more a vacation where you are enjoying everything that Mandarina has to offer.
One&Only Palmilla in three words: Luxe, Stylish, Elegant Old-world Mexican charm
The vibe at One&Only Palmilla is luxurious Mexican resort, perfected. It's high-high end, and I loved the Mexican-hacienda feel and gorgeous views of Los Cabos. You have easier access to all of Los Cabos activities, restaurants, etc. from here (all of my recommendations for Cabo are in here!) so you can explore more from this resort, or just choose to relax and enjoy everything the resort has to offer.
One & Only Mandarina vs. One & Only Palmilla :
THE FOOD + DRINK
The food was great at both resorts. You can't go wrong. HOWEVER, I felt like for the price, Palmilla wins on food for me. Every single bite of food at Palmilla that we ate was out of this world – and had that extra 'wow' factor that you expect from such an expensive meal and renowned resort.
The breakfast at Palmilla was much better than Mandarina, too (and you guys know I always judge a luxury resort on their breakfasts!!!), and I felt like the dinners were a little better too. But that's not to say the food was bad at Mandarina at all!!! It was definitely good. You just are pretty isolated at that resort without any access to outside food or restaurants, and the food is very pricey – so I wish it had 'wowed' a little more for the price. That being said, the lunch we had at Canalan Beach Club at Mandarina was some of my favorite Italian food I've ever had! So if you'e going to Mandarina, definitely plan a day there! And order the truffle pasta – yum!!
THE SERVICE
One & Only Mandarina vs. One & Only Palmilla :
One&Only Palmilla wins this one for me. BUT, I will caveat this with the fact that One & Only Mandarina is still a brand new hotel – they are working their kinks out!!!! It's impossible to compare with a hotel like Palmilla that's been around forever. I could tell they were trying very hard at Mandarina, but the service didn't impress quite yet, like you would expect it to at a hotel this caliber. The service at One&Only Palmilla, on the other hand, impressed you at every turn. Their employees are the best of the best, and the service is unbelievable – exactly what you'd expect at that level of resort.
One & Only Mandarina vs. One & Only Palmilla :
THE BEACHES
Both One&Only Palmilla and Mandarina have swimmable beaches. However, they're both on the Pacific so if you're expecting calm, super warm Caribbean waters you won't find those here. But you can definitely swim at both resorts (which is a big win!). I found there to be more of a wide stretch of white-sand beaches at Mandarina, whereas Palmilla has rockier beaches, but they are still stunning.

One&Only Palmilla, pictured above, and One&Only Mandarina beach, pictured below
One & Only Mandarina vs. One & Only Palmilla :
THE ACTIVITIES
At the One&Only Mandarina, activities range from hiking, biking, surfing, cooking classes, and their Mandarina Polo & Equestrian Club. At One&Only Palmilla, popular activities range from whale watching, fishing, boating, surfing, golf, and shopping.
Wearing our matching Palmilla print bathing suits!
THE CROWD
at One&Only Palmilla versus One&Only Mandarina
Both crowds were largely couples, of all ages. Mandarina was a little more honeymoon-ey feeling (couples keeping to themselves, individual beach cabanas, etc), whereas there were groups of multiple couples or groups too at the O&O Palmilla.
MY THOUGHTS: Which hotel would I choose for my next vacation?
One & Only Mandarina felt very unique to me – like a once in a lifetime trip or honeymoon destination, whereas One & Only Palmilla felt like somewhere I want to go back to every year!!! It felt like home. Palmilla was super comfortable — the perfect getaway for someone looking for an easy, perfect vacation. I feel like Palmilla, given its reign as one of the best luxury hotels in the world for so long, has the service aspect more figured out (and I liked the food better), plus the hacienda / beach / luxe resort vibe is personally more my vibe than the natural / treehouse / hiking vibe (but it was so fun to experience that too!!)
How to Get Jetset Perks When Booking the O&O Mandarina or the O&O Palmilla
For perks like the below, fill out this contact form and be sure to use the referral code "JETSETCHRISTINA" if you use my referral, my agency partner will reach out with more information and can help book you with all kinds of fun perks such as the below (at no extra cost to you, and they don't charge a fee to book!)
Upgrade on arrival, subject to availability
Daily full breakfast for two guests per bedroom
$100USD equivalent Resort or Hotel credit utilized during stay at Mandarina or $150 at Palmilla
Early Check-In / Late Check-Out, subject to availability
Complimentary Wi-Fi
What do you guys think, after reading all of this, which hotel is your favorite?