The Ultimate Guide to Milos, Greece
Guest written by my friend Shelby after her trip to Milos, Greece this year!
Milos is a sneaky little island gem in the Greek Isles. While it's brimming with beauty and adventure, it's (somehow) nowhere near as famous as its neighboring islands like Mykonos or Santorini, but that's good news for you!
Mostly inhabited by fishermen, this island is still somewhat unknown to the masses, and you won't find any huge major hotel chains here. But all of this adds to its charm!! Sleepy fishing villages, lunar landscapes, and hidden turquoise swimming coves are what await you if you choose to add Milos to your Greece itinerary (which I highly recommend you do). It's a great way to break up the trip if you're spending some time on the more crowded islands like Mykonos, Paros, or Santorini. You should especially consider Milos if you're honeymooning in Greece. Many call it the "island of love" (and I can definitely see why)!
When to go to Milos, Greece
The Greek Islands are at their peak between May and September. Towards the end of September, the winds begin to pick up, and the ferries often will not run when the winds are too bad. In my opinion, early September is ideal because there will be fewer crowds, but the weather is still amazing!
How Long to Stay in Milos, Greece
Depending on what's most important to you, you could hit all the main highlights of Milos in three days if you're trying to cover as much ground as possible. However, if you want to soak in the relaxing vibe of the island and take things at a slower pace, you could spend more time. This will allow you a few days to take it easy on the less crowded beaches, work on your suntan, and not feel rushed to see it all! Plus, you'll have time to rent a boat and explore the hidden coves!
How to Get to Milos, Greece
You can either fly from Athens to MLO (approximately a 40-minute flight), or take a ferry (three to five hours). During peak season, there will be plenty of ferry options, but keep in mind that the winds pick up in late September, so often the fast ferry (being smaller) is not ideal, especially if you are prone to seasickness. The ferry arrives in the port town of Adamantas/Adamas.
How do You Get Around in Milos, Greece
Milos is best explored via BOAT!!!, car, ATV, or scooter. This way, you'll be able to explore all of the best nooks and crannies and find your own secluded corner of this remote island. Taxis can get very expensive, whereas rental cars are much more reasonable (typically $50 per day!).
Where to Stay in Milos, Greece
Milos isn't an island where you're going to find big hotel chains and ultra-luxe accommodations, but this just adds more to its unique charm! Most of the hotels are smaller boutique hotels that are locally owned and run! AKA, fewer people, and a more personal, tailored experience! While luxury hotels mean something slightly different in Milos, these hotels are the creme de la créme!
An infinity pool overlooking the ocean, a great location near some of the best beaches, and a private plunge pool? Yes, please! Did I mention they offer free, fresh breakfast??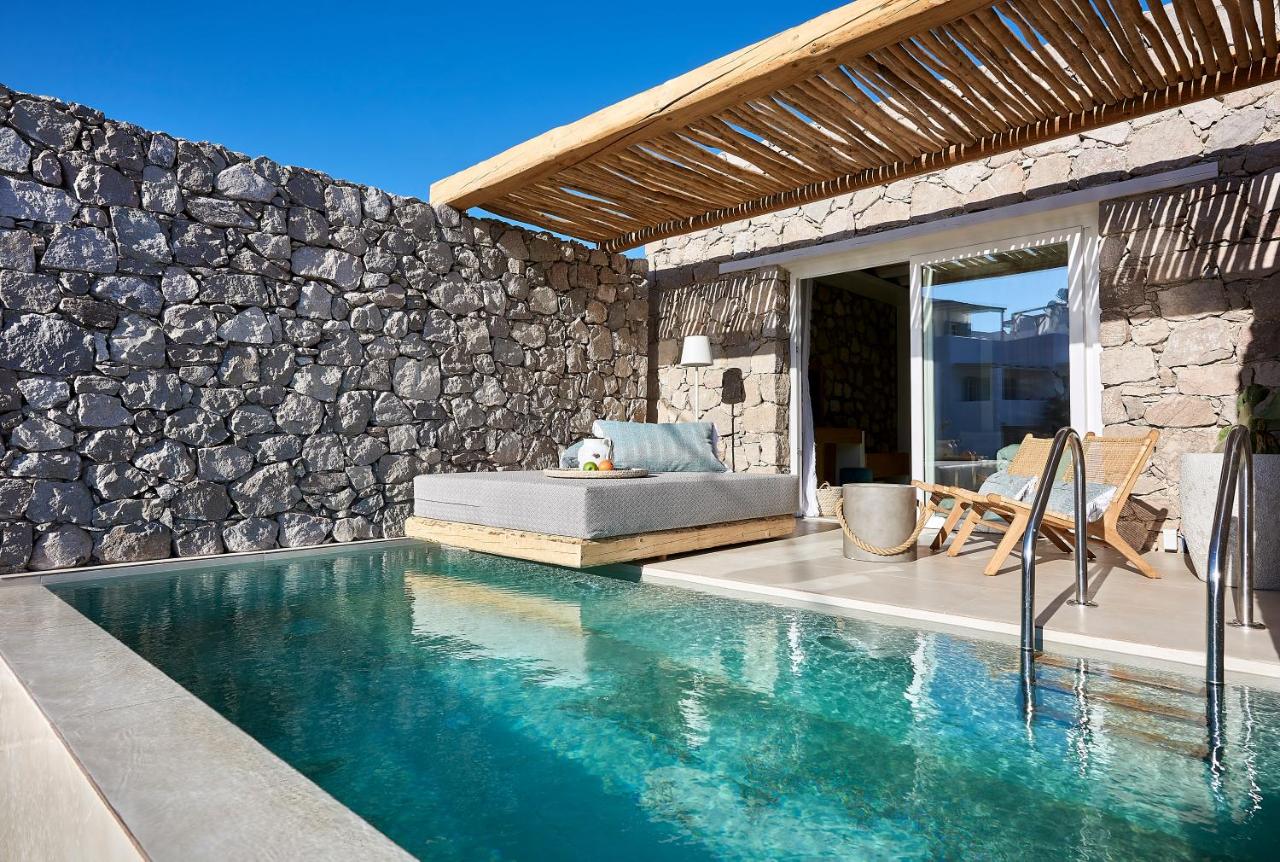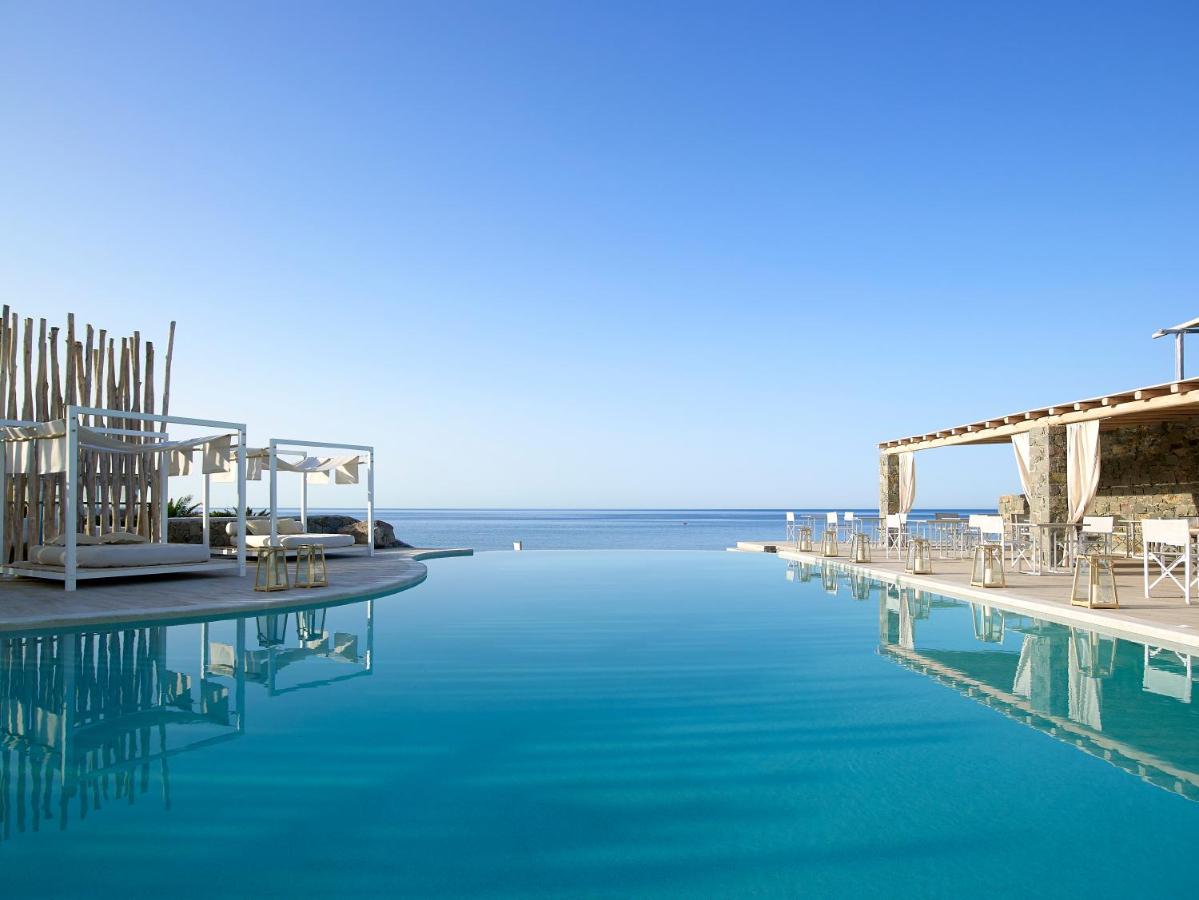 This is the perfect honeymoon spot for those wanting a little more luxury and seclusion! The minimalistic, modern architecture was designed to honor the surrounding landscape and emphasize the best part of the hotel: the views!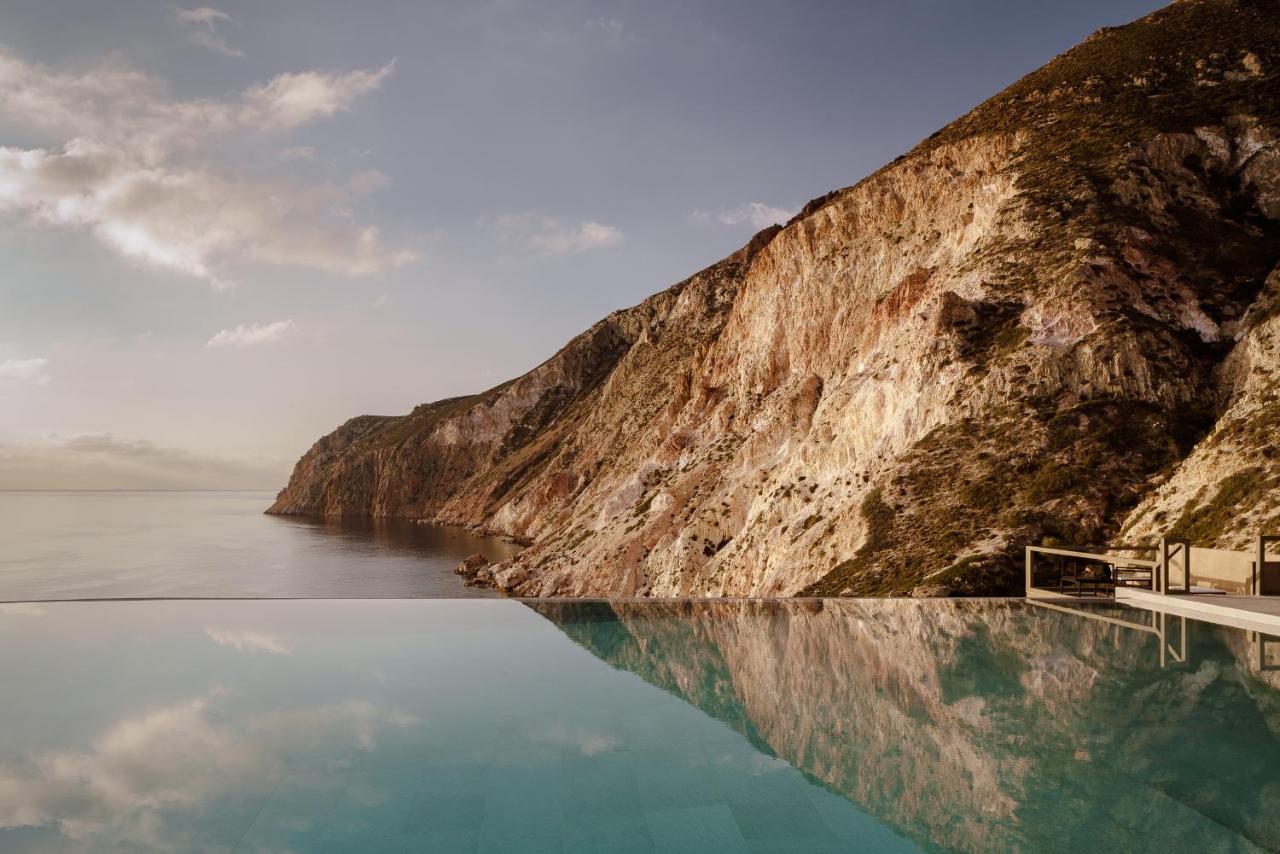 Overlooking the water's edge of Pollonia, this hotel blends classic charm with chic boho vibes (the best of both worlds, if you ask me). I love the white exterior and the softwood touches! They offer unique healing treatments like black lava facials (paying homage to the volcanic island's roots), and obsidian hot stone massages! This is another great option for couples and honeymooners traveling to Milos.
You can also find affordable apartments and villas on Airbnb or VRBO if you book in advance (book four to five months in advance, especially during peak season!).
Honeymooning and want a luxe villa?
Costa Mare is one of the most beautiful villas I've been able to find in Milos!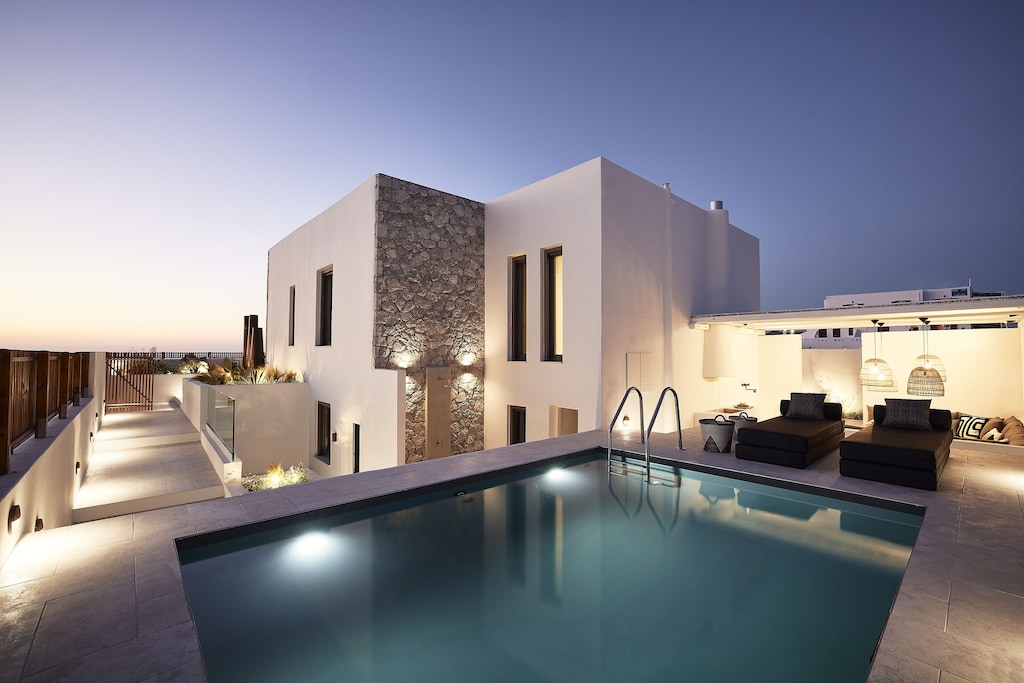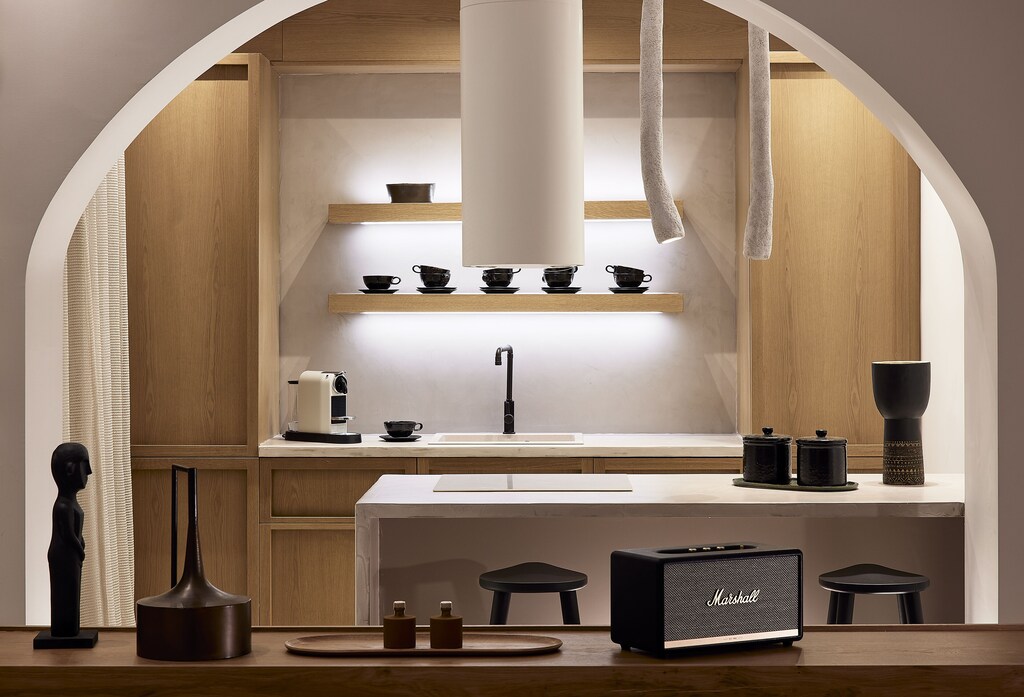 Just one km away from the infamous Sarkiniko beach, these luxury cave suites offer seclusion, tranquility, and panoramic sea views!
Two-bedroom bohemian apartment right in town?
Go with Adamanta! Perfect for traveling with friends.
Affordable, converted old fisherman's house right on the water?
Look no further than Thalassa Beach House.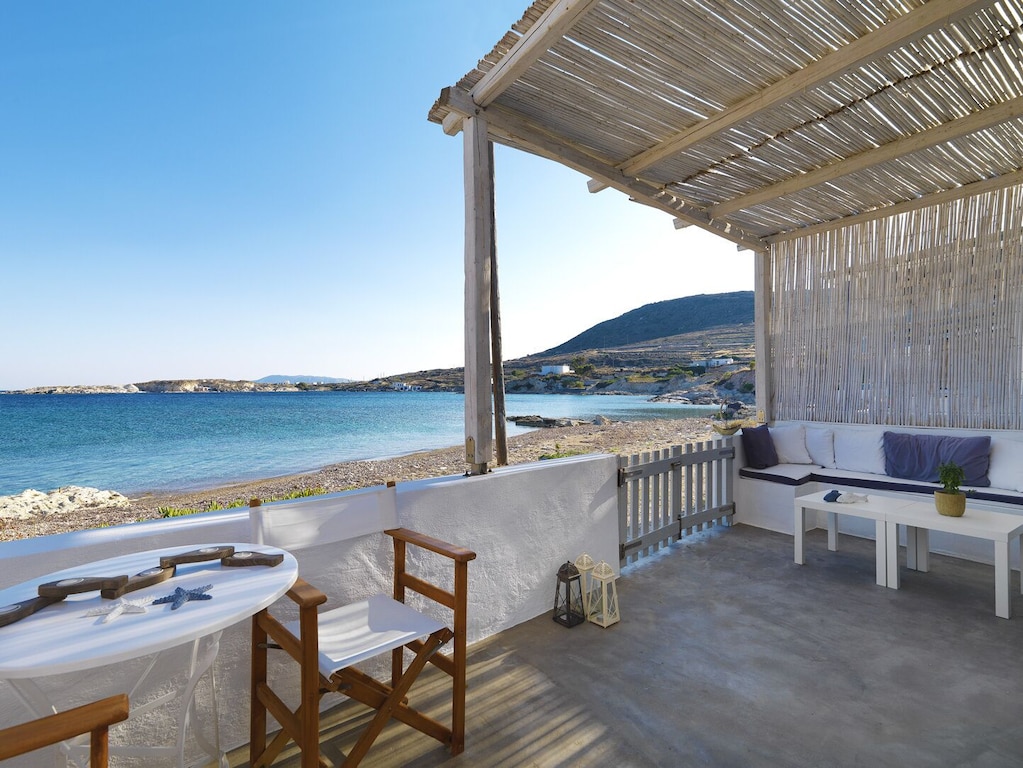 For an epic, private cave moment…
Book out the Aqua House! These views are dreamy!!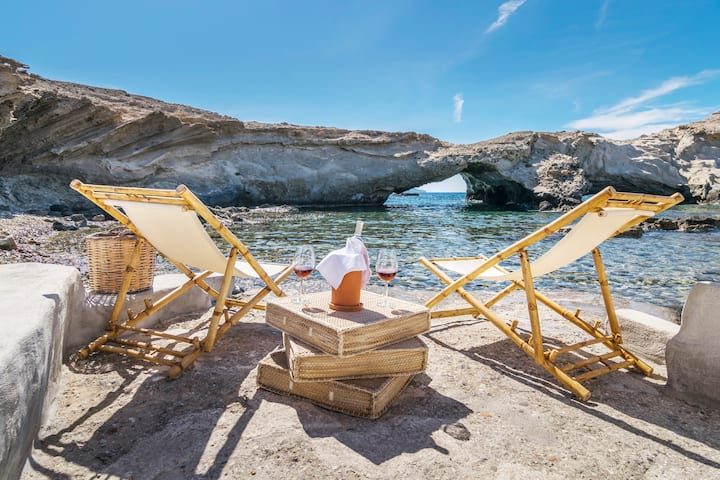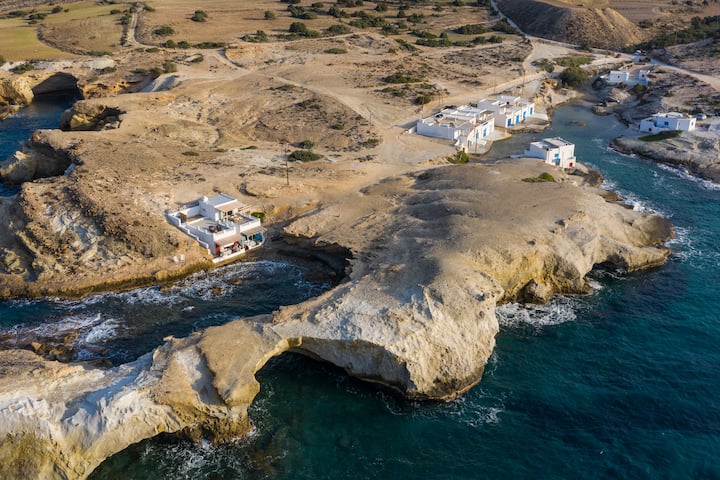 What to do in Milos, Greece
Sun bums, history buffs, and adventure seekers will all easily get their fix while in Milos. You just have to know where to look!
Experience the Lunar Landscape of the Sarakiniko Beach
You've probably seen photos of these strange but stunning rock formations. The white-washed rock has been eroded over thousands of years, leaving behind smooth and curving structures. The turquoise water creeps up and into the coves where honeymooners cozy up under umbrellas. The daredevils can be found cliff-jumping on the far side of the beach, so grab a towel and settle in for a show. Make sure you explore the mysterious and vast caves from 7000 B.C.!!!
Sunset at the Church of Panagia Thalassitra
Everyone seems to end up here at golden hour. One local even said, "the island starts to tilt sideways around sunset time because everyone heads to the church of Panagia Thalassitra." With an incredible ocean overlook, this is the perfect spot to bring a blanket and a bottle of wine to watch nature's greatest show!
Take a Boat to Kleftiko Beach & other hidden gems
Hands down the best thing you can do in Milos is do a boat tour with Oneiro. Captain Elias is incredibly knowledgeable, and you'll pop by some of the most stunning spots in Milos. The food is amazing, with vegetables are from his family's garden, and wine is from his wife's cousin. You'll feel like family!
If you'd rather take the boat on your own, try Poseidon Boat Rentals (180 Euro for 9 am – 2 pm). They let you take the boat out on your own (if you have some boating experience), or you can pay a bit extra to have someone drive you! Having a boat allows you to get to many beaches that aren't accessible via car. We would anchor the boat 50 meters or so from shore and swim in, which made things even more fun. We started at the cliffs of Kleftiko (where many yachts and sailboats start to turn up by 10:30 am), and then hit Firiplaka and Tsigrado!
Boat to Sykia Cave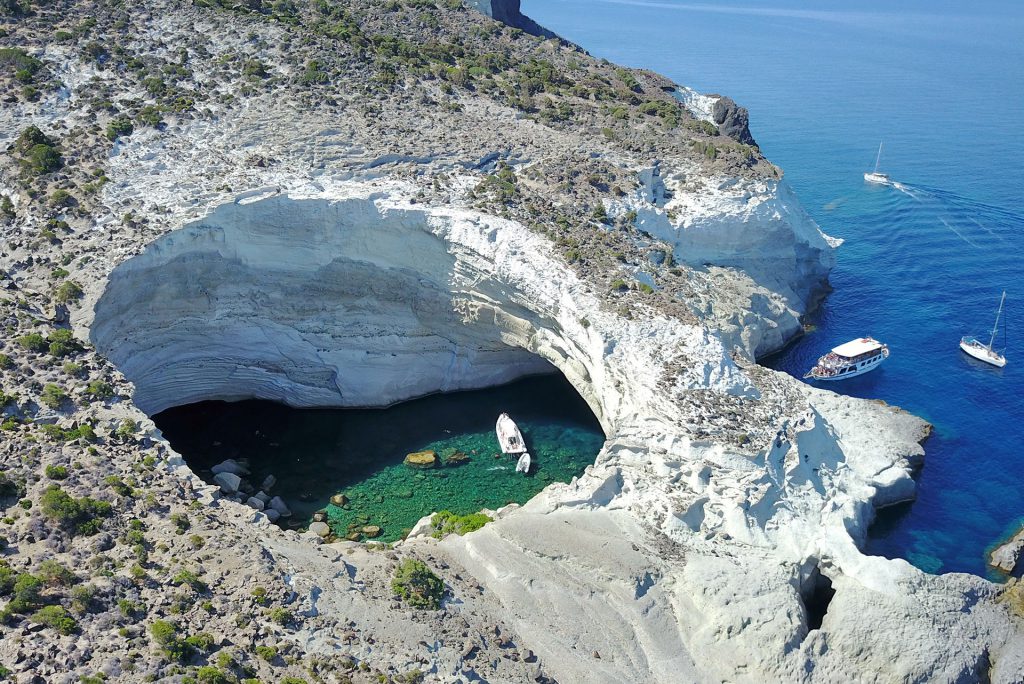 Whether you rent your own boat or take a guided tour, this massive cave is a sight to see. Part of it caved in, creating a massive skylight, allowing the sunbeams to light up the aquamarine waters! Once again, Milos delivers on the incredibly unique landscapes.
Grab a Drink at the Colorful Firiplaka Beach
Surrounded by multi-colored volcanic cliffs, this is one of the beaches on the southern shore that we took the boat to (but it is also accessible by car/foot!). They have an adorable beach bar serving up salads and sandwiches, as well as fresh Aperol spritz's! Grab a set of lounge chairs and stay the whole day!
Swim in the Coves of Papafragas
If you've seen a drone shot of people swimming between white-washed rocks in the clearest of clear blue water, then it was probably shot here. This quintessential Milos spot is a crowd-pleaser, so get there early and bring snacks. You'll need sturdy shoes for the hike down, but once you're there, kick your shoes off and stay awhile.
Tsigrado Beach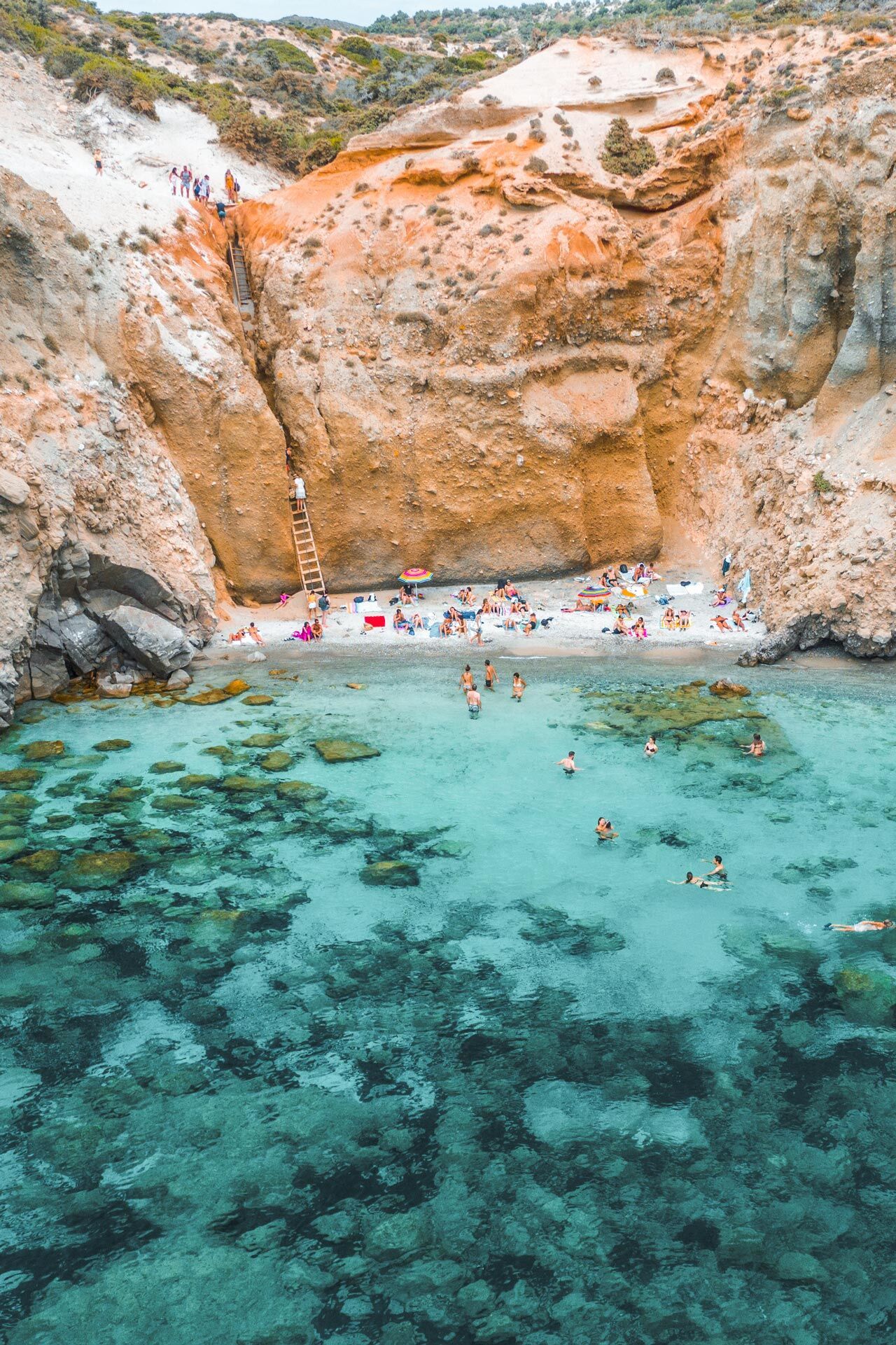 Located on the southern shore of Milos, this beach makes you work for your views. You'll have to climb down a series of ladders to reach the sandy shores, but it's worth breaking a bit of a sweat. Go early because this beach tends to fill up by midday!
Klima Fishing Village
The colorful old fishing huts, now turned into tavernas and Airbnbs, line the water's edge. This adorable fishing village gives you a feel for what life was like before the rest of the world discovered Milos. Have a seaside dinner at Astakas and watch the sun slowly slip below the horizon.
Where to Eat in Milos
Sit right on the beach and watch the sunset as you enjoy fresh seafood right from the source. Go for the squid ink risotto if you're feeling adventurous, or stick to their classic favorite, the lobster pasta! Did I mention the Greek wine??
This restaurant takes the "slow food" movement to the next level! Using handcrafted clay pots, they slow cook their dishes for hours buried underneath the hot volcanic sands. You can expect roasted lamb shank, traditional eggplant/potatoes, and pork knuckle. Outside of the volcanic sands, you can also find delicacies like an array of ceviches, fresh sea urchins, and local burrata.
O Hamos (Adamas)
Foodies, be sure to get a table at this classic Greek taverna. People come from all over to eat at O Hamos! With a handwritten menu, traditional family recipes, hand-crafted pottery, and tables right in the sand, it can't get much better… until you taste the food, that is! The family who owns and runs this spot grows all of their own vegetables and raises all of the livestock you'll see on the menu. They even make their own cheese!
This is the best spot for dinner in the romantic village of Pollonia. Get the shrimp!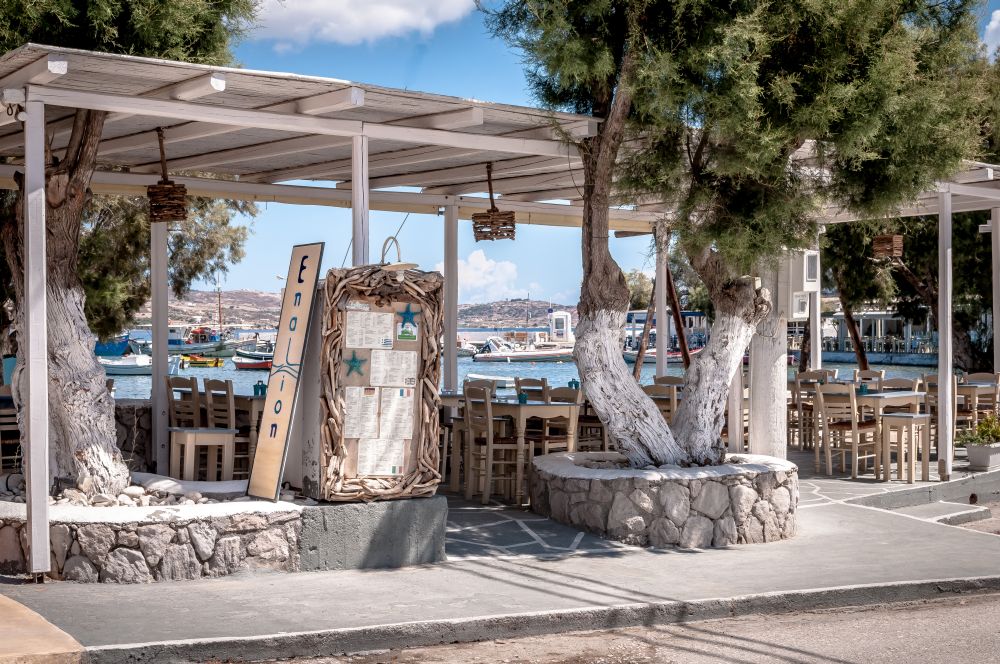 Located right on the sea's edge, this traditional Greek seafood spot is great for pasta and fresh fish! Start with some classic greek appetizers like Tzatziki or Fava, and then go for the mussels and sea bass ceviche (or the seafood linguini!).
Honeymooners looking for fine dining in Milos (and potentially one of the best meals you'll have in all of Greece), go ahead and make that reservation! The ingredients are all local, and the dishes are well-curated and beautifully crafted. Get the tomato fritters and at least one ceviche! To top it all off, they offer complimentary pistachio ice cream for dessert (the way to my heart).
Set in the fishing village of Mandrakia, you can expect sea views, classic Greek mezze, and the freshest seafood of your life (how many times can I say that and it still be true? Asking for a friend…)!
Let's Meat (Adamas)
This place is perfect for a quick and CHEAP traditional gyro with souvlaki (shredded meat) right next to the ferry port. I got the falafel, and it was delicious! Plus, the workers were so sweet! We loved chilling outside people watching and petting all the friendly local cats!
Check out these related posts:
The ultimate Santorini travel guide
Where else to go besides Santorini in Greece : Ultimate travel guide for Paros and Naxos