The Ultimate Mykonos Travel Guide
If you ask anyone to name a Greek Island, they are most likely going to say either "Santorini" or "Mykonos." These two islands are without a doubt the two most popular travel destinations in Greece, and for good reason!!
The legendary Mykonos is largely known for its vibrant nightlife, but it's SOOO much more than that! It is home to some of the absolute BEST restaurants in all of Greece (a true foodie's paradise), incredible beaches (both for party-goers and those seeking seclusion), epic luxury hotels, and picturesque villages with amazing history. The vibe is upbeat-bohemian, where charming old villages meet hip, modern beach clubs and upscale hotels. Mykonos should be on any Greek island-hopping itinerary – it really does have a little bit of everything.
When to go to Mykonos
The peak tourist season in Mykonos is between June and Labor Day (the first weekend of September). This is when restaurants and resorts will be the most crowded and expensive. For this reason, I'd recommend visiting either May or very early in the season or into the middle of September.
Personally, I think the most enjoyable time to travel to Europe is in September because the weather is still very warm, but the summer crowds have dissipated. However, keep in mind that the winds in Greece begin to pick up toward the end of the month!
Current COVID Restrictions in Mykonos
Currently, Greece is open to vaccinated tourists as well as non-vaccinated tourists who present a negative COVID test within 72 hours of arrival. Before entry, you'll need to fill out the Greece Travel Form indicating whether you're showing proof of a vaccine or proof of a negative test. Once you upload your results, you'll receive a QR code for entry.
Getting COVID tested for your return back to the United States (or anywhere else) is very simple and inexpensive. Ask your hotel or resort for a recommendation, or stock up on these at-home face-time doctor Covid tests to bring with you before you go! I always use these.
How much time do I need in Mykonos?
You'll need at least two full days in Mykonos to take advantage of all that the island has to offer. But, if you've got the time on your Greece itinerary, I recommend four to five days!
How to get to Mykonos
The fastest way to get to Mykonos from Athens is by booking a direct flight, which usually takes between 35-40 minutes. However, if you have a little more time and want to save money, the cheapest way to get there is by ferry, which takes approximately two and a half hours.
If you are traveling through other countries in Europe, you can also find direct flights to Mykonos that are fairly inexpensive. There are direct flights from places like London, Paris, Rome, and Amsterdam, just to name a few (all of which are great additions to a honeymoon itinerary, am I right?!).
How to get around in Mykonos
While you could rent a car or take taxis around the island, both of these options can get VERY expensive. Unless you're staying at a high-end hotel that has private transportation, it's honestly much simpler (and cheaper!) to use the Mykonos public bus system.
The bus goes to all of the main tourist destinations on the island (including the ferry port!) and will typically run you 2.5 euros per direction per person. No reservations are required, just pay cash or card when you step on the bus. The drivers are very friendly, so if you aren't sure where you are going, they will help you find the nearest stop.
Where to stay in Mykonos
Stay in or near Mykonos Town if you want to be right next to all of the action. For a bit more peace and quiet, stay on the beach (Platis Gialos recommended), or at a more secluded resort with its own private beaches!
Jetsetter Tip: "Mykonos Town" is the main part of Mykonos located on the western edge of the island. This is where you will find the ferry ports as well as the main bars, restaurants, and storefronts!
Luxury resorts and hotels in Mykonos ($$$$)
Located right between Old and New Port, just ten minutes from Mykonos Town, sits Cavo Tagoo, one of the world's leading luxury hotels. Known for its unique "cave" rooms and incredible infinity pools overlooking the sea, this hotel is really the creme de la creme of luxury experiences. Plus, their on-site restaurant offers the best sushi on the island!! This is a great option if you're looking to splurge on a special occasion for a once-in-a-lifetime type of stay! They also have a second location on Santorini if you happen to be visiting there as well.
Perfectly situated on Ornos Beach between the airport and town, Santa Marina is definitely the right spot for you if you're looking for resort vibes with signature villas, an incredible spa, infinity pools, and a private beach. An added plus is being able to use Marriott Bonvoy points to book rooms!
Just LOOK at that water!!! Located on five acres of prime beachfront property, you can count on five-star luxury service and a more secluded, quiet vibe at this hotel (great for honeymooners!).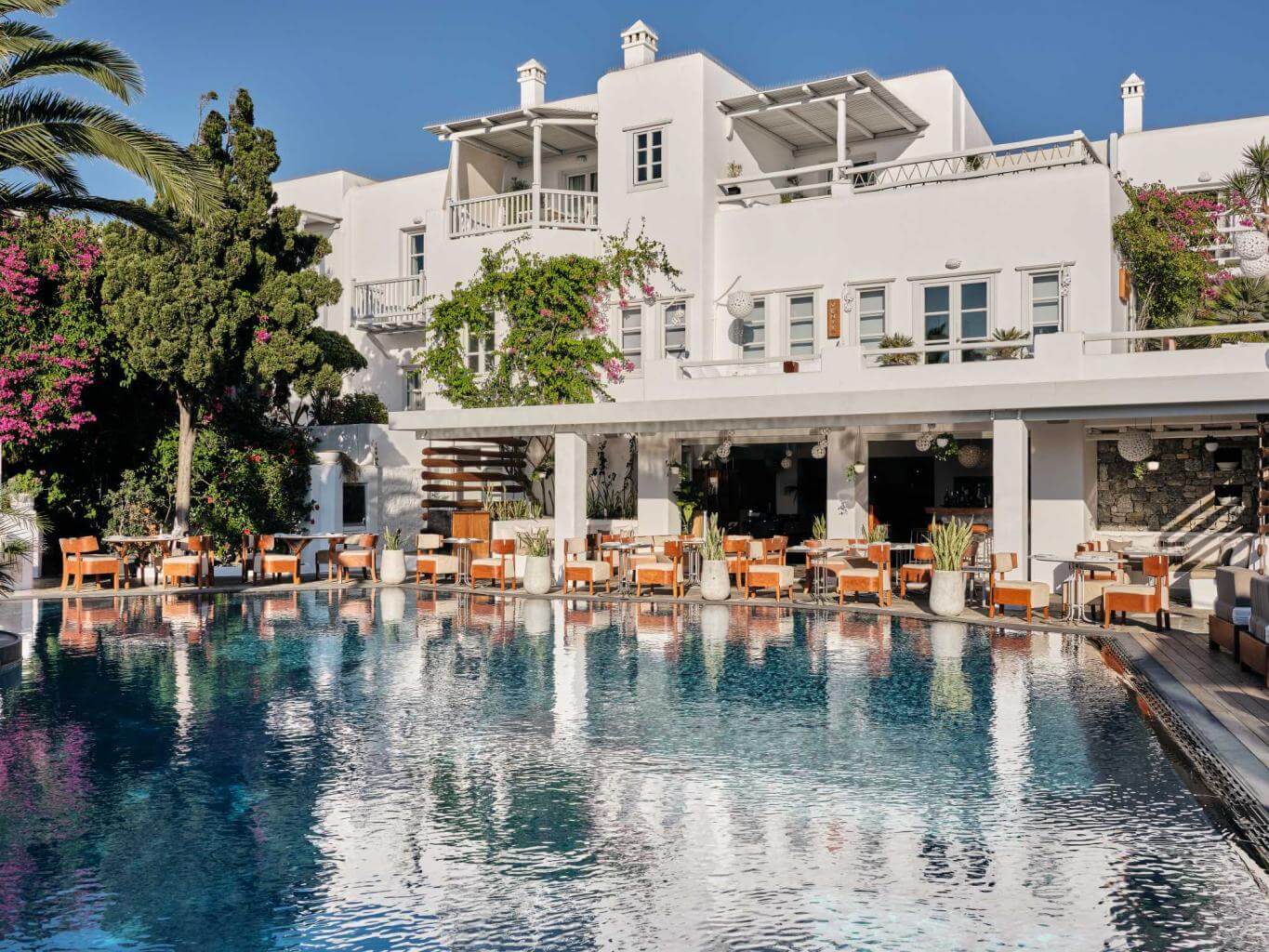 Just a stone's throw away from all of the action in Mykonos Town, Hotel Belvedere offers an oasis in the midst of the vibrant downtown scene. It's a five-star hotel with dreamy honeymoon suites overlooking the bay, complete with private plunge pools!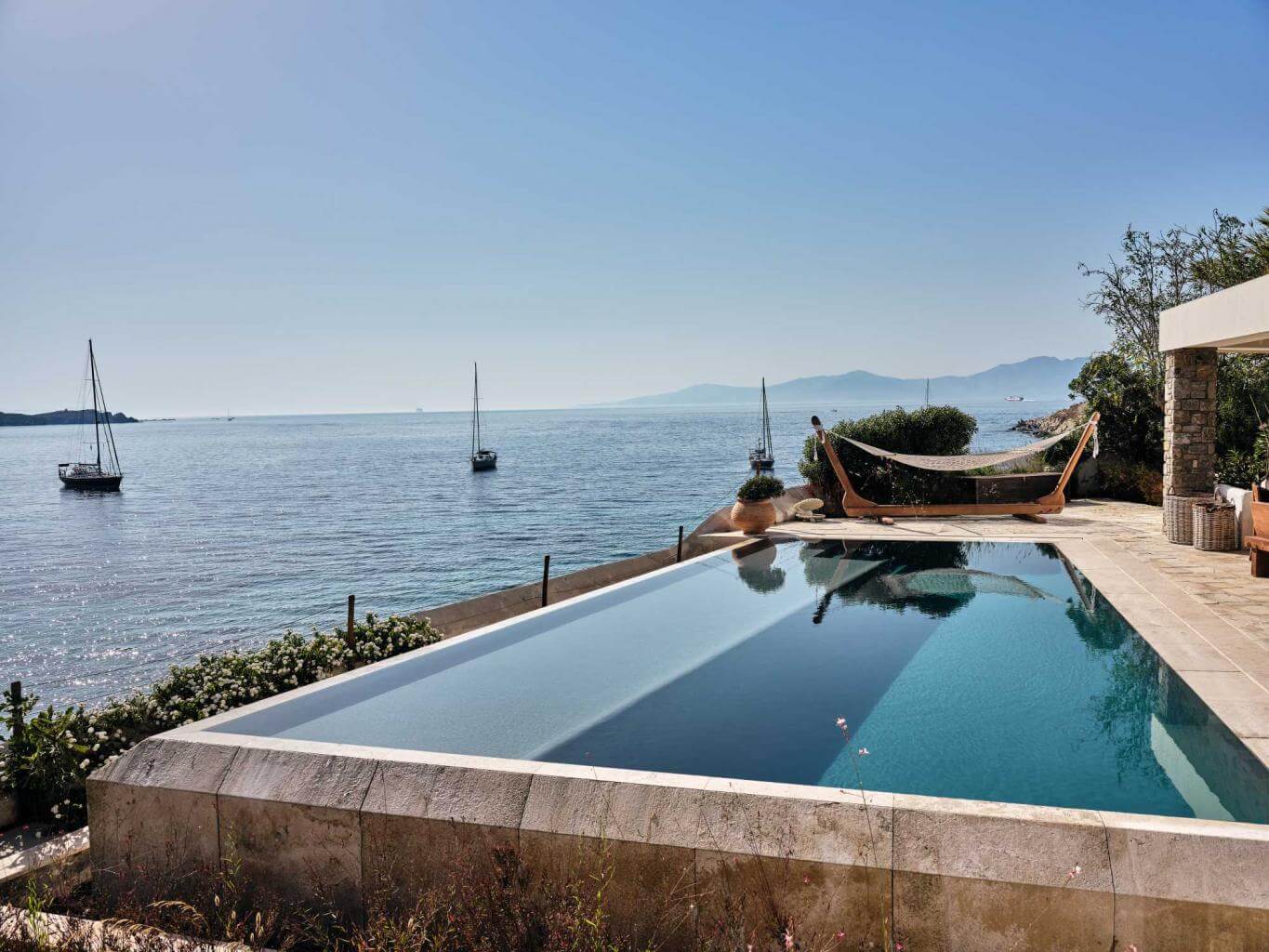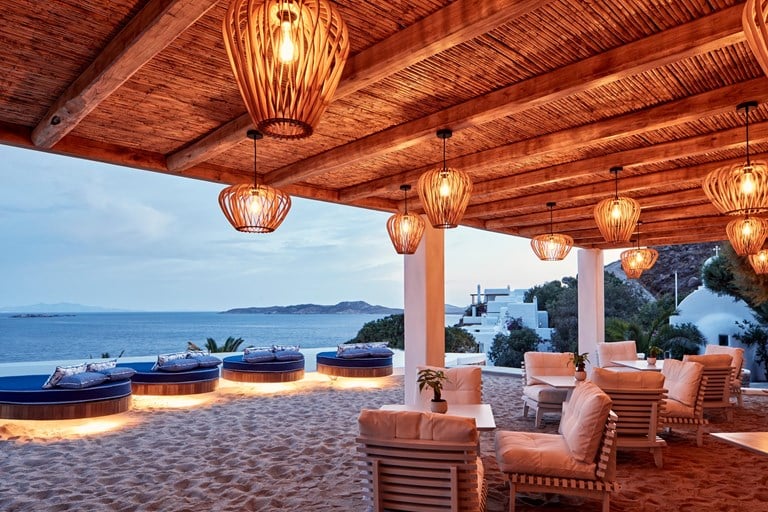 Nestled in the island's most romantic corner, Katikies is a sleek and sophisticated five-star luxury hotel with some of the most incredible sea views. Just minutes from town, you'll still have great access to all of the main bars and restaurants. However, you may not find yourself leaving the resort (or its incredible champagne bar!!) all that often.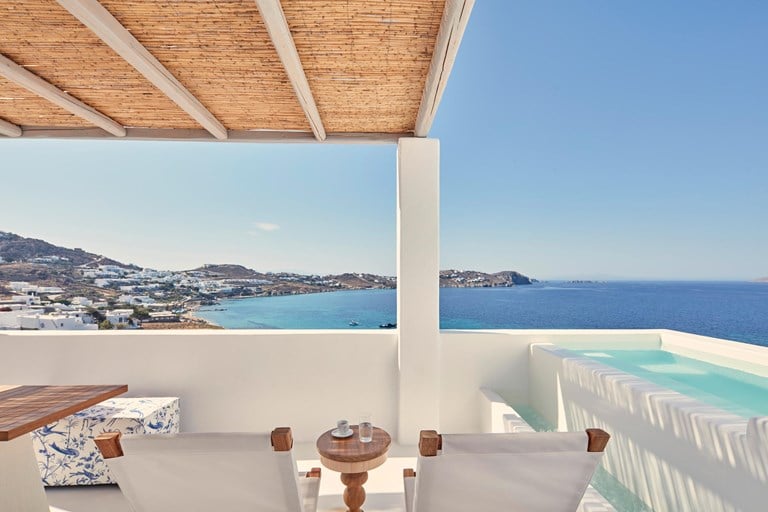 Mid-range resorts and hotels in Mykonos ($$$)
Mykonos Riviera, which is the sister hotel to the Mykonos Grand, is a boutique property located in the heart of town. Although it is within walking distance to all of the bars and restaurants, it is still a refined, relaxed oasis. Mykonos Riviera offers a five-star spa and an oceanfront restaurant with panoramic views!
Overlooking the beaches of Panormos (hence the name) sit this four-star hotel. When staying here, you get to soak in the quieter side of the island with incredible views (while still being just a short taxi ride away from town).
Affordable, yet still Jetset-worthy resorts and hotels in Mykonos ($$)
Mykonos Dream Villas is a small, renovated Greek home that has been turned into a three-star boutique hotel! Head here for a more laid-back vibe (and a more hands-on, personal experience).
Perched on a hilltop at the secluded and quiet Kalo Livadi Beach sits the four-star Summit Mykonos Suites and Apartments. If you're looking to have a quaint room overlooking the sea, then this just might be the perfect spot for you! And if you are wanting to check out the party scene at Super Paradise and Paradise Beach, no worries – you are right near all of the action.
Where to eat in Mykonos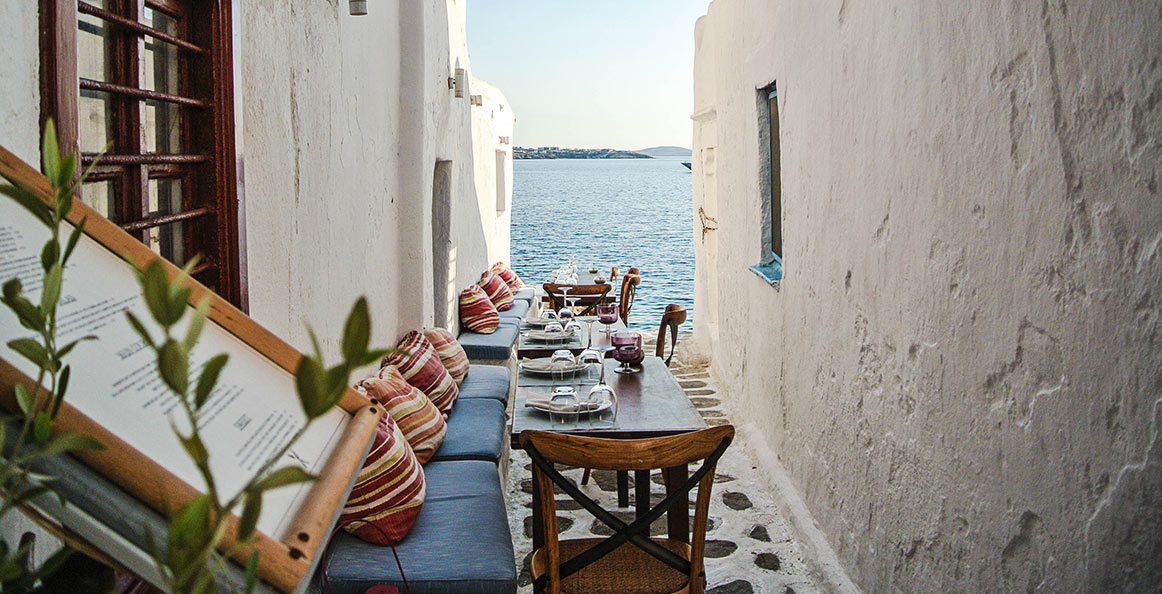 I think we accidentally drank a bottle of champagne each here… I mean, it's hard not to do when the setting is so picturesque! Nestled right on edge of the water, Katro's scenic alleyway has become somewhat Insta-famous. But there is so much more to this restaurant than just the photo op. The food is absolutely incredible! It was honestly one of the best meals we had in Mykonos. Plus, the staff was super friendly and gave us TONS of recommendations on where to go to beach parties!
Centrally located in Mykonos Town, you'll dine outdoors in an adorable courtyard while you enjoy chic cocktails, modernized Greek cuisine, and prime cuts of meat! Great for a special occaison!
They've been serving handmade pasta here for four decades, and it was so good, we went back two nights in a row! You pick which type of pasta you want (they have hundreds of different styles from classic fettuccini to hand-stuffed ravioli and tortellini). This was definitely a family-run business, and you could tell. They really take care of you here, and the atmosphere downtown is electric!
Steps from the waterfront, Kounelas serves predominantly seafood dishes. From linguini with cuttlefish ink and mussels risotto to grilled octopus and the fresh catch of the day, anything you order here is sure to impress.
Nobu's head chef opened this sushi outpost at the luxury Hotel Belvedere in Mykonos Town! Sushi lovers rejoice!
A casual waterfront bistro in Little Venice, great for delicious lunch, dinner or just cocktails! This is a perfect people-watching spot!
Kiki's Taverna (Agios Sostis Beach)
This place is a Mykonos legend! Locals and tourists alike make their way up north just to eat here. As soon as you arrive, you will be consumed by the aroma of the local delicacies being prepared on the outdoor charcoal grills. Trust me – that smell alone will keep you coming back!
One important thing to note is that, because they do not have electricity, Kiki's Taverna does not accept reservations. Lines start to form early in the evening, but not to worry – you'll be treated to wine spritzers while you wait!
Yes, the hippest beach club on the island also serves up some of the best food! Not to mention, their cocktails are delicious! The cocktail menu alone is several pages, and, while they'll run you around 20 Euro each, they are some of the most interesting and tasty cocktails we had on the whole trip!
What to do in Mykonos
Explore Little Venice and the Windmills
On the waterfront of Mykonos Town (also known as Old Port) sits "Little Venice," an adorable collection of white-washed village homes that have been turned into bars and restaurants. You can sit outside with the water lapping up beside you, sip a glass of champagne, and enjoy a dinner of the freshest seafood you've ever had.
The windmills are within walking distance of Little Venice, and depending on which way you come from, you may pass right by them! They sit atop the hill as a reminder of Mykonos's humble beginnings before it became the tourist hot-spot it is today.
Get boujee at the beach clubs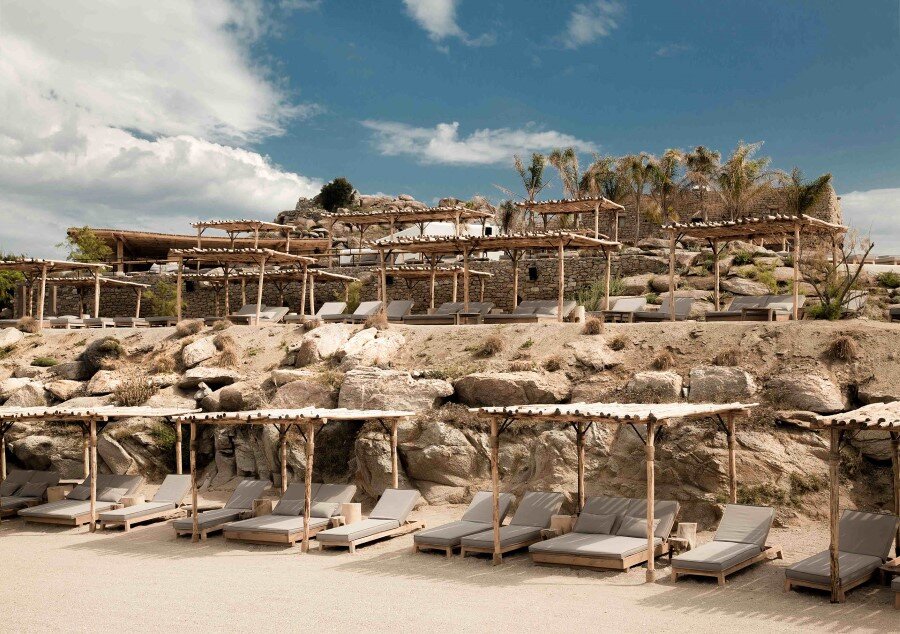 The luxury beach clubs are Mykonos's claim to fame. Jet-setters from all over the world flock to the shores and spend lavish amounts of money on day beds, tables for the DJ sets, and large dinner parties. These beach clubs can get super expensive, but if you're visiting during shoulder season or with a larger group, it becomes much more affordable! If you can find a way to make it happen, it will definitely be one of the highlights of your trip.
Some of the most well-known and luxurious day clubs include Scorpios, Alemagou Beach Bar & Restaurant, NAMMOS, and Principote!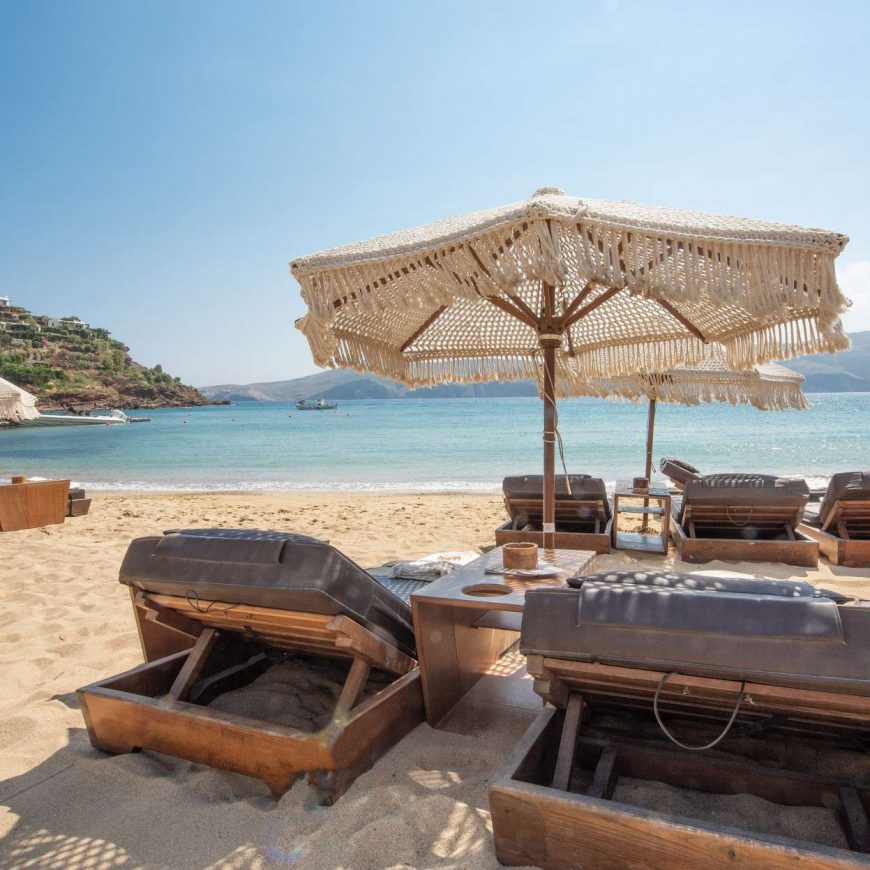 Party at Paradise Beach and Super Paradise Beach
With names like "Paradise" and "Super Paradise," you know you're in for something special. This is where the young, hip crowds go to get their party on all night long! From beach clubs like Jackie O's and Paradise Beach Club to Club Tropicana, get ready for Ibiza-style DJ sets starting around 10 PM (and usually going until sunrise!).
South Coast snorkeling or sailing tours
Many of the best beaches in Mykonos are on the South Coast. The best way to see it all is to do it on a boat tour! AKA, where you don't have to worry about navigating or staying sober enough to drive! Just kick back and relax as you take in the sights with a bit of snorkeling. This is super fun with a group on a girls trip!
Located in the center of Mykonos Town, this outdoor cinema offers garden seating with cocktail service. They typically show old Hollywood films (in English), and I can't think of anything more romantic! The restaurant on-site is delicious as well, making it the perfect honeymoon date night option if clubbing isn't really your scene.
Making a sunset reservation here should be one of your top priorities! Mykonos is famously known for its sunsets, and the 180 Degree Bar is one of the very best places to watch this spectacle! Serving up expertly-crafted cocktails along with fine wines (yes, please!), this multi-terraced stone castle is absolute perfection. It is truly an Instagrammer's dream sunset location! Plus, the drinks are FIRE.
Rent an ATV and explore Mykonos's best beaches
Jetsetter Tip: "Chora" means "town" in Greek!
From town, you can easily explore many of the best beaches in Mykonos (most of which will be what the Greeks call "organized beaches"). This means that the beaches will have lounge chairs with umbrellas for rent, and you can typically order food and drinks as well.
Start at the upscale Psarrou Beach, and from there, you can either take the foot path or your ATV/scooter "beach hopping" to visit Platis Gialos, Paradise Beach, and Super Paradise. Bonus points if you have a drink or dip in the water at each!
For an "unorganized beach" (lol) make a stop at Agrari Beach, one of the few beaches without lounge chairs or umbrellas. Here, you can lay out your towel, go for a dip, and enjoy the laid-back beach vibe!
Check out these other blog posts
What to pack for a trip to Greece
The ultimate Santorini travel guide