5 Off the Beaten Path Unique Honeymoon Destinations
I feel like when it comes to honeymoons these days, it's pretty easy to guess what destination people are going to choose… Now, don't get me wrong, there's a reason so many couples choose places like the Amalfi Coast, Bali, or a luxury resort in Mexico, but, for those couples looking to do something a bit different, maybe a little adventurous or just simply unexpected, there are plenty of incredible and unique honeymoon destinations that seem to fly under the radar!!
These are the best 5 off the beaten path honeymoon destinations that will have your friends second guessing what they thought a honeymoon had to look like! From exploring ancient villages (and the seafood pasta) in the lesser known coastal region of Puglia, to epic 5-star Safari camps in Botswana, these are the kind of honeymoons for making memories that will last a lifetime!
Want the Amalfi Coast experience but without the crowds and price tag?
Puglia
The Apulia (Puglia) region of Italy sits on the opposite coast of the Amalfi, facing Croatia and Montenegro across the Adriatic Sea. This region stretches from its capital Bari, down to the "heel of the boot" and has been dubbed the "Maldives" of Italy due to its crystal clear turquoise waters! Count me in! You can expect white-washed villages, locals enjoying their favorite swimming coves, endless fresh seafood and traditional trullo architecture. This is where Italians go for summer vacation, for the coastal experience of the Amalfi Coast but with a more laid-back, local vibe!
Road trip from Bari down the coastline to the ancient city of Lecce, stopping to spend a night or two in each village like Monopoli, Alberobello, Ostuni and Otranto!
For an alternative to somewhere like the Maldives, but without such a hefty price tag, and more unique, consider Southeast Asia – like Cambodia, Thailand or the Phillippines!
Cambodia
Cambodia is such a fascinating country. Despite neighboring tourist hot-spots Vietnam and Thailand, Cambodia remains so much less discovered and less visited than the countries it borders. Yet, it's home to thousands of unbelievably-preserved ancient temples, a gorgeous countryside, a warm, tropical climate, and *let me let you in on a little secret* a coast that rivals any of the best beaches in the world…
I'd recommend kicking the trip off with a few nights in Siem Reap, followed by a long, luxurious honeymoon at Song Saa Island. (Yes, this place is really in Cambodia, complete with Maldives-level overwater bungalows – and it's AMAZING).
Thailand
Thailand is jam-packed with hundreds of islands, each with beautiful beaches, cliffside restaurants, rustic-chic hammocks and award-winning world-class resorts on every corner. From Koh Somui, to Phuket, to Bangkok to Chiang Mai, Thailand is a super cool honeymoon destination. Stay at the Six Senses Samui, where eco-luxury retreat meets the secluded island paradise of your dreams. Most of the villas have their own private infinity pools, making the Six Senses an ideal Thailand honeymoon destination. The resort also features world-class dining, including an integrated wellness program – something I always love about Six Senses is their focus on eco and active luxury – a vacation that makes you feel GOOD.
Check the best rates for your dates here on Booking .com – the site I always use to get the best hotel rates possible.
Want to finally go on that African Safari you've been dreaming about?
The beauty of South Africa is that you can have so many honeymoons in one – from exploring wine country in Stellenbosch, to getting to know one of the world's best cities of Cape Town, to heading out on a luxury safari in the bush!
With South Africa's one-of-a-kind combination of colorful African culture and beautiful, old-world colonial glamour, its rich history, breathtaking landscapes, incredible wildlife (read: penguins on the beach, baboons in the streets, and safaris!!!). Did I mention the wine country, white sand beaches, incredible restaurants and cocktail bars, and the absolutely to-die-for views of the Cape of Good Hope?! A South Africa honeymoon is a unique honeymoon everyone you know will be jealous of.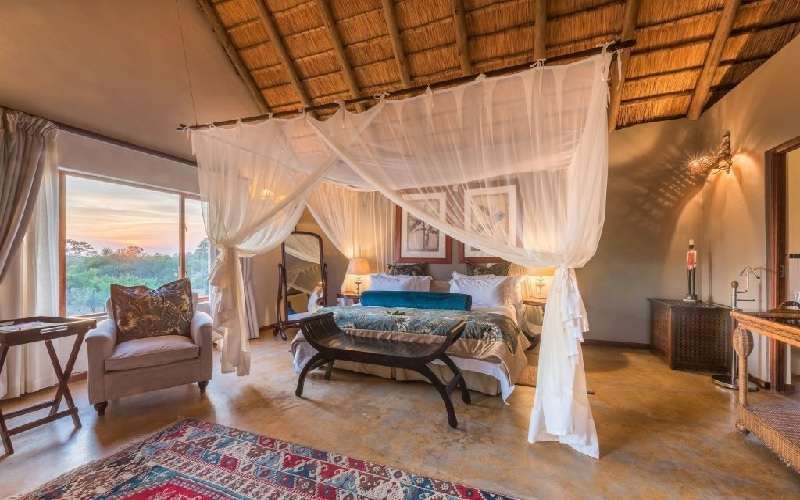 Want the best of hiking, wine country and mountain adventures all in one?
New Zealand
The stunning landscapes of New Zealand are the perfect backdrop to celebrate your love if you're the type of couple who wants something both different and adventurous without having to sacrifice luxury. With the pristine beaches and otherworldly volcanic landscapes in the northern island, and the epic snow-capped mountains, glaciers and adventure activities in the south island (plus incredible wine country on BOTH islands), there is no shortage of things to do!
Start with the South island, where you can fly into the adventure capital of Queenstown. From there you'll find tours to see the mystic Milford Sound (I loved our boat tour experience), helicopter rides (and even landings) on Fox Glacier, wine tours of Central Otago (we LOVED our experience with Alpine Luxury Tours), and maybe even try your hand at bungee jumping, skydiving or the mountain luge! Once you've gotten your adrenaline fix, nature lovers can make their way up to Mt. Cook National Park and the Wanaka area for unreal hiking, while beach lovers can head to the North Island. Spend a night or two at the The Oyster Inn on Waiheke island (just a 20 minute boat ride from central Auckland), where you can balance your time evenly between vineyard hopping and beach lounging. Just keep in mind that their summer is during our winter!
Want a bit of culture?
Peru
Peru will blow you away and exceed all of your expectations. The majority of travelers going to Peru head there for one reason, to visit Machu Picchu and the Sacred Valley. And, while experiencing this UNESCO World Heritage Site and the vibrant city of Cuzco is an absolute MUST on any trip to Peru, there are so many other hidden gems to be uncovered!! One of the best kept secrets being the hidden dessert oasis of Huacachina, where you can go sand-boarding and whip around some dune buggies. And, if you're up for a challenge, consider hiking Rainbow Mountain for the view of a lifetime (just make sure you adjust to the altitude beforehand). Nature lovers will enjoy the high alpine lakes like Laguna Paron and Laguna 69 outside of Huaraz.
Colombia
If music, dancing, beaches, city excitement, and incredible food sound like the perfect honeymoon for you, Colombia is it. And the best part? It's ultra affordable – and one of the best budget-friendly honeymoon destinations in the world! From the white sand beaches of Cartagena, to the bustling mountain city of Medellin, to the lush Andes mountains & coffee regions, there is PLENTY to keep you busy for an exciting honeymoon in Colombia.
Hotel Casa San Agustin (Cartagena) – The BEST hotel in Old Town Cartagena in my opinion, an absolute must.
Check out these other blog posts:

The best white dresses and outfits for a bride to be for every wedding related event