The Ultimate South Africa Honeymoon Guide
When it comes to deciding where to honeymoon, chances are you're looking for a once-in-a-lifetime trip. Something not all your friends have done, and something that you and your fiance will remember forever. And if laying on the beach of an all-inclusive resort drinking tropical drinks doesn't sound as much your vibe as much as an unparalleled adventure across the world, there is no honeymoon destination like South Africa.
South Africa has it ALL. It is wild, rugged, and gorgeous. But it's also romantic, beachy and beautiful. It's halfway around the world, and is unlike anywhere you've ever been, yet, it feels like home.
With South Africa's one-of-a-kind combination of colorful African culture and beautiful, old-world colonial glamour, its rich history, gorgeous landscapes, incredible wildlife (hello penguins on the beach, baboons in the streets, and safaris!!!). Did I mention the wine country, white sand beaches, incredible restaurants and cocktail bars, and the absolutely to-die-for views of the Cape of Good Hope?!
South Africa is a honeymoon dream come true, AND even though it's a big trip to get over there, it is 10000% worth it.
Must-dos for a honeymoon in South Africa:
Cape Town!
Cape Town is one of my favorite places in the world – and definitely my favorite city. This gorgeous gem on the tip of Africa has EVERYTHING!!! And you'll definitely want to spend some time here on your honeymoon.
As far as how long to spend in CT, I'd recommend at LEAST 3 nights, but ideally 4-5. You definitely won't get bored here. Check out my recommendations on where to stay in Cape Town below!
Wine country
Only about 40 minutes outside of Cape Town are two wine countries Stellenbosch and Franschhoek – both are a wine lover's dream.
Stellenbosch is South Africa's second oldest town, and arguably the most beautiful with its Cape Dutch architecture. Franschhoek is smaller and more boutiquey than Stellenbosch. There are lovely street cafes and bistros where you can sit out and relax in the sunshine. To me it feels a lot like France!
Don't leave South Africa without trying the pinotage, a blend of pinot noir and Cinsaut that's native to South Africa, and one of my personal favorites.
Photo source: 2foodtrippers.com
A few of the best wineries to visit in Stellenbosch:
Waterford Estate– four words: Wine and chocolate tasting. Here, you'll sit at a gorgeous courtyard table and be greeted with fine Belgian chocolates specially crafted onsite to match each wine you'll taste from the estate. Talk about a perfect afternoon!
Warwick – Family-owned with many award winning wines and views you wish you could get back home!
Morgenhof – This beautiful white estate situated among the Stellenbosch mountains has many fine wines, some of which are sold worldwide.
Biking to the Cape of Good Hope
The point where the Atlantic meets the Indian Ocean, the Cape of Good Hope is one of the most stunning places I've ever been – it will take your breath away, and is a must do in South Africa.

Boulders beach & seeing the penguins!
Just around the corner from Cape Town in Simon's Town lies Boulders Beach, a gorgeous tucked away cove of soft white sand, massive granite boulders (hence its name) and water that's a little warmer than the icy temperatures of Cape Town's Atlantic Ocean beaches, since it's on the Indian Ocean side of the Cape. It's a MUST on any trip to South Africa.
You can definitely see Boulders Beach in the same day as visiting the Cape of Good Hope – since it's on the way!
A Safari in South Africa
Duh! (see below for recs on which safari lodges in South Africa are best for a honeymoon!)
Photo from Natural Habitat adventures
Hiking Table Mountain in Cape Town
Table Mountain, designated in 2011 as one of the world's new Seven Wonders, is a must-do on any trip to Cape Town, South Africa. After a grueling hike up to the top, you'll be rewarded by some of the most breathtaking views ever. It's well known as one of the best hikes in the world, and when you get there, it's easy to see why.
Victoria & Alfred Waterfront
Bustling with tourists and locals alike at all hours of the day and night, the Victoria & Alfred Waterfront is the heart of Cape Town. Sprinkled with shops, restaurants, pubs, and outdoor entertainment, head here for a romantic dinner, some fish n' chips and a beer (that will only cost you about $2!) or just to walk around!
Camp's Bay
Head to Camp's Bay (or stay in Camp's Bay) for some South Beach Miami vibes and some super chic restaurants and bars. I LOVE watching the sunset here, and saw some of the very best sunsets of my entire life right on this beach.
Clifton
My favorite beaches in Cape Town!!! Clifton is an affluent suburb of Cape Town, and home to 4 beaches (appropriately named Clifton 1st, 2nd, 3rd and 4th).
The water is chilly, but the beaches and homes in Clifton are drop dead gorgeous. Fourth Beach (to the South), is the most popular and attracts families and lots of crowds. Yachts anchor off Fourth beach, especially on summer weekends. Third beach is the smallest beach and Second beach is populated by students playing beach volleyball and beach games. First beach, to the north, is usually a mix of locals and surfers.
Where to Eat in Cape Town:
If you're looking for an incredible meal in Cape Town, this is your spot. Contemporary French-meets-Asian fine dining.
African-inspired and japanese infused. This place is amazing.
Tribe Coffee – great café for coffee in the heart of Cape Town.
Belly of the Beast – great dinner spot with a delish contemporary menu.
Test Kitchen: If you can snag a res, The Test Kitchen is a South African meets Latin dinner spot you MUST go to.
Cape Town:

With some of the most gorgeous views in all of South Africa, perched on a pebbled beach at the foot of Table Mountain, Tintswalo Atlantic is a perfect choice for Cape Town honeymoons. It's super picturesque and the service is world-class.
Often ranked the Best Hotel in Cape Town, this five star boutique hotel in Camp's Bay is your place if you want to be near the beautiful beaches, tucked away on the road to Camp's Bay. The hotel also has an award-winning spa, tucked below the hotel, which is super popular. There are two swimming pools, and a cute 16-seat movie theater (with drinks, popcorn and candy, of course). There's also a complimentary all-day shuttle to the V&A Waterfront, which is about a 20-minute drive away!
Looking onto Lion's Head and the Atlantic Ocean, this beautiful mansion looks like more like a private villa. It's extremely secluded, private and super safe. The bar, restaurant, and spa are exclusive to hotel guests. Did I mention your rate includes breakfast, drinks, wine tasting, a minibar, and a private chef?! There are the 7,500 bottles of rare and vintage South African wines in the cellar and 1.5 acres of beautiful gardens. This is a great hotel for a honeymoon in Cape Town.
Check rates for your dates here
If a lowkey boutique hotel is more your vibe than a big resort, this villa in a suburb of Cape Town offers unobstructed views over Boulders Beach with its internationally famous colony of endangered African penguins!
Super chic 5-star hotel in a great location in Victoria & Alfred Waterfront. This hotel is an architectural marvel, and a must stay for design lovers.
Where to go on a safari in South Africa
The Best Romantic Safari lodges in South Africa for a Honeymoon:
For a six-star safari lodge experience that is delectably luxe, look no further than Royal Malewane, where YES, you can actually watch elephants from your very own pool, look no further than Royal Malewane. Royal Malewane is easily accessible by air and road and is located in the Thornybush Private Game Reserve on the Western Border of The Greater Kruger National Park. The closest airport is Hoedspruit and there is a private landing strip at Royal Malewane, as well.
This is an ultra-luxurious private safari lodge, and an ideal honeymoon safari lodge in South Africa.
Another popular safari lodge for honeymooning in South Africa is Lion Sands – an award-winning lodge that was just rebuilt in 2016 with stunning views of the Sabie River in Kruger National Park. The rooms are huge and uber private with fire places, viewing decks, and private pools.
Check rates for your dates here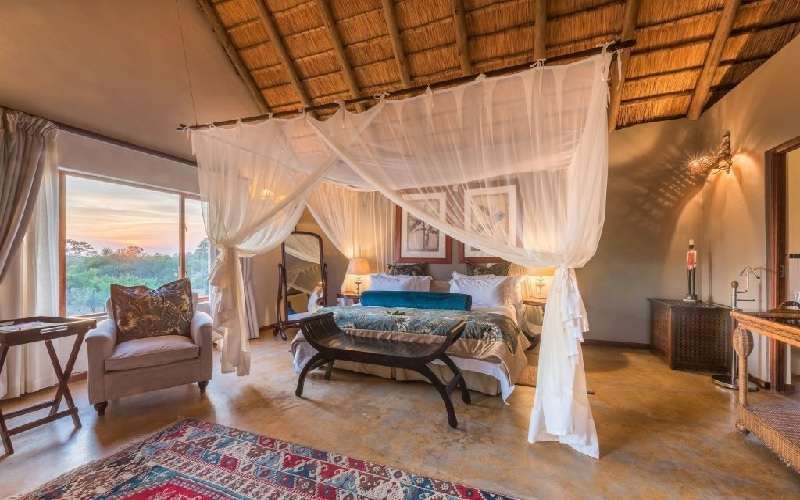 FAQ about honeymooning in South Africa
Can you do Cape Town and a safari in one trip?
Absolutely!!! I'd recommend 3-5 nights in Cape Town, and at least 3 nights on safari.
Is Cape Town safe?
Yes, if you are smart and keep your wits about you. I did not feel unsafe in Cape Town, however, it is Africa and you need to exercise caution as a traveler. Check out my tips on how to stay safe abroad. I recommend you take Ubers or book private transport from the airport to your hotel or airbnb. Avoid visiting townships, unless it's with a reliable tour operator, and always lock your car, put things in a safe in your hotel room, and leave your flashy jewelry at home.
Is Johannesburg safe?
No. Johannesburg has extremely high rates of crime. Though many safaris will fly through Johannesburg, you are going to want to spend the bulk of your time in Cape Town over Johannesburg. And avoid flying through Jo-burg if you can. If you do have a layover there, be extremely vigilant should you be flying through Johannesburg. and I do not recommend staying overnight here.
What time of year is best to visit South Africa?
This is a hard question because South Africa is a huge country, with a ton of different climates that vary region to region. Generally, South Africa's summer is from December to March and winter is June to August. Cape Town and the Western Cape experience winter rainfall and a largely dry, hot summer. Most of the rest of the country, including the Kruger National Park area, have summer thundershowers and a dry winter.
If you're looking to combine a safari with a Cape Town beach vacation and don't want it TOO cold, but still want to see great game in the safari parks, I'd look into September or October (possibly November) for your honeymoon. If you care most about Cape Town and less about South African safari, go November through March. The best time to visit the Cape for whale watching is between July and November.
Photo via Adventures by Disney
What time of year is best for safaris in South Africa?
The best time to visit South Africa's safari parks is from May to September. This is the dryest season and animals tend to congregate around waterholes and rivers, making it easier to spot them! As this is winter in South Africa, though, mornings and nights are cold. May and September/October are great because they are shouldering with the warmer season, so it's less cold.
What is the weather like in South Africa?
South Africa is very temperate year-round, but the water is very cold (since you're very far down South!) The Cape has beautiful, hot, dry weather in its summer months (between November and February). In the summer, temperatures are in the 80s. But it doesn't get too cold in the winter, averaging in the 60's.
Can you really dive with great white sharks in South Africa?
YEP. If you and your fiance are thrill-seekers, you're going to love great white shark cave diving in Cape Town.
Check out these other blog posts:
All of my best travel hacks & tricks
The ultimate beach vacation packing guide
The best travel reward credit cards