10 of My Favorite Home Decor Finds So Far in Our New House
When Kenny and I moved into our new house in Charleston, we were pretty much starting from SCRATCH – we spent the last few years living out of our suitcases, traveling 24/7/365, so we didn't have a couch, a dining room table, a bed, or anything to speak of. When we packed up to live across the country from both of our hometowns (I'm from California, Kenny's from Colorado), we grabbed a few family heirlooms and antiques, but besides that, we had nothing but our clothes and our wedding presents! (thank GOODNESS for our wedding gifts!!!!). So, we
Here are my favorite finds we've bought for our house so far!
Ok so this one was a splurge, but I have to say, we spend SO much time at the dining room table and it brings me so much joy every day, that I think it was the perfect thing for us to splurge on. I spent months looking for the right dining room table before I came across this one, so I knew when I found this one, it was the one. I think if there's one thing I'm learning about home decor and where to splurge vs. where to save, it's if I have spent a ton of time researching a certain piece of furniture or item and haven't found anything I like even nearly as much as the splurge, and I keep thinking about the splurge night after night, it may be time to just bite the bullet and get the one I want. We also justified it because we know it will be with us for a long, long time. It's a style that we could easily see coming with us to our next house (if we ever leave this one!) or even a beach house we have one day (having a beach house or rental vacation home is something we're dreaming of doing one day!).
Why we love it:
The "salt-washed white" color is so perfect in our house – it's white and bright without being TOO WHITE. It's coastal, and traditional, and I'm obsessed.
Also obsessed with the fact that it's expandable – it expands from fitting 6 people to fitting 8. In my opinion the ideal size!!!
So after asking you guys in this post on deciding which dining room chairs to buy, we decided on these gorgeous dining room chairs. Here's what they look like in our dining room!
They go SO well with the table (the seat cushions are the perfect off-white like the table, and a pure-white wouldn't have looked right!). Next up is finding a rug! If you guys have any recommendations, from where to shop to what style you'd recommend, drop them in the comments!
Why we love them:
They're SUPER comfortable, which was key for us! I also love how well they go in our white kitchen and with our table. It looks like they all came as a set!
We went in person to a bunch of places to try couches because we wanted to be sure we got something comfortable!
We got this couch in Alabaster Yarn Dyed White Weave color, it's a performance fabric so they made us feel better about our white-couch-spill fears, because it's a really high end fabric that's easy to clean!
The best part? It's ACTUALLY in stock (shocking, for furniture these days!) and it's on sale right now.
Why we love it:
It's super comfortable, and the white is beautiful. I also LOVE the chaise lounge aspect, which was something we were definitely looking for. And it was IN STOCK!
Our mirrors
We love this West Elm full body mirror so much that we're buying another one!! We want one in the office as well since we're so often trying on samples during the work day for Kenny Flowers and Watercolors!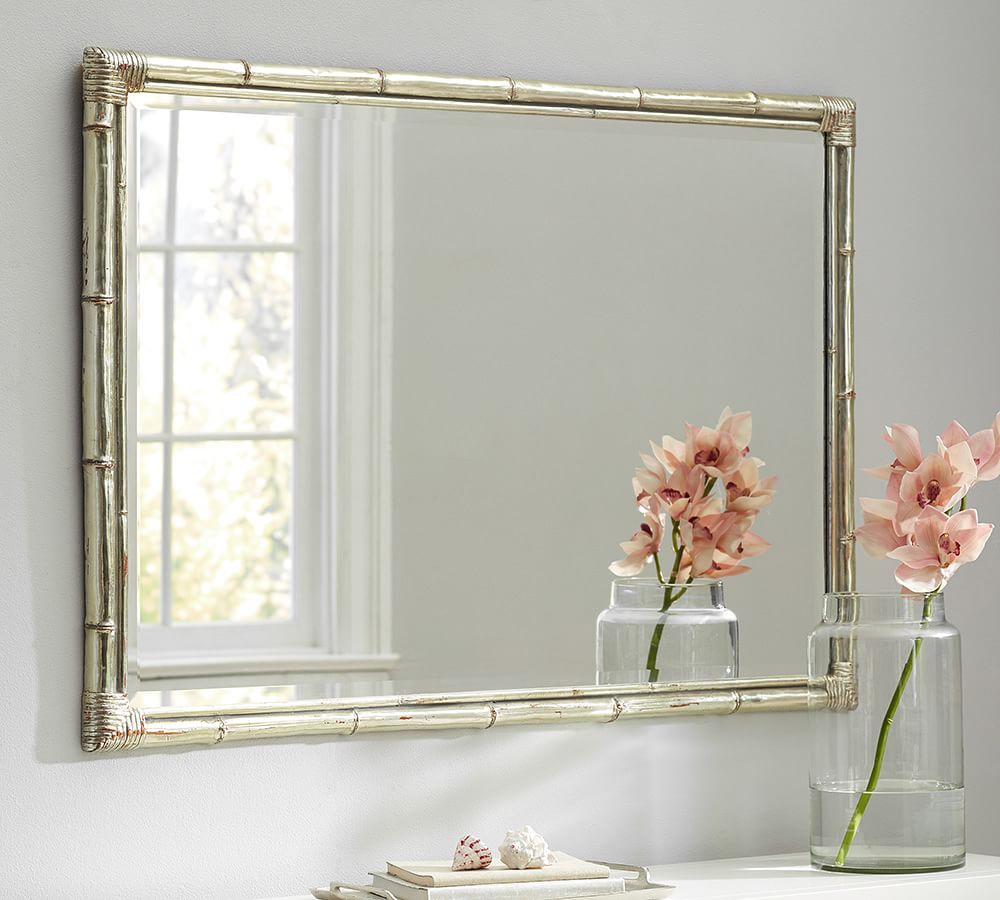 We also have this gorgeous bamboo mirror from our wedding registry – it's still available on Pottery Barn and is gorgeous for a glam tropical feel.
Why we love it: I love the way mirrors open up a space and make it seem even bigger, and brighter! I like angling mine so they catch the sunny light in the windows, too, creating even more light and a brighter space.
We chose Saatva, who is well-known as being one of the absolute best mattresses to buy. Five premium material layers make up the Saatva Classic mattress in 'Plush Soft', 14.5 height, and could not be happier about our decision.
Why we love it:
We have been sleeping SO well. I feel like it's soft-as-a-cloud but still supportive enough that my back and posture feels amazing throughout the night and when I wake up. Kenny usually is such a light sleeper but sleeps right through when I get up or move around, too, which is a HUGE win for couples. I love it, and can't recommend it enough.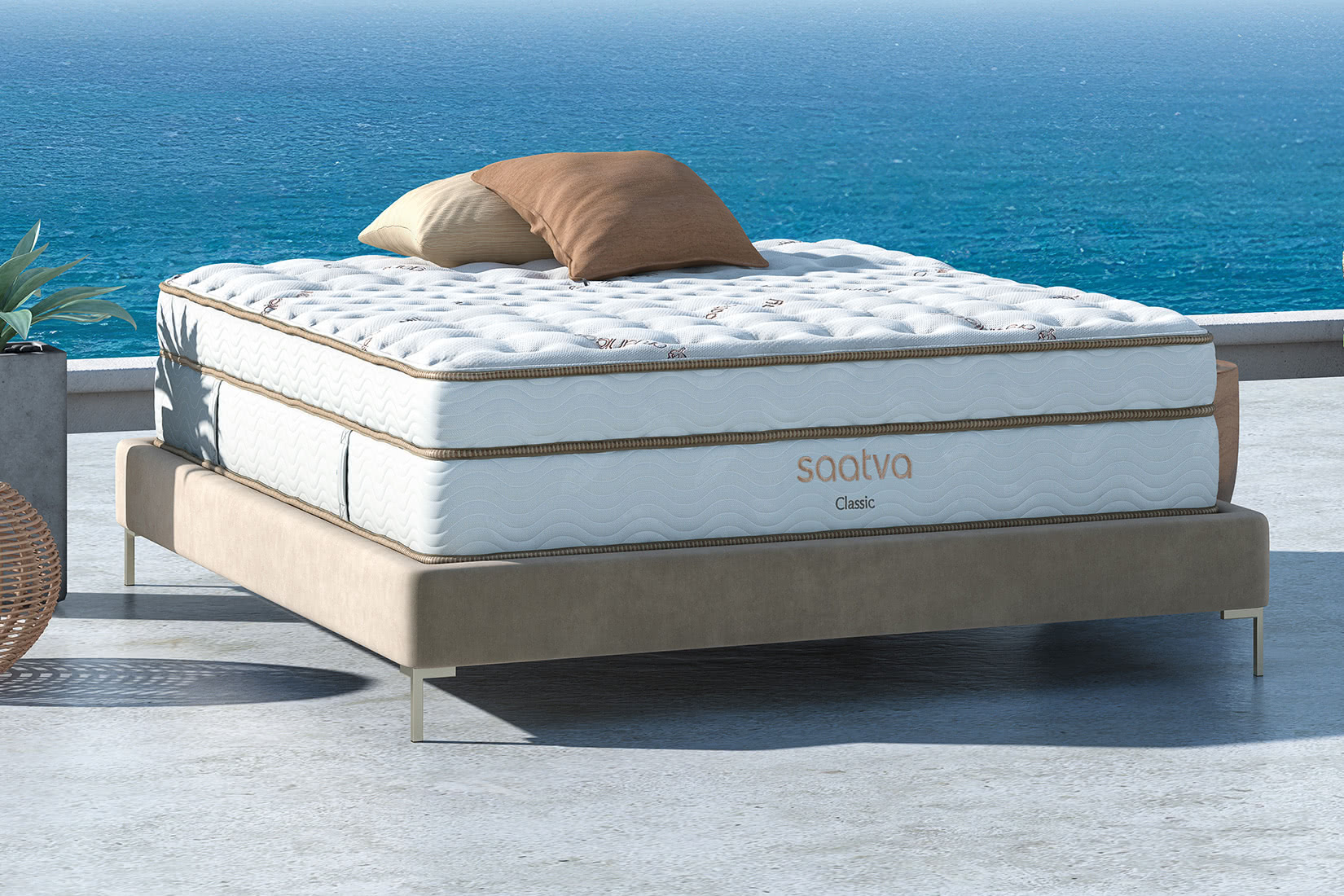 I had the hardest time finding the right bed & mattress!!!! I don't know about you guys but I was PICKY! After all, you spend 1/3 of your life sleeping, so I wanted to make sure our master bedroom was an absolute oasis we could come back to night after night.
We chose the 'white velvet' color option – which I love.
Why we love it:
I loveeee the luxe velvet-y feel of the fabric, and the bright white that brightens up our whole room. I also love that it's SUBSTANTIAL. This bed isn't moving anywhere, it's a modern wingback and it's gorgeous. Just make sure to have someone set it up for you, because it's not an easy assembly (we did a TaskRabbit for 2 hours!)
I am obsessed with Lauren Marttila's style of photography and love her prints blown up and framed!!! They are the perfect coastal, relaxing, zen feel that every home needs. We have ours hanging in our bedroom – and she sells on her own site or on Serena & Lily!
We decided, after a TON of research, that this was the best one for us. It's quiet, fits around 100 bottles, and is going to be free-standing next to our bar cart in a 'bar' area of our house. I love the sleek design.
If you're new to wine collecting, having a wine fridge is SUPER important in keeping your nicer wines at their best. You want to keep it set to 'cellar temperature' (around 55 degrees). I LOVE the way wines taste at cellar temp, as well as just love that it keeps them their best longer, and ages them perfectly. I think a wine fridge is an absolute must (unless you have your own wine cellar!).
The single-temperature version that we have is currently sold out (back in May!) but they have the dual-temperature one in stock which is what we almost got! Better if you are storing both reds and whites! We prio'd the reds for ours, but I think dual temp is amazing!
Our bar cart
I've had our bar cart since my days living in an apartment in the Marina in San Francisco! I love it, and it brings me so many memories of that era of life! Here in our Charleston home, it has a special spot in our 'bar area' which will also have our wine fridge! I can't find the exact bar cart we have, but here are some very similar ones I love.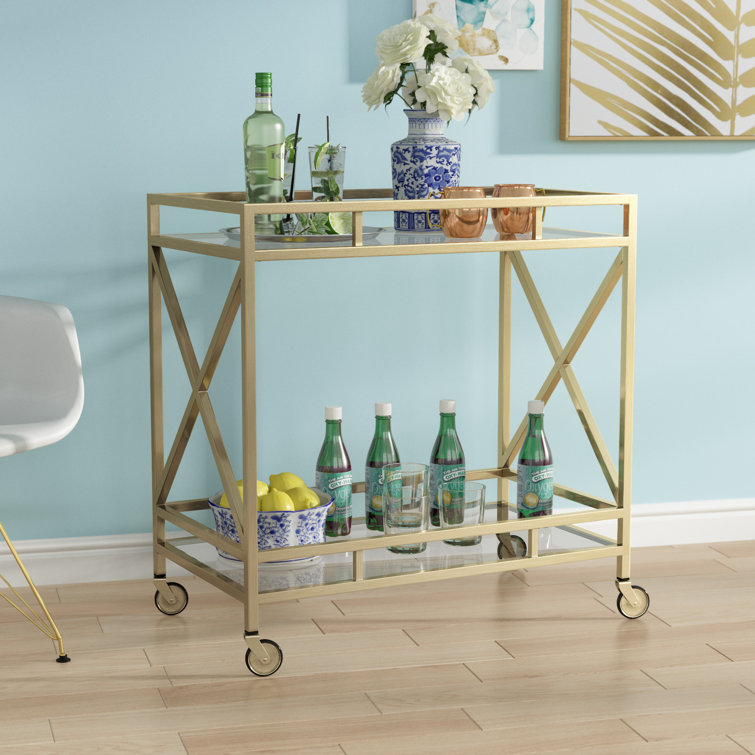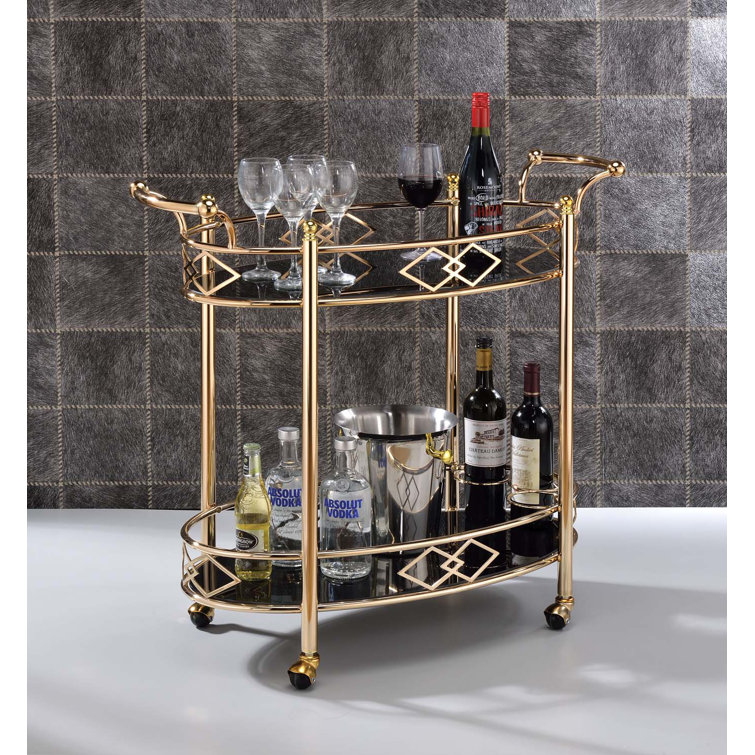 Lately, I've been getting photo prints from mpix, and I'm so impressed with their quality! We got more than a few framed prints to hang around our house and they all look SO gorgeous. I love that you can order the print and the frame at once, and I've been nothing but super impressed by this company. Highly recommend. For our stairway, I chose 6 gorgeous black-framed black-and-white large print photos with scenes from our honeymoon, our wedding, Bali, and more that all tell a story and make me so happy every time I walk up the stairs!
I honestly didn't even know if we needed a TV in the living room, but now that we have it, I'm obsessed. It's SO beautiful, and acts like a piece of art when you're not watching TV. Definitely hire someone to set it up in a way that hides the cords (ours went through the wall behind it!) because that's what gives it that clean Frame look.
The Frame TV is on big sale on Amazon right now.
Adding this gold organizing shelved piece to our bathroom has been a GAME-CHANGER. Because, frankly, I have a lot of products and makeup in the bathroom, and, if I didn't have this, it would be all over my (and Kenny's) sink. We found this one on Overstock and I love it!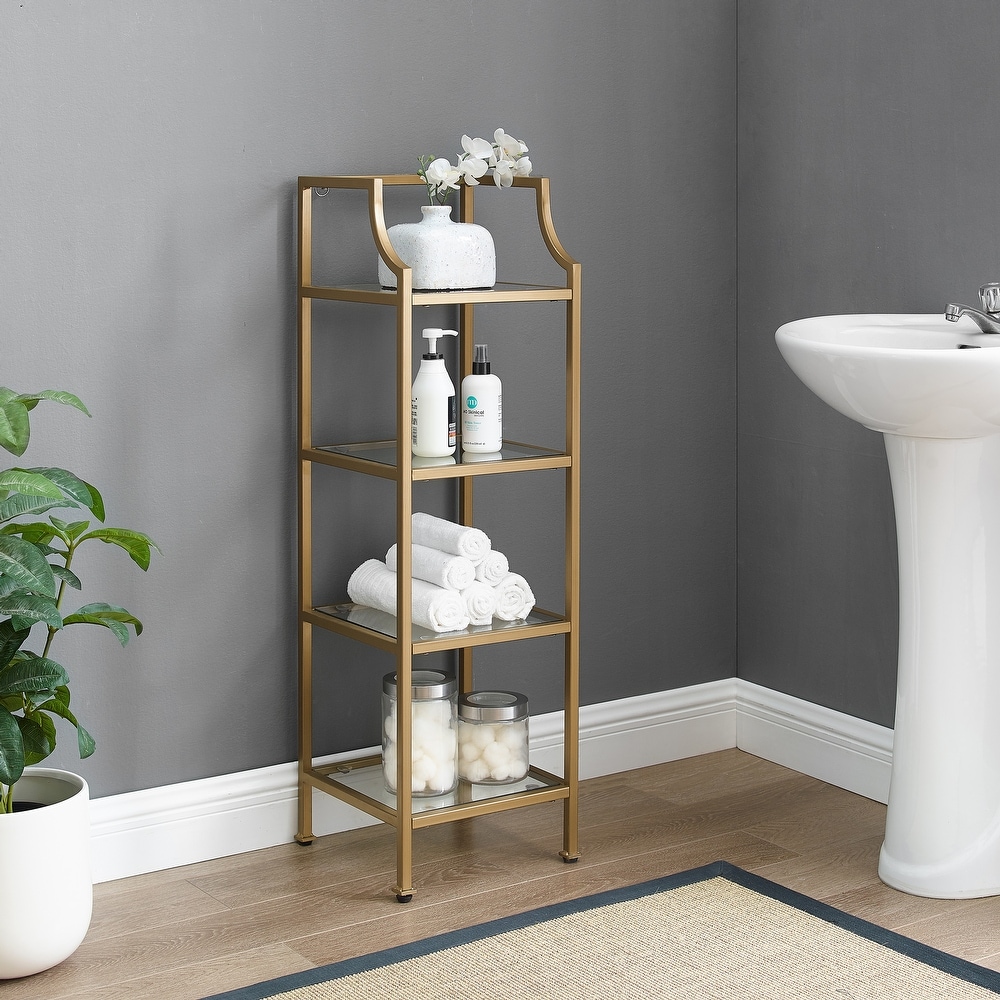 I'll have to take a picture of ours in our bathroom because it looks even better in person! whether you want to use it for bathroom supplies (toilet paper, towels, lotions, etc) or you're like me and want it full of all the products you want handy, it's a great addition to a bathroom.
Also, hot tip, add some of these container store spice racks to help organize makeup and skin products!
Our chandeliers
While we got lucky and our house came with some gorgeous chandeliers already in place, they're DEFINITELY the #1 thing people notice in the dining room and living room, so, while these aren't our exact ones, they're the same vibe as ours – here are some of my favorite chandeliers of the moment:
This one would look great in a dining room or living room. It's a very similar vibe to our living room chandelier! Also here's a very similar Serena & Lily dupe for a quarter of the price.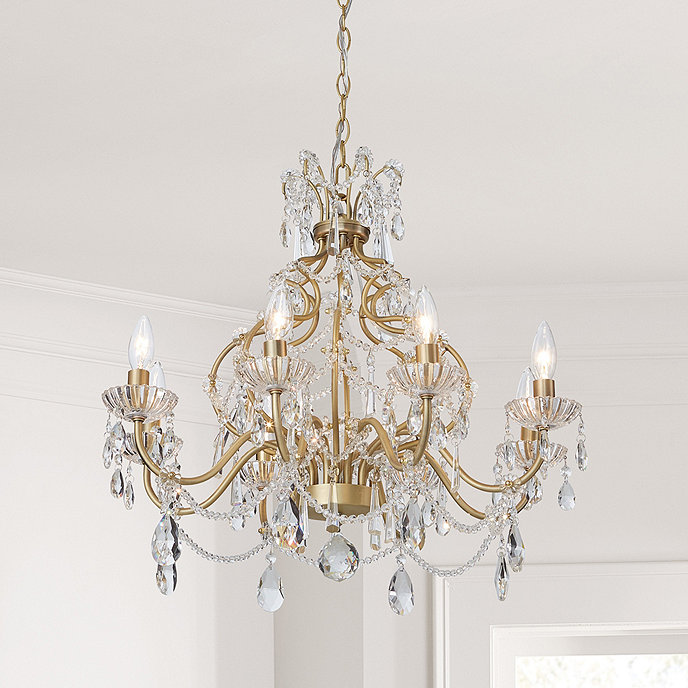 For a glam crystal chandelier, these are a few I like!
What I'm in the market for right now:
Rugs & nightstands! I'm having the hardest time finding the right ones! I'm also looking for porch furniture for our porch, a futon for our office, office desks, and so much more. The endless to-do-list of a new home, right?!
Let me know if you guys have any recommendations!
I'll keep adding to this post with our other favorite finds!
In the meantime, check out these other blog posts you might like: