Saatva Mattress Review – What Mattress to Choose
After doing countless hours of online research and seeing Saatva at the top of every top mattress brands to buy list, I decided that Saatva's hybrid, organic, made-in-the-US mattresses were the best choice for my husband and I. The last thing we wanted was a "mattress folded up in a box", as I had heard horror stories of some popular brands and how they were terribly uncomfortable right away. But we also wanted the convenience of shopping for our mattress online! So we went with Saatva, which came highly recommended by friends of ours. They offer a lifetime warranty, and a 180 day trial, with white glove delivery, and it was all such a fabulous online mattress buying experience.
There are three firmness options when choosing the best Saatva mattress for you: We chose the plush soft classic mattress. It's a luxury hybrid innerspring mattress, meaning it combines the support of a spring mattress, with the comfort of a memory foam-like pillow top. We looove it, and don't find it "TOO" soft. It's a perfect firmness-meets-soft mattress for us.
The different comfort levels of Saatva to choose from:
If you're in the market for a luxury hybrid mattress, Saatva is well-known as being one of the absolute best to buy. Five premium material layers make up the Saatva Classic mattress, their most famous, providing you with excellent spine alignment, great durability, and exceptional back and joint support. Saatva comes with different firmness options all made from eco-friendly materials. Super durable, pillow-soft, and ultra-luxe, your Saatva mattress should last you for years and years.
The delivery experience of Saatva
I found the delivery of our Saatva to be super seamless and easy. You can try it for 180 days AND they offer white glove delivery, all the way to our second floor, thank goodness! All in all, we are SO happy with our Saatva mattress, and won't be purchasing another brand anytime soon! They're the best!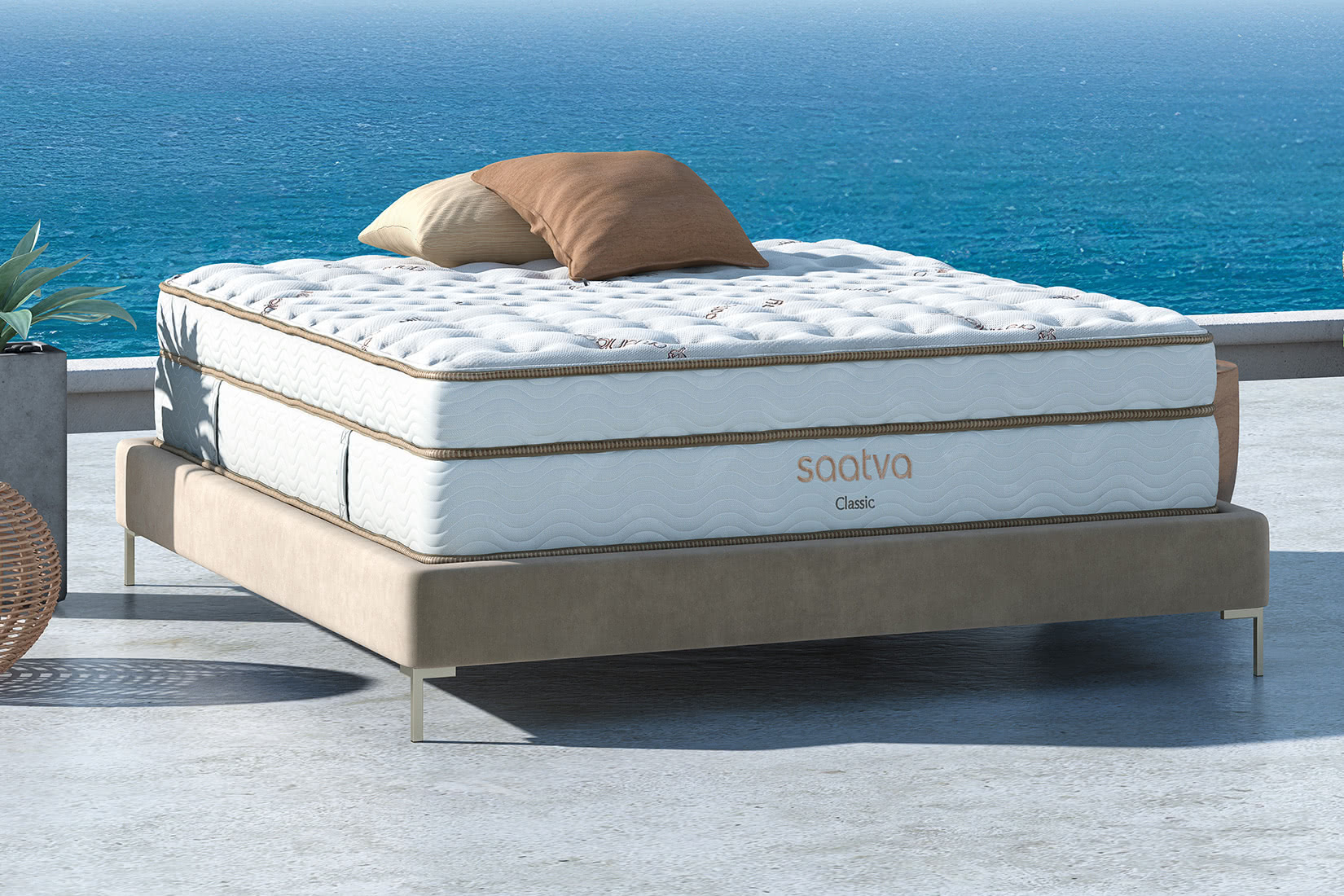 Current deals going on at Saatva : Check out their page here for current deals going on and to shop your mattress! I recommend the Classic!
What I didn't love as much:
I love the Saatva sateen sheets (they feel like a hotel!), but the pillows can be skipped! I prefer these down pillows here.