5 Incredible Day & Overnight Trips to Take from Rome
Chances are, if you're visiting Italy, you're either flying into Rome or planning to stop there during your trip. Rome is a cultural and historic epicenter of Europe, as one of the oldest inhabited cities, with all of the beautiful history and charm to show for it. While Rome itself could keep you occupied for well over a month if time allowed, Rome's central location allows you an amazing access point for exploring many charming nearby coastal or hilltop towns. From the birthplace of pizza in Naples, to the ruins of Pompeii, to the hot springs in the rolling hills of Tuscany – these are the 5 best day trips to take from Rome!
JETSET TIP: If you're looking for an ideal Italy itinerary, do these in order (starting your trip in Florence, ending in the coastal city of Naples, or even add in the Amalfi Coast) from where you can take a train back to Florence or Rome to fly home!
Florence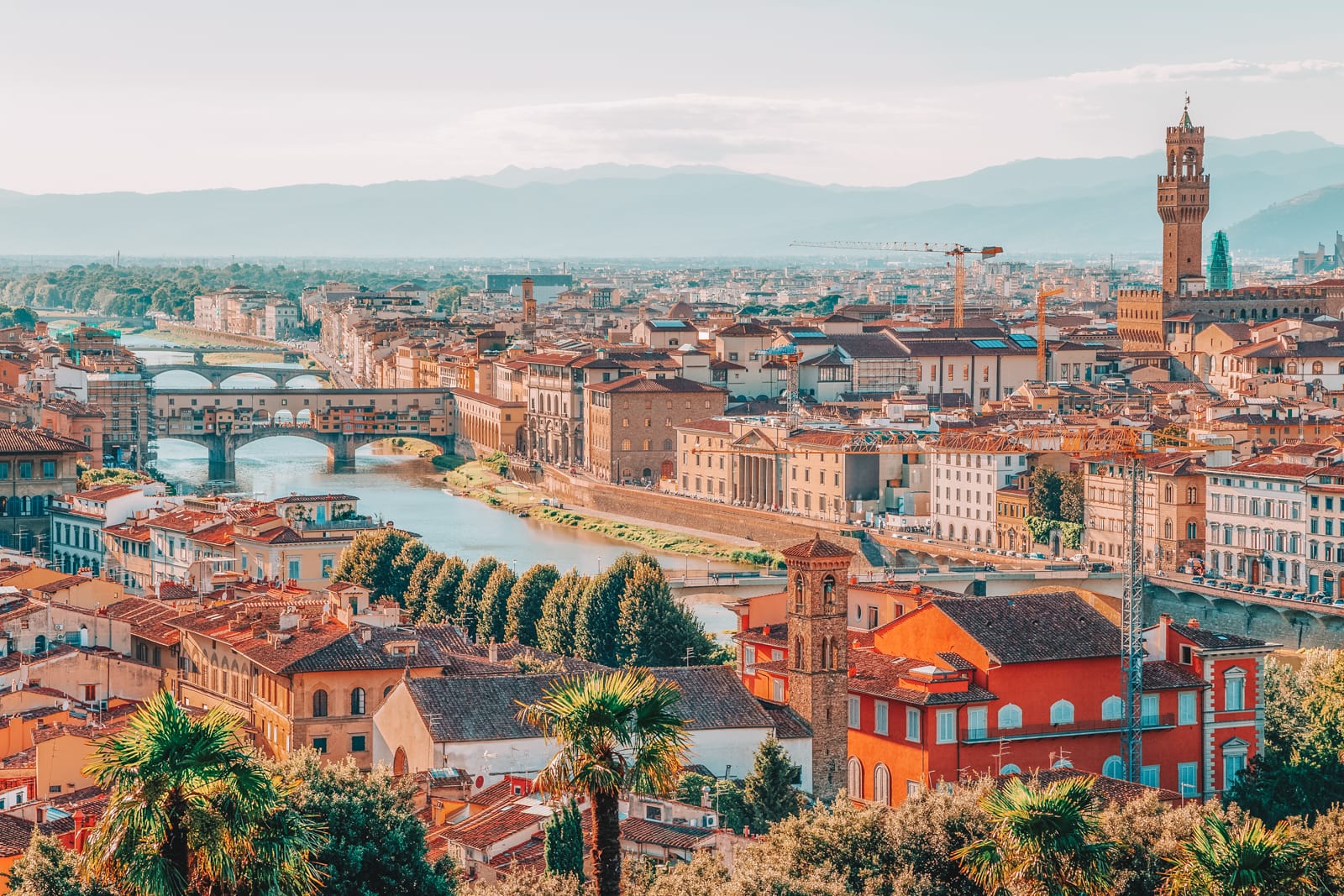 While I do think Florence deserves a few days on its own, if you are strapped for time but still want to experience the Duomo and the statue of David, Florence can be done in a day from Rome!
Pop on a high-speed train for the quickest journey from Rome. These trains make the journey in roughly 1.5 hours, which means that if you get the 7:15am train you'll be in Florence by 8:50am – perfect timing to start your day with a coffee and cornetto at the bar. Stroll the streets, picking up paninis or cannolis as you go. Art history buffs will want to make time for the Uffizi Gallery, whereas fashionistas might be more interested in the Gucci Gardens – an interactive complex where fashion, food, history, and art commingle.
Have more than a day to spare? Base yourself in Florence for the night and opt for the self-driven antique Fiat Tuscan wine tour!
Tuscany
Can you think of anything more idyllic than escaping the hustle and bustle of the city for rolling hills and wine tasting in Tuscany? No? Glad we're on the same page. Make your way to Val d'Orcia, Tuscany's most beautiful wine region. Home to adorable towns like Pienza and Montalcino (some of my favorite wine!).
The best way to get to Tuscany is via a fast train, which takes around 1.5 hours. If you want to make things even easier on yourself, leave all the planning and transportation to a tour company. Book a wine tasting day tour from Rome like this one and then you can sit back and relax (and not worry about how much wine you drink).
There's also more to Tuscany than its wine. Check out how olive oil is made and maybe even do an olive oil food pairing tour in the medieval hill town of Casperia.
Orvieto
Halfway between Rome and Florence lies the charming hillside town of Orvieto. You get the beauty of the countryside, along with the bounty of its vineyards without the longer trek all the way to "Tuscany" proper. One of the most interesting things about this ancient town are the 1200 man-made caves under the city. Be sure to add a tour of the underground to your list of things to do in Orvieto!
JETSET TIP: Do some wine tastings at the nearby vineyards like Decugnano dei Barbi, Madonna del Latte and Cantine Neri.
If you are traveling via rental car instead of train, be sure to carve out some time to experience the Saturina Hot Springs. A mythical and downright luxurious natural mineral bath located in the rolling hills of Tuscany, west of Orvieto.
Tivoli
Located in the Monti Tiburtini hills, just 40 minutes outside Rome lies the charming countryside town of Tivoli. Tivoli was a resort town for wealthy Romans who were fleeing the notoriously hot summers. This is where Roman emperor Hadrian built this countryside villa (Villa Adrianna), now a UNESCO world heritage site. Plan on visiting the Villa d'Este Gardens, the Villa d'Este Palace.
Naples & the Amalfi Coast
Hop on a fast train, and after just over and and you could be sitting at one of Italy's best pizzerias! The southern city of Naples is the birthplace of pizza! Naples has been the home of margherita pizza since 1830, and the first ever pizzeria can be found here: The Antica Pizzeria Port'Alba. Believe it or not, there is more to do in Naples besides eat. Naples is also just a 30 minute train ride from the infamous Mount Vesuvius and the Ancient city of Pompeii. While you're there make sure to take a tour of the volcano-stricken city and maybe even hike up the side of Mount Vesuvius to see the massive crater!
Have more than a day to spare? Stay a night in Naples and then head straight for the gorgeous and glamorous island of Capri. Whether you hop on the ferry and wander the streets yourself, or opt for a tour that covers all the major scenic points like this one- Capri is an absolute MUST! Another option is a 1 hr train ride from Naples to the Amalfi Coast, one of the most beautiful stretches of beach in the world. For a longer but more scenic way, take the ferry from Naples with Alilauro to Positano or Amalfi by first stopping in Sorrento
Check out What To Pack For the Amalfi Coast here.
Check out these other related posts:
The best first time guide to Italy