The Ultimate Oahu Travel Guide – Where to go and what to do on Oahu, Hawaii
Craving a trip to Hawaii but unsure of what island to go to? Oahu is one of the most popular islands in Hawaii and it's easy to see why. Firstly, it's bustling. It's the only island to have a true city center – Honolulu, which is home to some of the best restaurants, shopping and nightlife in all of Hawaii. The Honolulu airport (HNL) typically offers the cheapest international flight options and is the central hub to exploring the rest of the islands, so chances are if you're coming to Hawaii from far away you'll want to stop in Oahu for at least a few nights. With its bustling city, fantastic nightlife and world-class shopping on the southern side and a quiet surfer's paradise on the North Shore, this island offers the best of both worlds, and SO much to explore in-between. Think: epic hiking, waterfalls, whale watching, golfing, snorkeling, fresh seafood and delicious food trucks everywhere you look. Oahu is a MUST if you're someone who loves your vacations a bit more on the adventurous side, but also wants the comforts of a nice hotel and a big city center at the same time. So whether you're heading to Hawaii to flop on the sand and not budge, or rent a jeep and explore the rugged coastlines, Oahu is your oyster.
THE ULTIMATE OAHU TRAVEL GUIDE
The best time of year to travel to Oahu, Hawaii
A trip to Hawaii is great any time of year! The weather on Oahu is tropical, and you'll likely get a few rainstorms during your trip, anytime of year – but don't worry – they don't last long, and almost always have rainbows shining after them. During the winter months, the nights can get cool but I would never say COLD. With that being said, I would say the best time to visit for both ideal weather and fewer crowds is either April-June or September-November!
How Much Time Do You Need in Oahu?
If you plan on exploring any other islands while you're in Hawaii, you can hit the highlights of Oahu in about 3-5 days. But that isn't to say there aren't plenty of things to fill 7-10 days on this idyllic island if you just want to stay on one island for your whole trip. If I were doing multiple islands in Hawaii, I'd recommend staying in Waikiki, and then potentially 1-2 nights in the more secluded and quiet side of the island, the North Shore, and then I'd hop over to another Hawaiian island. If I was sticking all to Oahu, I'd split my time between Waikiki area and the North shore, probably with more time in Waikiki. North Shore is where you can hit up the trendy food trucks, more laid-back beaches, or watch some of the best surfers in the world take on the Banzai Pipeline (in the winter months!).
How to Get Around Oahu
If you plan on exploring the island and making your way to the North Shore, it probably makes the most sense to rent a car. On our last trip to Hawaii, we used Turo which was much less expensive than other car rentals – and it was great! Renting a car will make traveling the island easy since you'll be on your own time schedule. Another option is public transportation – the Island of Oahu has a great bus system that is only $5/day to get anywhere on the island. You can look up the maps, hop on and buy your ticket on board.
If you're planning on staying mostly around the Waikiki resort area, you can also get by with Uber/Lyft.
What To Do in Oahu
What makes Oahu unique is just how much it has to offer. You can get the intense hikes with the unreal views like on Kauai, the calm beaches and resorts like Maui, but you can also get the buzz of the big city shopping and nightlife. Here are some of my MUST do's during your time on Oahu! For more check out my post on 15 Things To Do on Oahu!
Doors-Off Helicopter Tour of Oahu
The very best way to see the island is from above! You'll get to see those Jurassic Park type places that you might not otherwise experience on foot. You'll be absolutely blown away by the views of craters, waterfalls and coastlines! Perfect for a special honeymoon activity…maybe even book the sunset fireworks flight!
Swim with Sea Turtles
Hawaii is home to the Green Sea Turtle! These hard-shelled beauties can be found all over the island, even in the water of the most popular beaches like Waikiki! One thing to note is please use reef-safe sunscreen while snorkeling in Hawaii to protect these cuties, and know that touching the turtles is illegal! But swimming with them and enjoying them from afar is a very special experience. Another place to find these turtles is the lesser known Electric Beach, a 30 minute drive from Waikiki Beach. If you're on the North Shore, Haleiwa beach definitely has a solid population. When the sea swells get intense the turtles tend to stay off shore, so whether the swell is big or not another fun way to get up close to the turtles (and other marine life0 is to opt for a guided catamaran snorkeling tour like this one:
Take a surf lesson in Waikiki
For just a few dollars you can rent a surfboard on the infamous Waikiki beach. This stretch of beach is known for its beginner friendly waves! Try your hand at getting up, or you can save yourself some time and take a lesson! They guarantee to have you standing up by the end! Just make sure you wear a one-piece or a rash guard, no one wants surf burn!
Sunset Sailboat Cruise
The views are just better from the water, am I right? Whether it's a sunset cocktail cruise or a private charter for your entire group, getting out on the water gives you the views you can't get on shore.

Visit the Pearl Harbor Memorial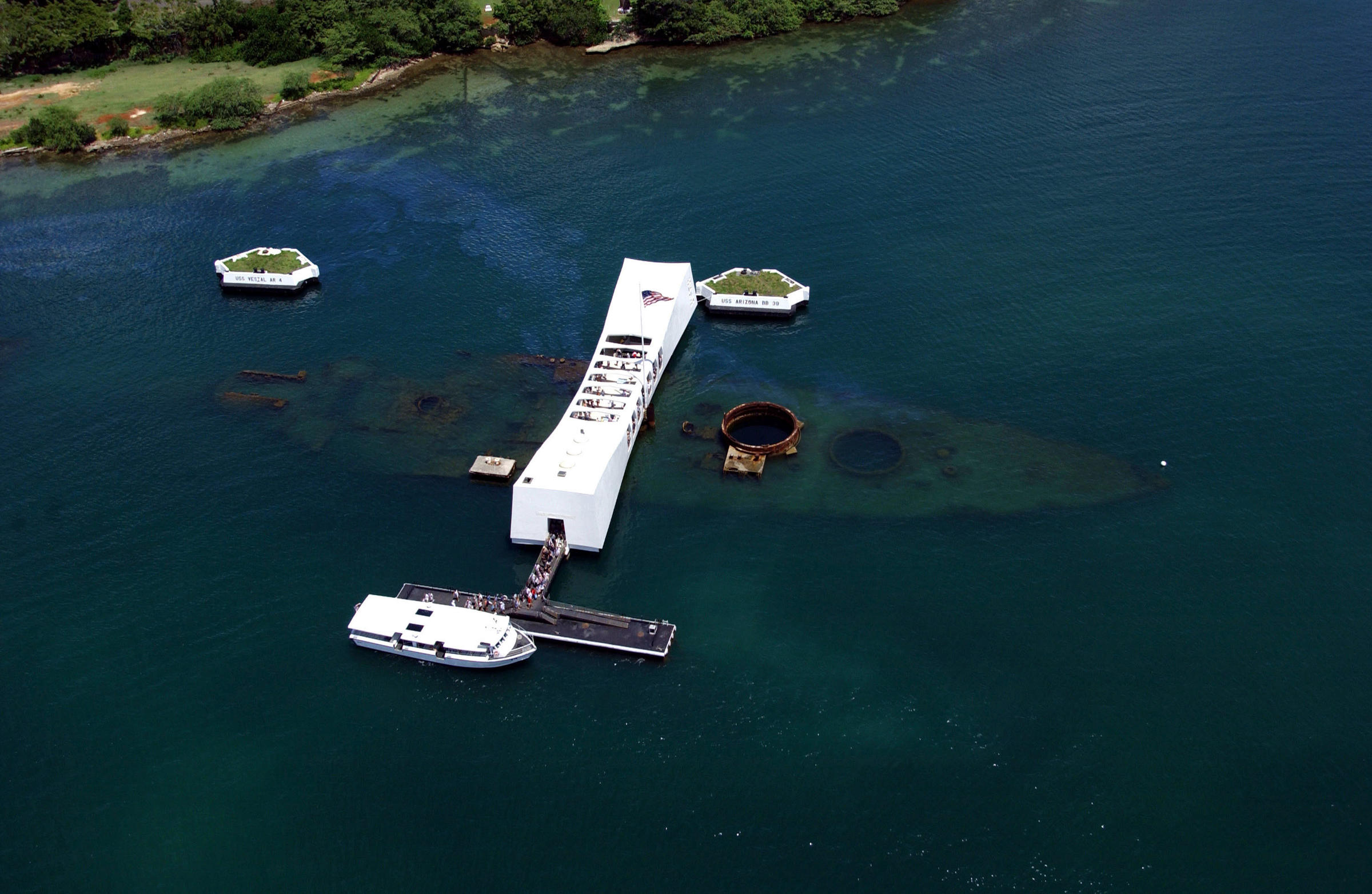 A visit to historical Pearl Harbor is a must for any first-timer to Honolulu. You can see the sunken USS Arizona ship just below the water in the bay, and brush up on your history of WW2.
Hike Diamond Head Crater
This is one of the closest hikes in the Waikiki area.The entire hike is quite scenic but it isn't until you reach the top that you have stunning panoramic views. This is truly one of the most epic viewpoints anywhere in the world and a must-do activity on Oahu. The hike itself is only about 1.6 miles round trip, but it does become moderately steep to be prepared for a workout!
Where To Stay in Oahu
Located right in the heart of downtown Honolulu – on the famous & beautiful Waikiki Beach, this is one of my favorite places to stay in Oahu. Built as the first hotel in Waikiki, it is within walking distance of everything, making it a great spot to base for a few days in Oahu.
An elegant and peaceful oasis set right on the main strip of Waikiki beach. This hotel is casual yet refine and is home to two of the best restaurants in the city: La Mar for fine dining and House Without a Key.
The Kahala is located about 10 minutes from Waikiki, so is a great option if you don't want to be among the crowds but want a nice resort with a good location. I liked this hotel for it's stunning room views (and spacious ocean view and golf-view rooms! I liked the vibe and 'classic Hawaii' feel of this hotel. However, I didn't like that they have dolphins in captivity on property – which personally makes me very sad for the animals and bums me out a bit! But if you have kids or don't mind, that may be something you may like about the property! It's just worth noting.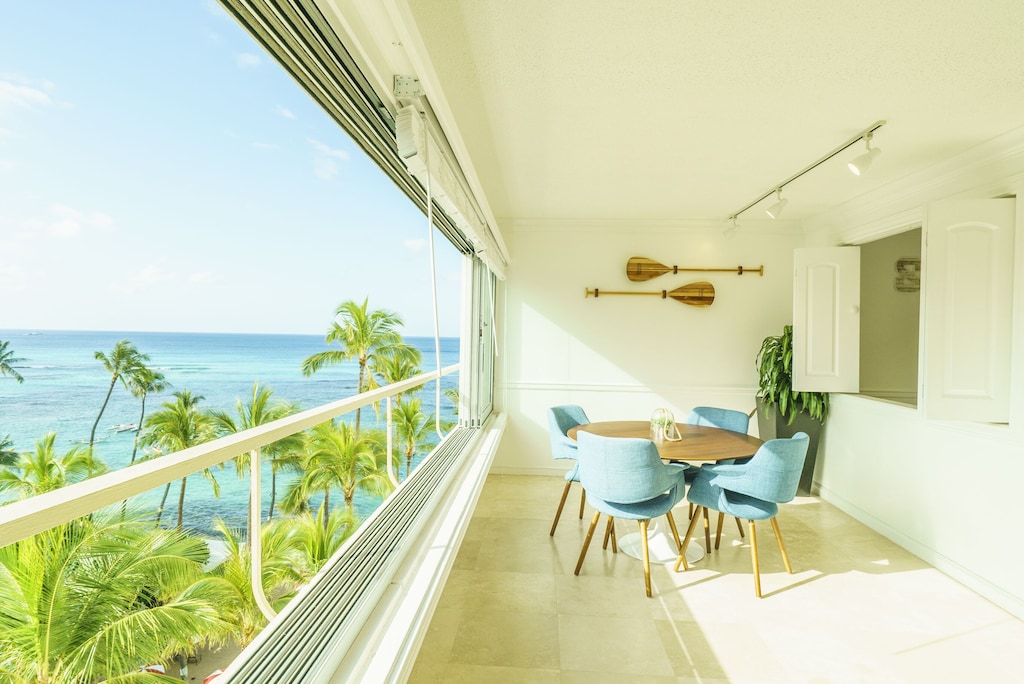 Where to Stay on the West Side of Honolulu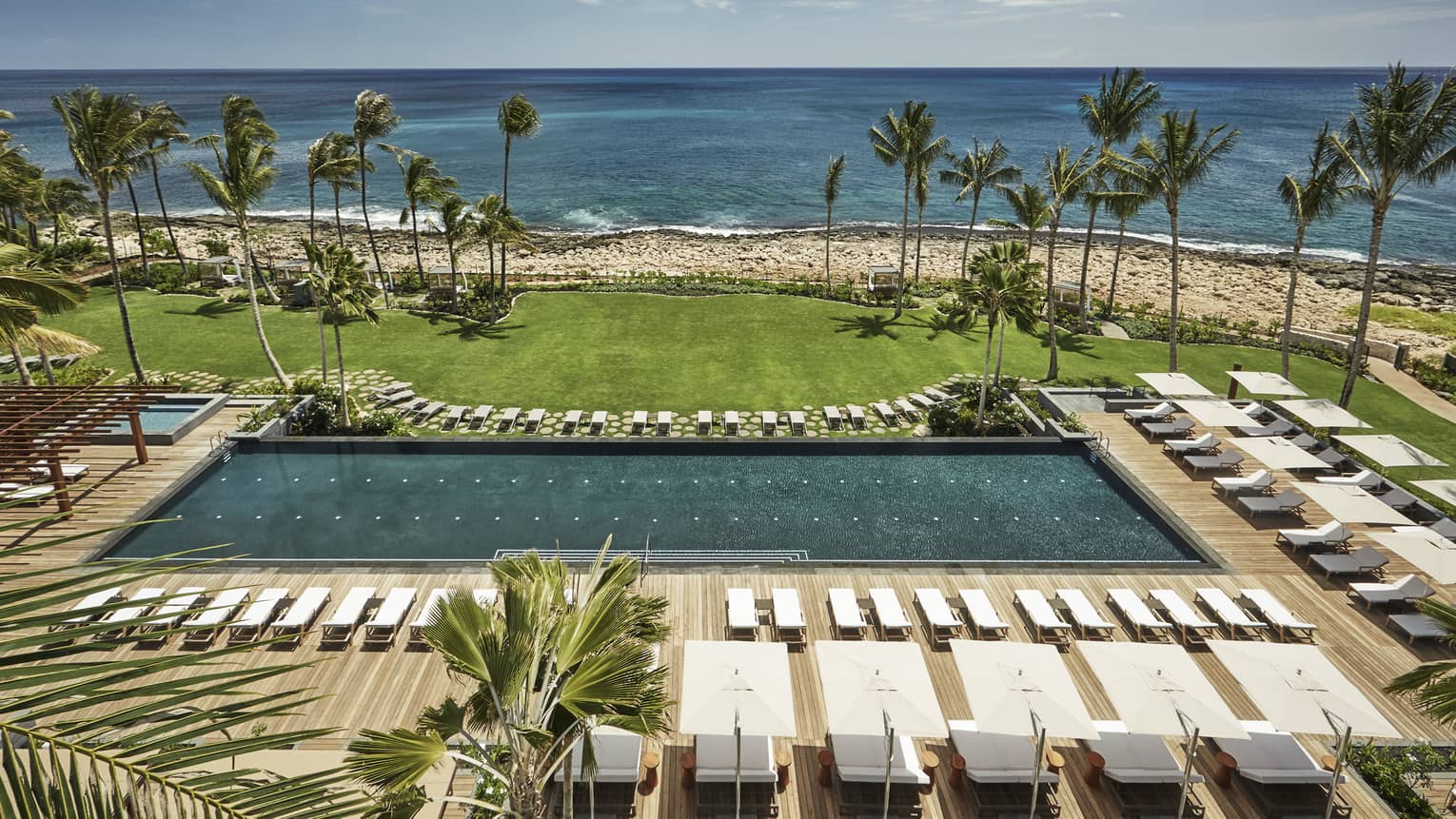 This Four Seasons gem is a short drive from the hustle and bustle of Honolulu, making it a nice place to base close-enough to the city, but far enough away that you can fully relax. Set on a secluded protected beach, it is perfect for paddle-boarding and offers easy access to uncrowded West Side beaches. This is a fantastic option for anyone going on a Hawaii honeymoon that may want a bit more privacy but still want to be close by to the action!
Where to Stay on The North Shore: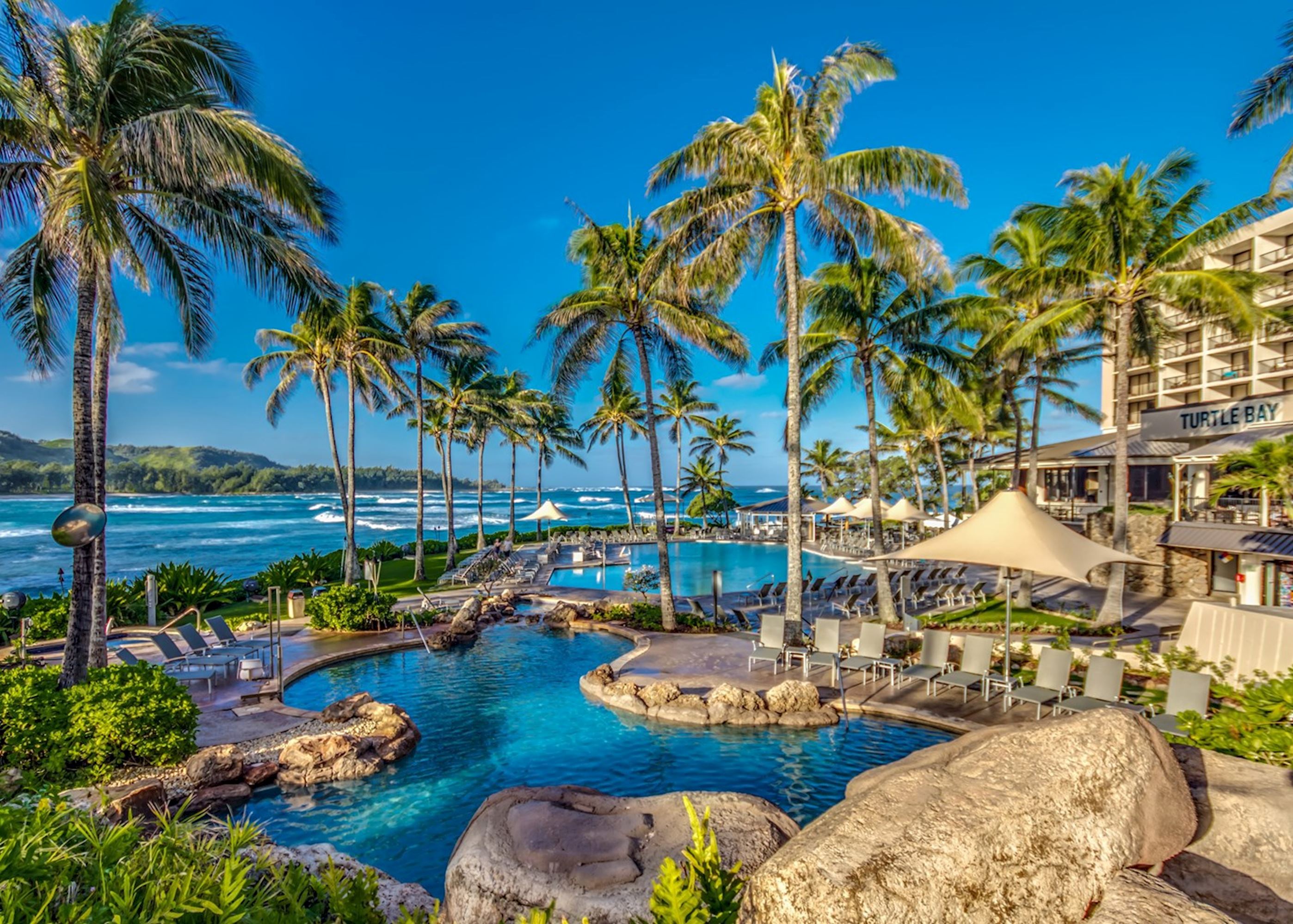 You may recognize this resort as the setting of Forgetting Sarah Marshall! is where the "7-Mile Miracle" of world-class surf begins, and the lineup is endless. With this as your home base, you can explore North Shore's shrimp trucks, pristine beaches, and plantation-style towns.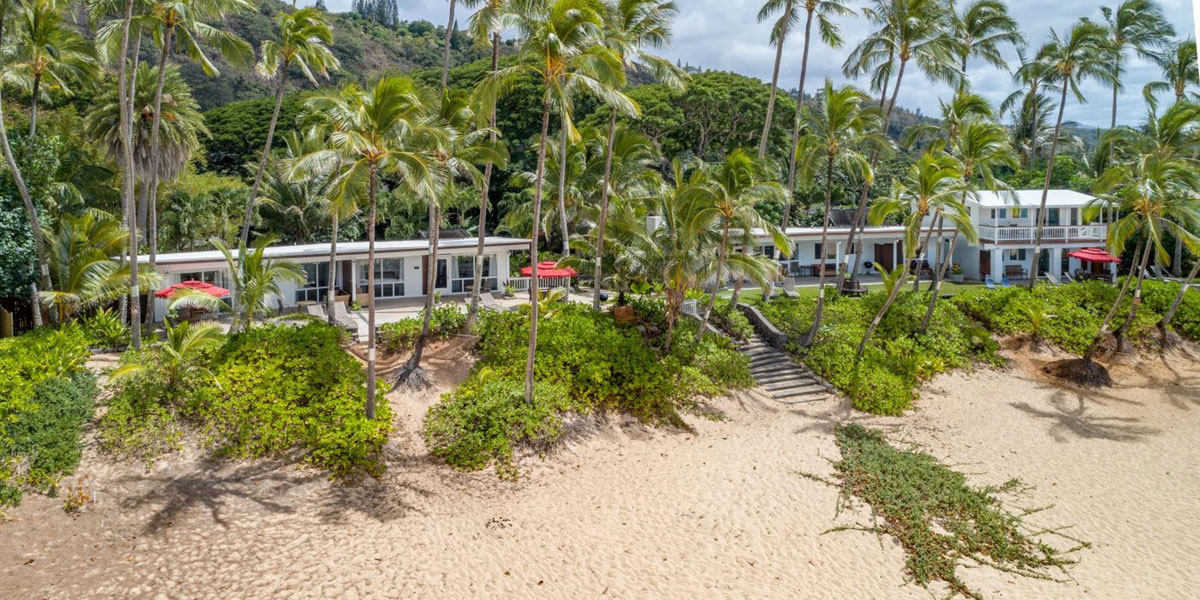 I absolutely loved getting away to North Shore Oahu and the sleepy, adorable town of Haleiwa. Ke Iki has awesome oceanfront bungalows, where you can enjoy romantic sunsets on an acre and a half of palm-fringed beachfront land. All beachfront bungalows has bean fully remodeled in 2020 and have beautiful ocean and sunset views.
Or if the whole family is coming, opt for a private villa instead…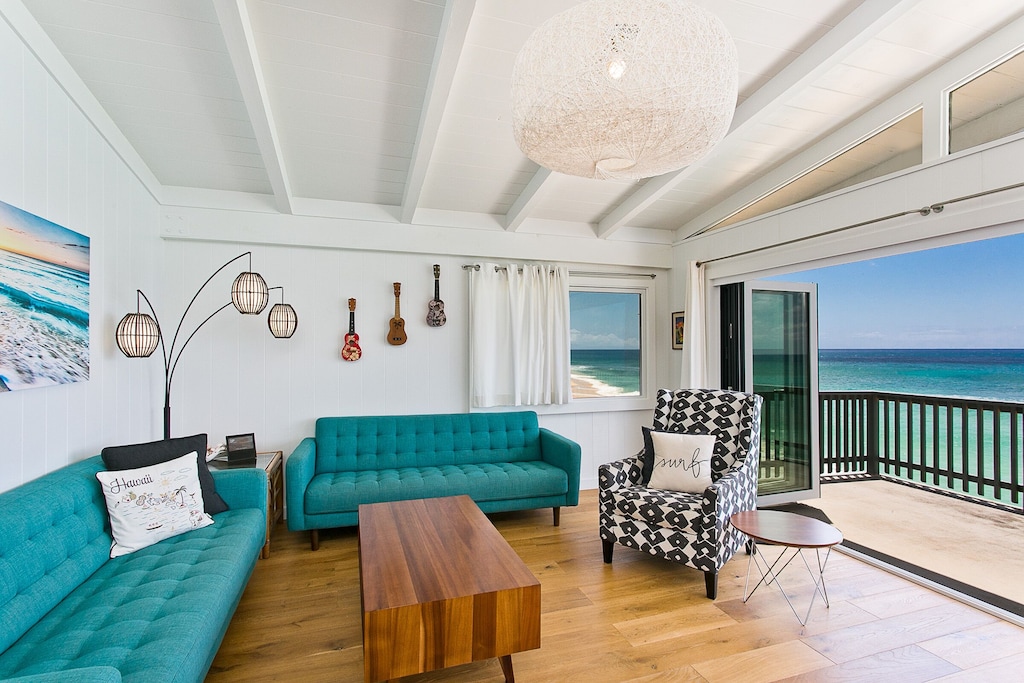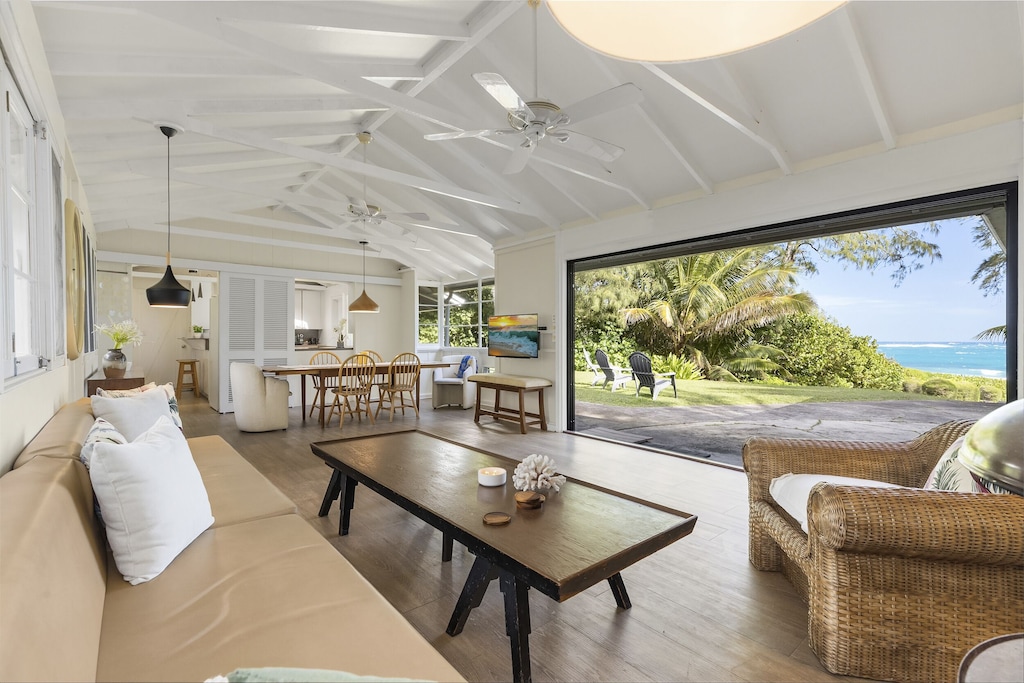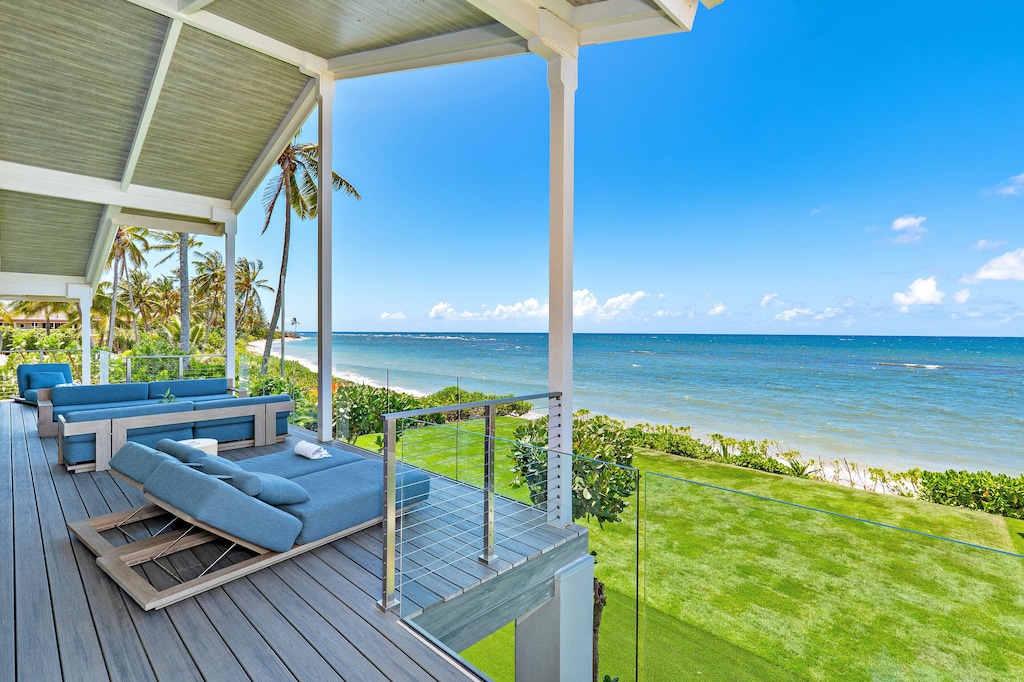 Where To Eat in Oahu
Waikiki/Honolulu Area
Coffee and Breakfast:
Kai Coffee at the Alohilani hotel – Where you can get a taste of Hawaii's famous Kona coffee. I loooved their coffee, we went every day. My order is the oat milk latte, but they have everything, and the coffee is super good.
Kona Coffee Purveyors – Artisan coffee paired with flakey french pasties right on the Waikiki strip. This place will make you feel like you're in Europe.
ARS Cafe and Espresso Bar – Half Cafe, half art gallery. This spot is perfect for a craft latte and an avo toast!
Island Vintage Coffee – Another classic spot with high quality craft coffee and small bites and amazing acai bowls!
Scratch Kitchen– Making all your breakfast dreams com true, from healthy bites to fried chicken on waffles.
Heavenly Island Lifestyle– Pop into the Shoreline Hotel in Waikiki for some fo the BEST breakfast around. Eggs benny, acai bowls and even breakfast Pho. The menu has a map of the islands showing where all their ingredients are sourced from.
Casual Bites:
Ono Poke – Casual but some of the BEST poke on the island!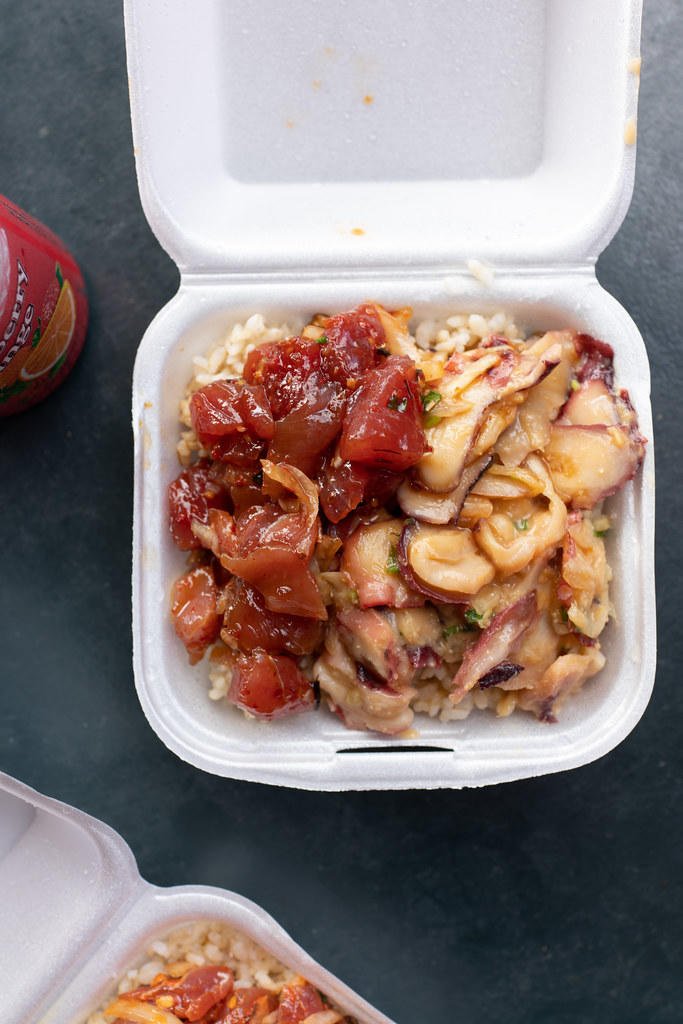 South Shore Grill – the best fish burritos and tacos around!! Get the cajun shrimp!
Off the Hook – amaaazing poke off the beaten path.
View this post on Instagram
Dinner/Drinks:
House Without a Key– A Waikiki staple located at the Halekulani Hotel. Go for sunset Mai Tais and live music!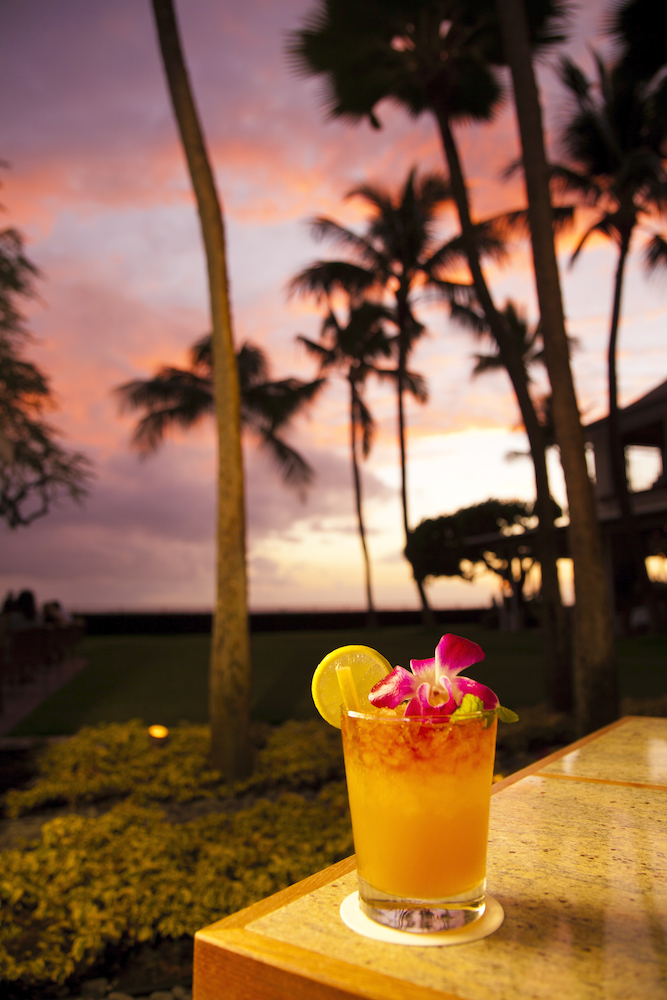 Helena's Hawaiian Food– While it isn't overly fancy, Henela's is a Michelin Star and James Beard Award-winner restaurant. They are the pioneers in defining traditional Hawaiian food. Not only is it delicious, but it is a cultural experience to eat there!
Morimoto Asia Waikiki– Calling all Iron Chef lovers! This is the flagship restaurant of Iron Chef Morimoto where you can indulge in Asian Dim Sum, sushi and large plates! I LOVED this spot.
Nobu Honolulu- For high grade sushi, great for a special date night or honeymoon outing, look no further than Nobu.
M by Chef Marvo– For arguably the best fine dining in Hawaii. Curated by one of Oahu's most famous chef, this restaurant serves Hawaiian-French fusion cuisine! The food is refined and the ingredients are always fresh. Do the tasting menu for a truly unique foodie experience.
The North Shore
The North Shore is a bit more laid-back, you're not going to find much fine dining here, but you will find delicious and healthy local eats!
Farm To Barn Cafe and Juicery– healthy buddha bowls, salads, smoothies and sandwiches! Also GREAT for breakfast!
Banzai Sushi– The best sushi on the North Shore! Hands down.
Giovanni's Shrimp Truck– Long lines start to form around lunch and dinner time, everyone wanting the same thing: homemade shrimp scampi! There are other good food trucks serving up shrimp classics, but this one is the best!
Aji Limo Food Truck– For Peruvian / Japanese fusion lunch bites!
The Sunrise Shack – the Sunrise Shack is a North Shore MUST. Grab an acai bowl served in a papaya and an avocado toast! And if you don't leave with an instagram photo here did you even really go to the North Shore?!
Haleiwa Bowls– Another crave-worthy Hawaiian acai bowl pit stop!
Beet Box Cafe– great for healthy, vegan and organic eats, a perfect lunch stop.
Kahuku Farms– an amazing outdoor cafe serving up fresh food directly from their garden (that is only 10 ft away). Grab a salad, panini or farm pizza!
Check out these other blog posts
What to pack for a trip to Hawaii
All about staying at Four Seasons Hualalai on Hawaii's Big Island