The 15 Best Things To Do On Oahu, Hawaii
Planning a trip to Oahu, Hawaii and wondering what the best things to do on the island are? You came to the right place. What makes Oahu unique is the sheer number of different activities the island offers. You can get intense hikes with unreal views like on Kauai, the calm beaches and resorts like Maui, but you can also get world-class surfing, and the shopping/nightlife of the city and a bit of history and Hawaiian culture at one of their many museums. Oahu is equal parts beach heaven and adventure epicenter. While this is only just a taste of all the island has to offer, these are the 15 things you simply CANNOT miss during your time on Oahu.
One disclaimer about a popular hike in Oahu: many people ask about hiking the famous "stairway to heaven" or "haiku" stairs hike. Due to the danger associated with this hike, it is now illegal, and you can get a major fine if you are caught on the stairs. While there is a legal way to the back side of the stairs for the same view, this hike is also very precarious and if it should rain (which in a tropical place, it can at any time) this hike becomes VERY, VERY dangerous. For that reason I have chosen to exclude it from this guide.
THE BEST THINGS TO DO IN OAHU
Doors-Off Helicopter Tour of Oahu
The very best way to see the island is from above! You'll get to see those Jurassic Park type places that you might not otherwise experience on foot. You'll be absolutely blown away by the views of craters, waterfalls and coastlines! Perfect for a special honeymoon activity…maybe even book the sunset fireworks flight!
Swim with Sea Turtles
Hawaii is home to the Green Sea Turtle! These hard-shelled beauties can be found all over the island, even in the water of the most popular beaches like Waikiki! One thing to note is please use reef-safe sunscreen while snorkeling in Hawaii to protect these cuties, and know that touching the turtles is illegal! But swimming with them and enjoying them from afar is a very special experience. Another place to find these turtles is the lesser known Electric Beach, a 30 minute drive from Waikiki Beach. If you're on the North Shore, Haleiwa beach definitely has a solid population. When the sea swells get intense the turtles tend to stay off shore, so whether the swell is big or not another fun way to get up close to the turtles (and other marine life0 is to opt for a guided catamaran snorkeling tour like this one:
Take a Surf Lesson in Waikiki
For just a few dollars you can rent a surfboard on the infamous Waikiki beach. This stretch of beach is known for its beginner friendly waves! Try your hand at getting up, or you can save yourself some time and take a lesson! They guarantee to have you standing up by the end! Just make sure you wear a one-piece or a rash guard, no one wants surf burn!
Sunset Sailboat Cruise
The views are just better from the water, am I right? Whether it's a sunset cocktail cruise or a private charter for your entire group, getting out on the water gives you the views you can't get on shore.
Visit the Pearl Harbor Memorial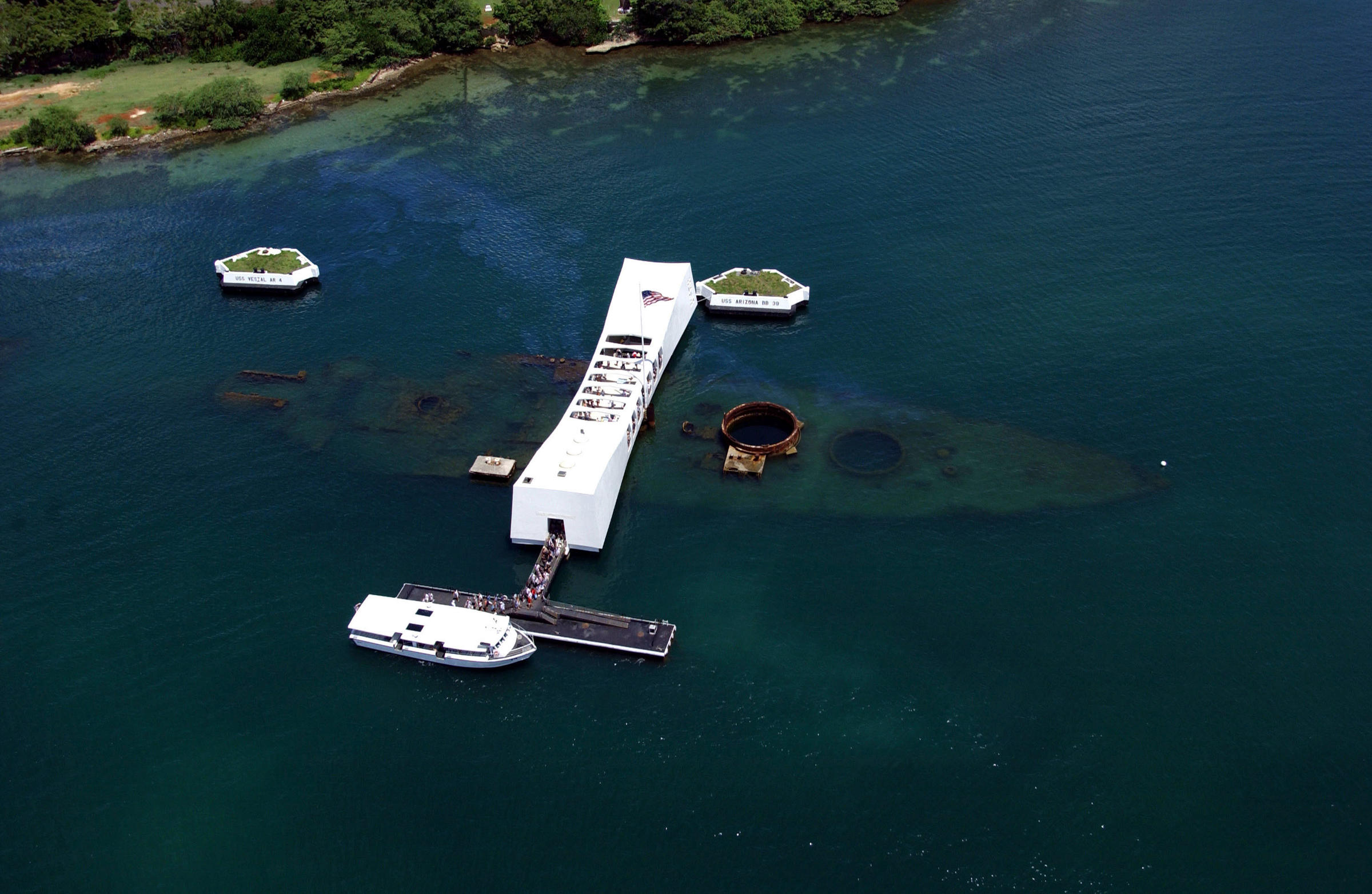 A visit to historical Pearl Harbor is a must for any first-timer to Honolulu. You can see the sunken USS Arizona ship just below the water in the bay, and brush up on your history of WW2.
Hike Diamond Head Crater
This is one of the closest hikes in the Waikiki area.The entire hike is quite scenic but it isn't until you reach the top that you have stunning panoramic views. This is truly one of the most epic viewpoints anywhere in the world and a must-do activity on Oahu. The hike itself is only about 1.6 miles round trip, but it does become moderately steep to be prepared for a workout!
Catch Sunrise at The Lanikai Pillboxes
Only a few blocks back from Lanikai Beach is the beginning of the Lanikai Pillbox Hike (also known as Kaiwa Ridge), known for being one of the easier trails on the island of Oahu. There is no better way to start your day than with a short sunrise hike overlooking the ocean and amazing scenery.
Eat Some Poke!
No matter where you get Hawaii's famous dish – poke – on this island, even if it's just from the local market, it will be the freshest you've ever had! A personal favorite is Ono Brothers Poke, a hole-in-the-wall on Kapahulu Avenue that sells eight kinds of poke, and the portions are ON POINT.
Hike To Manoa Falls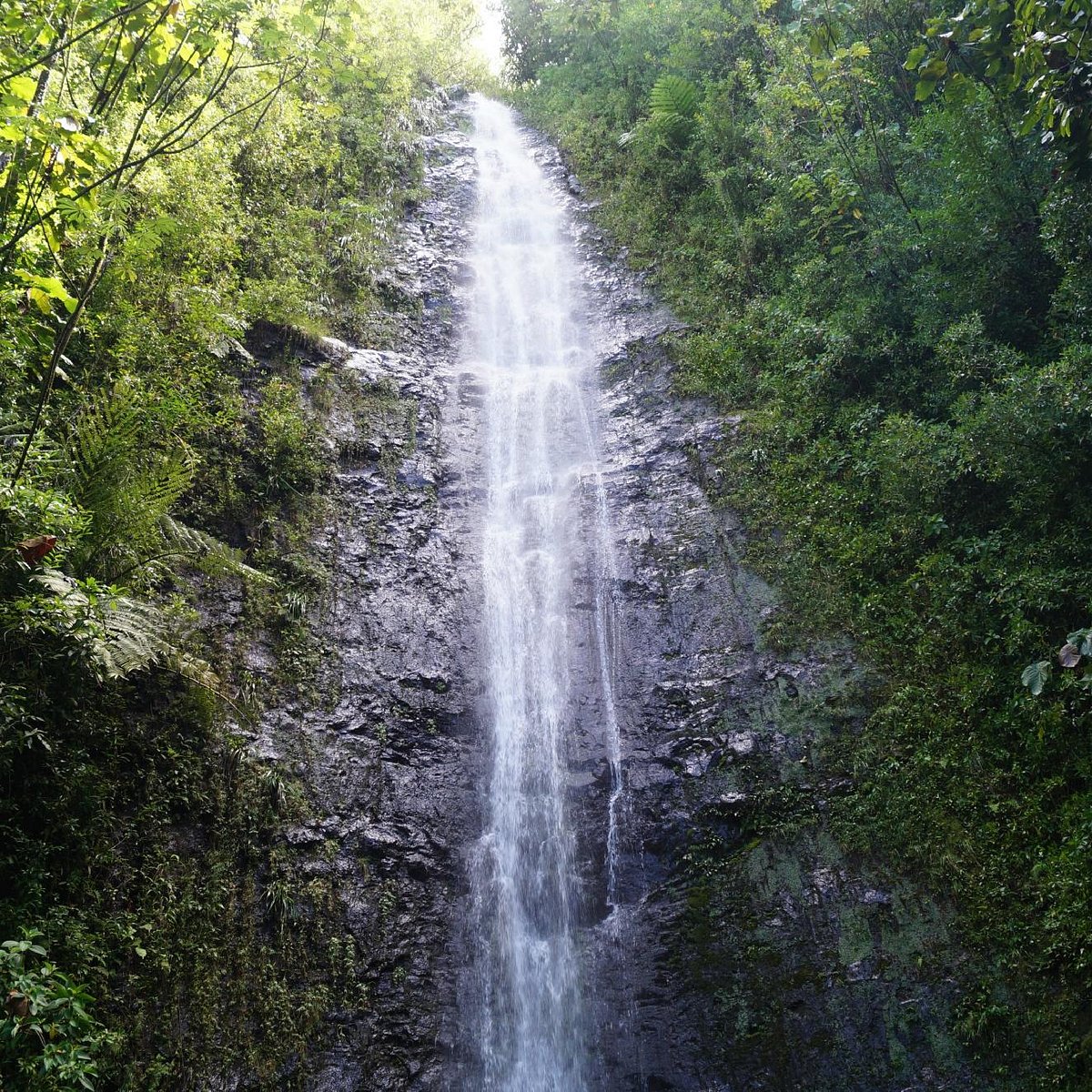 Located within 30 minutes of Waikiki, Moana falls is a relatively easy 20-30 minute hike to a beautiful waterfall with a small swimming hole at the basin.
Snorkel at Hanauma Bay
Over a thousand years ago, a violent volcanic eruption blew out one side of the crater, creating the crescent moon-shaped beach that exists today. With over 300 different species of fish in the small area, it is no wonder that this is one of the most popular places to snorkel on the island. There is a limited number of people allowed in each day, so consider making reservations during high season. There is a $12 park entrance fee.
Go Whale Watching
December through May is whale season in Hawaii. You're most likely to get a glimpse of these majestic gentle giants on a guided tour. They just know where the whales are going to be! Consider a tour like this one. If you don't have time for a tour, you might catch some whales off the coast of the southeastern beaches like Hanauma Bay or near Diamond Head.
Picnic in the
Ho'omaluhia Botanical Gardens
I'm sure you'd seen a few instagram photos from this gorgeous 400-acre park. Located in Kaneohe on the east side of the island, expect lush greenery, towering mountains, and fewer tourists in this area. There are guided hikes on the weekends and camping is also available! The park is open daily from 9am to 4pm. Grab some Poke on your way and picnic with these unreal mountains are your backdrop!
Grab Acai Bowls on the North Shore
Theres no better way to start another day in paradise than with a masterpiece of an Acai bowl from the Sunrise Shack. A North Shore staple, the Sunrise Shack is a locally run favorite that serves up Acai bowls, smoothies, wraps, avocado toasts (duh), cold pressed juices and coffee (thank god).
Watch Surfers take on the infamous Bonzai Pipeline
The swell comes in the winter months. From October through December, the best surfers in the entire world flock to the North Shore of Oahu to take on the famous Banzai pipeline. Many surf competitions are held here during the winter, and the world championship typically takes place in December. Check the surf competition schedule before making travel plans, whether you want to catch some action or just avoid the crowds/higher prices. In the summer months the North Shore waters are much calmer.
Try Garlic Shrimp from a North Shore Food Truck
A classic delicacy on the North Shore is garlic shrimp. No, not from a fancy restaurant, but from a local food truck. If it's cash only, you know it's about to be good. Get the local favorite of shrimp scampi at Giovanni's Food Truck or hot and spicy from Honos. Other options include: Garlic Shrimp, Butter Shrimp, BBQ Shrimp, and Pineapple Shrimp…is your mouth watering yet??
Go golfing at Royal Hawaiian Golf Club
Hands down the most beautiful golf course I've ever stepped foot on, and easily one of the most scenic golf courses in Hawaii, is the Royal Hawaiian golf course.
photo via Hawaiidiscount.com
Check out these other blog posts:
The cutest outfits for a trip to Hawaii
The ultimate hawaii honeymoon guide