The Best All-Inclusive Resorts in the USA
It can be tricky to find the best all-inclusive resorts in the USA, but I've been doing some digging for you guys. There are SO many benefits for choosing an all-inclusive for your vacation. A great all-inclusive hotel includes accommodations, food and drink, and activities, so you know exactly how much you're spending upfront, and you usually purchase it ahead of time, so by the time you're there, you have no stress, no wallet, and nothing but paradise to think about. Sometimes, you just need an easy to get to, stress-free getaway where you can land in one spot and have everything taken care of from there (and not be worrying about staying within your budget). But are there any all-inclusives in the US? The answer is yes! Between luxury western ranches, Caribbean vibes in the U.S. Virgin Islands, aloha spirit in Hawaii, and even some beautiful destinations in Florida, there's a wide array of all-inclusive resort options for any kind of vacation! These are the absolute BEST all-inclusive resorts in the U.S. – no passport needed!
The Best All-inclusives in the
U.S. Virgin Islands
The USVI's consist of three islands that sit just east of Puerto Rico: St.Thomas, St. John, and St. Croix. The biggest and most populated of the three islands is St. Thomas, offering a vibrant nightlife and numerous resort options, whereas St. John and St. Croix are a bit more laid back and are great for nature lovers!
With the Ritz, you know you are getting the best of the best. It's the PERFECT hotel choice for a honeymoon! While they are technically not "all-inclusive," they have an incredible "reconnect" package that includes daily breakfast and a $100 PER DAY resort credit (AKA lunch/dinner or spa treatment) starting at $674/night. So, essentially, you have two meals per day covered along with access to all of their amazing amenities like their indulgent spa, infinity pool, tennis courts, private catamaran for sunset cruising, fitness center, and their four on-site restaurants!
Plus, you save 20% when you book seven nights (suites will automatically get a $100/day resort credit).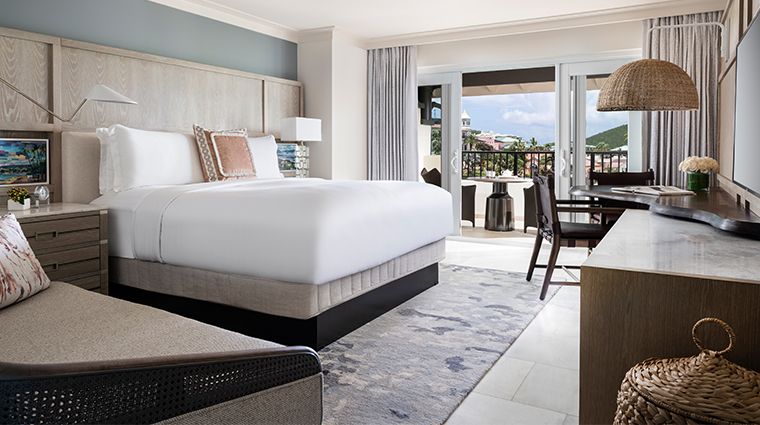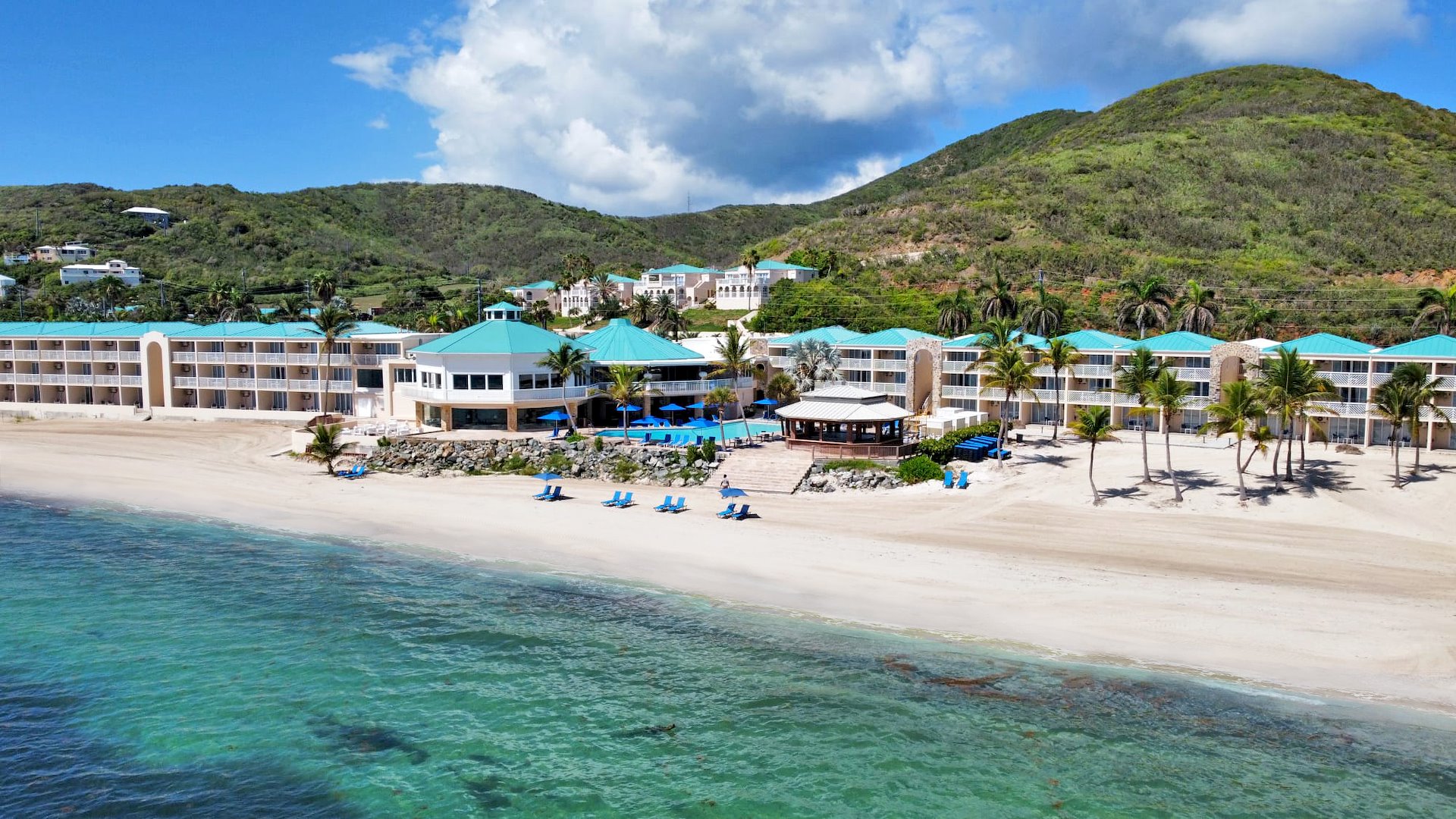 This newly-renovated, adults-only resort sits on a white-sand beach on the smallest of the three U.S. Virgin Islands, St. Croix. There are TONS of direct flights to St. Thomas from the mainland U.S., and from there, you can get to St. Croix by boat! There is an on-site casino, two freshwater pools, tennis/pickle-ball courts, various water sports, and an expansive fitness center. Great for a romantic getaway or anniversary celebration!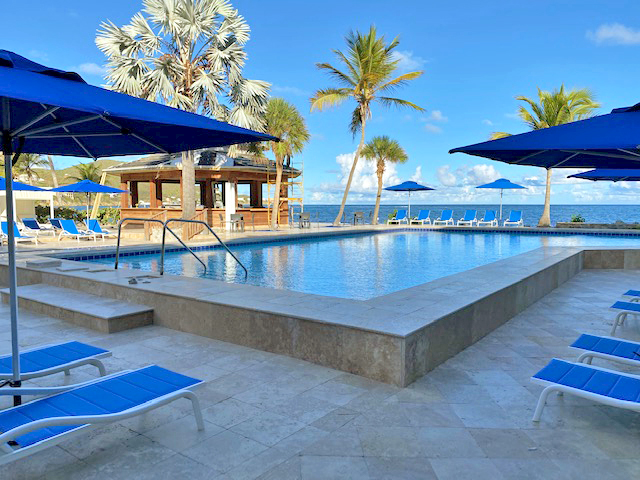 Bolongo Bay resort prides itself in its unique all-inclusive experiences, from its a-la-carte instead of buffet dining to its wide range of island activities. Set along the turquoise coastline of St. Thomas, get ready to spend your days lounging in the sand, exploring on a catamaran, snorkeling/scuba diving, paddle-boarding, and maybe even partaking in their underwater rum hunt!
There is also nightly entertainment poolside and cocktail boat cruise. All meals, non-motorized watersports, and alcohol are included in your stay. Plus, rooms start as low as $435/night for two people!
One of the most beautiful properties on St. Croix, the Buccaneer by Wyndham sits on a massive plot of private coastline. The Buccaneer offers the best spa on the island as well as a pristine 18-hole golf course, tennis courts, and gourmet island dining options. If you're looking for a romantic escape or going on your honeymoon, consider their Romance Package.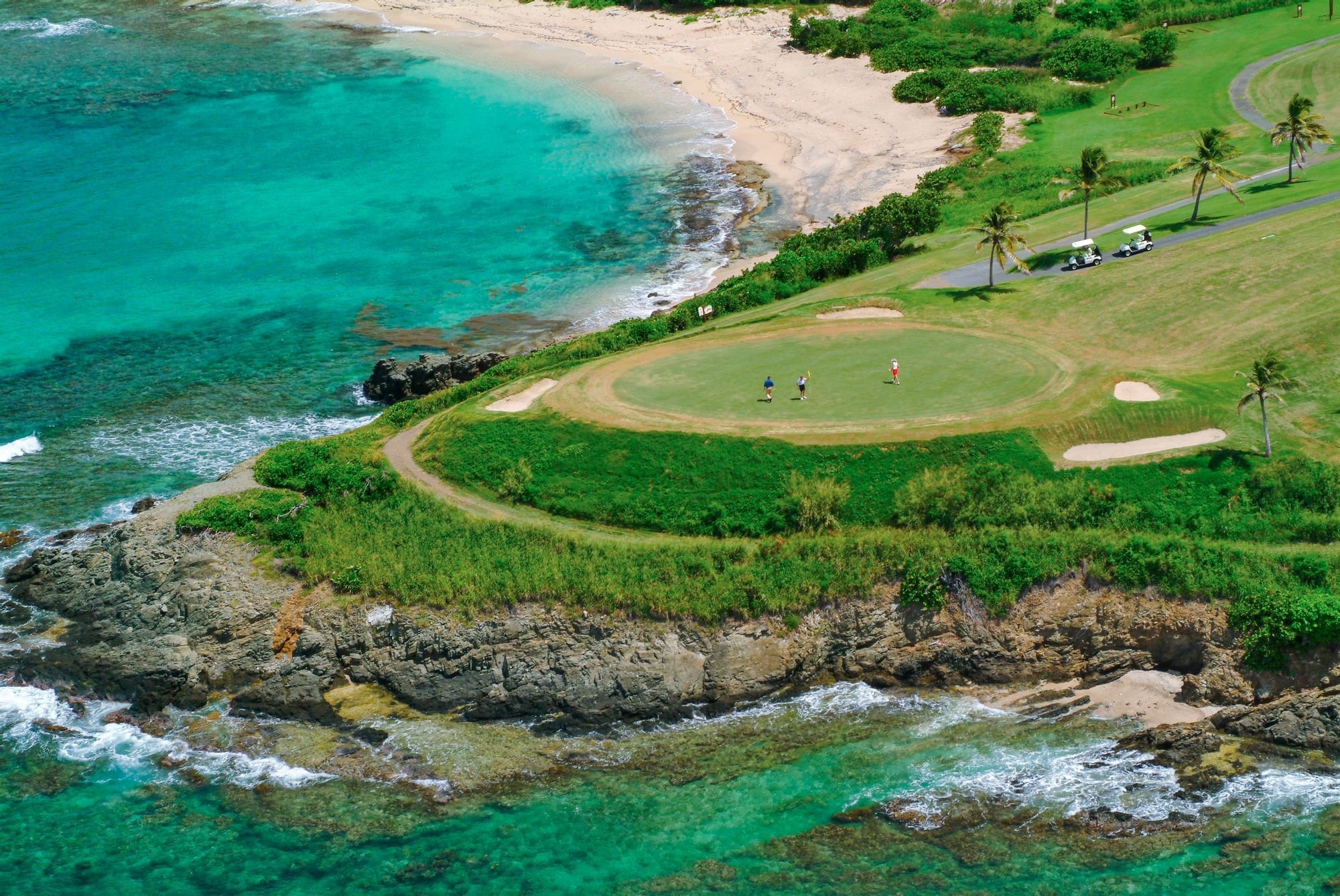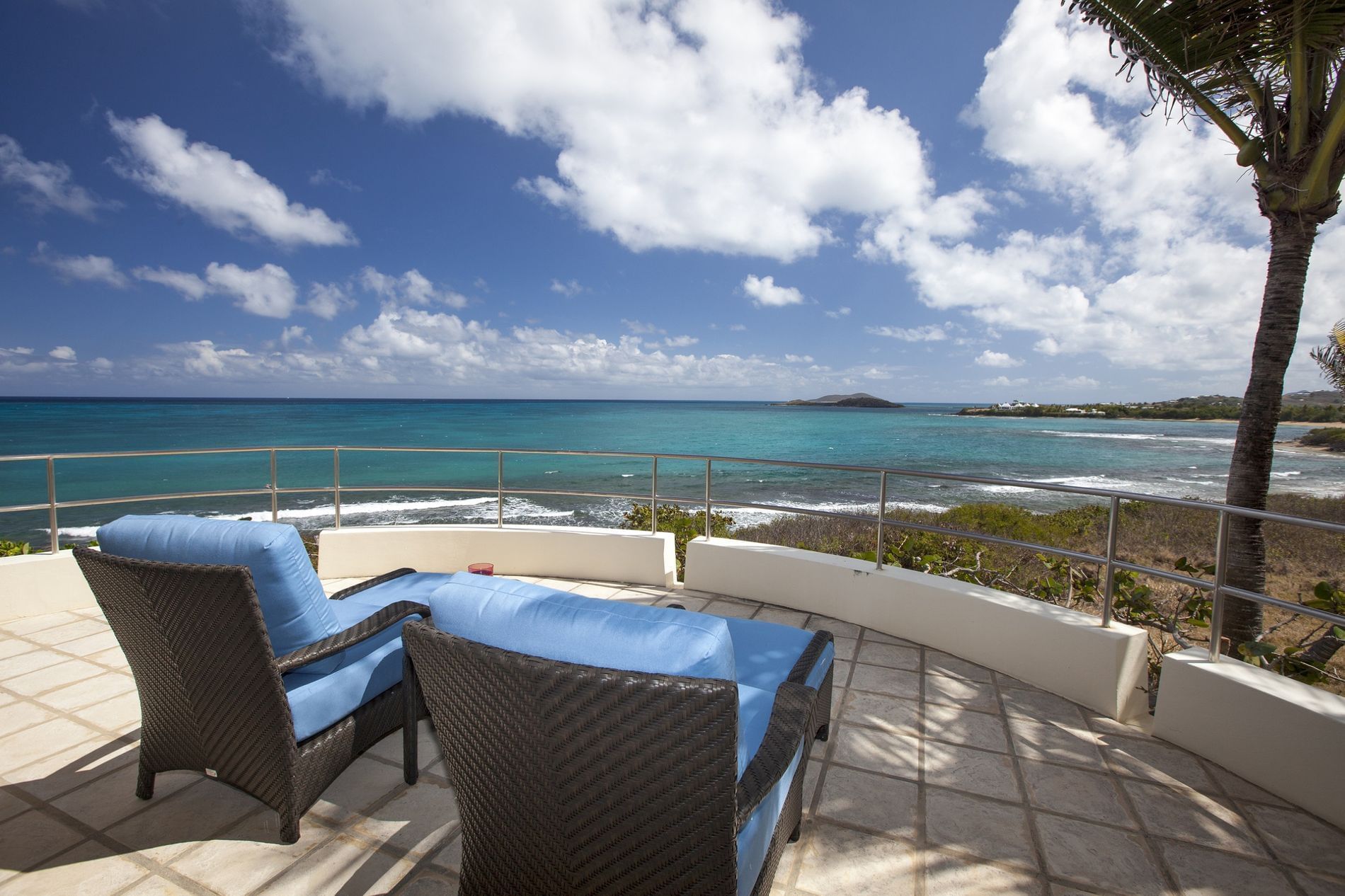 The Best All-inclusives in Hawaii
Are there all inclusives in Hawaii? Yes, but not many. There aren't really all-inclusive options in Hawaii like the all-inclusives you think of when you think of places like Mexico or the Caribbean, but many hotels will offer meal/flight packages at a discounted price when booking your room, and here are some of the best ones.
The only true all-inclusive resort in Hawaii, the Sensei Lanai is the ultimate luxury all-inclusive wellness experience in Hawaii! If you're in need of a true escape or reset, head here to clear your mind with yoga and meditation classes, lush jungles and gardens, pristine beaches, world-class spa treatments, and dining by Nobu!
Your restorative journey will start with a complimentary semi-private flight from Honolulu to the secluded island of Lana'i. You'll have a personal wellness expert to design your rejuvenating experience based on your specific desires. Offering anything from decompressing to improving your fitness while you're there, this wellness resort is your oyster! If you're feeling adventurous, try out their jungle ropes course and zip-line!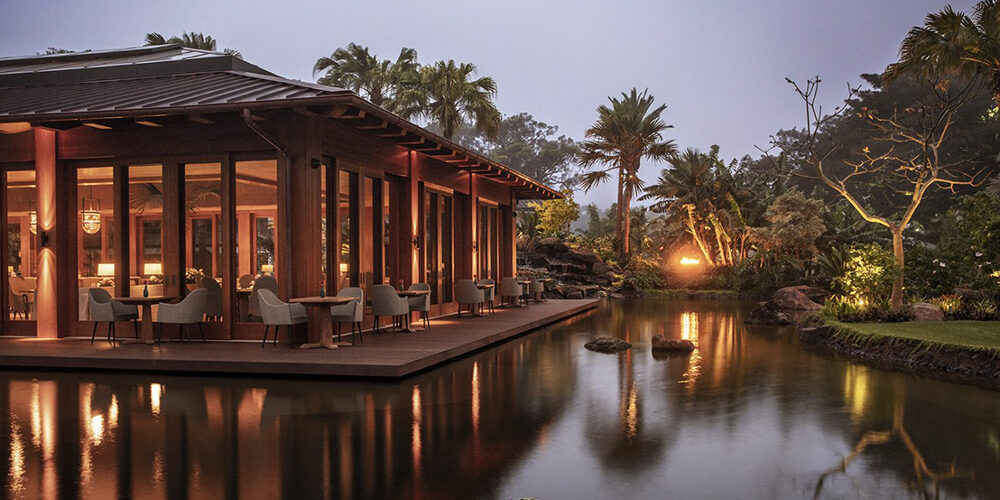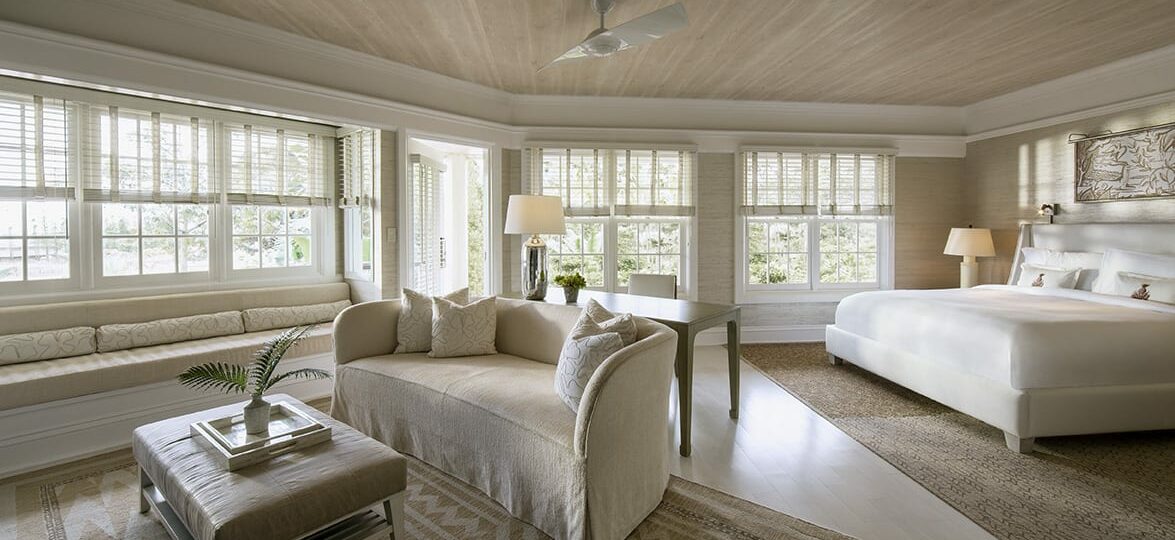 The Best All-inclusives in Mainland USA
Unlike the all-inclusive resort experiences in the Caribbean, many of the all-inclusive resorts in the mainland U.S. are geared towards health and wellness. However, we also see a new luxury all-inclusive trend taking hold that is wholly worth hopping on the bandwagon – the wild west, ski-centered "dude ranch" experience! Have you guys seen Yellowstone? You can live the Yellowstone dream at one of these amazing ranches, in the summer or winter. We went to Three Forks Ranch in the winter and the all-inclusive rate included all winter activities – from skiing on a private mountain, to snowmobiling, and yes, YOUR SPA TREATMENTS. It was unreal, and was one of my favorite trips of all time!
This luxury ranch is known as a world-class hunting and fishing destination during the summer months, but their world-class spa, endless winter activities, and the recent opening of their world-class wellness center make it JUST as much of a winter wonderland as it is a summer paradise!
While it's located just 40 miles north of Steamboat Springs on the Colorado-Wyoming border, this place feels worlds away from "real life." By day, indulge in snowmobiling or "snowcat" skiing, where the snowcat takes you up the mountain instead of a lift. It feels SO EXCLUSIVE and luxe! Follow this up by warming yourself around the fire in their western-style saloon with a glass of champagne. The very best part, in my opinion, is that you get unlimited access to world-class spa treatments (yes, they're unlimited!!).
One day after skiing, Kenny and I spent the entire afternoon in the spa… can you blame us?! While the rooms are pricey, absolutely EVERYTHING is included, and right now they are offering FREE airfare when you book three nights or more!
This Forbes five-star ranch prides itself on being truly all-inclusive. You can even leave all of that bulky ski gear at home in the winter – they've got you covered! But this is the kind of vacation that is great any time of year due to their numerous seasonal activities! Anything from trail riding, fly fishing, hiking, downhill skiing, snowmobiling, clay shooting, mountain biking, and of course, spa-going. Let their 6,000 acres become your own personal Western playground!
Accommodations (in beautiful luxury mountain cabins), farm-to-table meals, premium alcohol, and all activities are included! See a sample winter itinerary here! They have entertainment each night at their saloon where you can find poker, billiards, bowling, and even a private movie theater. Not to mention, their pool, hot tub, and spa.
With its only U.S.-based location, Club Med offers a unique, family-oriented all-inclusive experience set along the St. Lucie River! It's the perfect place to escape to warmer temperatures with the whole family. They provide nursery service, a kids club, and endless family activities to ensure a fun and stress-free getaway for the whole fam. I know all the moms out there are raising their eyebrows at my last statement, but that's what Club Med is known for!! So sit back and relax, you deserve it. This activity-centered vacation space offers a tennis academy, sailing lessons, beach volleyball, golf, cycling, paddle-boarding, multiple pools, and an award-winning spa!
Still set on an all-inclusive but ready to break out your passport? Check out the best all-inclusive honeymoon resorts in the world!
Check out these other blog posts:
The best honeymoon destinations for every couple