The 10 Best Workout Classes to try in NY
New York City is the epitome of the boutique fitness scene. While it can be a little intimidating at times, it can also be a whole lot of fun. I mean, the sheer variety of class offerings and trendy New York fitness classes is incredible!
I feel like in NYC, choosing a boutique fitness class is like ordering a drink. You have your go-to's like your favorite wine or your tried-and-true margarita. But sometimes, you might feel like mixing it up. Maybe you're feeling extra frisky and opt for a dirty martini (only to remember why you never order those in the first place), or you're joining a group of friends and want to have whatever they're having. It's the same with boutique fitness and all the hot NYC workout trends! So, I decided to hit the streets and try all of the trendiest and most popular workout classes in New York City to get the tea. This is everything you need to know about the 10 best (and hottest) workout classes in New York City.
Want to be able to go to different fitness classes around the city without buying a membership?
I used the ClassPass app to access the majority of these workouts! You buy credits that can be used at any partnering studio (which there are a lot of) around the city! The only classes mentioned in this article that cannot be found on ClassPass are AARMY and Tracy Anderson Method. You'll definitely save some money this way!
Challenge Level: 9/10
This gym exudes "sophisticated warehouse" vibes. It's one of the largest fitness studios I've seen in NYC with a large entryway, a spacious cycle room, locker and lounge areas, and a massive "bootcamp" room. At AARMY, you don't "work out," you "practice." Their whole motto is that there is no "end goal," you just show up to practice each day to be better than the day before.
AARMY's bootcamp practice started with a very sports/athletic warmup, one you might see a soccer or football team doing before a game. Once your heart rate is up and the music is blaring, you are guided through resistance training movements in sync with the beat of the music, which was both fun and challenging. We did movements such as single-leg deadlifts, split squats, and plank low rows to build strength. The instructor also threw in a few HIIT-style tabata sets of tuck jumps and quick foot shuffles for cardio. Each song brought a new exercise or set.
The best part about this studio (which makes it very unique to the NYC fitness scene) is its focus on community. I had strangers next to me hyping me up in between sets, and the coach knew my name on day one. It felt very inclusive, and for that, I will be back for more! Oh, and they also offer a KILLER cycle class!
Cost Per Class $38
Challenge Level: 8.5/10
Rumble training is essentially the same thing as a Barry's bootcamp or an Orangetheory class, aka half treadmill, half resistance training. In contrast, Rumble's boxing class is half cardio boxing combos, half resistance training. For anyone who doesn't box regularly (AKA ME) you'd never realize how much cardio it is!! I mean, I thought I was in decent shape, but this had me dying. The only reprieve is that you switch stations regularly, giving you a chance to breathe and snag water. This breaks the class up into more manageable pieces.
Cost Per Class: $38 (on ClassPass)
Challenge Level: 7/10
The Tracy Anderson Method largely got its following once Gwyneth Paltrow became a regular client. I mean, I think we can all agree that those arms are goals! This class was very unique, to say the least. First of all, the instructor leading you through the class doesn't talk AT ALL, like the whole time. You're just expected to follow along with her movements, many of which are advanced, especially if you don't regularly do pilates.
We started out with a dance-style warmup and then began to add in hand weights for the next few songs. Then, we progressed down to the mat for pilates-style movement using ankle weights. The movement patterns were very strange, and there seems to be enough kickbacks for a lifetime, but over time, I started to get the hang of it. I ended up really getting a sweat on, and the booty was on fire!!!
This is not the class I would recommend to anyone new to pilates/yoga, but if you're a seasoned vet and want to do as the models do (AKA pay $900/month for a gym membership), then you may get a kick out of this class!
Cost Per Class: $45
Challenge Level: 6/10
The lights are dimmed, the infrared heat panels are on, the music is bumpin'… prepare for a deep sweat! It doesn't really feel that hot in the room because the heat panels are infrared, so it seems to heat you from the inside out. The style here is based on your typical vinyasa flow, but with a slight twist.
Once the teacher takes you through a flow sequence, they'll take you through that same sequence once more at a faster pace before letting you move through it on your own to the music with no instruction. This "free-flow" style allows students to tap into their own bodies, move at their own pace, and add or subtract from the sequence making it their own. You'll move through three distinct "flows" like this before moving into more calming yin poses.
I really enjoyed this style, and I left feeling like I worked hard (AKA, I was completely drenched). I did feel like the two teachers I had on separate occasions were slightly less experienced than most, but it's the luck of the draw. Overall, if you like to move fast in your practice, this is the spot for you!
Cost Per Class: $25 (on ClassPass)
Challenge Level: 8.5/10
I feel like Barry's has been around for a while now and has still managed to stay trendy. You know exactly what to expect when you go there: an absolute ass-kicking. With half cardio interval training on their unique rubber-belted treadmills and half resistance training (dumbbells, resistance bands, bodyweight), you can push yourself to your limit with their short blocks of work. I love that they let the instructors design the classes so that each class embodies that instructor's vibe, as opposed to how Orangetheory makes every instructor teach the same workout. My favorite classes are the "Ass and Abs" days!!
Cost Per Class: $42 (on ClassPass)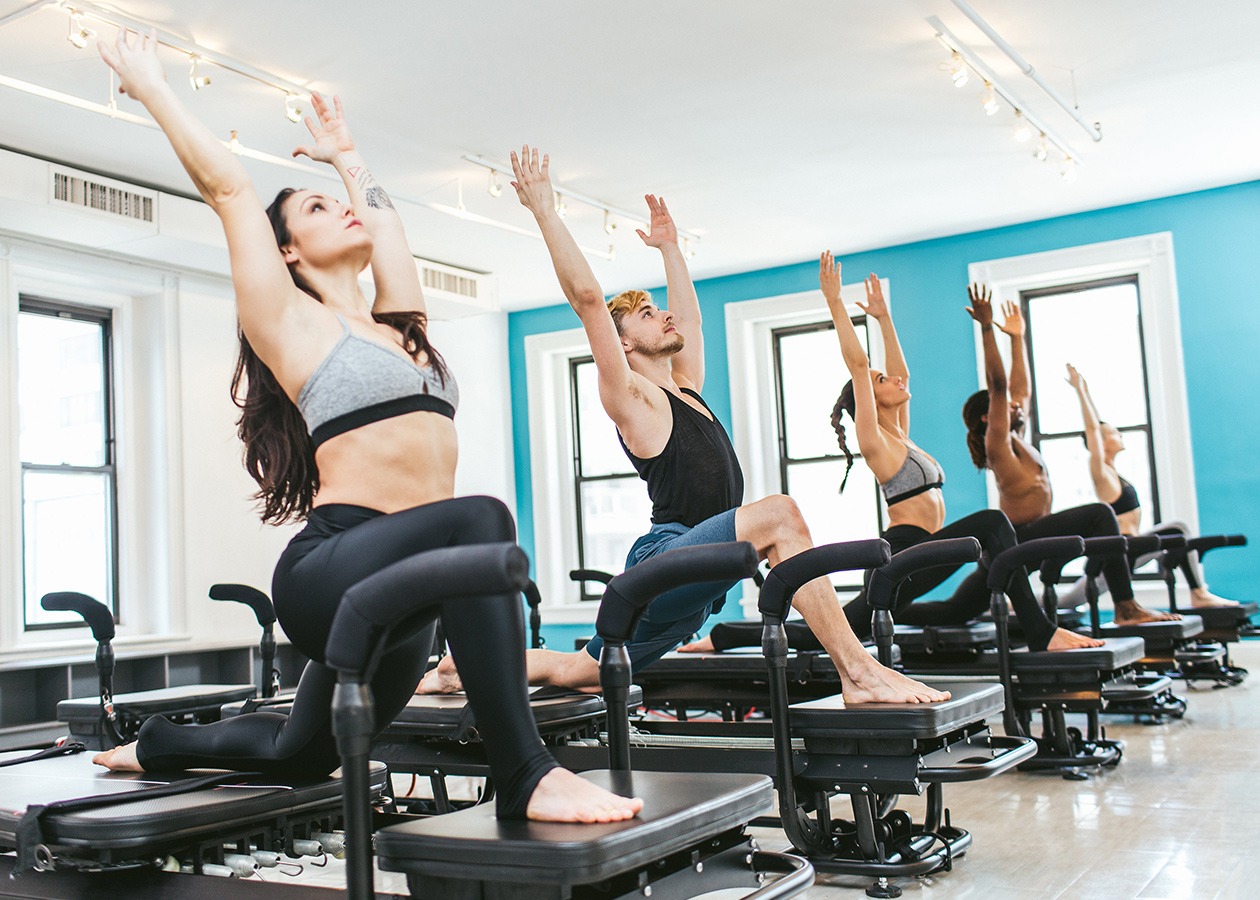 Challenge Level: 7/10
SLT (standing for Strengthen, Lengthen, and Tone) is a pilates mega-reformer class similar to that of BodyRok and Solidcore. In this style of training, it's all above moving AS SLOW AS POSSIBLE (which you will quickly realize SUCKS!). By slowing down the movements, you are getting a lot of "eccentric" contraction in the muscles (meaning the muscle is contracting while lengthening), which helps to build strength, but also keeps the muscles supple and long.
I think pilates is a fantastic way to build a better mind-body connection, strengthen the core, and increase range of motion! My instructor, Erin, on the 87th St. location was both knowledgeable and motivating, and she brought people to their edge. Even as a self-proclaimed fitness fiend, I found myself having to take breaks. Some of these moves are HARD, but moderating options were always provided. You're not going to be panting or getting completely out of breath, but you will be SHAKING AND BURNING. Ultimately, I thought it was a great class, and I'd love to work this into my routine 1x per week.
Cost Per Class: $42 (on ClassPass)
Challenge Level: 5/10
Designed by the Victoria's Secret model trainer Stephen Pasterino, P.volve is the opposite of HIIT training. It's a science-based, low-impact training method that aims to improve balance, stability, and core strength. As I walked into class for the first time, I noticed the strange square-shaped mats with numbers around the borders along with a variety of strange props. From a slanted wood platform and ankles weights to a ball on a bungee cord, we were soon being guided by the instructor through a series of movement combinations that felt a little bit like a cross between pilates, yoga, and physical therapy.
The class was challenging, but not in the way most fitness classes are. You're not going to get super out of breath or be asked to push heavy weights, but instead, you'll have to stay very focused on the precise movement patterns all while standing on one leg on a slanted wooden platform.
Cost Per Class: $36 (on ClassPass)
Challenge Level: 9/10
Nestled on the edge of the trendy West Village, this exclusive boxing gym is where all the high fashion models go to get their sweat on. If you're lucky, you might even spot Gigi Hadid knocking out those uppercuts during her private training session in the ring. They offer group training classes, as well as private sessions. And while I probably needed a private session since I hadn't ever boxed before this, I couldn't cough up the $250/session fee… So, I opted for the group training class instead.
This fitness class was very different than anything I had ever done before. We started off pretty standard with an athletic-style jump rope warm-up before being split into pairs to work on combos. THANK GOD, the instructor took pity on me having never boxed before (therefore, I knew none of the terms), and he paired off with me. I very soon realized I was NOT in "boxing shape," and got out of breath after just a few rounds of combos. However, the work was actually quite fun and required a lot of mental focus to remember the patterns. After I nearly died (ok, yes, I'm being dramatic, but I was gasping for breath at the end of each round), we finished up with some ab work and stretching. I think for non-boxers, this class will be VERY challenging, but I love the way boxing incorporates mind-body connection, core stability, and agility/cardio!
Cost Per Class: $36 (on ClassPass)
Challenge Level: 5/10
Modo Yoga is a hot yoga studio with locations in West Village and Williamsburg, Brooklyn. Their signature Modo Flow is a vinyasa style hot yoga class that will have you dripping!! They also have other styles like "freestyle flow," where the instructors can bring more of their own personal style into the vinyasa practice, or Yin classes, where you focus on relaxing the nervous system with longer holds and fewer standing postures.
I went to a freestyle flow in the West Village location and found the class to be soothing and gentle. We moved through the sequences of poses at a slower, more mindful pace. Thankfully, I didn't feel like I was in a sweat lodge the whole time (unlike many other hot yoga studios). The heat was mild and enjoyable. While I do enjoy a move challenging class, it's nice to slow things down and get back to the roots of yoga in a class like this, and I'm excited to try their other class offerings.
Cost Per Class: $32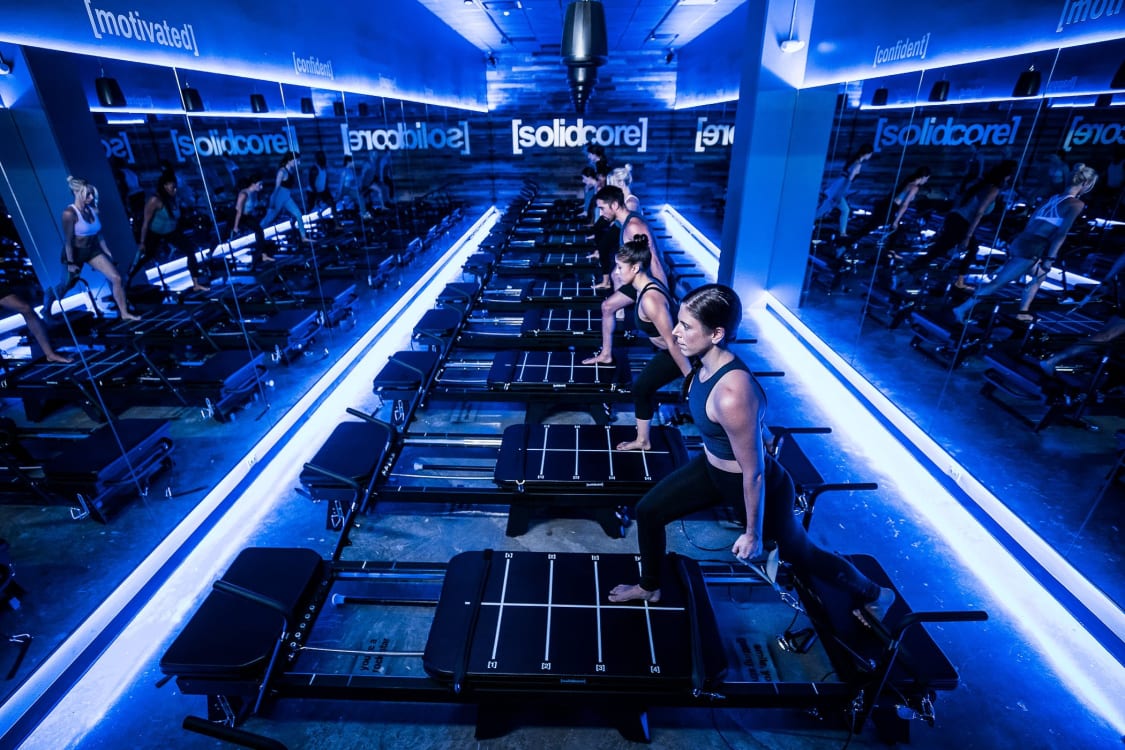 Challenge Level: 7/10
Talk about a burn!! Targeted movements, lots of pulses, and iso-holds that you think will never end make this workout BURN SO GOOD! It is another mega-reformer class but with the lights dimmed and the music bumping, so it kind of felt like a pilates nightclub (in a good way!).
Unlike other reformer classes, we used dumbbells for a portion of the class all while still activating other muscle groups on the machine, which I personally liked. The emphasis on the central core was amazing, yet extremely challenging, and honestly, I've never been sorer in my abs than after this class. If you're new to pilates, tons of options are offered, and the instructors were very knowledgeable. I absolutely LOVED it.
There are several locations scattered around Manhattan, from the Upper West Side where I took the class, to SoHo, Nomad, and more!
Cost Per Class: $41 (on ClassPass)
Check out these other blog posts:
8 ways to naturally boost your metabolism
Egg freezing in your 30's – what you need to know
10 Things I've Learned About Nutrition that Have Changed My Life