All About our Rehearsal Dinner & Wedding Welcome Party at the Four Seasons Maui at Wailea
When it came to choosing the Four Seasons Maui for our wedding venue in Hawaii, the rehearsal dinner and Friday night welcome party were top of mind for us. One of the main reasons we fell in love with FS Maui over anywhere else wasn't just the wedding reception we could have there, it was the whole weekend experience that we could provide our guests there! We knew we wanted our wedding to be more than just a one-night celebration – we wanted a full vacation for all of our friends and family. And a big part of that was planning the most epic Friday night rehearsal dinner and the welcome party of our dreams, to get the weekend started on the right note!
My amazing in-laws, the Haisfields, graciously hosted this night of beautiful, tropical beach vibes and non-stop fun, starting with a beautiful, intimate rehearsal dinner on the beach, and culminating in the most epic night-swim pool party to welcome all of our guests to Wailea.
Here are all the details of our rehearsal dinner & wedding welcome pool party!
THE REHEARSAL DINNER
The calligraphy was all done by Miss B. Calligraphy, who is so talented! I loved our signs!!!!! Photography by Anna Kim Photography
Our rehearsal dinner took place in the sand at the Four Seasons beachfront venue, on a little bluff between the main beach and the hotel. It was SO beautiful. We had two long tables, and about 40 people total. We invited our bridesmaids, groomsmen, officiant, plus ones, and our immediate family (parents, siblings, and grandparents). It was a tighter space but it was the PERFECT space for that amount of people. If we had any more we would have had to have round tables instead of long but the long were perfect for 40 people. The bar was right near the tables, and there was a little space where people gave speeches in-between the two tables!
Our rehearsal dinner went from 5pm-7:20pm, giving us a quick half hour to get changed for the welcome pool party, which was 8-10! This worked well for us because everyone was staying at the hotel, so they just quickly ran up to their rooms to put on their swimsuits and cover ups in between events. I definitely would recommend at least 2 and a quarter hours for your rehearsal dinner, it was the perfect amount for us but I do feel like we easily could have stayed a little longer!
The rehearsal dinner decor
We wanted the rehearsal dinner to feel totally different and unique from what we had planned for the wedding the next day. The wedding was very 'tropical elegance' themed, with green and white florals and elegant touches throughout. The rehearsal dinner, we chose a more 'vibrant modern tropical' theme, with warm, colorful flowers that complemented the sandy sunset atmosphere.
Stephanie was my wedding planner on the Four Seasons Maui Events team, and she was an absolute godsend when it came to bringing my vision to life with the set-up. I seriously could never have done it without her!!
We had these personalized white calligraphy capiz shells with everyone's name on them in gold on each seat that added to the modern tropical theme.
The beautiful King Louis chairs were from @manazanoentertainment – Maui entertainment and rentals, as were all of the rentals needed for the night. The florals were from Dellables Floral Design (the same floral design company that did our wedding the next day). The FS Maui events team organized all of our rentals and florals for us!
We rehearsed from 3:30-4:30, then before we all sat down dinner, we did drinks at Alii Lawn from 5-5:30. It was so beautiful, and a perfect spacious area to gather before sitting down to dinner. Since it was July and HOT, we had these adorable white parasols for guests as well as fans, which made for really cute photos, as well as shading people from the sun. HIGHLY recommend for any outdoor wedding party!
My mom and I at the pre-dinner cocktail reception (this was taken with an iphone, the lighting this time of day – around 5pm – was insane! Our guests were loving taking pics at this spot.
White parasols available here.
The food & drink
We served cocktails and lots of Iconoclast chardonnay (my absolute favorite – you can only get it at Four Seasons resorts!! So it always reminds me of my best vacations, and, now, our wedding!). Food-wise, we did a family-style mixed grill that was absolutely unreal. Everyone couldn't stop complimenting the food. It was surf and turf, amazing veggies and salads, and the most delicious dessert. Everything you get at the FS is going to be top-notch, and our guests couldn't stop talking about the food on this night and on the wedding night. We requested mostly everything at the rehearsal dinner be made gluten-free, soy-free, and free of any additives, everything was made super clean and healthy, which I loved because I felt great for the wedding day the next day!
The rehearsal dinner attire
We told our guests to dress in 'summer cocktail' attire (most of the women wore cute beachy cocktail dresses, and men wore Kenny Flowers shirts with summer blazers over them) — everybody looked fabulous!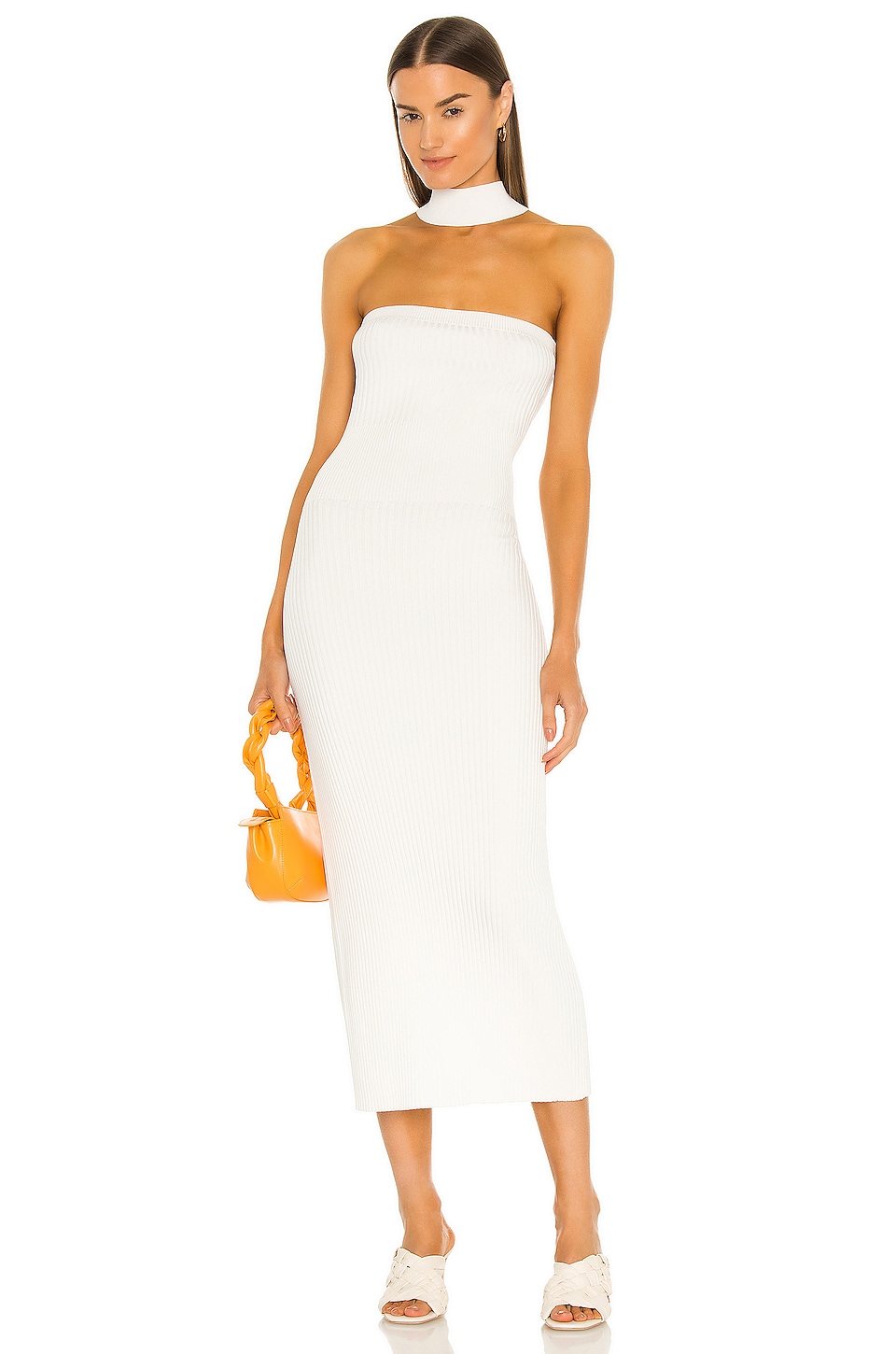 This is what I wore to my rehearsal dinner in Maui as the bride! I paired it with these sunglasses and this choker from Cult Gaia that I'm obsessed with. And this Bottega Veneta purse.
What Kenny wore to the rehearsal dinner
Kenny wore this white long-sleeve linen from Kenny Flowers, with this blazer over it. The blazer fits true to size and we didn't even need to get it tailored – so good looking!
OUR WELCOME POOL PARTY
the pre-wedding pool party
We rented out the Four Seasons' Serenity Pool from 8-10pm on Friday night for our welcome party the night before the wedding. Because the pool is only open to guests until sunset, they allow you to rent it out for private events at night!
The attire
We told everyone ahead of time to wear their swimsuits (Kenny Flowers and Watercolors, of course) and a cover up and that we WOULD be getting in the pool. I think establishing this ahead of time (and having the swim up bar open!) helped people feel comfortable getting in the water. For the first hour, it was a more upscale pool party with not too many people in the water, but the second it hit 9pm, and Kenny and I got in the pool, EVERYONE got in the pool, and it became wet and wild in the best way. Think: friends throwing other friends in the pool, cannon balls, and all the feeling of a Vegas pool party – but at the Four Seasons Maui. It was EPIC.
I loved that the FS Maui events team put together this photo wall as the entrance to the party – it was SO cute and everyone loved getting pics there.
Love this photo with both of our parents at the welcome party!
I think the important thing to remember if you want to have a wedding pool party is that people will always follow the bride and groom's lead. If you guys are having the time of your life, and getting wet and wild, your guests will join you!!!! At every wedding I've been to, it's always the bride and groom that set the tone for the whole event. The more relaxed and happy they are, the more relaxed and happy the guests are.
Some of our best friends in their Kenny Flowers pool party outfits
The food & drink
We served snacks like pretzels and had boozy shaved ices! I think it's important to always have food at a wedding welcome party because although most people will eat dinner ahead of time, you're still drinking and need food to soak it up! We thought about just having desserts, but I think it was important to have some savory snacks, too, because some people won't have eaten a big meal ahead of time.
One of our friends from college (who knew mostly everyone there) commented that he had never seen not only Kenny & I, but ANY of the people there as happy as they were that night. And you can FEEL that happiness, that pure joy, in every single one of these pictures. Our friends and family are all smiling so big, BEAMING, having the time of their lives. That felt so special to me that we could give a feeling like that to our loved ones. And it got everyone SO excited for the wedding the next day.
My friends wearing Watercolors – the Beverly Hills palm frond one piece, Malibu tie dye bikini, Carolina blue striped bikini and the solid black Mykonos triangle
What I wore to the pool party
These wide-legged satin white pants. Love them so much and have worn them many times since the party, too! They fit true to size.
This bikini top and these bikini bottoms – both in size small. I liked that this bandeau looked like a top when I had the pants on, but as soon as I took them off was the perfect pool party bikini! I liked this bandeau because while it was cute, it was still conservative.
This pearl choker – that I kept on from the rehearsal dinner!
These wedges. They're nearly sold out everywhere though so here are some shoes I love that would have looked really cute with this outfit too:

What Kenny wore
The overwaters swim trunks, the casablanca white linen short-sleeve button-down in slim fit, and a lei that the FS Maui events team made him!