10 Private Island Resorts to Add to Your Bucket List
If your private island vacation fantasy looks a little like Tom Hanks in Castaway, and a little like a Tom Brady and Gisele on their honeymoon, this list is for you.
Here are ten of the world's top private island resorts I've been swooning over lately.
The Maldives are definitely having their moment in the sun. Did you guys know that last year the Maldives were collectively the fourth most instagrammed tourist attraction in the world after the Eiffel Tower, Times Square, and Big Ben? Yeah. They're kind of a big deal. Cotton candy skies meet aquamarine backdrops of white sandy havens, and yes, some of the most architecturally beautiful resorts in the world make this an ideal romantic destination honeymoon spot. Baros Island's experience is everything you're looking for in a private island, from the food to the service to the fact that it has its very own coral reef- unlike many Maldivian resorts where you need to charter a boat to find one.

Last year, I had the amazing opportunity to stay at Song Saa Private Island resort off the coast of Cambodia, and was easily the best luxury hotel experience I've had! Located off the coast of Koh Rong, Cambodia on a private island, Song Saa is the resort that your wildest dreams are made of. The beaches are perfect, the infinity pools drop into endless shades of turquoise-blue horizon, the hospitality and service is the best of anywhere I've ever been, and everything from the five-star food, to the water activities, to the cocktails and wine, is all-inclusive once you step foot on the island. Song Saa Private island also has only 24 villas in total. The whole thing feels a little like heaven, and you'll have to pinch yourself every so often to convince yourself it isn't just a dream.
The Brando, Tetiaora Island, French Polynesia
Yep. That Brando. And Yep. It's an island you can't refuse.
Tetiaora Island in Tahiti has always been a place unlike any other- with sparkling turquoise water, flawless, untouched beaches, vivid marine life, and enamoring exotic beauty. The island was a playground for the wealthy and a retreat for Tahitian royalty centuries before Oscar Winner Marlon Brando ever discovered it. After many centuries of being inaccessible to the general public, this new, eco-friendly, ultra-luxurious resort The Brando has changed all that. The villas that make up the island are modern, sleek and minimalistic, complete with media rooms, plunge pools, and direct beach access.
Laucala Island, Fiji
Owned by billionaire Red Bull founder Dietrich Mateschitz, Laucala Island in Fiji features 25 over-the-top Fijan villas, each surrounded by pristine natural blue lagoons and their own private swimming pool. This resort boasts the highest guest-to-staff ratio in the world (16 staff for each villa), so you're guaranteed the very best in private island pampering. Not to mention an 18-hole golf course, spa, and five incredible restaurants all within the 3200 acre South Pacific island.

A 40-villa luxury resort on Australia's stunning Great Barrier Reef, Lizard Island features 24 powdery-white beaches, home to some of the most stunning sunsets you'll ever see. Staying at Lizard Island, your days will be filled with island hikes, paddleboarding, secluded five-star picnics, and indulgent spa treatments. Not to mention the wonders of the Great Barrier Reef right at your doorstep. Hello, heaven.
16 luxury villas with infinity pools overlooking the Indian ocean make up this family friendly resort in the Seychelles. Dedicated to conservation of its sanctuary of wildlife (the island is home to more than 2,200 free-roaming Giant Aldabra Tortoises), this island is a beautiful blend of tropical paradise and wild isle- a place where screensaver-worthy beaches meet Galapagos-like wildlife.
Petit St. Vincent, St. Vincent & Grenadines
Petit St. Vincent was founded 50 years ago by sailors who discovered the uninhabited gem in the Grenadines and set out to make it a place that no guest would ever want to leave. This mission still holds true to this day, as the 22 newly refurbished cottages on the 115-acre volcanic island create a paradise that make the outside world pretty nonexistent and will have you willingly falling right off the map. PSV is a place that takes "Getaway" very seriously.
Barefoot, eco-luxury. A stunning and wild paradise on earth.
Everything is perfect about Six Senses, from the natural paradise vibe, to the world-class food (their dinners are great, but their over-the-top breakfast buffet and complimentary homemade ice cream bar were the best things ever), to the villas that make it hard to ever leave your room! (I highly recommend upgrading to a pool villa, if you're like me and a sucker for dreamy infinity pools), to the adorable island bikes you use to get around (that are personalized with your initials if you're a repeating guest!), to all of the incredible activities there are to do on the island, from snorkeling to sailing to surfing (the Six Senses' type of surfing is often called "luxury surfing", because they boast some of the best waves, but you'll often be the only one surfing them, a luxury priceless to most surfers).
Four Seasons Bora Bora is private-island-paradise, perfected. The ultimate in luxury, seclusion, and service. It's one of the top hotels in the world, and for good reason!
The one-of-a-kind Four Seasons service delivers the private island dream you've been waiting for.
My highlights of this resort are the beautiful bungalows, sweeping mountain views, private white-sand beach, the pool, spa, and their calm lagoon.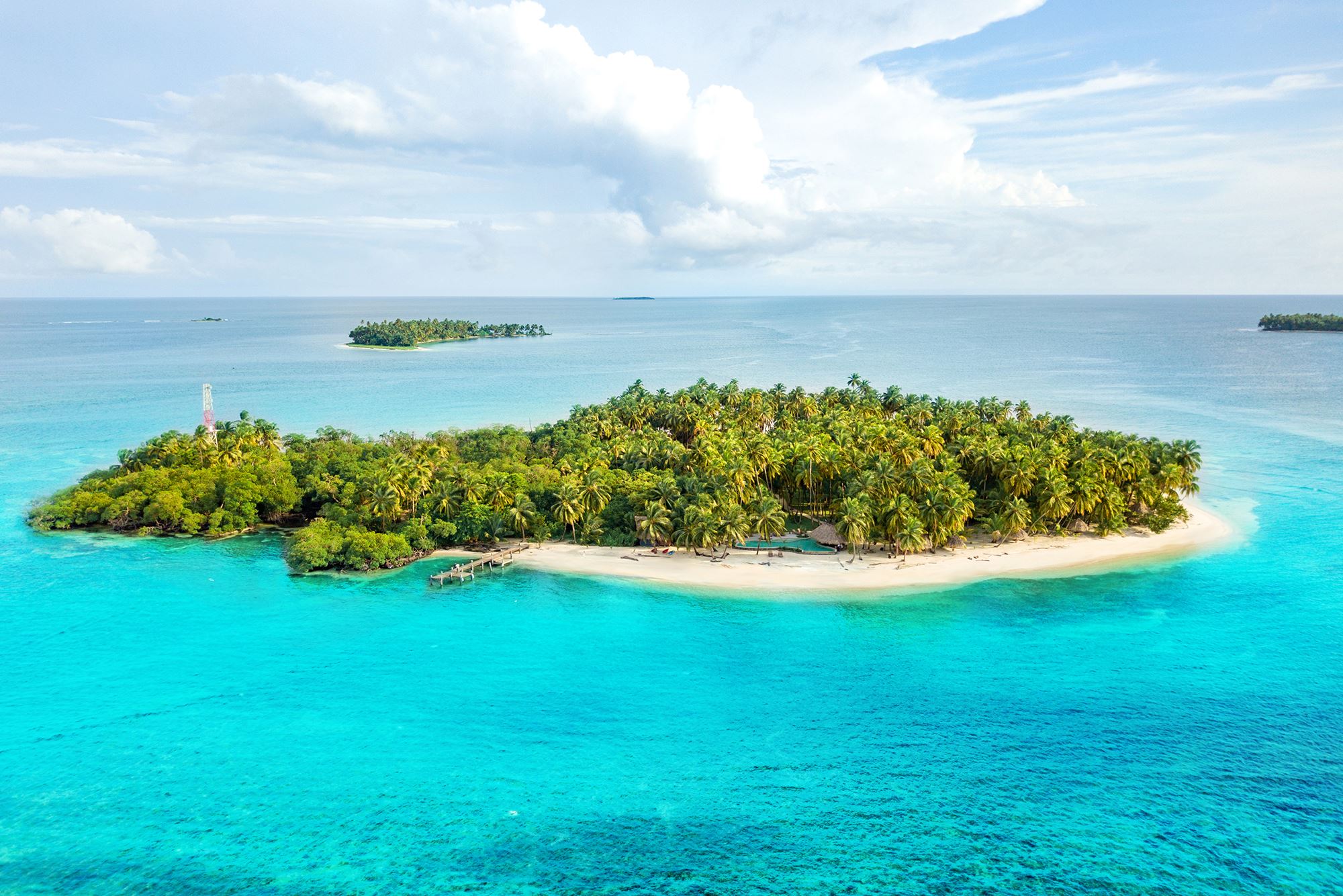 Book a suite on this idyllic private island off the coast of Nicaragua and you'll have the pleasure of calling the first five-star resort in the unspoilt 'NiCaribbean' your own. Calala Island is perfect for couples or small groups of friends looking for a private island experience like no other. There's just four rustic-luxe beachfront suites on this beautiful island, so the entire island is for up to 8 people. And, as dreamily remote as it is, you'll have five star dining and incredible cocktails at your fingertips on your luxe castaway adventure in the Caribbean.
With 1000 unspoiled acres and a mile-long beach, Como Parrot Cay delivers the ultimate feet-in-the-sand luxury. You can spend the day doing yoga at their spa, scuba dive, windsurf, sail a catamaran, or just laze the day away in a hammock under cloudless blue skies. You'll dine on the freshest and most delicious seafood and wind the days down with stunning sunsets off of your private balcony.
30 miles east of Key West, accessible only by seaplane or speedboat, is a beautiful resort called Little Palm Island, just off of Florida's Little Torch Key. Here, you'll paddleboard around emerald lagoons as loggerhead turtles and tropical fish swim by, or laze the day away in your Floridian villa, or retreat to your private outdoor bamboo shower. The resort has a strict no cellphones in public areas rule, and there are no tvs or phones in your villa. Little Palm Island embodies a state of indulgent relaxation that is nearly impossible to achieve these days; blissful nothingness.


Pin this post –
Check out my related blog posts here: