Which Greek Island is Best For You?
Has anyone else wanted to spend a summer in Greece ever since watching Sisterhood of The Traveling Pants? I mean, who doesn't love the idea of picturesque white houses perched into the cliffside, donkeys carrying your luggage, and tanned Greek guys saving you when you happen to "fall in" the insanely beautiful turquoise water?! Okay, okay… so maybe that's Hollywood, but Greece is absolutely as charming as the movies portray! The only hard part about a trip to Greece is deciding where to go on your trip!
Greece has thousands of islands to choose from, some of the most famous (and popular) being in the Cyclades Archipelago. You've probably heard of Santorini and Mykonos, but the Cyclades is made up of over 30 islands!! These islands are known for their postcard-perfect and Instagram-worthy scenery, like blue-domed churches and sandy secluded beaches. And, to make things even better, they are an easy ferry ride (or hopper flight) from Athens!
You'll want to tick off at least two islands (or more) during your time in Greece, so I'm here to help you figure out which islands are best for you!! You can't go wrong, but if you don't want to end up on a single girls' spring break getaway surrounded by only honeymooners (or vice versa!), I'm here to help.
Getting Around the Cyclades Greek Isles
All of the Cyclades islands are accessible via ferry from Athens. Santorini, Naxos, Paros, Milos, and Mykonos also have local airports, so you can fly between Athens and any of these islands in about 30 – 40 minutes.
Mykonos
Who is Mykonos best For? Luxury Lovers and Party-Goers
People think of Mykonos as the party island, but it's sooo much more than that. You will certainly find the high-end day clubs where the rich and famous come to play, and incredible downtown nightclubs that stay open until 6 am, but you will also find some of the most gorgeous beaches, adorable towns, luxe hotels, and BEST restaurants! If you're a foodie, you'll love Mykonos!
Since this is a popular island, like Santorini, I would recommend planning your visit for the shoulder season (May or September) to avoid the high prices and crowds of mid-summer. Don't worry, you'll still get your bronze on in September, and your money will go so much further!
If you're traveling with friends or on a girls trip, Mykonos is a MUST. I think Mykonos should be on any Greece itinerary, but if you're honeymooning and prefer a more chill vibe, you could opt for Naxos or Paros instead!
Who is Santorini Best For? Honeymooners and Wine Lovers
Santorini is by far the most famous of the Cyclades. And, while it can definitely be crowded, this is NOT an island to miss. My advice would be to visit during the shoulder season to avoid the crowds somewhat. Go in May or September when the weather is still incredible (plus, you might actually be able to get a sunset reservation!).
Santorini has some of the most beautiful views in the world, especially from the town of Oia (everywhere you look is straight out of a postcard). This is where you'll see the white-washed buildings carved right into the cliffside, blue-domed churches, and expansive sea views.
Santorini is also home to some of the best restaurants in all of Greece. But, unlike Mykonos, you won't find crazy nightlight here. The scene is mainly honeymooners or groups renting big villas. If you plan on honeymooning here, it's worth it to go all-out on accommodations in Oia with an ocean view infinity pool! (All of my recommendations are in here!). Otherwise, consider staying outside of Oia for a more chill and quiet escape, like the neighboring village of Imerovigli, which I love.
Also not to be missed are the wineries of Santorini!! The volcanic soil is perfect for producing crisp, dry white wines (swoon). I would recommend getting a full or half-day guided tour so you don't have to worry about driving home!
Milos
Who is Milos Best For? Nature Lovers, Adventure Seekers, Honeymooners, and Lovers
Milos is the southernmost Cyclade island, the last one before you hit Crete. It's known for its unique landscapes, like Sarakiniko beach and the jutting cliffs of Kleftiko. People also say that Milos is the island for lovers (you'll find A LOT of honeymooners!).
While Milos is a small island, there is no shortage of beaches!! Rent an ATV or scooter to explore all over, stopping wherever catches your eye (one of my favorites is the colorful fishing village of Klima). Be sure to rent a boat one day because there are some incredible beaches only accessible by boat!
In my opinion, this is the perfect accompaniment island to Santorini and Mykonos. Although there isn't much of a nightlife scene, you won't want to miss the beaches and volcanic formations! Plus, I thought the locals were the friendliest here!!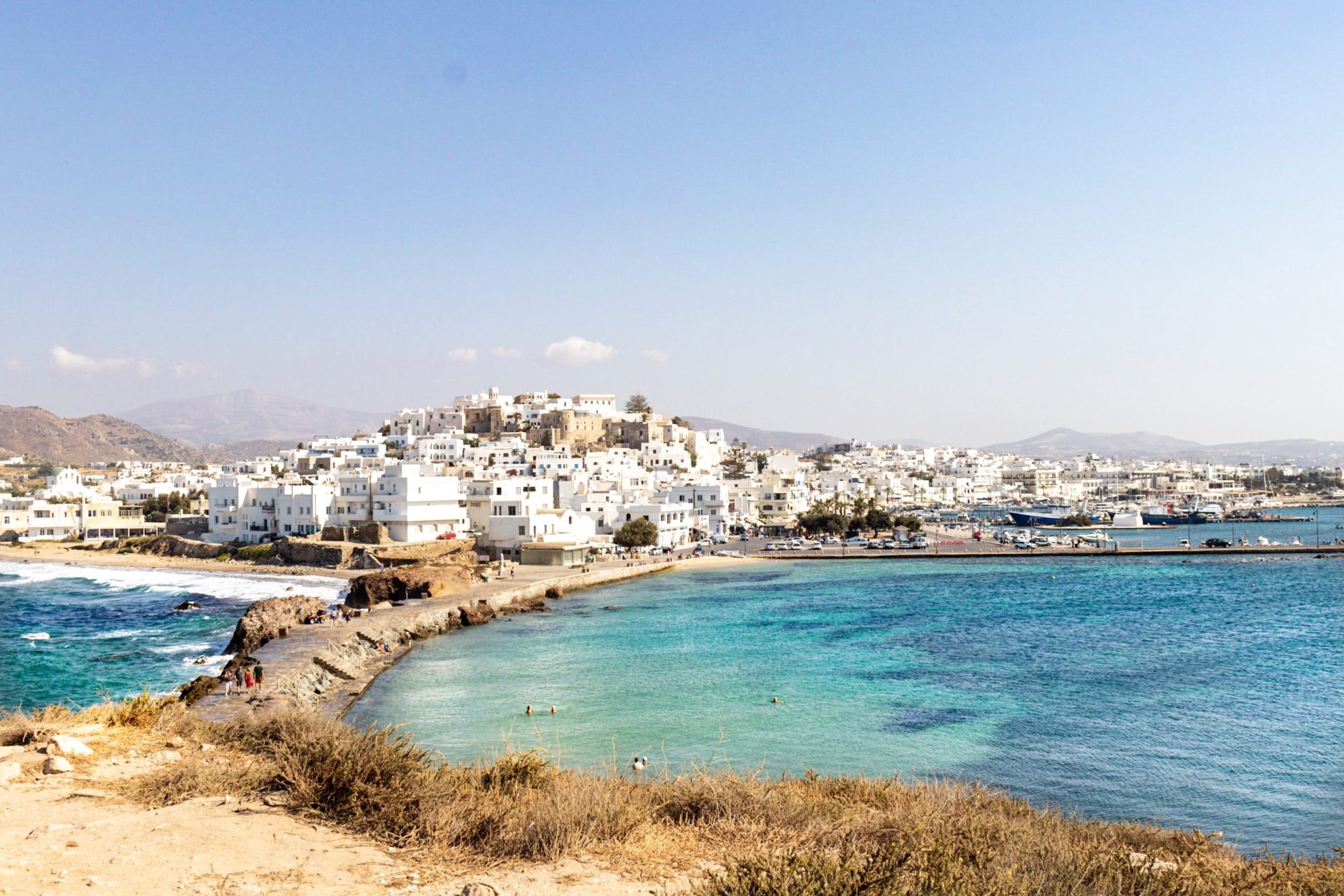 Who is Naxos Best For? History Bluffs, Peaceful Nature Lovers, and Kite-Surfers
Naxos is actually the largest of the Cyclades (and the greenest). With high mountain peaks, it's great for hiking and exploring the charming mountain villages, while still getting the gorgeous sandy beaches you come to Greece for. It's a bit quieter than Santorini or Mykonos, but you'll still be able to find a few beach clubs and bars.
Head to Plaka Beach for a day of cocktails and tanning, followed by dinner on the sea. For a bit of adventure, hike the highest peak in the Cyclades, Mount Zas! Take a day to wander through the labyrinth-like capital town of Chora, exploring cafes and shops, and don't miss the magnificent remains of Portora Doorway! Don't expect nightclubs or famous DJs, but do expect the freshest local produce, historical churches, and incredible kite-surfing/windsurfing.
Paros
Who Paros is Best For? ANYONE
Paros is a nice balance of everything the Greek Isles have to offer. A little bit of nightlife, a lot of beaches, as well as the charming old towns that will make you want to snap a photo every five steps. Hit the northern cosmopolitan town of Naoussa for fine dining, trendy bars, boutique shops, and even a winery! This island is a great addition to any group trip or honeymoon!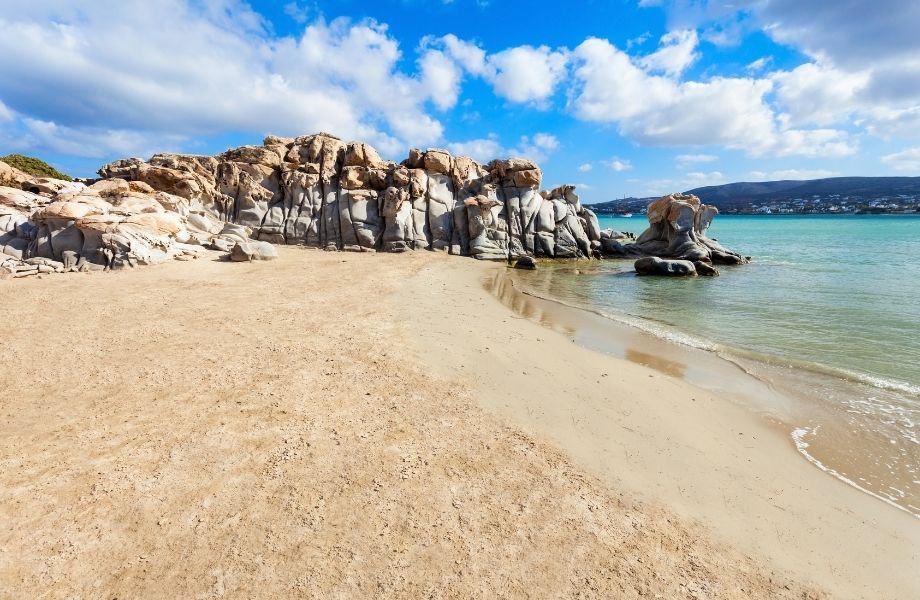 Ios
Who Ios is Best For: The Party People
Think of Ios as Mykonos's little sister. This is where all the Northern Europeans come to party until sunrise. Find a secluded beach on the southern side of the island to chill on all day and rest up for the night! This is perfect for a bachelorette/bachelor party or group trip destination! It's also very close and easy to get to from both Mykonos and Santorini.
Sifnos
Who is Sifnos Best For? Foodies
Sifnos is known for its fine cuisine and gorgeous scenery (but without all the crowds). It is home to the longest sand beach in all the Cyclades, Pati Gialos! If you're a foodie or are on your honeymoon and want the gorgeous scenery/beaches almost all to yourself, consider a few days in Sifnos. Explore the medieval town of Kastro, the charming cafes in Apollonia, and the hiking in Mount Profitis Ilias. This is especially a great place to head during high season because it will be less crowded than Mykonos or Santorini, but still lively!
Serifos

Who Serifos is Best For: Those wanting seclusion
This island is almost unknown, but that doesn't mean it's not one of the most beautiful places in the Greek Isles. Rent a villa here for a week if you want pure seclusion to enjoy some R&R with friends or your honey.
Check out these other related posts:
The ultimate guide to greek island hopping
What to pack for a trip to Greece – women's outfit inspo for the Greek Isles