How to Spend 3 Days in Naxos, Greece
Guest written by my friend Shelby after her trip to Naxos this year
So you're thinking of Greek island hopping next summer and probably asking yourself, what even is Naxos? As it turns out, Naxos is the largest of the Cyclades islands (the archipelagos made famous mainly by Santorini and Mykonos). The island of Naxos is said to be the birthplace of the Greek God Zeus, as well as the God of wine and ecstasy Dionysus… so I'd say we are working with a pretty good combination here!
The appeal of Naxos lies in its abundant natural beauty (think: long stretches of calm beach, dramatic mountain features, and ideal growing conditions for wine, olives, fruit, and more). This, paired with the fact that Naxos is MUCH more under the radar than its Cycladian counterparts makes it the perfect addition to your Greek Islands itinerary.
Where is Naxos and Why Should You Go?
Naxos is situated smack dab in the middle of the party goers' favorite Mykonos and the honeymooners' dream destination of Santorini, right next to its "brother island," Paros. It is perfectly positioned to be a stop-over island if you plan on visiting both Mykonos and Santorini. Just a short ferry ride from either Santorini or Mykonos, adding Naxos to your Greece itinerary offers you a taste of Greece from before the cruise ships started running and the selfie sticks started flying.
Here, you'll find a relaxed-yet-refined island with many mountain villages and far-flung beaches just begging to be explored! Take it slow and savor the fresh figs as you pass by the overfilled trees on your scooter, or stop at the local bakery to try a traditional pastry. Naxos is where you go to slow down and step back in time – just what the doctor ordered!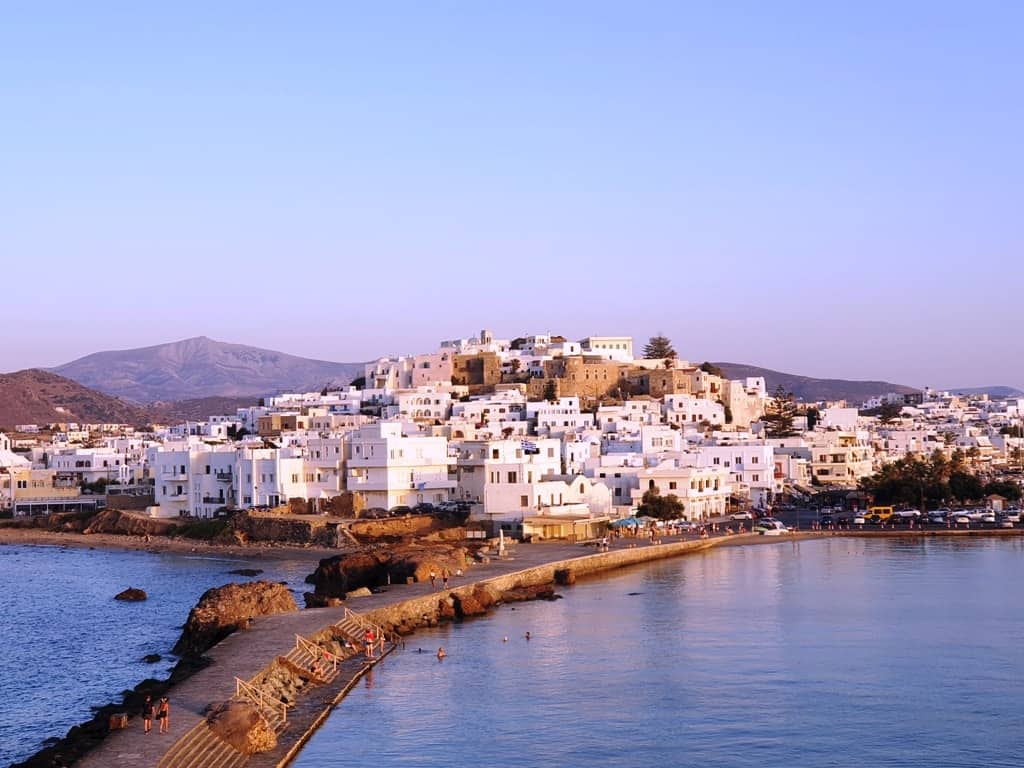 Continuing with the "slowing down" theme, if you want to truly disconnect and recharge, choose to stay in the mountains rather than on the beach. The altitude alone will have you sleeping like a baby, only to be awakened the next morning by the soft tinkling bells on baby goats as they rummage across the hillside. Naxos is the only island in the Cyclades where staying in the mountains is even an option!
Elaiolithos Eco Resort is the only hotel in the mountains in Naxos. With stunning mountain valley views, handmade textiles, and fresh organic food all from within five kilometers of the property, it is truly an experience in and of itself! It is locally owned and run, which makes it feel all the more unique and homey. Plus, you'll still only be 30 minutes away from all the best beaches of Naxos!
If you're more of a beach girl at heart (ME!!!), there are a few hotels that stand out among the rest.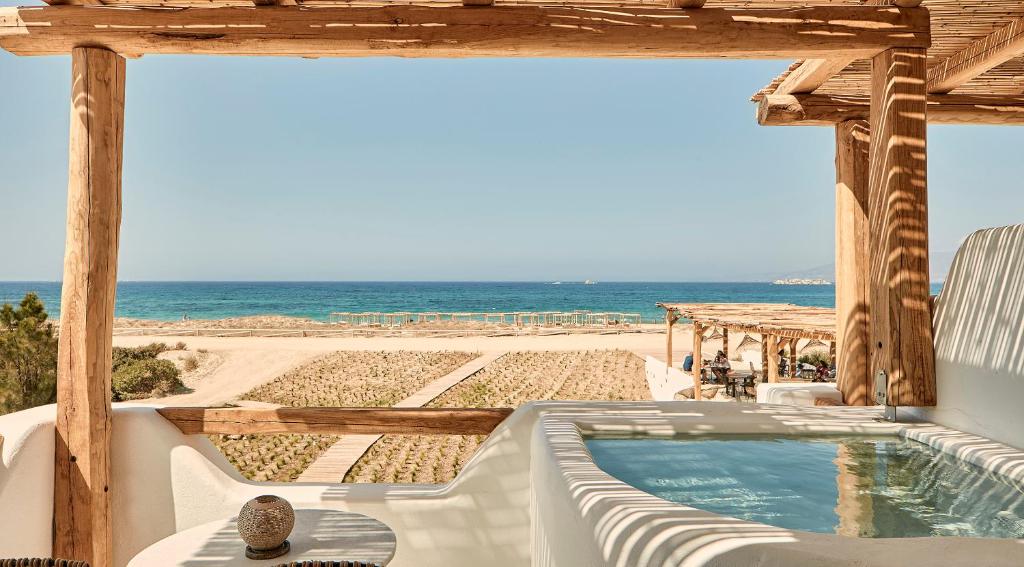 Naxian on the Beach is a bohemian luxury beachfront resort that is perfect for honeymooners or couples looking for something a bit more upscale. The decor reminds me a lot of Tulum, and the location could not be more ideal as it is right next to one of the best strips of the beach! If you stay here, I recommend that you get a suite with your own plunge pool so that you can step right out your door and onto the sandy shores. That'll be a yes, please!
This is where you should go if you're willing to splurge on an epic panoramic sea view. Not to mention, the villas are TO DIE FOR. Each has its own stunning plunge pool overlooking the emerald ocean along with outdoor kitchen/BBQ areas. Perfect for two to four people!
Not only does this place have beautiful boho rooms (perfect for a girls getaway!), but by staying here, you also gain access to their super popular beach club directly on Plaka Beach! We spent a whole day at this happening beach club sipping Aperols, soaking in the sun, and playing on the beach!
Another good option is getting a VRBO/Airbnb
Stay right in Old Town in this adorable studio, or if you're traveling with a group of friends or family, go all-in on this chic, renovated five-bedroom farmhouse villa with sunset views!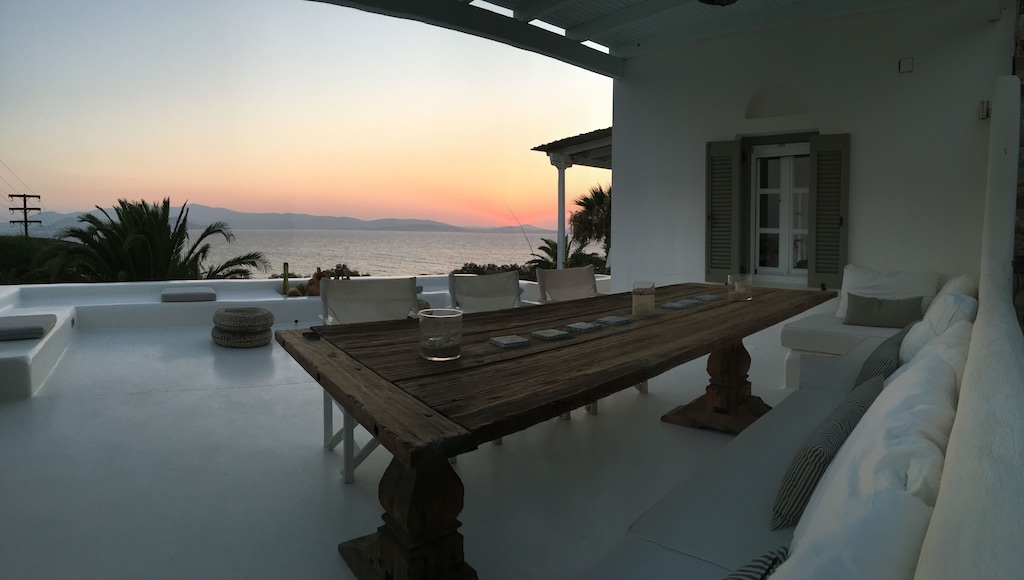 How to Get Around in Naxos
The best way to explore Naxos is to rent a car or scooter. Whether you arrive by ferry or plane, Hertz Rental Cars will bring the car to you! The island is BIG, so having a vehicle gives you the most freedom. Plus, they are typically fairly cheap (45 – 60 Euros per day). While you could probably get one on arrival, if you're traveling during the high season, I would recommend reserving via Kayak in advance.
What to Do in Naxos
Day 1: Arrive, Get Grounded, and Hit Plaka Beach
After checking into your hotel/Airbnb, head for Plaka Beach to relax with a drink in hand! Plaka is known for what the Greek's call "organized beaches," with chic lounge chairs and umbrellas for rent. They are also typically accompanied by a server so that you can order food and drinks on the spot! Just a fair warning in advance, this beach is also nudist-friendly!
There are trendy bohemian beach clubs scattered all along Plaka, some of my favorites being Nomad, Virtu, and Santana! During the high season (June through August), you'll pay around 40 Euros for lounge chairs for the day, and closer to 20 Euros in the spring or fall (shoulder seasons). Even in September, the sun is STRONG, so make sure you bring your sunscreen!
Plaka beach is a beautiful place to watch the sunset while having a bite to eat right next to the water. If you want to eat with your toes in the sand, grab a romantic sunset dinner at Nikko and Maria's. Traveling with a group of friends? Snag some delicious bites at Nomad!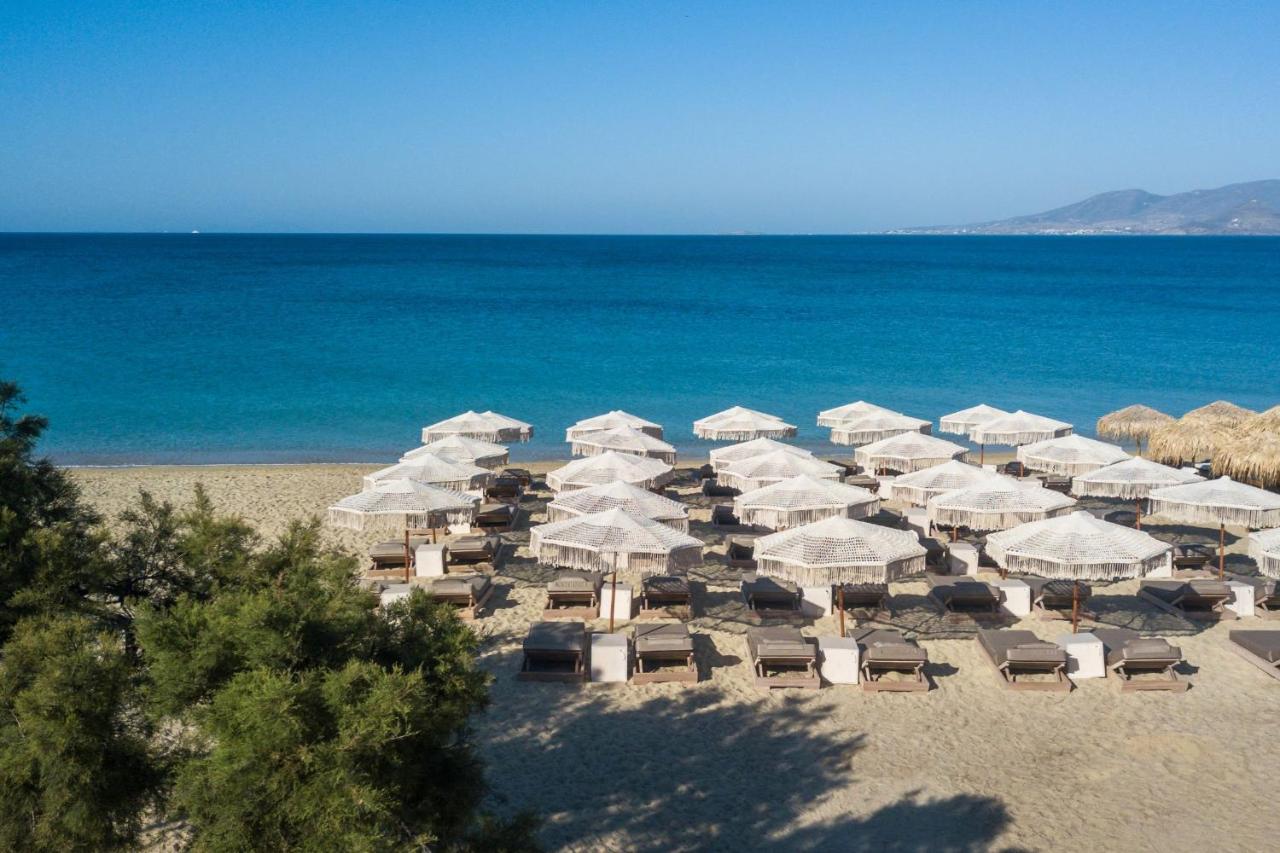 Day 2: Hike Mount Zas, Explore the Mountain Village of Halki/Chalki, and Enjoy Drinks at Kitron Distillery
Mount Zas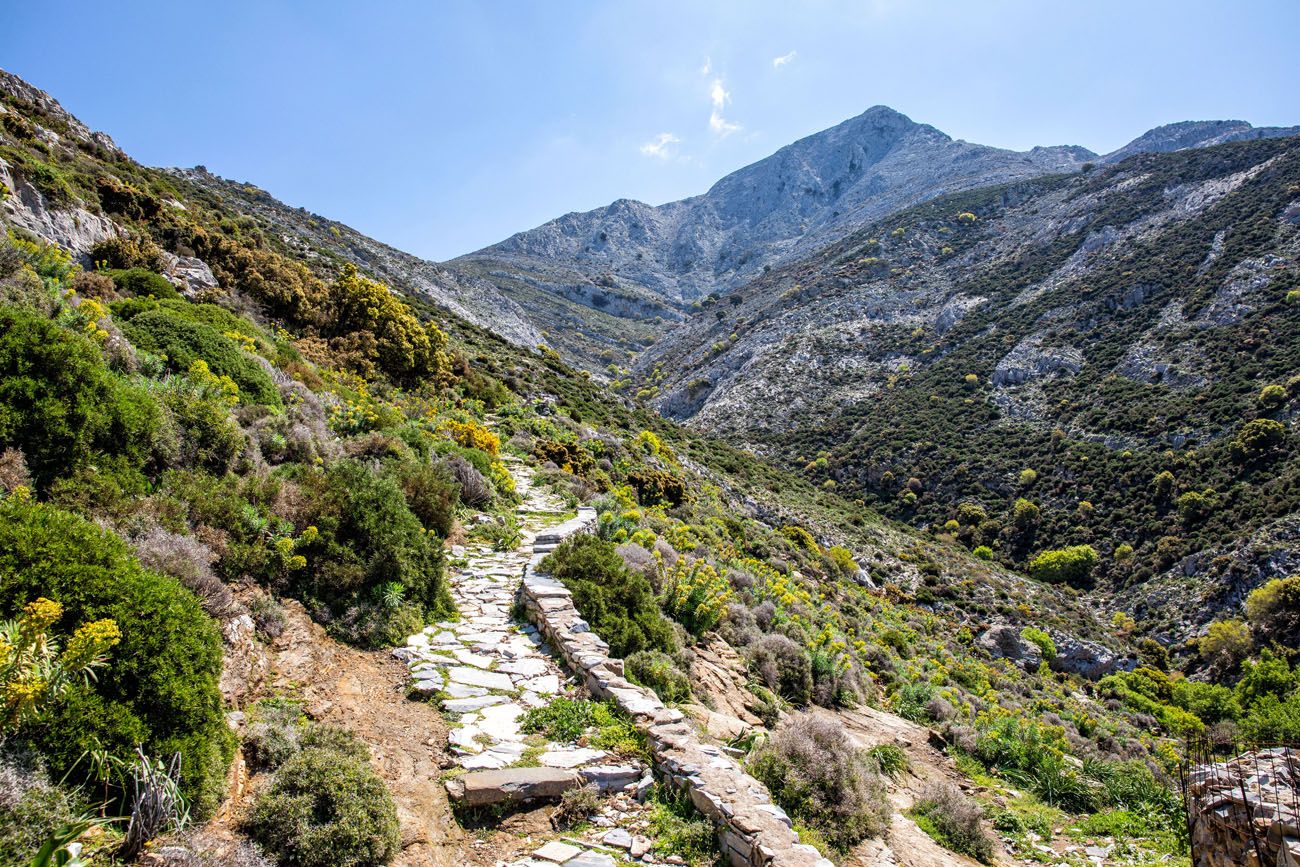 Mount Zas is a uniquely Naxos experience – it's the highest mountain peak in all of the Cyclades! I always love to get in a bit of exercise while on vacation because it makes all those drinks later on feel like a reward (lol).
The hike starts at Aria Spring or "Fontaine d'Aria," about 30 minutes from Naxos Town. It's about five miles round trip, so plan for three to four hours! You'll pass Zas Cave where, according to Greek Mythology, the Greek God Zeus was born and raised.
Wear sturdy shoes and bring plenty of water because you'll have to work for those 360-degree views! A bonus of doing this hike is that it puts you just 10 – 15 minutes away from one of my favorite Greek villages of all time, Halki! I'd recommend knocking out your hike as early as possible before the sun is at its peak.
Halki/Chalki
Once you've made it down the mountainside and are duly famished, make your way to the charming village of Halki/Chalki for lunch! Halki exudes character on every corner – it's filled with locally-owned shops where you can sample the products Naxos prides itself on. Taste their Thyme honey, fresh-pressed olive oil, and homemade jams made with local fruits!
Or, if you're like me and need food ASAP at all times, grab a table at either Mito's Pizzeria (get the black pizza!!) or the centrally-located, traditional Greek Taverna called Giannis!
If after all the food and hiking you're in need of an afternoon pick me up, pop around the corner to Cafe Grecco for a delicious steaming cappuccino (we sat here for at least an hour just taking in the village life and chatting over our coffees).
While you're up in Halki, you can't miss the fifth generation Vallindras Kitron Distillery! Kitron is a citrus fruit native to Naxos, and the local distillery still uses the traditional methods of their ancestors! It's actually impossible to find a bottle of this stuff outside of Naxos, so take advantage of this lemony aperitivo while you can!
If you still have time to catch the sunset, high tail it to Kastraki Beach to watch the sun dip behind Naxos' brother island, Paros. Or, for my history buffs, make your way to the nearby sixth century B.C. marble Temple of Demeter!! Who needs a museum when you have the real thing?!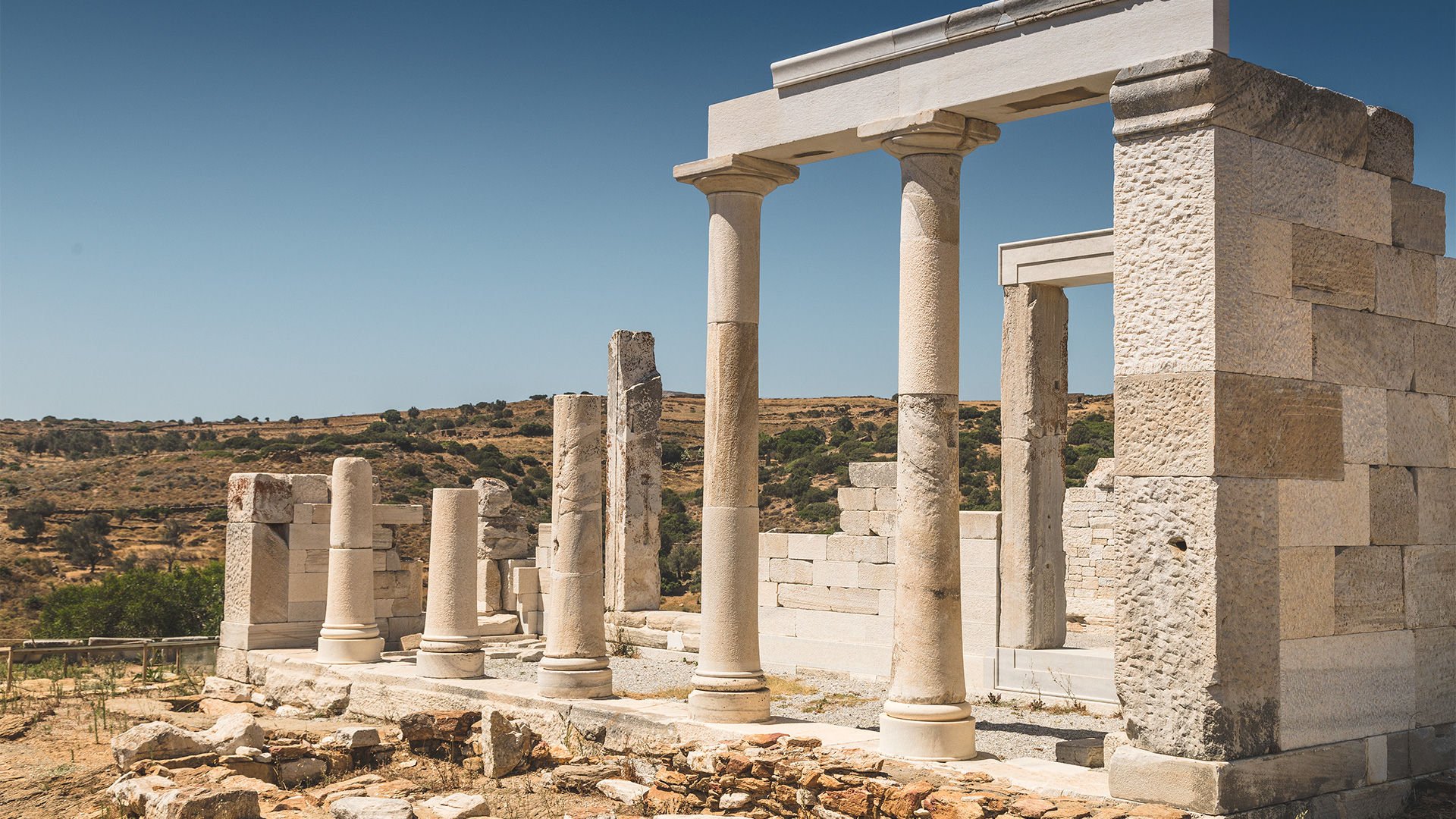 Day 3: Beach Morning, Wander the Streets of Old Town Chora, and Admire the Temple of Apollo (Portara)
Naxos has some of the best beaches in all of the Cyclades, so it would be a shame not to explore as many as possible! If you prefer a day of drinking cocktails while lounging on a trendy daybed, stick to Plaka. However, if you're willing to get off the beaten path, make your way down south to the coves of Aliko/Alyko Beach (also known as "Hawaii Beach")! This more remote beach sits on the edge of a protected forest, so there won't be any shops or cafes, but there is often a food truck during the high season called FBI (food, beverage, ice cream)! The rocky cliffs separate four small, cove-like beaches. Once you decide on your favorite area, get to enjoying the pristine blue waters and maybe a picnic!
If you're looking for a more family-oriented beach, opt for Agios Prokopios Beach just outside of Old Town Chora! This beach is a bit more of a lively scene, surrounded by local taverns and cafes. It is also very convenient if you plan on heading straight to Old Town from the beach.
Old Town Chora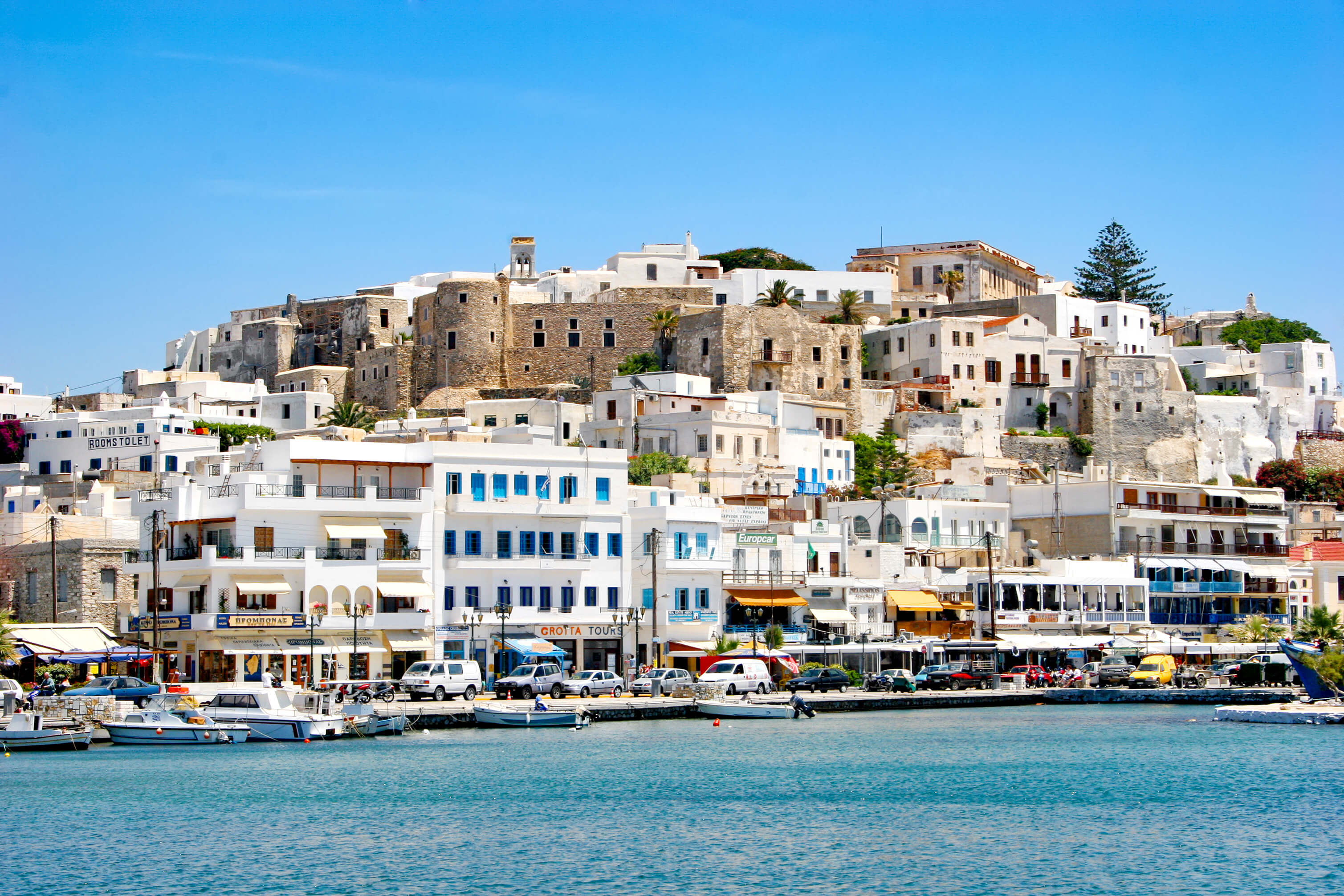 Old Town Chora is where you will be departing from if you are taking a ferry, so it's a great spot to explore on your last day. Old Town Chora is first and foremost a port city. You'll find sailboats lining the borders with outdoor cafes along the promenade.
The historic quarter of Kastro is a winding labyrinth of whitewashed boutique shops and alleyways, and if you wander far enough, you might just find the ancient Venetian Castle! Take your time exploring the nooks and crannies before posting up at an outdoor cafe with yet another plate of seafood pasta and maybe a glass of champagne before your ferry ride to the next island.
Make sure you have time to walk out to the gorgeous Temple of Apollo (also known as Portora), which is a window-like sculpture within walking distance of Old Town. You will get incredible views of the city from this spot! Many locals swim in the calm waters surrounding this area – it's all very quaint.
If you're lucky enough to have a fourth day on Naxos, use it to just take life slow and revisit your favorite beach!