Where to Eat in Santa Teresa, Costa Rica
The trendiest of beach towns on the Nicoya Peninsula, Santa Teresa offers much more than just fantastic surf. The food scene here is probably the best in all of Costa Rica. I like to think of it as a combination between Canggu, Bali and Tulum, Mexico, but a few years behind. You'll find chic, open-air restaurants like Tom Brady's favorite sushi spot, Aussie style coffee shops/cafes, perfectly flakey French pastries and abundant vegan options.These are the best spots to eat in Santa Teresa, so if you're a foodie, make sure you have a solid 3 nights in Santa Teresa to try them all!
Breakfast and Coffee
$$
A Santa Teresa staple. Their pastries taste like what you get at a streetside cafe in Paris… Not only have they perfected the art of French pastry, but they also have the Australian cafe vibe on lock, too. Anything from avocado toast and Acai bowls to paninis and salads can be seen leaving their kitchen, each looking as tasty as the last. Their stuffed Hazelnut Croissant is one of their most famous, and I love the eggs shakshouka.
$
I'm obsessed with this little breakfast spot located in Eat Street (a collection of restaurants in shipping containers). Their chia power bowl is to die for, but they also serve a mean breakfast burrito. They use fresh ingredients and local cage-free eggs. Plus, they have some of the best coffee in Santa Teresa! If you want to go full on vacation mode, treat yourself to a slice of the vegan chocolate cake and thank me later.
$$
This adorable street side breakfast nook fills up around 9am with surfers coming fresh off the waves. Go for their filling pork breakfast bowl if you want to fuel up, or snag a piece of their banana bread and a coffee. Their Acai bowl was a bit runny for my taste but everything else was delicious.
$
Great for a quick but quality coffee and a morning pastry (GF and vegan options).
Lunch
$
Go here if you're in the mood for something really healthy. This surfer-run cafe serves up everything from acai bowls and fresh juices, to beautiful salads and vegetarian plates/sandwiches. It's great for breakfast or lunch and the staff is SUPER friendly!
$
I could have eaten lunch (or dinner) here every single day and been so excited to do so, but I forced myself to give other places a shot. Happy bowls has a wide variety of options, from their vegan coconut curry bowl, to the ahi tuna and rice noodle bowl. Everything I have tried (which is honestly most of the menu at this point) was absolutely incredible! If you're coming for dinner, the Eat Street bar does great craft cocktails for around 5-6 USD!!
$$
Half art studio half mediterranean cafe. This white washed cozy cafe is filled with art from the local artists that use their studio, and often filled with their giant but friendly doggo. The fish tacos are a MUST and the mahi mahi teriyaki bowl is also a good idea.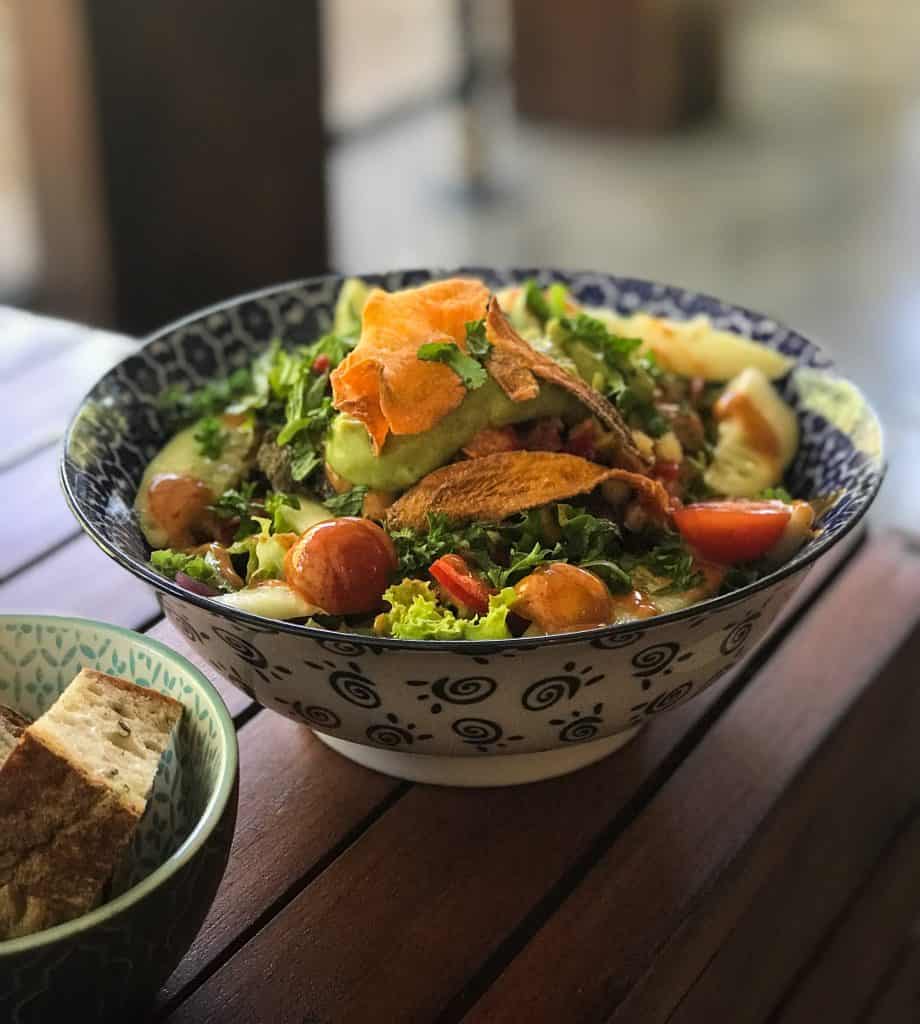 $
Vegan cheesecake, fresh poke bowls, and colorful buddha bowls filled with fresh veggies and spreads. There's no other place that makes eating healthy THIS easy. This spot is great for either breakfast or lunch and is located near Playa Hermosa. Tons of vegan and gluten free options!
Dinner
$$
This is my favorite sushi place in Santa Teresa. While Koji is touted as the most boujee and upscale sushi spot, Katana serves the same quality at a slightly lower price point and has an incredible ambiance. The rolls are perfection and the dumplings are a great starter to share!
$$
Even if you're not vegetarian, you MUST try this vibey plant-based restaurant. I went in skeptical and came out convinced…I didn't miss meat at all the whole meal! It was SO satisfying and oh-so-delicious. Plus, the creative craft cocktails are amazing. This spot is located right next to Koji off the main road, reservations recommended.
$$$
This is the spot to go if you're trying to spot Tom Brady and Gisele and also want to have some of the best sushi of your life. The restaurant is set in a covered garden area up a hill with numerous dangling lights. Sip some warm sake as you take in the ambiance and be sure to order the Koji roll. You'll definitely need a reservation, especially on a weekend or with a larger group!
$
Zula is a casual Israeli restaurant owned by two brothers who settled here after they got out of the army. The falafel is some of the best you'll ever find and the smoothies are hard to beat on a hot day. Go for the traditional shakshuka or mahi mahi platter that comes with hummus, fries and of course Pita bread.
$$
Sometimes you just need Italian food. And this picture speaks for itself, doesn't it? All of their pasta is made in house daily and their white pizzas are to DIE FOR. Plus their price point is so reasonable for what you get.
$$$
The power went out one night during a big rainstorm and most of the restaurants shut their doors, except El Facon. Thanks to a good ol' gas powered grill, we were able to order some burgers and sandwiches to go. We honestly weren't expecting much from this upscale steak house but man were we taken aback! They were some of the best burgers/sandwiches on our whole trip! They're typically known for their Argentinian steak and catch of the day on the grill, but we were obsessed with the fish burger and the slow cooked pork sandwich. Highly recommend.
Check out these other blog posts
The ultimate Costa Rica travel guide