The Ultimate Jetset Paris Travel Guide – Paris, France
If you're traveling to Paris and wondering what to do, where to stay, where to eat and where to sightsee in the city, this guide is your go-to! I just got back from a week exploring everything the beautiful, magical Paris has to offer and am so excited to share with you guys the ultimate Paris travel guide so that you can make the most of your time in the City of Lights!
"Most of us are lucky to see Paris once in a lifetime. Please, make the most of it by doing as little as possible. Walk a little. Get lost a bit. Eat. Catch a breakfast buzz. Have a nap. Try and have sex if you can. Eat again. Lounge around drinking coffee. Maybe read a book. Drink some wine. Eat. Repeat. See? It's easy." – Anthony Bourdain
If you've been to Paris, you know there are no truer words than that Anthony Bourdain quote. The beauty of Paris isn't in its sights (although they are breathtaking), it's in its one-of-a-kind, je ne sais quoi lifestyle. The cafes bustle with steaming lattes and melt-in-your-mouth pastries. Chanel-clad ladies effortlessly stroll down grand boulevards, shopping bags in hand. Lovers picnic together under the Eiffel tower. Paris is cutting-edge fashion, unbeatable art & culture, and a one of a kind city that will make you swoon. It's a city with a history of riots, revolutions, and romance all at once. It's magic.
What are the best areas to explore in Paris?
Paris is HUGE, and is separated into twenty arrondissements, or neighborhoods, each offering something unique and new to explore.
The best (and my favorite) arrondissements to explore in Paris:
1st Arrondissement: the 1st is home to many of the city's main sightseeing spots, including the Louvre, the Royal Palace, and lots of touristy shopping. The 1st is, fittingly, a great first stop for first time visitors coming to Paris.
6th Arrondissement: Arguably the most "livable" area of the city, the 6th arrondissement reminds me of the Marina in San Francisco. Upscale, yet not designer-level shopping, adorable creperies and cafes lining every corner, a gorgeous park (Luxembourg Gardens) and some of the best wine bars in Paris. I could spend every day in the 6th!
8th Arrondissement: The 8th is another one of my favorite neighborhoods of the city, and is home to the Arc de Triomphe and the Champs-Elysees (arguably the most famous shopping district in the world).
11th Arrondissement: If you're looking for gourmet restaurants and hip bars, the 11th is your go-to. It's popular for its nightlife, and the Edith Piaf museum.
The Eiffel Tower
The Eiffel Tower tops many of our travel bucket lists, and it is just as wondrous in person as you'd hope it to be. It's magical. Check out tickets and timings here before you go! And be sure to see it at night (I like seeing it from Trocadero, easily accessible from a taxi or metro, where you get a beautiful (and free) view of the tower at night!)
Musée du Louvre
The Louvre is the most famous (and most beautiful) museum in the world. Home to world-famous works of art like the Mona Lisa, it is a must-do on any trip to Paris. Be sure to buy your tickets online ahead of time to beat the crowds.
Chateau de Versailles
Even if you're not a history buff, the over 300 year old palace of Versailles is a must-see for anyone visiting Paris. Aside from being one of the most beautiful places in all of France, you'll be able to feel the history of France as you trace the footsteps of French kings and queens down the halls of the palace. If you ARE into history, you'll love that this palace played a pivotal role in some of the most defining moments of French history. It's was the last royal residence of the French monarchy until 1789, when revolutionaries stormed its gates and carried away the young King & Queen, Marie Antoinette and Louis XVI, who were imprisoned and eventually put to death by guillotine.
Picnic in front of the Eiffel Tower
Is there anything more Parisian than spending your afternoon picnicking in front of the Eiffel Tower? A decadent picnic of wine, cheese & charcuterie is the absolute best way to taste a bunch of French local delicacies, and soak up a wonderfully lazy afternoon or evening in the city. I recommend heading to Rue Saint-Dominique, right by the Eiffel Tower, and strolling the street, first stopping for bread at the local bakery, then heading across the street to the butcher (MP Saint Dominique) and the artisan cheese shop (Fromagerie Maison Cheese), and of course finishing at one of the many wine shops on the same street. Then, once you have your picnic basket ready to go, you're steps away from the lawn in front of the Eiffel Tower!
Arc de Triomphe
One of the most beautiful monuments in the city is the Arc de Triomphe, which was commissioned by Napoleon as a tribute to the French army. The arc stands at the end of the Avenue des Champs Élysées and in the center of the Place de l'Étoile, formed by the intersection of 12 streets.
Champs-Élysées
Ah, the Champs-Elysees. Arguably THE most famous shopping street in the world, and home to all of your favorite stores, both french and global. On any given day, this avenue is bustling from every inch of its nearly 1.2 MILES of shops.
Notre Dame de Paris
Although it currently looks like a construction site since this year's tragic fire, Notre Dame is still a must-see in Paris. It is one of the most stunning cathedrals in the world, and one of the most magnificent masterpieces of gothic architecture.
Montmarte
This adorable neighborhood tucked away in Paris's northern hills, was once It's here you'll find yourself lost winding cobblestone paths, mesmerized by storybook windows overflowing with flowers, and charmed by almost-too-cute-to-be-real local shops selling cured meats, crepes, and delicious breads and pastries.
Luxembourg Gardens
These beautiful gardens in the 6th are so beautiful to stroll through. I like to start with a walk through the gardens and end at my FAV restaurant for crepes right nearby (Breizh cafe!)
If you're looking for the best of the best hotels in Paris, and the world, the iconic Ritz Paris is it. It is the international leader in luxury, and service, and you'll feel nothing short of French royalty during your stay here.
The Ritz Paris was the very first namesake launch by the most revered main in hospitality history, Cesar Ritz, who was famed as being "The King of Hoteliers and the Hoteliers of Kings," and was opened in partnership with one of the most famous culinary figures ever, Auguste Escoffier, who was credited with coining the phrase, "The customer is never wrong." This property embodies both of them, and has entertained celebrities, political figures, and the city's elite for over a century. It also has hands down one of the best locations in the city, in the 1st arrondissement, right near the Louvre and Royal Palace.
Photo via Ritz Paris
How to get Jetset perks when booking the George V Paris:
For free Jetset perks like a complimentary guaranteed upgrade on arrival, daily full breakfast for two, private airport transfer, and early check-in/late check-out, subject to availability, fill out this contact form and be sure to use the referral code "JETSETCHRISTINA" if you use my referral, my agency partner will reach out with more information and can help book you with all kinds of fun perks (at no extra cost to you, and they don't charge a fee to book!)
The Four Seasons George V Paris embodies timeless elegance and impeccable service. The luxurious Parisian apartments include stunning views and gorgeous terraces. Dine at the three-Michelin-starred restaurant Le Cinq by Christian Le Squer, or the one-Michelin-starred restaurants L'Orangerie or Le George, which serves Mediterranean cuisine. And do not miss out of the brand-new spa, offering an oasis of treatments, haute couture therapies, and state-of-the-art fitness facilities.
How to get Jetset perks when booking the George V Paris:
For free Jetset perks like a complimentary upgrade on arrival, subject to availability, daily continental breakfast for two, $100USD equivalent Food & Beverage credit utilized during stay, and early check-in/late check-out, subject to availability, fill out this contact form and be sure to use the referral code "JETSETCHRISTINA" if you use my referral, my agency partner will reach out with more information and can help book you with all kinds of fun perks (at no extra cost to you, and they don't charge a fee to book!)
Another beautiful luxury hotel with an ideal location is the Park Hyatt Vendome Paris. Located right near the Ritz Paris in the 1st arrondissement, this hotel embodies understated luxury with a contemporary minimalist zen vibe.
The Peninsula Paris is like time-traveling back to a Great Gatsby-esque party in Paris. Its lavish décor and spacious hallways are a 20th century dream, with a modern twist.
Photo via Peninsula Paris
If you're looking for the best hotels in Paris with Eiffel Tower views, this is it. This Dorchester Collection hotel boasts some of the very best views in the city, with wide balconies, and rooms made famous by the Sex and the City movie.
Another hotel in paris with the best view of the Eiffel Tower, Shangri-La is a dreamy pick for a French vacation or honeymoon. Michelin-starred chefs, and a location in the heart of Paris make this hotel hard to beat.
Photo via Shangri La Paris
Where to eat in Paris
Chez Janou – $$ – by far my favorite dinner spot in Paris. It's a casual, yet upscale bistro in the 3rd arrondissement. It has an adorable outdoor patio as well as a bustling indoor restaurant. It is everything, and the prices are much more reasonable than some of the other date night restaurants in Paris. Do me a favor and order the TO-DIE-FOR ravioli as a starter, and the chocolate mousse for dessert (you'll see why when you order it!!!)
Breizh cafe – $$ Located in the 6th arrondissement, Breizh was a huge highlight of my trip. Famous for it's to-die-for crepes, this place is a must do on any trip to Paris!!! Order a savory, and a sweet (or maybe 2). You can't go wrong with this menu and charming outdoor patio in Paris's chicest neighborhood.
Ferdi – $$ Quaint and cozy. Get the burger. And the CHURROS. No matter what.
Grenouilles – $$ – Located in Montmarte, this adorable streetside creperie serves up some of the best crepes and sandwiches in the city. it's the ideal stop when you're exploring the Montmarte neighborhood!
L'aus de Falafel – $ – Located in the Jewish quarter, this place is INCREDIBLE. it's a casual streetside restaurant serving up seriously the best falafel and souvlaki I have ever tasted. It's also open for late night! Go here, and thank me later.
Verjus – $$$ – one of the best meals you can have in Paris, especially if you do the wine pairing!! Verjus's seasonal tasting menu is consistently excellent and includes six incredibly inventive small dishes (snacks), which are followed by homemade bread and butter, then three more substantial dishes, and dessert for 78€. There's also a private dining room that can be booked for groups of 8-12.
Hotel Costes – Like the Beverly Hills Hotel of Paris, this chic hotel and restaurant in the high-fashion district is a hot-spot for celebrities and international elite. It feels more like a club than a hotel when you walk in, and it's clear the ultra-chic hotel tries to stay under the radar – although it's become one of the hottest spots in the city. It's pricey, but worth going to the lounge just for a drink or a chic lunch in their courtyard.
Pink Mamma Paris – arguably the most instagrammable restaurant in Paris, this beautiful rooftop has a menu full of food as beautiful as its ambiance. It's a must-eat restaurant on any trip to Paris!
L'Avenue – $$$$ – Located on Champs Elysees, L'Avenue, this traditional yet uber-trendy French brasserie has become a mainstay for the French elite, and international jet-set. Virtually every celebrity has eaten inside this dark and seductive restaurant layered in heavy red velvet, Murano chandeliers and a swanky lounge space that stays open till very late night.
Girafe Paris – $$$$ With postcard-perfect views of the Eiffel Tower from its patio, Girafe is by far the most beautiful place to have lunch or dinner in Paris. You literally cannot beat this view.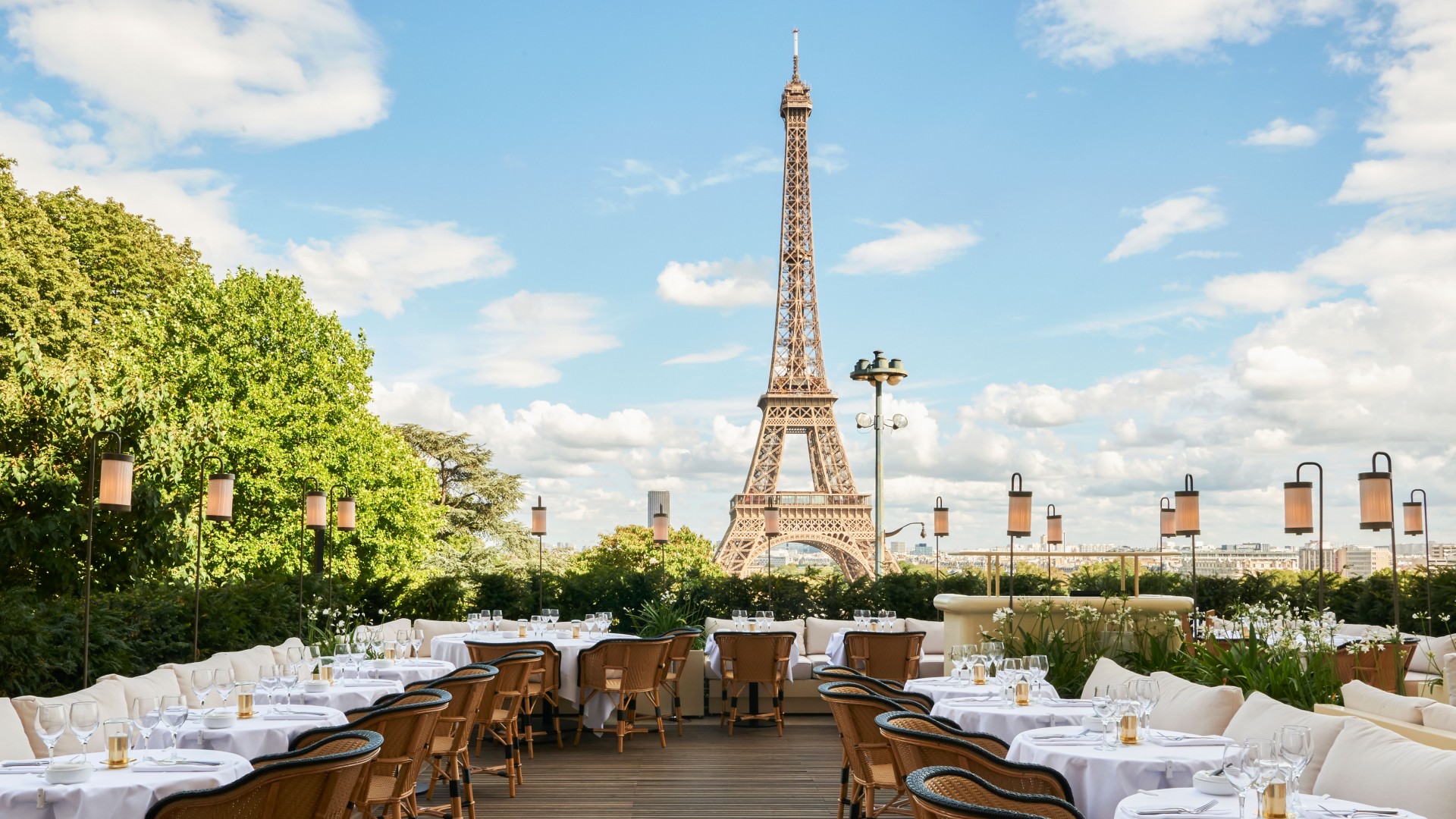 Jules Verne – $$$$ – Located in the center of the Eiffel Tower (yep.. that's a thing), this restaurant is one of my very favorite restaurants in the WORLD. Its gourmet Parisian menu is just as incredible as its views (if that's even possible), and I highly recommend doing a romantic dinner here (or a fun lunch) to have some of the very best food in Paris while floating above the city.
For hip Michelin-starred sushi in a quaint bistro setting, look no further. Great spot for a couples dinner in Paris.
What to do before your trip to Paris
There's no doubt that French is one of the beautiful and most romantic languages in the world, so why not sound like a local on your trip and learn the language! I love Rosetta Stone's on the go app for learning a language from scratch, or just using it to brush up on your elementary French knowledge!
You'll often run into places in Paris that don't speak a lick of English, and lots of menus that only have the French version… so it helps a ton on any trip to France to have some basic travel language knowledge! Check out Rosetta Stone here.
The best wine bars in Paris
Tasting wine and ordering a delicious cheese plate while you're in Paris is a must-do, but wine bars are harder to come by than you might think! Although you can order wine anywhere (and anytime) in Paris, it's a whole different experience tasting wine at a wine bar where they're able to tell you about it, give you different options, and of course, to die for food to pair with your wine. Check out L'Avant Comptoir (near Luxembourg Gardens, in the 6th) for my absolute favorite wine bar in the city.
The best way to get around Paris
As I said before, Paris is a HUGE city, but (luckily) it's mostly very flat, making it ideal for walking! You'll easily average a ton of steps each day here, (does anyone else track their steps like crazy in their iphone health app? I LOVED looking at it after every day walking in Paris!) and it's great it's such a walking city – because it balances out all of the cheese and wine!! (If you haven't read my Tips for Staying Healthy While Traveling, check it out here) When you're going farther or get too tired to walk, the public transportation in Paris is super useful and an inexpensive way to get around the city. I liked using the metro, as well as taxis (which were generally easier and cheaper to use than Uber!)
How to get from the airport to Paris city
If you're flying into CDG there is a very easy bus you can take (18 euros per person) that is direct into the heart of the city. I like using Google Maps to know which line is the fastest to get me to my destination!
Summertime is without a doubt the best time to visit Paris, as it can get quite cold in the winter!! But some swear by Springtime or Fall, although you're going to want to pack a few more sweaters for those trips. July is the hottest month in Paris, with average temperatures in the upper 70s.
Champagne, of COURSE!
and each of these!
Check out these other posts!
The Best Travel Hacks to Save You Money (and Sanity) on Your Next Trip