The Ultimate Three Day Travel Guide to Boracay, Philippines
Boracay, Philippines is an absolute gem. It's been ranked as the most beautiful island in the world many times, and it's not hard to see why. With water bluer and more vibrant than the Caribbean, beaches even whiter than Hawaii, and a culture as hopping as Bali, the Philippines has it all.
There's actually a limit on the number of tourists allowed on the island, making it super clean and a beautiful, resortey, upscale island in the Philippines. And, while it feels upscale, I like to say Boracay is the ideal balance between upscale and cheap, because, after all, it's still the Philippines, meaning that food, drinks and shopping are all ultra-affordable.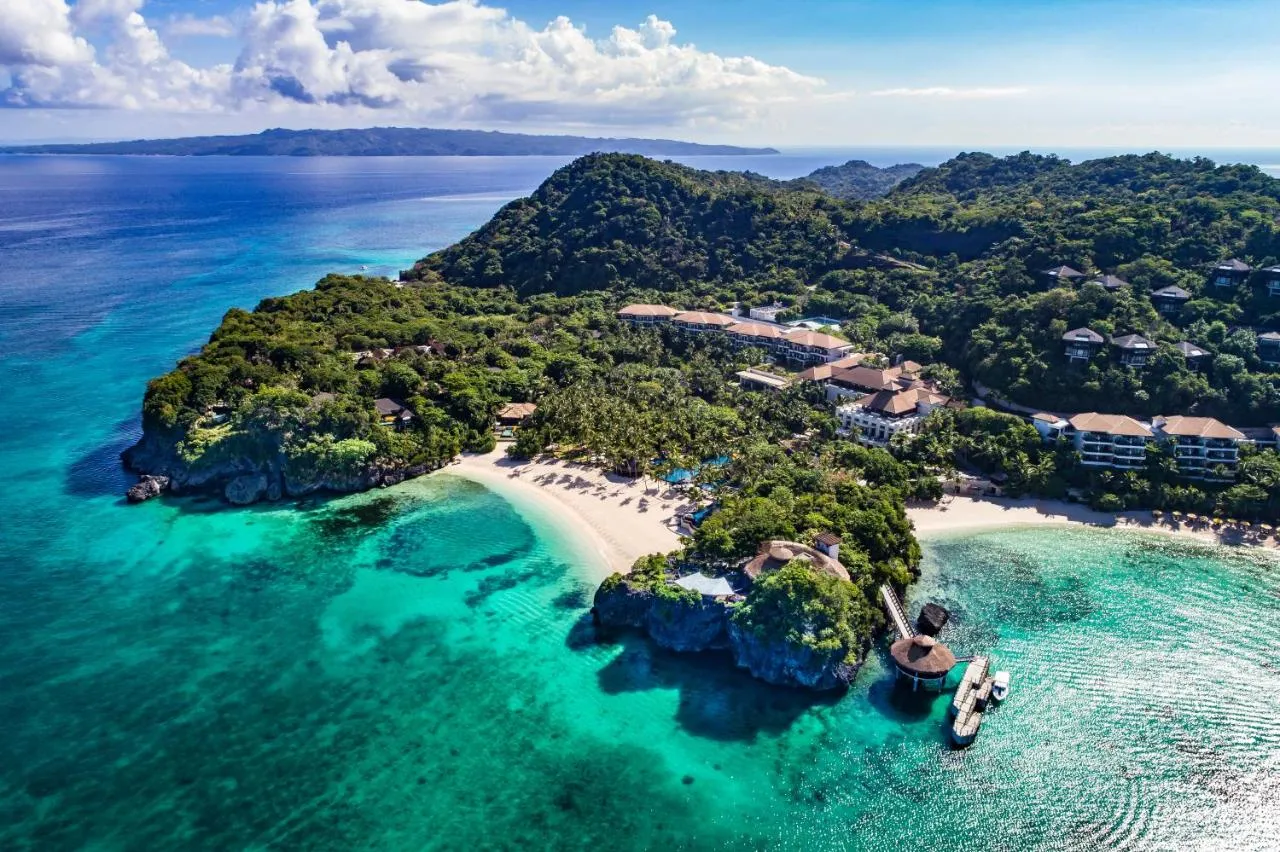 The beautiful Shangri-La Borocay
Where to stay in Boracay
I can't recommend anywhere more than the Shangri-La for where to stay for luxury in Borocay. It is such a dreamy hotel – and perfect for a honeymoon destination. I mean, just look at this sunset set-up. It's gorgeous and I was also SUPER impressed by the food and cocktails.
If you're looking for an oasis right in the heart of the action, Crystal Sands is your spot. Multiple pools, a stunning beachfront location in Station 2, and a delicious breakfast all at an affordable price make this resort a big win in Borocay.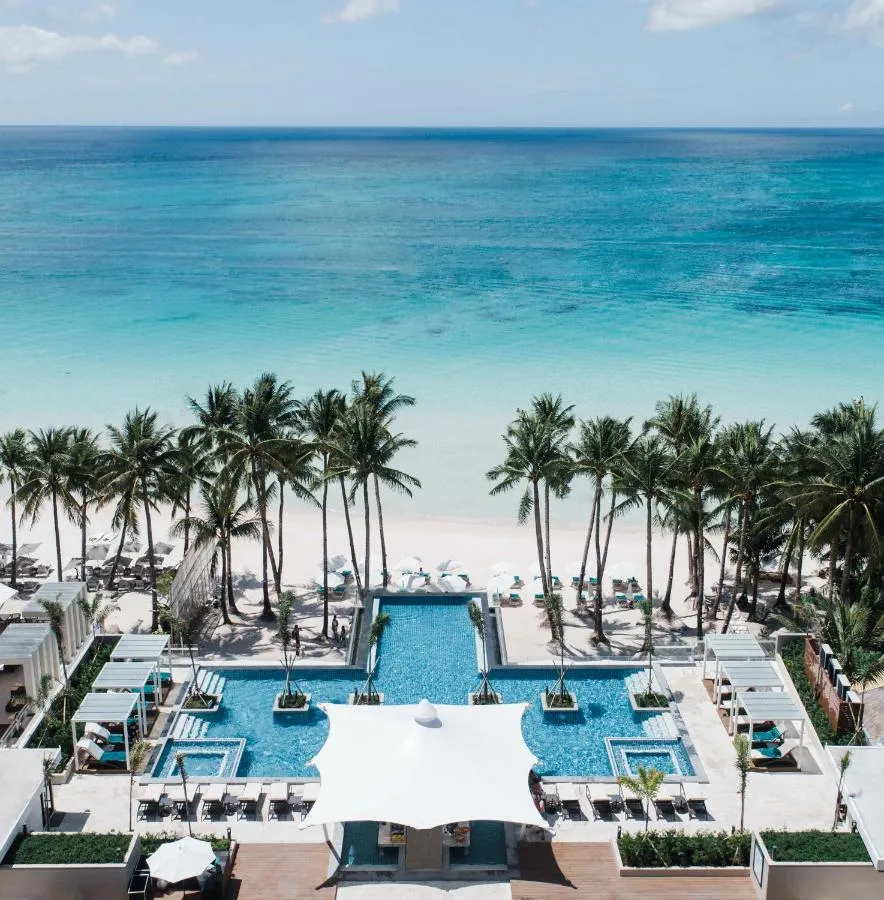 Discovery Shores is a great mix of luxury and understated elegance. Perfect for families, friends, or couples! Their service and location is unbeatable. I think this is easily one of the best places to stay in Boracay.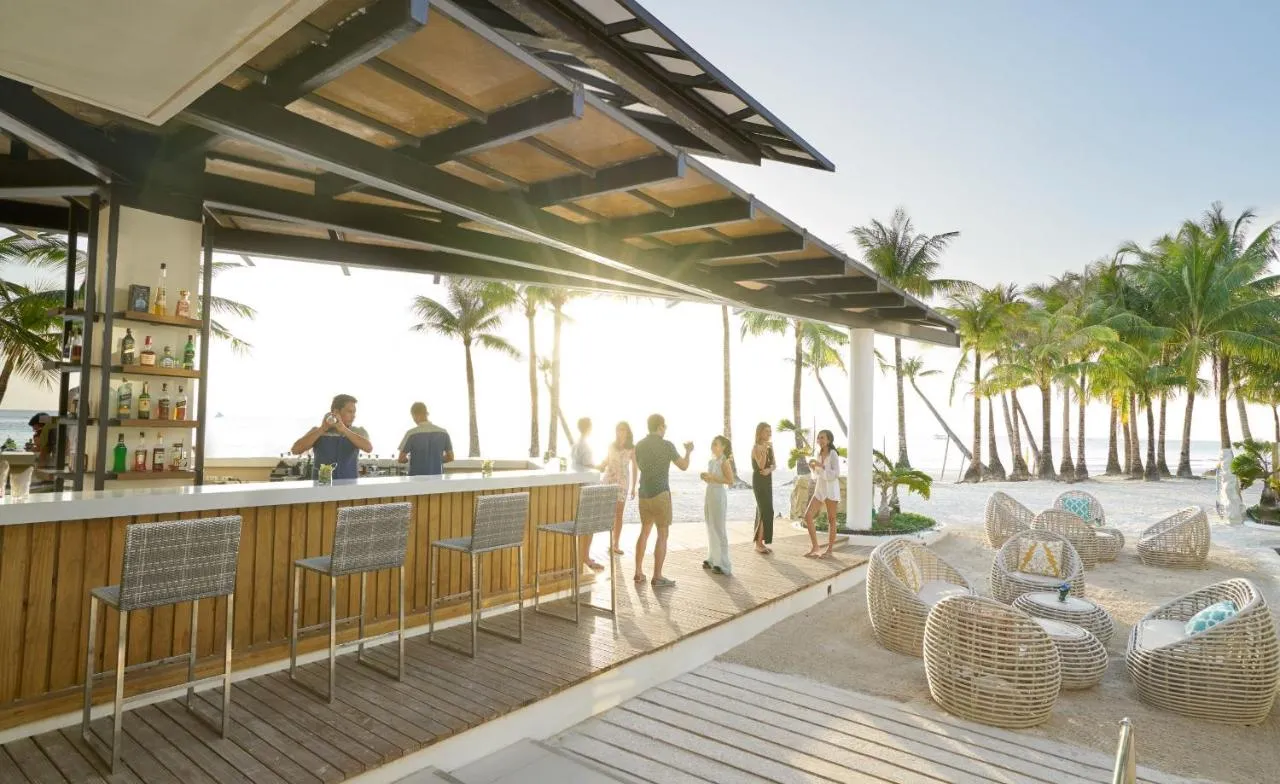 Can't miss beaches in Boracay
Wearing this Revolve two-piece – love the print!
a guide to all of the beaches in Boracay:
White Beach

White Beach is the biggest and most popular beach to go in Boracay – and it's a great spot to start your day. White Beach is spread out into three "stations" or areas. There's no true separation, but each area has its own vibe. Station 1 is the northernmost area and boasts the most seclusion, as well as the most upscale hotels and restaurants. Station 2, or the middle area, is often the most bustling, and station 3, or the Southernmost station, is the most quiet area and home to a lot of backpacker hostels and budget hotels. Each of the three areas have lots of shopping, hotels, restaurants and activities, as well as an adorable boardwalk that's perfect for strolling around. At night, this boardwalk in Station 2 is the heart of Boracay's nightlife, and you can see as all the bars and restaurants get busier and busier as the night goes on.
wearing the Watercolors Rio toucan onepiece
Puka Beach
If you're looking to feel like you've been dropped on a deserted island, with plenty of space to spread out, you'll want to head straight to Puka Beach! Puka Beach is named after all of the beautiful Puka shells you can find in the sand.
You can catch a private boat over for just about $25, or hop on one of the tricycles, and you'll reach this place in about 15-20 minutes from Station 1. At the beach you will find a few bars selling cold drinks and snacks, and where the tricycle's park you will also find several shops selling souvenirs, snacks, and coconut drinks!
wearing the Watercolors Rio toucan onepiece
Where to shop in Boracay
The best shopping in Boracay is right on the boardwalk of White Beach. You'll find no shortage of wonderful souvenir and fashion shops, as well as street vendors (I bought hats, sunglasses, and more that I still LOVE). Just remember to always haggle!

photo from Aloha Boracay
Where to eat in Boracay
Head to Two Seasons in Station 1 and order the four cheese pizza and oyster sisig. A local friend from the Philippines told me that recommendation and it was the best decision I've ever made.
Kay Sarap Restaurant, D'Talipapa Seafood Market
If you want to brave the crowds and venture to D'Talipapa Seafood Market for a seafood feast, do yourself a favor and hit up Kay Sarap for the best seafood in Boracay.
If you're looking for the best filipino food in Boracay, this is it. The Ruf Restobar is located just a few minutes walk from the back and front beach at the rooftop of Ferra Hotel Boracay, and is a total getaway from the busy atmosphere of the beachfront.
Los Indios Bravos, Bulabog Beach
Local craft beer, to-die-for seafood platters, and all around casual comfort food. This place is a winner.
Another local favorite- this fruit shake & snack bar is a must-stop in Boracay.
Dos Mestizos, Station 3
Dos Mestizos is an amazing restaurant of some of the best Spanish food you'll find outside of Spain! Tapas, sangria, gambas, and lots of calamari. Also attached to their restaurant is a deli and bakeshop where they make their own bread and sell some killer sandwiches which are perfect to take along with you on beach picnics.
Enjoy your trip to the Philippines! & Check out my other blog posts!
Cruising the Philippines with Windstar Cruises
The best luggage to buy for travel