The Ultimate Guide to Summer on Lake Tahoe's Nevada Side
Last weekend, I visited one of my favorite places in the world – Lake Tahoe!
Tahoe is the largest Alpine lake in North America, covering more than 72 miles of shoreline straddling the state line of Nevada and California. Famous for its granite glacier cliffsides and stunning crystal-clear cobalt-blue waters, Tahoe has always been one of America's most classic and most popular winter destinations. And, while it's hard not to be seduced by winters in Tahoe & days spent snuggling up to crackling fireplaces and watching snow fall over the picturesque Sierra Nevada…. I'm going to let you guys in on a little locals' secret – the Summers in Lake Tahoe are SO. MUCH. BETTER!!!!!
Diving head first off of a pier into the lake, kayaking along the shoreline, boating, hiking, fishing, golfing, spa days and more. There's no question why everyone (including me) is a huge fan of summers in Lake Tahoe.
So, let's get you there! Here is your Ultimate Summer on Lake Tahoe's Nevada Side Travel Guide to help answer your questions on where to go in Tahoe and what to do when you get there, so you can plan your next trip to this mountain paradise.
Where to Stay on Lake Tahoe's Nevada Side:
Edgewood Tahoe
The Lodge at Edgewood Tahoe was ranked Travel & Leisure's number one rated hotel in the continental US this year, and it is not hard to see why. This spectacular lakeside lodge embodies modern mountain luxury – from its 154 luxury rooms and suites (each boasting its own cozy gas fireplace and private terrace), to its three delicious restaurants and jaw-dropping lobby set amongst the pines, to its beautiful outdoor pool & incredible spa, Edgewood's effortless marriage of luxury, serenity and fun is what sets it apart in Lake Tahoe, and it was the perfect home base for my Summer weekend in South Lake Tahoe.
Edgewood is also the setting of the American Century Golf Tournament every year, a very popular (and fun!) celebrity golf tournament held during the second full week of July. If you stay at the hotel during this tournament weekend, you're likely to see celebrities like Tony Romo, Steph Curry, Aaron Rodgers, Ray Romano, Chris Weber, Miles Teller and more at the pool!
Or rent a house in South Lake:
Jacuzzi, indoor pool, 4+ bedrooms just blocks from the Heavenly Valley ski resort, and minutes from the lake, beach and casinos. This house not only has those things but also a sauna, steam room, home theater with 106′ screen, billiard and poker tables and outdoor BBQ will keep guests entertained for days. This air-conditioned home boasts four bedrooms, five baths, gourmet kitchen and three outdoor decks.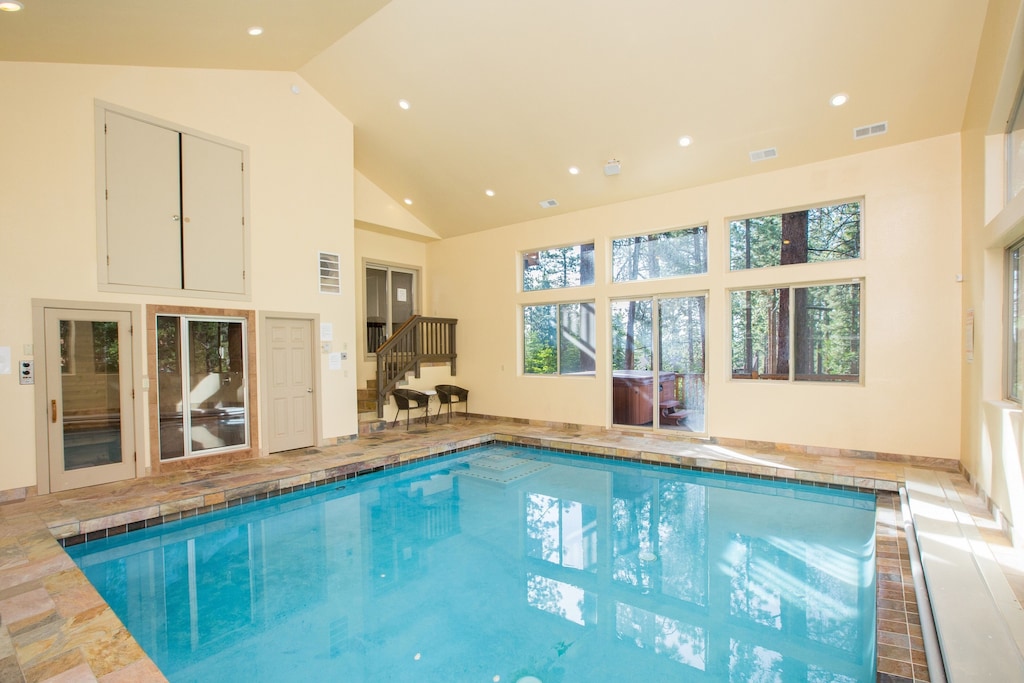 Check rates for your dates here
13 guests · 4 bedrooms · 8 beds · 6.5 baths
A private pier, swim platform, and fire pit fill 200 feet of lakefront make this secluded luxury Tahoe villa an ideal vacation home to rent with a group. Wake up to panoramic lake and mountain views, and you're just steps from a plunge in the water, 10 minutes to Tahoe City, and 15 to multiple ski resorts.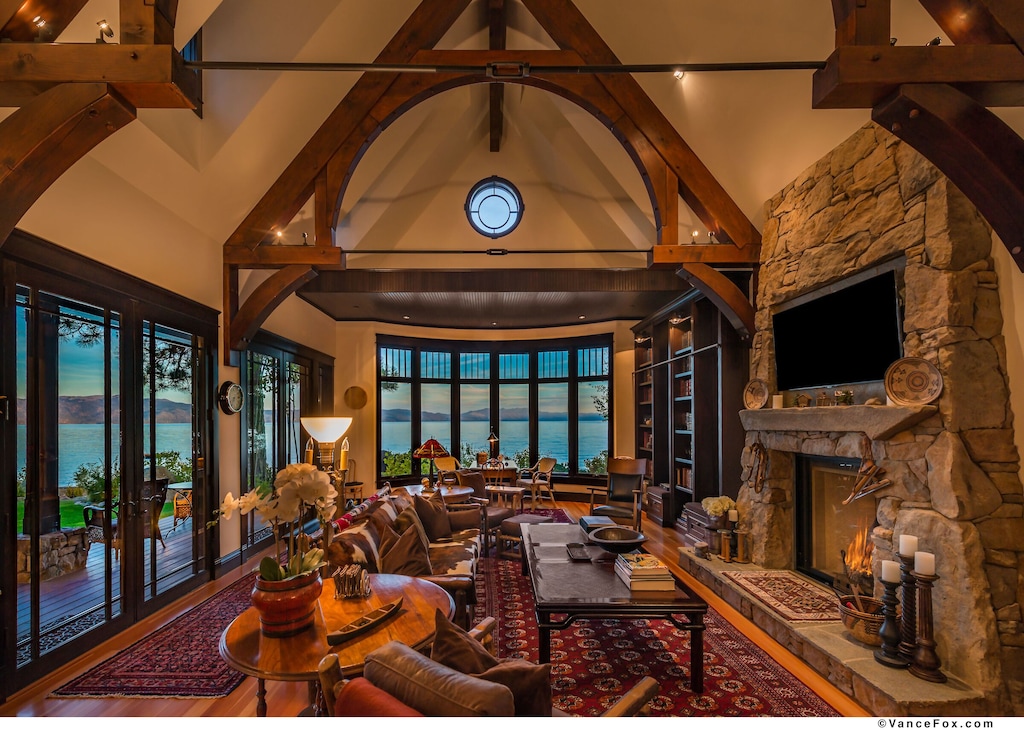 Things to do in South Lake
Looking for a calm beach with crystal-clear, almost turquoise waters? Head to Cave Rock State Park. It's a calm, beautiful little inlet that's perfect for paddle-boarding, jet-skiing or kayaking!
While you're at Cave Rock State Park, make sure to do a glass-bottom clear kayak tour with Clearly Tahoe! Clearly Tahoe offers the only transparent kayak tours in all of the lake – and they are the perfect way to start your day! You can enjoy a short 1.5 hour tour along the shoreline, choose a 2 hour private rental or plan a party for up to 40 guests! The tour guides are amazing and teach you all about Lake Tahoe as you cruise the shoreline!
Hiking
Since Tahoe is so beautiful, you're going to want to get a good look at it from every angle. After you've gotten your bearings from the water, go ahead and get climbing! Check out Cave Rock's short-but-spectacular hike, or hike to the top of Heavenly Ski Resort!
Sheltered by towering trees, this gorgeous emerald-green inlet along the southwest shore of Lake Tahoe is known for its colorful granite cliffs and breathtaking views.
How to get to Emerald Bay: Rent a boat or a jet-ski and cruise over the lake! It's only about a 20-30 minute ride from Edgewood. Or, if you'd prefer to go by car go ahead and follow Highway 89 south from Tahoe City (about 20 miles) or north from South Lake Tahoe (about 10 miles) and you'll come across the Emerald Bay Lookout, the most beautiful part of the park!
Get some rest, relaxation & rejuvenation at Edgewood Tahoe's expansive and serene spa, nestled within the lodge. Go with girlfriends or with your significant other and enjoy the co-ed relaxation room, featuring a beautiful terrace hot tub overlooking the sierras. I had the Sierra Stone facial with Gina and it was without a doubt the best facial I've ever had. Days later, my skin is still glowing like it never has before! And I'm not the only one with rave reviews for this amazing spa…. In the relaxation room following my treatment, I overheard two other women talking about how the massages they had were the best massages they had ever had! I was so impressed by this spa and the incredible long-lasting calm, healing and rejuvenation it inspires in just a couple hours, and would recommend it to anyone visiting the area.
Casinos & Entertainment
While you're in South Lake, you have to hit up the casinos! South Lake Tahoe's casinos & nightlife present the perfect lively counterpart to Lake Tahoe's natural peacefulness. Head to Harrah's Casino and try your luck at the craps table! Also make sure to check out the famous Harvey's Outdoor Arena's concerts schedule! There will often be top performers putting on a show!
Where to eat in South Lake Tahoe
I'm still craving the breakfasts and dinners from the delicious modern American bistro at Edgewood Resort. Even if you're not staying at the resort, definitely go by for a dinner or brunch! Get Chef Charles's cinnamon dough waffles for breakfast. You can thank me later.
Lone Eagle Grille
Lone Eagle's picture-perfect lakeside location and contemporary American cuisine make for the ideal Lake Tahoe meal.
Perched on top of a hill overlooking the lake, Chart House's legendary restaurant makes for the perfect place to watch Lake Tahoe's sunsets while eating some delicious seafood.
This contemporary american eatery is famous for its lake views, rum drinks and its mohogany intereriors inspired by Riva boats. Order a "wet woody" and enjoy the sunset!
For some casual wings or tacos on the golf course, look no further than Edgewood's Brooks Bar & Deck. There's many TVs for big games, and an outdoor patio if you want to soak up the sun.
*This post is sponsored by TravelNevada. As always, all opinions are 100% my own and based on my personal experiences.
Check out these other blog posts:
The best USA travel destinations
The best airbnbs in Joshua Tree
The best houses for a group in South Lake Tahoe