The Ultimate Guide to Lake Tahoe
I may be biased, but goodness I love California. I love our weather, I love our cities, and I love our beaches. But one of the things I love the most about this beautiful golden state is that we prove that it is, indeed, possible to have it all. Beaches? Sure, take your pick. Big cities? Check. National parks? All over the place. Mountains? You betcha. There are so few states that can boast the amazing ability to get from the beach to the mountains in a short few-hour drive, and I think that it's what makes the Golden State so great. Every Christmas break, the cities and the suburbs flee, all taking refuge from our warm winter days in exchange for lots of layers, cozy fireplaces, hot cocoa, and something magical we just can't get at home: SNOW. We spend our days skiing all morning, sledding all afternoon, hibernating by the fireplace all night, and always planning our next snowball fight…. Welcome to Tahoe.
I just got back from a ski weekend up in Tahoe, and I already have another 5 day weekend trip in the works for over New Years, so obviously I can't wait to tell you all about this gorgeous mountain destination. Orbitz has named Tahoe its #1 Ski Destination for three consecutive years, and after one visit, you won't question why. Tahoe is a little elitist, but in the best way. People come from all over the world to ski the miles and miles of terrain that make this destination the snowcapped paradise it is. So, whether you're flying in from across the world, or you're a lucky California local vacationing to your backyard winter oasis, Tahoe has absolutely everything you need for the perfect winter getaway. So, grab your hot cocoa (or your irish coffee) and get comfy… I'm here to make sure you take this winter wonderland by storm!
fast facts
Did you know? Tahoe has the largest concentration of ski resorts in the country with 12 ski resorts in the gorgeous Sierra Nevada mountains! It's also the highest alpine lake in the US and the second highest in the world!
Airports: Reno (closest at 40 min away) or Sacramento (about an hour and half drive)
ski resorts
Once site of the winter olympics, Squaw has some of the most beautiful and most challenging ski slopes in Tahoe. It is the biggest, and one of the best, but beginners beware- a Squaw beginner's green is more like a blue intermediate anywhere else. Squaw is definitely one of my very favorites, and where I skied all last weekend. One of my favorite things is the Olympic Village at the base of the mountain, complete with tons of restaurants, shops, bars & coffee houses– definitely tourist-friendly. Also, up toward the top of one of Squaw's runs, Gold Coast, you can find the world's first and only ski-in-ski-out Starbucks. Super cool (see pic).
Best runs: Red Dog (Black Diamond), Shirley (Blue), and Mountain Run (Blue)
Alpine Meadows
Alpine and Squaw have a great deal where you can ski at both resorts for the price of one lift ticket. Since the resorts are so close, you can use their complimentary shuttle and get a two-for-one ski day. Alpine is another regular favorite, and has a great mix of beginner slopes and high-difficulty terrain. The back of the mountain is also great for the adventurous skiers and boarders. Apres-skiing, definitely check out the Last Chair Bar for food & drinks. www.skialpine.com
Northstar
Northstar is another of my favorite ski resorts. The smart layout of the slopes, complete with tons of runs for all different skill levels, provides you with a prime mountain playground.
Like Squaw, Northstar also has a village at the base, which is great if you feel like relaxing in one of the lodges, bars, or restaurants, or doing a little shopping in between ski days. If you do reach the top at Northstar (8,610 feet), stop for lunch at the Summit Deck and Grill. The chili and cornbread will be just what you need in the middle of your exhilerating ski day! After skiing, kick back at Overlook bar, next to the ice skating rink in the middle of Northstar's base village. Sit on some cushioned chairs by the firepit and take in the beautiful snowy scene. Live bands and $2 happy hour beers don't hurt much either. www.northstarattahoe.com
Boreal
A beginner's dream-come-true! With all the intense expert-oriented resorts out there in Tahoe, Boreal is what many beginnners are looking for. Low lift ticket prices, and easy to access for a day trip. Perfect for kids learning to ski. A smaller resort, but it's the closest from Sacramento, about 45 minutes before you hit the other North Tahoe resorts.
Heavenly
With some of the best views of the deep blue Lake as you ski down the mountain, this is a resort that lives up to its name. Lots of terrain variety. Heavenly is consistently ranked in the top Tahoe ski resorts. Go with the whole family as there's something for everyone, and the scenery is tough to beat!
Kirkwood
In South Tahoe, Kirkwood boasts tons of open bowls, 65 total runs, the highest base elevation in Tahoe, as well as the deepest annual snowfall. A great choice if you're in South Tahoe.
Homewood
Like it's name implies, Homewood is a ski haven for many locals and mountain home-owners. A smaller sized mountain, but with some great skiing. Lower prices and less crowds make this resort a favorite. 64 runs, all with incredible lake views!! Homewood has mostly intermediate runs, so it's best for the casual-yet-daring skiier, though they still have enough beginner and expert runs to keep everyone happy! The longest run, Rainbow Ridge, is a whole 2 miles long! skihomewood.com
Where to stay
If you're interested in staying near Heavenly on the south side of Tahoe, the Lodge at Edgewood Tahoe was ranked Travel & Leisure's number one rated hotel in the continental US this year, and it is not hard to see why. This spectacular lakeside lodge embodies modern mountain luxury – from its 154 luxury rooms and suites (each boasting its own cozy gas fireplace and private terrace), to its three delicious restaurants and jaw-dropping lobby set amongst the pines, to its beautiful outdoor pool & incredible spa, Edgewood's effortless marriage of luxury, serenity and fun is what sets it apart in Lake Tahoe, and it was the perfect home base for my Summer weekend in South Lake Tahoe.
Renting a cabin is often the way to go in Tahoe, as you have all the necessities of a kitchen, space for your family, or a bigger group, and you have a 'home base' to come back to after your busy days spent on the lake or out on the slopes! My favorite house I've rented recently is the Highlander in Dollar Point, for its beautiful location, spacious rooms, and beautiful view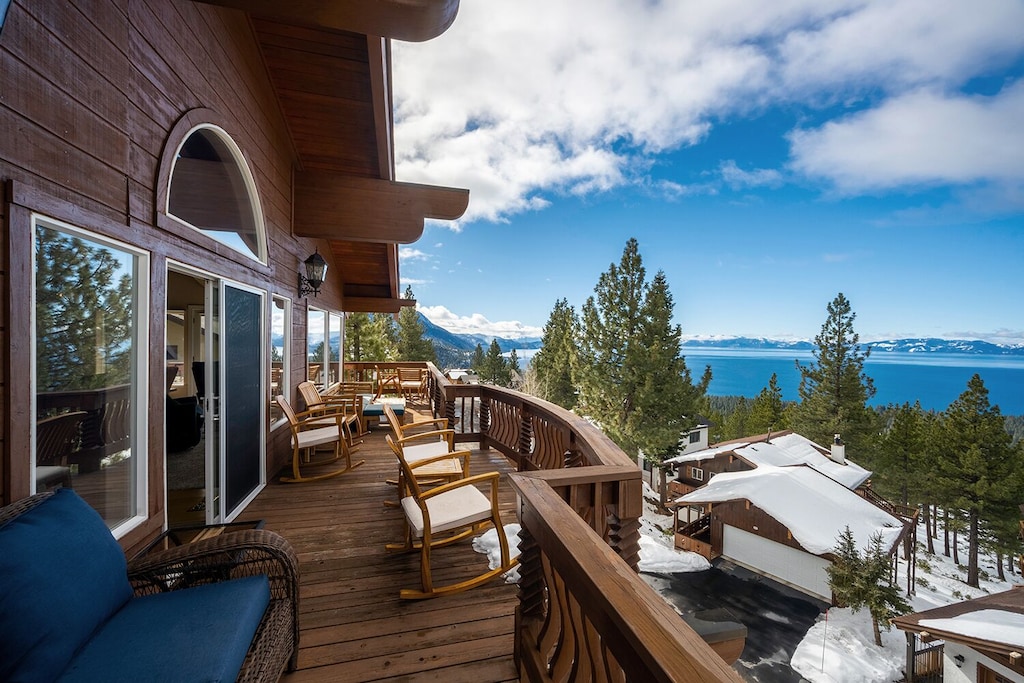 Staying at the Resort at Squaw Creek is such a treat. On my last trip here, after seeing the rave reviews, I knew we were in for a mountain lodge oasis, but it exceeded all of my expectations. Located at the base of the Squaw Valley mountains, Squaw Creek is one of the few hotels that has a private ski lift right outside of your door. With rentals right on the property, they make everything simple and easy for you to get right on the slopes. You can even ski back down to the same spot at the end of your day- pretty amazing! Another one of my favorite parts of this resort is the open-year-round outdoor heated pool and hot tubs (pictured). There is nothing, and I mean nothing, like the feeling of hot tubbing at night surrounded by snow after a full day of skiing. Your soreness and tiredness from taking on the mountain melt into the hot tub. The combination of the brisk cold, the gorgeous snow, the lit up resort, and the heavenly hot tub will be sure to be one of the highlights of your trip. It definitely was mine.
The service at the resort was also top-notch. They even upgraded us upon arrival to a fireplace suite with a gorgeous marble fireplace, our own living room and kitchen, and stunning views of the mountains. We ate our meals at the awesome hotel restaurants and rented equipment and bought our lift tickets steps away from our room. With icey roads, snowy weather, and heavy ski equipment, you really don't need to go anywhere once you get to this resort- it's definitely an experience worth the cost, as the Resort at Squaw Creek makes your trip simply amazing. https://www.squawcreek.com/
This family run hotel in Truckee is your home away-from-home in Tahoe. Modern and eco-friendly, the 40-room Cedar House is a fantastic choice for lodging in Tahoe. It also hosts one of Tahoe's most famous (and expensive) restaurants, Stella, for all you foodies. Rooms start from $170, including full breakfast! 10918 Brockway Rd, Truckee, CA, 96161
This five star resort is for those looking the luxe lodge. It is a stunning property tucked away in the mountains, so if you can afford it, this is definitely your place for an intimate and amazing Tahoe getaway. 13031 Ritz Carlton Highland Court, Truckee, CA www.ritzcarlton.com/LakeTahoe
for the adventurer
Skiing/Snowboarding
I have been a lifelong skiier since about five or six and am personally a huge fan of the sport. I highly recommend trying it and taking a lesson even if you never have before. As far as gear goes, you can choose to bring up your own gear and equipment, or rent from your resort. Most people rent, making it easier to not have to carry all the heavy skis and ski boots everywhere. Make sure you bundle up, pack your ski goggles, gloves, pants, warm socks and a big waterproof ski jacket as it gets chilly up in the mountain peaks and layers are key.
Skiing not your thing? No worries, there is so much to do in Tahoe whether you're sledding, ice skating, snowmobiling, snowshoeing, or just sitting by the fire and taking in the gorgeous mountains…
Sledding
Adventure Mountain.
Who doesn't love sledding? This transformed ski resort is now a very popular area for tubing down the snowcapped hills. With 40 pristine acres, it's the perfect place to take your family for a fun-packed snowday. Along with tons of tube runs, they also have snowshoeing! (hiking with special shoes meant for snow). Echo Summit Sno-Park. Hwy. 50 at Echo Summit, South side of roadway
Kingvale Tubing and Sledding Center.
This place has 5 lift-served tubing lanes for the serious tubers. They even have night tubing and snow mobiling. So much fun. I-80 Kingvale exit, 18 miles west of Truckee, Kingvale
Ice skating.
Squaw Valley Olympic Ice Pavilion.
1960 Squaw Valley Road Olympic Valley High Camp – Squaw Valley USA
Northstar Ice Skating Rink.
Located in the heart of the Village at Northstar, this huge ice skating rink is free for everyone! $10 for ice skate rentals, and open until 9pm. https://www.northstarattahoe.com/info/ski/the-village/skating.asp
Heavenly Village Ice Rink
Heavenly Village Way South Lake Tahoe, CA 96150 https://www.theshopsatheavenly.com/golf-skate.php
Snow mobiling
Kind of like jetskiing in the snow, snowmobiling provides an awesome exhilerating experience. Rent one at one of the aforementioned sledding parks or check out snowmobile tours in Tahoe! https://www.laketahoesnowmobilingtours.com/
for the gamblers
Skiing may just be the most expensive sport ever. Between the cost of all the intense clothing and accessories, the hotels and houses, the lift tickets and rental fees, things add up fast. So, why not lose more money win back your money across the Nevada state line? Reno is hopping with Casinos if you're staying in South Lake Tahoe, but closer to the North Tahoe resorts is the Grand Lodge Casino open 24 hours, with a full array of slots, blackjack, roulette and craps tables, and live entertainment on Friday and Saturday nights.
for breakfast
It's always smart to load up on breakfast before your long day on the slopes! Here are a few of my Tahoe faves
Old Post Office Cafe– Great homestyle breakfast and a local fave. Can get super popular on weekends, though, so be sure to get there early! 5245 N Lake Blvd, Carnelian Bay, CA
Driftwood Cafe – Located steps away from Heavenly Ski Resort, this breakfast place is a skiier's favorite. Loaded omelettes, pancakes, waffles, breakfast burritos, and more.
1001 Heavenly Village Way. South Lake Tahoe, CA
Fire Sign Cafe – This place is so good! Gets really crowded, but worth the wait. Omelettes, scrambles, french toast, benedicts, buttermilk waffles… OK my mouth is watering. 1785 W Lake Blvd Tahoe City, CA https://firesigncafe.com/breakfast-items.php
Poppy's Yogurt & Waffle Shoppe– My favorite grab-and-go breakfast place. Located right in Tahoe City on the main road. Grab yourself a delicious waffle, a breakfast sandwich, an avocado, egg, and cheese breakfast burrito, or one of their amazing smoothies. Bonus! Sometimes in the summer, they'll have MIMOSA flavored sorbet.. made with real champagne, which is incredible. First time I've been I.D.ed getting ice cream! 521 N Lake Blvd, Tahoe City
Winter in Tahoe, as you can tell from the first half of this post, is full of snow-packed adventure. Summer, on the other hand, is full of boating, swimming, beaches, sunshine, and gorgeous hikes. With so many pros to every season at Tahoe, I dare you to try to choose.
favorite spots in Tahoe in the Summer
Sunnyside
There's no way you can leave a trip to Tahoe without visiting this staple. With it's gorgeous lakeside dining, delicious food and even better drinks, Sunnyside is the place to be in the summer. The best part about Sunnyside in the summer is the ability to boat right in to the dock outside the restaurant. Talk about the perfect spot to go in the middle of your day out boating. Take a break from waterskiing, tubing, or just sunning, and kick back with some of their famous fried zucchini sticks and ranch and one of their many delish cocktails and enjoy the gorgeous view.
Gar Woods
Gar Woods is similar to Sunnyside, with it's gorgeous lakeside property and outdoor pier dining. We all love it for the pitchers of their famous "Wet Woodys"- a signature Gar Woods drink that you'll just have to try to see what all the hype is about! There's even a whole page on their site dedicated to the "World Famous Wet Woody".
https://www.garwoods.com/
Chamber's Landing
I don't know about you all, but on a hot summer day, give me a lake, a dock, and an ice cold blended drink and life couldn't get any more perfect. If you agree, Chamber's is your place. Anyone who has been to Tahoe in the summer knows about Chamber's Landing. It's a stretch of beach complete with a bar on the pier that is always crowded with tons and tons of people, all having a great time with chambers' famous rum punches in hand. If you happen to be in Tahoe for the 4th of July, you're definitely going to want to stop by! It is always so much fun.
summer activities for everyone
Rafting down Truckee River
Less of a "white water river raft" and more of a "river float", but still a really fun day activity, especially if you have a big group! The cruise down the river takes about 2-3 hours and you're encouraged to bring along a cooler in your raft. Lots of fun in the summer.
truckeeriverrafting.com
Boating Boats and tahoe are synonymous in the summer. With your choice of waterskiing, tubing, wakeboarding, or just speeding around the lake, boat days are the best days. If you don't know someone with their own boat, there are plenty places to rent one around the lake!
Hiking There are tons of hikes all around Tahoe. Tahoe Backcountry has some great ones. I love Emerald Bay, so if you can get there via hiking, biking, or by boat, it is a great trip-Gorgeous!
Whatever the season, Tahoe is one of my favorite places, and I hope it will be yours too. See you in the mountains!