The Ultimate Jetset Saint Tropez Travel Guide
Saint Tropez – where the sun shines a little brighter and the seas sparkle a little bluer.
There is just something about this place.
Maybe it's the breathtaking bouganvillea-laced coastal town. Maybe it's the immaculately stylish jet-set crowd. Maybe it's the enormous mega-yachts everywhere you look. Maybe it's that everything about Saint Tropez seems to epitomize indulgence in the best way.
Or maybe it's just that the ever-flowing chilled rosé is going to your head…
Nevertheless, this place is it. This is la reve. The dream.
Saint Tropez has long been synonymous with the international elite. Matisse once called it France's "little nook of paradise". Brigitte Bardot bought a house here and made it an international hot spot overnight. Celebrities from Picasso to Armani to Jay-Z to Leo Dicaprio to Bono (who we saw at Nikki Beach), have consistently flocked here for the Summer.
And yet, despite its fame, the iconic seaside town, which used to be a fishing village, is full of uniquely French charm. Its tiny ornate cobblestoned streets, its peach-colored buildings, its hidden plazas and beautiful vineyards. In the off-season, the village has only about 5,600 residents; but, in the summer, it attracts more than 80,000 visitors.
Beach Clubs
Pampelonne Beach, a beautiful crescent of white sand surrounded by picturesque colorful umbrellas, is located about five miles from downtown St. Tropez, and is home to the center of the daytime action. More than 30 beach clubs line the sand with restaurants, bars, and pillowy sun beds– each club catering to a different crowd.
Nikki Beach
At Nikki Beach, sun beds full of the very tan, very rich and very famous start to fill up throughout the day. As the music (a DJ + a live saxophonist!) gets louder and the magnum-sized rosé bottles get emptier, the club transforms quickly into a full-on beach party by sunset, with throngs of absurdly good-looking 20-somethings looking for a good time. This was our favorite club by far. It was so, so much fun.
Le Club 55
Saint Tropez's first and most famous beach club is still one of the hot spots on Pampelonne Beach. It is land of the 400-euro lunches and endless pourings of Cristal champagne. Reservations are very hard to come by without supreme European connections or a mega yacht with a captain who knows how to navigate the French social ladder. The parking lot is chock-full of Bentleys, Bugattis and Ferraris (tops down, of course) while the sea just outside is decorated with billionaire's yachts. Brigitte Bardot called it her favorite club, and it's been an institution ever since.

La Cabane Bambou
Down at the more casual southern end of the beach, La Cabane is a great choice for a more chill vibe. The ambience is retro, and the huts are fun- where massages & mojitos can be ordered right on the beach.
Contact: 00 33 494 79 84 13; cabanebambouplage.com
This luxurious boutique hotel features spacious, secluded rooms, a delicious onsite restaurant, and even a complimentary shuttle around Saint Tropez. It's an ideal home for your Saint Tropez vacation.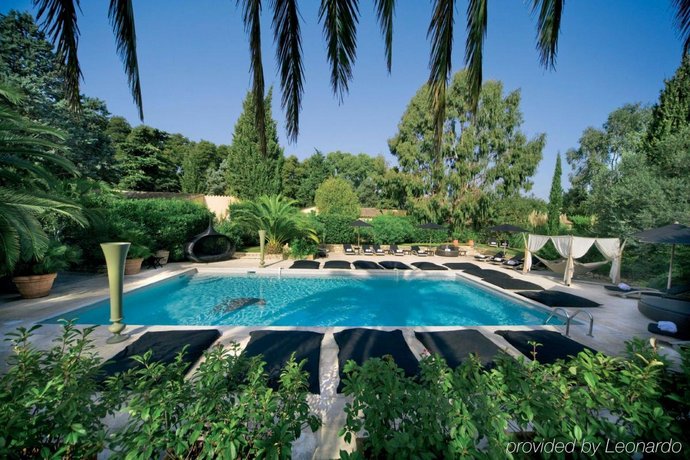 You can work with my friends at Saint Tropez Luxury to plan the vacation of your dreams. They have tons of gorgeous villas (like this one – Pampellone Beach Retreat) and they also have a concierge service to help you plan things like transportation, activities, yachts, staff, and even helicopter rides to other areas in the South of France.
Infinity Villa, St. Tropez, perfect for group trips

Located just one mile off of the port, this sleek contemporary boutique hotel is the place to stay in St. Tropez. Guests of the KUBE can relax by one of the three stylish hotel pools, the main one featuring a to-die-for view of the infinity pool leading into the sea. The vibe is quiet, contemporary, and exclusive, making it a one-of-a-kind experience, and the ideal place for a romantic getaway or luxury retreat. The spacious guest rooms, featuring stunning views of the hillsides, the gardens, and the sea, offer excellent contemporary design and unmatched comfort. I cannot recommend this hotel highly enough for its laid-back luxurious vibe and its five star amenities and service.
Where to Eat in St. Tropez
If you go to one restaurant in St. Tropez, make it Gigi!! Such a chic spot for lunch – you're going to love it!
L'Opera
Every local we asked told us not to miss the amazing atmosphere and food of L'Opera for dinner, and we are so glad we didn't. This fashionable restaurant/lounge is located right on the port and has been an institution in the village for over a decade. The posh bar scene and cirque-du-soleil-esque entertainment is only outdone by the delicious food, which is some of the best we had in all of Europe. Do not leave without ordering the truffle pizza appetizer… I'm still dreaming about it.
L'aroma
This small family-owned pizzeria is just what the doctor ordered if you're looking for a more casual (eat in or take out) pizza restaurant in Saint Tropez. With pizzas ranging from 8-12 euros, L'aroma is amazing and so delicious. 2 Rue Joseph Quaranta 83990 St Tropez
Restaurant Le G'
Run by full-of-life owners Alain and Nuno, this small restaurant is a great stop. There are only a few tables and it's popular, so expect a line – but the fresh-from-the-market wonders worked up in the little open kitchen make it worth the wait.
67 rue du Portail Neuf
What to do
Rent a private yacht for the day
Saint Tropez Luxury will help you plan the luxurious vacation of your dreams. They have a concierge service to help you do things like rent a yacht, ride in a helicopter down the Côte d'Azur, drive in some super cars, or even learn French!
Explore the town
The very walkable town of Saint Tropez is a gorgeous spot to spend an afternoon taking in the plazas and boutiques of the town. Have some delicious coffee at any of the local cafes, have a crepe at the creperie, and shop til' you drop.
Go french wine tasting
There are many beautiful wineries in the hillsides of Saint Tropez open for (free) tasting during the day. The best are Domaine de la Rouillere , Domaine Bertard Belieu, and Domaine la Tourraque.
Whatever you decide to do in Saint Tropez, I guarantee this beautiful place will stick with you for a very long time. Enjoy your trip & think of me as you sip on that first delicious glass of rosé!
Au revoir!
Xoxo
Check out these other blog posts:
The 10 Best Trips to Take in Your Twenties
The best travel destinations in the USA