The Best Desert Escapes in The USA
There is something therapeutic about traveling to the desert. Maybe it's the heat (because I don't know about you guys but I'm unhappy at anything under 80 degrees), or maybe it's the simple elegance or the landscape and warm colors, or maybe it's just the peace and quiet, or maybe it's even the "energy vortexes" you hear about. We won't ask too many questions because whatever it is, it's working.
The U.S. is home to some of the most scenic desert destinations in the world, from the extraordinary sandstone formations in Arches National Park, the Dr. Suess-like trees in Joshua Tree and the vastness of the Grand Canyon. Pack your hiking shoes, favorite book and a bikini for the hot tub stargazing, and get ready to zen out. With big sky, rock playgrounds and not a cell tower in sight, these desert destinations are all kinds of wanderlust-worthy.
You'd be hard-pressed to find a more eclectic destination than Joshua Tree. With it's lunar-landscapes, numerous outdoor activities, trendy Airbnb's and growing food scene, you'll soon see why people are flocking to this oasis in the desert. Get caffeinated for your long days of adventure at Joshua Tree Coffee Company, and from there, hit the hiking or biking trails in Joshua Tree National Park, or do the Scenic Drive via the Pinto Basin. After a long day of exploring, you'll want to pour a tall glass of wine and hop in the hot tub for some of the best stargazing in the country.
While putting Joshua Tree on your bucket list is a no brainer, you'll have some tough decisions when it comes to where to stay… the villas & unique accomodations to rent here are on a whole new level. So here are my faves!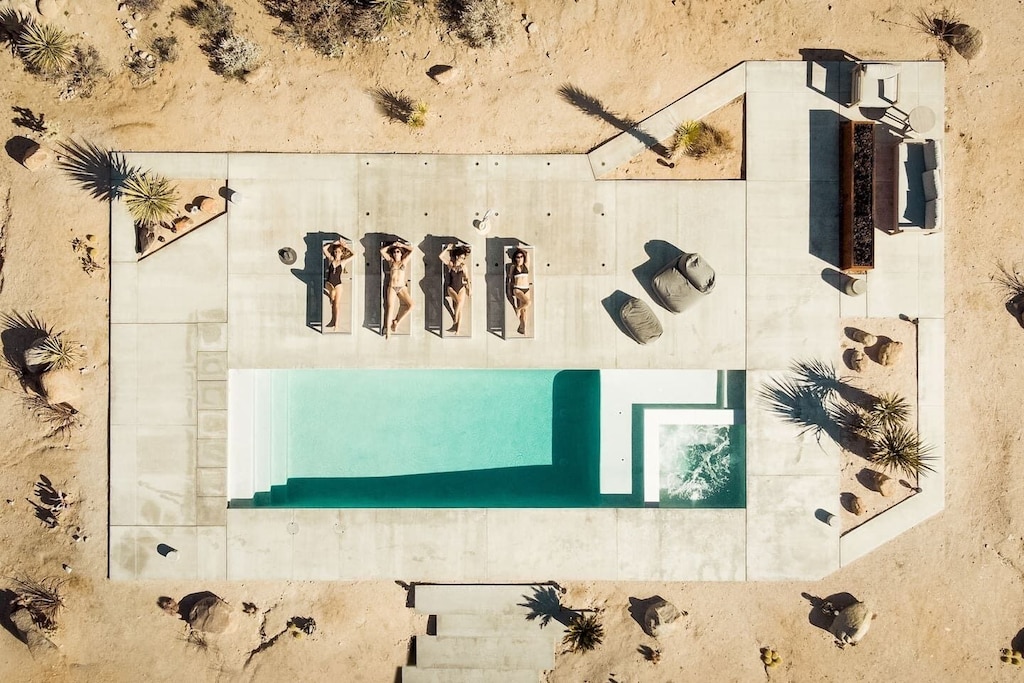 Price: $874/night
Price: $2,127/night
Just a 2-hour drive from Los Angeles, Palm Springs offers a laid back retro vibe, old Hollywood charm and dramatic desert scenery. It's a desert destination where you can sip cocktails by the pool, go vintage shopping, or opt to hit one of the many award-winning golf courses. This destination is a bachelorette party dream-come-true or a great destination for just a nice weekend with the girls. The best time to visit is the winter or spring to avoid the summer heat, but with 365 days of sunshine there's really never a bad time to go.
For luxury, head to the Parker Palm Springs. If you're looking for a pool party, head the El Saguaro for live music and tacos! For more trip inspiration check out my Ultimate Guide to Palm Springs!
Yucca Valley, California
Once just a retreat for film stars, Yucca Valley is now a chic home base for exploring Joshua Tree National Park. Wander through the unusual Desert Christ Park while you're there and snag the best local bites at Pappy and Harriet's and Cafe Frontier! For a truly unique stay, check out this Rock Ranch Modern house that was featured in Dwell Magazine.
Sedona, Arizona
Vortex seeker or not, Sedona has got it going on. Firstly, it's only a 2-hour drive from Phoenix. Secondly, it has a thriving local art and food scene that will blow you away. And thirdly, the outdoor access is unmatched! Start your day with yoga and a fresh juice from the Local Juicery, followed by a day of exploring the trails! Hike to the iconic Devil's Bridge or Soldier Pass, and then reward yourself with a trip to Chocola Tree for vegan chocolate treats or Coffee Pot for all day waffles.
Sedona is also known for its luxury wellness retreats like Enchantment, which is tucked away in Boynton Canyon or L'Auberge where you can get both classic spa treatments or energetic healing therapies.
If you prefer your privacy go for one of these beautiful Airbnb's & VRBO's:
Price: $945/night
Moab, Utah
If you've always wanted to see the iconic sandstone formations in Arches National Park, Moab is your spot for it! It is located right between Arches and Canyonlands National Parks so you might as well explore both while you're there. But there is so much more to Moab than the parks, I'm talking wineries tucked among sandstone canyons, locally sourced eats, a craft brewery, and suites along the Colorado River! It's a great spot to spend a romantic weekend getaway or stay-over on a road trip! Check out Under Canvas Moab, or, for a bit of luxury after exploring the outdoors, stay at a custom build cabin at Sorrel River Ranch Resort and Spa.
The Grand Canyon, Arizona
If the Grand Canyon isn't already on your bucket list, you're doing it wrong. It is home to some of the most dramatic landscapes in the country and well as great hiking, biking and rafting. Not to mention the bright blue waterfalls like Havasu Falls. The South Rim is more popular than the North Rim, only because the South rim is far more accessible (only 2.5 hours from Phoenix), but the North Rim will therefore be less crowded. Hit the trails around Grand Canyon Village for epic views, or for my more adventurous hikers do the overnight hike through Havasupai (reservations well in advance). If you need a day off from hiking, explore the historic district! When it comes to where to stay, options are somewhat limited, there are few lodges and even fewer airbnbs. For a luxury "glamping" experience I would recommend Under Canvas, you'll feel like you're in a boutique hotel but with vast nature right outside your door. For a classic lodge in Grand Canyon Village, go with The Grand Hotel just outside the park.
Santa Fe, New Mexico
The Pueblo architecture, Spanish churches, small boutiques and winding streets of Santa Fe might make you feel like you've stepped into another country, or maybe even another time. This is one of the oldest cities in the U.S. and blends Native American, Spanish and Cowboy culture seamlessly. Because of its high altitude, the climate is cool and generally good year round! Explore the charming old town area with its boutiques, art galleries and healthy cafes or wind down in a wellness resort like the Ojo Caliente Mineral Springs Resort and Spa. You can even go skiing here in the winter!
For your own private pueblo opt for one of these airbnb's:
Price: $257/night