The Best Neighborhoods to Live in in Charleston
Moving to Charleston and wondering what the best areas to live are? I've got you! As you guys know, my husband Kenny and I moved to Charleston recently and I have been so excited to hear that so many of you are considering a move to the South too!! There are so many amazing things about living in Charleston – for us, it was the lifestyle and the people. The lifestyle is amazing here, great weather, beaches, an active lifestyle. And, even more than that, it's about the people. One of the first things I noticed about Charleston was just how HAPPY everyone is here. It's like they know how good they have it. Charleston is the place to BE right now. And we couldn't be happier here.
Anyway, you're looking in the right place 🙂 BUT, looking for a house or apartment or condo in a new city, especially if you live far away, can be overwhelming! We came out on a week-long 'buying trip' with our realtor and wanted to see everything!!!!!! We weren't sure which were the best neighborhoods in Charleston, and where would be right for us, so we saw literally everywhere and talked to all of our friends in the area about the pros and cons of all of the different neighborhoods in and surrounding Charleston. And, boy, could I have used this quick guide back then – which is why I wanted to write it! I hope this little neighborhood breakdown of Charleston helps you if you find yourself in a similar situation, and that all of you find your perfect homes in Charleston!
All of the best areas of Charleston and the surrounding neighborhoods that you should look if you're planning on moving or buying a house in Charleston, South Carolina
Downtown Charleston
South of Broad
Easily considered the most prestigious area of historic downtown Charleston is South of Broad street. Here, you'll find charming houses built in the 1800's, but beautifully restored. Not only does living South of Broad offer beautiful homes and surroundings, but you're walkable to all of the best of Charleston just steps from your front door! Where you'll bump elbows with Charleston's most elite socialites. The houses themselves in this neighborhood are historic pieces of art filled with history and Charleston culture. The wraparound porches offer breath-taking views of the Holy City skyline, the Charleston harbor and even Fort Sumter.
The Battery
The Battery, located South of Broad, is that colorful, picturesque street you've seen pictured a thousand times on Instagram in Charleston. While I wouldn't necessarily live here personally (you'd have tourists at your door constantly!), it is a dreamy street. And would be an awesome place to stay for a vacation in Charleston.
Hampton Park
Hampton Park is a really popular area to buy houses right now because it's an actively (and quickly!) transitioning neighborhood. Hampton Park is the largest park in the city, a 61-acre green space bordered by The Citadel to the west, Hampton Park Terrace to the south, North Central to the east, and Wagener Terrace to the north. It's a great investment area because it's growing (and appreciating) like crazy. We have great friends who live in this neighborhood and really love it. It's located minutes from downtown, but is a residential area, so a great mix for someone looking for an urban-meets-residential neighborhood in Charleston. Some of my favorite restaurants in Charleston are in this neighborhood, and there are always new ones popping up, too!
Harleston Village
Harleston Village is located near Colonial Lake and Moultrie Park, so you'll find a lot of people enjoying the outdoors, from college students to families to retirees and everyone inbetween. Just a short walk to King Street, or to the water, Harleston Village is a pedestrian-friendly neighborhood of downtown Charleston. Homes here range from $600,000 to over $3,000,000, and you can find condos at the Baker House, Berkeley Court and in various historic mansions turned into multiple condos.
Cannonborough – Elliotborough
This cozy neighborhood is home to a ton of small Charleston businesses, from flower shops, bakeries, boutiques, and local eateries. Hampton Park and Brittlebank Park are just a few blocks away, and it's close to Ashley River for boat landings and seaside activities.
This neighborhood is pretty quiet, but you're also close to Upper King's nightlife district should you want to hit the town!
There are lots more downtown neighborhoods I'm not quite as familiar with – if you're interested in downtown or potentially downtown, I'd recommend your realtor show you multiple areas, so you can get a feel for what's right for you!
Just outside of downtown Charleston
Mount Pleasant
Mount Pleasant is widely recognized as the suburb that you aspire to live in once you have a family in Charleston, due to its great school system and idyllic neighborhoods located just 10 minutes from downtown. But, just because it's popular with families doesn't mean it's not full of plenty of couples without kids, too!!
15 minutes from the beaches (Isle of Palms and Sullivan's Island), 10 minutes from downtown, and with tons of walkable, super-charming neighborhoods to choose from. There are so many neighborhoods that I'd recommend a realtor take you around to quite a few so you can get a feel for what's right for you! Two of the most sought-after neighborhoods are Old Village and I'on. Shem Creek is also a great option with a ton happening around there – from shops, fun restaurants, the water, and schools all within walking distance.
Daniel Island
Daniel Island is another suburban favorite area of Charleston. Once an isolated island farm and game preserve, Daniel Island was beautifully planned as an exclusive suburb annexed to Charleston. The island, which is surrounded by the East Cooper River, the Wando River, and Ralston Creek, is ideally situated right near Mt. Pleasant, just 14 miles from historic downtown Charleston. Real estate on Daniel Island is comprised of beautiful waterfront estates, golf course villas, single family homes, townhomes, condos, and apartments.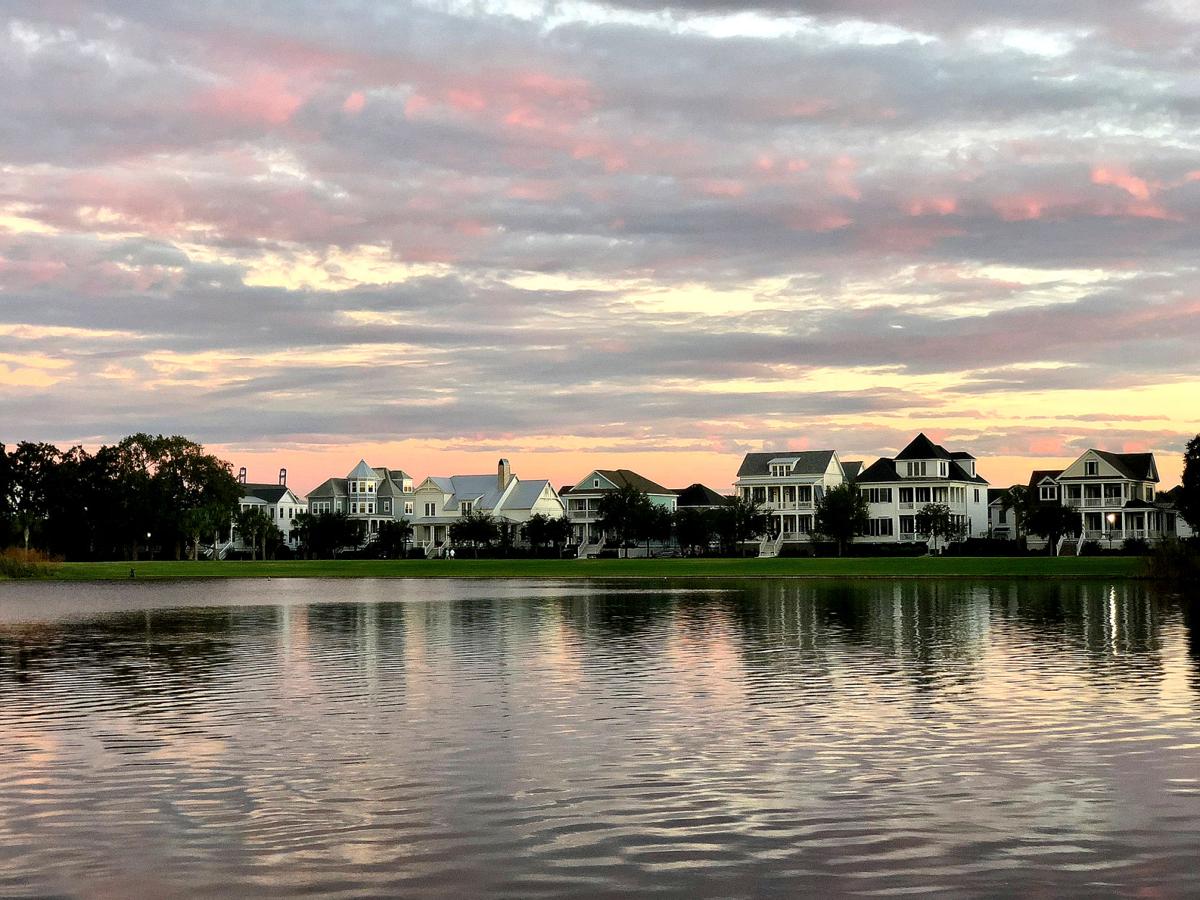 Photo via Post & Courier
James Island
James Island is a rural, residential island about 15 minutes from downtown, and is a popular place to buy a house in Charleston. The prices are reasonable compared to other areas of Charleston, and there are lots of new developments and newer homes available at a fraction of the price of downtown, Daniel Island or Mount Pleasant. Most of the people choose James Island because they want to relax in peaceful rural surroundings tucked away from the hustle and bustle of downtown, while having easy access to an active lifestyle. There are local craft breweries such as Low Tide Brewing Company and restaurants like Tattooed Moose, The Fat Hen and Wild Olive. Three, four and five bedroom single-family properties on James Island range from about $400,000 to $1.2 million.
West Ashley
An up-and-coming urban area just outside of downtown Charleston is West Ashley. Marked by scenic rivers and famed plantations, West Ashley is one of Charleston, S.C.'s oldest suburban residential areas. West Ashley is a large, mainly residential area known for its laid-back, trendy eateries, and lively bars around the busy intersection of Magnolia Road and Savannah Highway in the Avondale neighborhood.
John's Island
If you're looking for a gated community neighborhood around Charleston, many people like John's Island. Located just 12 miles south of the Charleston peninsula on the Intracoastal waterway, deep water, gated communities like Grimball Gates feature 90+ acres of nature preserve with miles of walking trails, private pavilion for entertaining, and a community dock for fishing, crabbing, kayaking, boating and private boat storage. The neighborhood boasts stately lowcountry homes with pond, marsh and river views!
The beaches
Isle of Palms
Isle of Palms is a vacation town, perfected. But that doesn't mean some people don't choose to live (and vacation) there year-round. The Isle of Palms area offers a diverse range of housing options at varying price points. You have the opportunity to choose from a single-family home, townhouse, condo, or interval ownership. Isle of Palms has some of the best beachfront luxury homes in the South. This is a great spot if you're looking for a vacation rental, especially.
Photo via the Palms
Sullivan's Island
Where all the celebrities live in Charleston. From Darius Rucker to Bill Murray, if you're a celebrity living in Charleston, you most likely own on the uber-exclusive Sullivan's Island.
Sullivan's Island offers timeless charm and coastal beauty that rank it among the South's most desirable addresses. Noted for stunning beachfront homes on spacious lots, Sullivan's Island has a wealth of historic residential properties with amazing beachfront locations. BUT, the catch? there are only a handful of homes on the whole island! The population of the whole island is just over 1,000. Hence, the exclusivity.
Folly Beach
Folly Beach is a suburb of Charleston with a population of 2,660. Many young professionals choose to live and play in Folly Beach and the vibe is laid-back, funky vibes. A chill hippie surf-town with a ton of character.