6 Safe Travel Destinations with the Lowest COVID Rates
As we continue to adapt to this new way of life and adjust our 2021 and 2022 travel plans accordingly, it can be exhausting to research and worry about all the ever-changing travel regulations and the increasing Covid cases in many areas of the world. But, don't worry! That's where I come in. I've done the work for you so that you guys can sit back, relax (hopefully with a drink in hand) and rest assured that your trip is the safest possible. The pandemic has actually given us the opportunity to consider some unique travel destinations that we may not have even known about before! Instead of the mainstream destinations, if you're anything like me, you may be looking for more hidden gems and far-off islands. These daydream-worthy travel destinations are some of the safest places to travel right now due to their low covid rates and/or high vaccination rates. So whether it's a re-scheduled honeymoon, an anniversary, or just a much needed change of scenery, these destinations are perfect for your much-needed escape!
Madeira Island, Portugal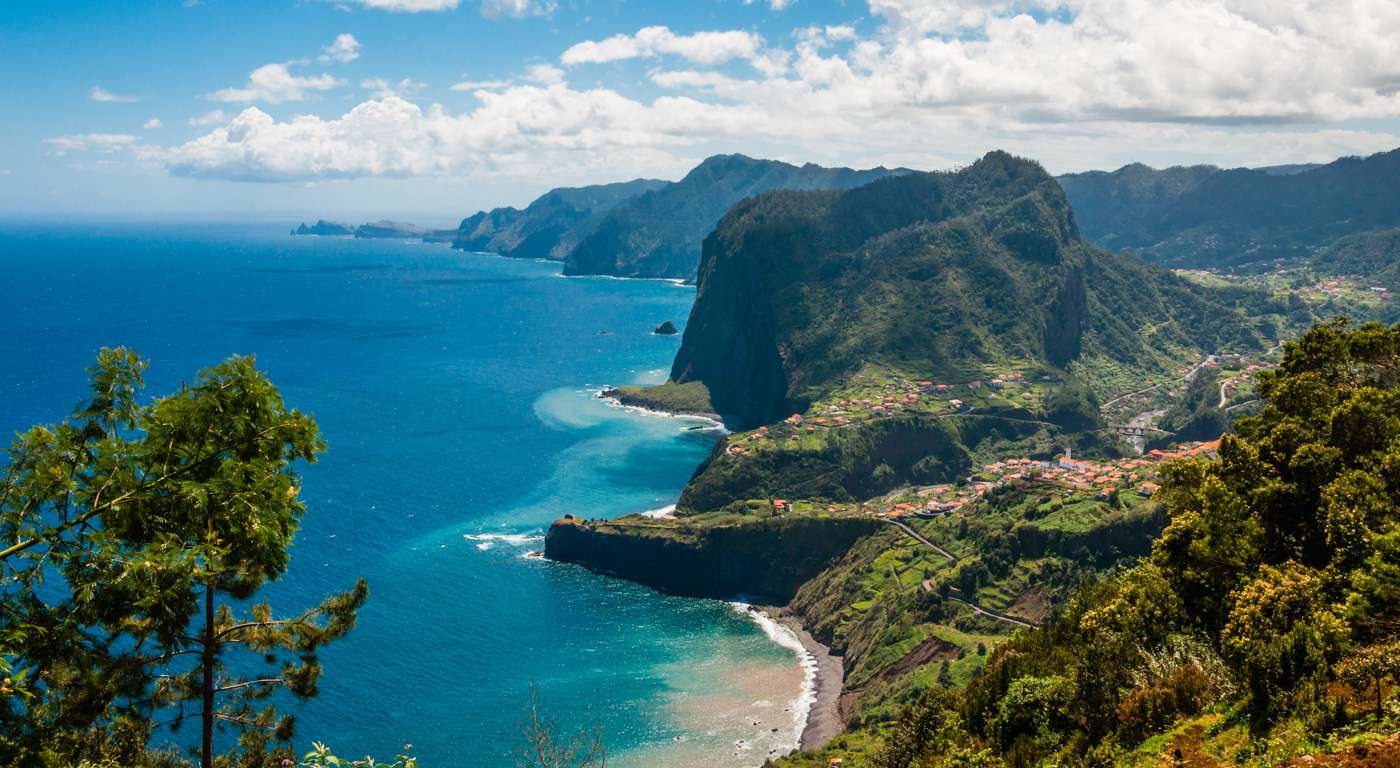 The magical island of Madeira sits off the coast of Portugal and is sometimes referred to as Europe's Hawaii (with rugged coastlines, lush forests and gorgeous waterfalls). Madeira is known for having a spring-time climate year round, and gorgeous luxe resorts! If you're looking for sunbathing weather, it's best to go from April through September, the warmest months of the year. Madeira is currently rated a Level 2, low risk travel destination, and you can travel here whether you're vaccinated or not. People who have received two doses of an approved COVID-19 vaccine will not be required to undergo testing to enter Madeira. If you are not fully vaccinated, you'll need a negative test within 72 hours of travel.
Madeira is an incredible option for a Covid-safe honeymoon! Did you know Portugal has an over 85% vaccination rate – one of the top 4 in the world! So you won't have a thing to worry about while you soak up allll of the gorgeous landscapes and beaches. Enjoy the fresh seafood, local wine and their traditional drink Poncha. There is plenty of adventuring here, from hiking, canyoning, and snorkeling, to taking a scenic boat trip to neighboring islands. But if relaxing by the pool and not moving a muscle is more your speed, there will be plenty of opportunities for that at luxury accommodations like Reid's Palace, a Belmond Hotel.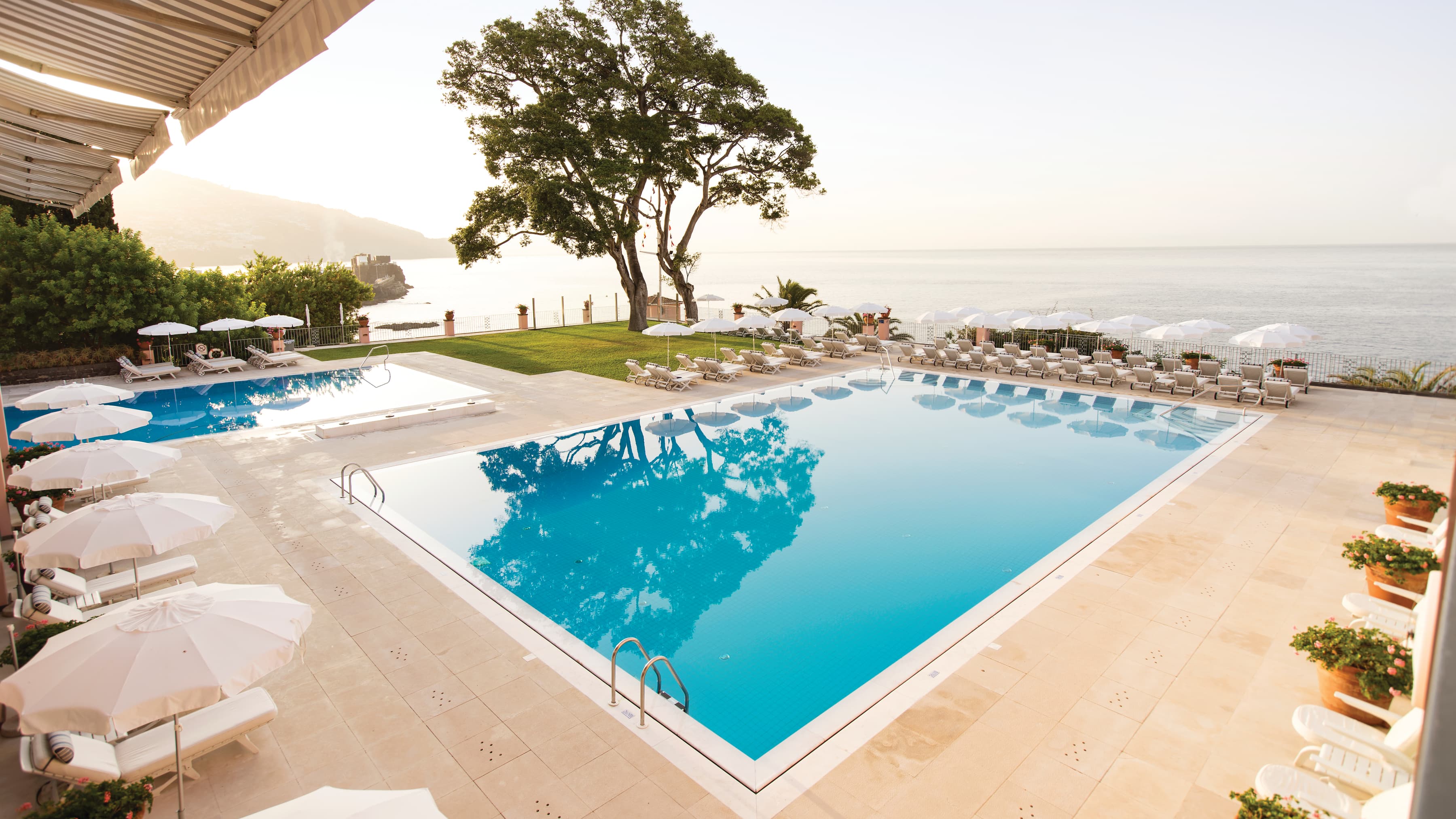 Kefalonia Island, Greece
Escape the crowds (as well as the covid cases) and head to the Greek hidden gem that is Kefalonia Island. Boasting crystal clear waters and a colorful old fishing village, this is arguably one of the most beautiful islands in Greece. During your stay on the island of Kefalonia, you CAN'T miss the "Melissani Cave", one of the island's many natural wonders, as well as Myrthos beach. If you're honeymooning, head for the F Zeen Boutique Hotel, where wellness meets luxury or the Emelisse Nature Resort.
From Kefalonia you can easily take a ferry to the more popular island of Zakynthos and see the infamous Shipwreck beach, if like me it's on the bucket-list!
Turks and Caicos
As fall and winter approaches in the northern hemisphere, the Caribbean begins to whisper in our ears…. If you're the type whose dream vacation is posting up on a white sand beach surrounded by aquamarine waters with a Piña Colada in hand, Turks is your heaven on earth. Turks and Caicos offers over 40 different islands to choose from! Turks and Caicos has an exclusive vibe while still being relatively accessible. It doesn't feel as crowded or touristy as other Caribbean destinations, and there are direct flights from most major airports in the U.S.!
To visit the islands, you need to be fully vaccinated and also provide a negative COVID test taken no more than five days prior to travel and upload your results within 24 hours of departure.
When it comes to accommodation, it's worth it to splurge because this will be where you'll be spending the majority of your time. Honeymooner's go all out at the ultra luxe Amanyara, an Aman resort. Another great option is the Grace Bay Club or the new Ritz Carlton Turk and Caicos.
Belize
If you're like me and refuse to undergo cool weather unless it's Apre ski and there's a glass of champagne in my hand, then Belize might just be your perfect escape! With year-round sunshine, warm clear waters and sandy coves to explore, Belize is a beach-goer's dream come true. While I'd be fine lounging ALL day, there's more to do here than you'd expect! Explore the iconic Blue Hole, visit nearby ancient Mayan ruins or maybe even splurge on your own private island! Another magical resort is the Ka'ana Belize, where you can find jungle villas, fresh organic food and a world class spa!

To enter Belize, all travelers regardless of vaccination status must provide proof of a negative COVID-19 test within 96 hours prior to departure. If you cannot take a test before departure, you must take a test upon arrival for $50.
With low Covid case rates and an ideal climate year-round, Colombia just keeps getting better and better. Beach lovers will love the small, coastal historic city of Cartagena, losing yourself down cobblestone streets of colorful colonial architecture, bustling plazas, and stunning churches. While you're there, you MUST stay in the Hotel Casa San Augustin! This boutique luxe hotel is one of the Leading Hotels of the World and is stunning in every sense of the word. It's composed of three beautiful white houses, connected with bright clay rooftops, and a gorgeous view of the clocktower, as well as a jaw-droppingly-beautiful courtyard pool.
While you're in Colombia, take some time to visit the stunning metropolis of Medellin while you're there! It has SO MUCH to offer! Tucked into the stunning Andes mountains, this cool city has a skyline full of rooftop bars, a buzzing restaurant scene, and obviously some of the best coffee shops around! Medellin is quickly becoming like a second home to me, and I have a huge guide here on What to Do in Medellin.
Puerto Rico
Puerto Rico is one of the most easily-accessible island escapes from the East Coast. No passport, no problem. All you need to get to this sunny escape is a negative COVID test within 72 hours of travel. Puerto Rico offers luxury accommodation and nightlife in the San Juan/Dorado Beach areas. Or, for or a more laid back surf-town vibe, rent a car and head straight for the West Coast town of Rincon.
If you really want to feel like you have the place to yourself, take a puddle-jumper flight to the small island of Vieques, one of the most charming, awesome places I've ever been! Enjoy deserted white-sand beaches, modern tree-house accommodation and Ayurvedic delicacies at Finca Victoria. With a group make sure you rent the luxury, beach front Villa Encantada – perfect for group trips or bachelorette parties!