The Best Airbnbs for Groups in New Orleans – The Best Airbnb's For Bachelor, Bachelorette Parties & Mardi Gras
Out of all of the top group trip destinations and the top bachelorette party destinations, I have been most impressed with the stunning selection of Airbnbs in New Orleans. Not only does NOLA deliver when it comes to nightlife, culture and food, but with these gorgeously-decorated historic homes in the center of town, you're going to be in for a weekend for the record books.
Between Bourbon street escapades, boozy brunches at Flamingo A Go Go, and consuming your yearly quota of beignets, you'll want a welcoming oasis to relax in during your limited downtime. That's where I come in. Whether you're in NOLA for Mardi Gras, with your friends, or to celebrate with your bride tribe, you can check out my Ultimate Guide to New Orleans to start planning your itinerary, and check out this list of awesome New Orleans airbnbs for groups below!
THE BEST AIRBNBS IN NEW ORLEANS FOR GROUPS
This super cute 1830s Creole Cottage is located in the charming neighborhood of Treme. A short walk 5 block walk from the French Quarter and streetcar on Rampart. The home has been beautifully restored to its original charm and decorated with period antiques, while providing modern conveniences for guests enjoying their stay in New Orleans. This is a rare find in New Orleans and even features a heated pool with built in 8 person hot tub spa, too!
8 Bedrooms, 11 Beds, Sleeps 16
Price: $1,440/night ($90/person per night with 16)
This 1880's renovated mansion is truly a one of the kind stay. With 5,000+ square feet of living space and 1/3 acre of gardens, The Mazant is located in New Orleans' Bywater arts district, about 1.5 miles from the French Quarter! You'll have a private pool in the gardens and plenty of outdoor living space to host dinner parties in the spring/summer.
5 Bedrooms, 8 Beds, Sleeps 10
Price: $491/night ($49/person per night with 10)
With a private pool, custom chef's kitchen, a gorgeous open concept living and dining area, and upscale amenities throughout, this Garden district home has everything you need. The Garden district is a historic neighborhood that is a bit quieter than the rowdy French Quarter, so you can get that quality sleep you'll so desperately need.
5 Bedrooms, 10 Beds, 10 Guests
Price: $595/night ($59/person per night with 10)
This cute cottage with a pool is located in the quiet and historic Lower Garden District. With a huge private pool, standalone guest cottage with additional sleeping options, and a fully stocked chef's kitchen, this home is perfect for groups of all sizes who seek a first-class New Orleans experience!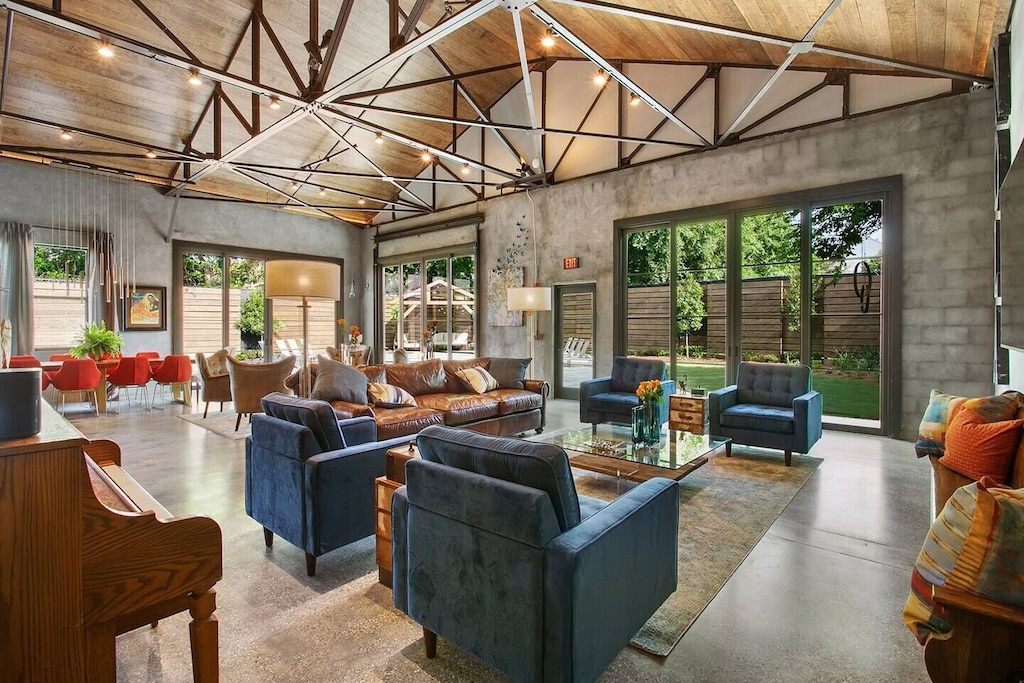 Price: $1600/night
With soaring roof line ceilings, exposed steel trusses and walls of energy efficient glass, the one-time 6200 square foot commercial warehouse is repurposed to accommodate group travel, business retreats, staycations and more. And talk about an ideal bachelor party pad in New Orleans – this pool is gorgeous!
5 Bedrooms, 10 Beds, Sleeps 10
Price: $534/night ($53/person per night with 10)
Chic decor, thoughtful amenities like a heated pool, and unbeatable location combine to make this home a luxury NOLA experience. Perfect for groups looking for a hip, modern spot that is close to all the action!
Price: $393/night ($39/person per night with 10)
With murals throughout the house done by local artists, this is a truly one of a kind stay. Recent renovations offer a private pool and backyard entertaining space, artsy bedrooms and full kitchen! The house is located in Mid-City, a centrally located neighborhood just minutes from the French Quarter, Garden District, Marigny, and Bywater.
Price: $372/night ($31/person per night with 12)
Originally constructed in the late 1800's, this home was artfully restored with the guest experience at top of mind. Modern amenities mingle with all the creature comforts of home to create a space that is at once both pretty and practical. With a spacious outdoor dining room for dinner parties, a custom chef's kitchen, and tempurpedic mattresses, you're in for a treat of a stay. The Central Business district has amazing restaurants and shops of its own to explore, but you're still within walking distance of the historic French Quarter!